Google to Filter Copyright Videos by September
Greg Sandoval
YouTube will launch a system in September designed to prevent pirated material from going up on the site, a Google lawyer said in court on Friday.
Google, which acquired YouTube in October, plans to generate a library of digital video fingerprints that would be used by a computer system to screen clips being uploaded to YouTube, said Philip Beck, one of the attorneys representing Google and YouTube. Beck added that the screening process would take only a few minutes to determine whether a clip is copyright material.
Google, Viacom and the class of copyright holders that have filed suit against Google and YouTube within the past year, were in U.S. District Court for the Southern District of New York, for a scheduling hearing.
Beck's statement is significant because it would appear to be the first time that anyone from Google has set a firm launch date for a filtering-system roll out. The company has frustrated numerous media executives by promising to produce better copyright protections for YouTube but not delivering. Critics are quick to note that many of YouTube's competitors already screen content.
What may not go over well in Hollywood is that Google appeared to hedge once again when asked to respond to Beck's statement.
"We hope to have the testing completed and technology available by sometime in the Fall," said a Google spokesman in an e-mail. "But this is one of the most technologically complicated tasks that we have ever undertaken, and as always with cutting-edge technologies, it's difficult to forecast specific launch dates."
Louis Solomon, an attorney with Proskauer Rose, who along lawyers from the law firm Bernstein Litowitz, were appointed interim class counsel at the hearing. Solomon indicated that Google's filtering system would have little impact on the massive damages being claimed for past infringement.
In the class action suit filed in May by a group that included several European sports leagues, the plaintiffs have asked for billions of dollars in damages.
"If in fact Google puts this (system) in place, it is obviously way too late," Solomon said. "But we encourage Google to come forward and do what other companies have already done and treat all the content providers fairly. Not just the favorite few who have agreed to share advertising revenue with YouTube."
During the court proceeding, lawyers from both sides estimated that pre-trial discovery could take more than a year. That means there's a chance that YouTube's copyright issues may not be resolved until late next year.
http://news.com.com/8301-10784_3-9751232-7.html
"Attempted Infringment" Appears in New House Intellectual Property Bill
Nate Anderson
Back in May, the Justice Department issued some proposed legislation to tighten US intellectual property laws and to criminalize some forms of "attempted infringement." Now, legislation based on the proposals has been introduced in Congress by Rep. Steve Chabot (R-OH), complete with stiffer jail terms for violaters and the controversial "attempted infringement" clause.
H.R. 3155, the Intellectual Property Enhanced Criminal Enforcement Act of 2007, aims widely. Everything gets a section: unauthorized recording of films in theaters, circumventing copy protection, trafficking in counterfeit goods. The bill even directs the Attorney General to send federal prosecutors to take up permanent residence in Hong Kong and Budapest and specifies the number and makeup of FBI investigative teams.
In most cases, the bill appears to simply double existing penalties. Section 12 alone, for instance, makes a 10 year prison term in a 20 year term, three years into six, five into 10, and six into 12. Poof! More prison time!
One of the bill's controversial features is the fact that people can be charged with criminal copyright infringement even if such infringement has not actually taken place. "Any person who attempts to commit an offense under paragraph (1) shall be subject to the same penalties as those prescribed for the offense, the commission of which was the object of the attempt," says the bill.
While copyright infringement is sometimes believed to be solely a civil matter, that's not the case. US Code 17, section 506 (a) spells out the conditions for criminal infringement under which the government can actually do the prosecuting, and they are quite modest. The infringement must be willful and the material in question must have a total retail value of over $1,000. This wouldn't be a difficult threshold for many P2P users to clear, except for the fact that this section also requires that the infringement be done "for purposes of commercial advantage or private financial gain."
The attempted infringement clause actually falls under this criminal infringement statute, meaning that it won't apply to file-sharing unless the courts suddenly take a hugely expansive view of "commercial advantage or private financial gain," and it's unlikely the government has some new interest in such cases.
The bill is full of the sort of things that groups like the EFF aren't going to like, and in fact the EFF has already issued a statement condemning the legislation. One of their concerns is that a small change to the law could have big effects on casual file-sharers for a different reason: P2P users could face greater penalties for infringement after statutory damages are expanded.
The bill allows "a judge to dole out damages for each separate piece of a derivative work or compilation, rather than treating it as one work," wrote Derek Slater, "for example, copying an entire album could translate into damages for each individual track, even if the copyrights in those tracks aren't separately registered."
http://arstechnica.com/news.ars/post...erty-bill.html
Copycrime Bill Raises its Ugly Head, Again
Press Release
Two months ago, the Justice Department floated draft legislation to expand the scope of, and stiffen the penalties for, criminal copyright infringement, and now a related bill has been introduced in the House. This isn't the first time that Congress has taken up the DoJ's copycrime wishlist, and, for all the reasons we listed in a blog post about a proposal offered up last year, H.R. 3155 is an awful idea.
This bill goes even further than the prior bill in that it would ratchet up statutory damages in certain instances. Under copyright law, copyright owners don't need to prove that they have been harmed in order to get damages and can instead elect to get statutory damages, which a court can set between $750 and $30,000 per work infringed. Such disproportionate penalties can be especially dangerous when it comes to lawsuits against mass-market products like the iPod or TiVo that enable the making of thousands of copies.
H.R. 3155 makes matters worse by allowing a judge to dole out damages for each separate piece of a derivative work or compilation, rather than treating it as one work -- for example, copying an entire album could translate into damages for each individual track, even if the copyrights in those tracks aren't separately registered.
This is particularly unfair because record labels register entire albums as single works principally to strip their artists of reversion rights they would otherwise enjoy if the songs were registered individually. (As some may remember from the 2000 flap over a stealthy RIAA amendment slipped into the Copyright Act, record labels register albums as "compilations" or "collective works" in an effort to characterize them as "works for hire," which are owned outright from their creation by the labels, and thus can never revert to the artist.)
Let's hope this bill meets the same fate as last year's DoJ proposal and is stopped dead in its tracks. Take action now to stop it, and make sure you also support the FAIR USE Act, which would put much-needed limits on statutory damages.
http://www.eff.org/deeplinks/archives/005381.php
TorrentSpy Lawyer Battling 'Copyright Extremism'
Greg Sandoval
Ira Rothken is technology's answer to the radical lawyer, Silicon Valley's version of Johnnie Cochran or William Kunstler.
Tech start-ups sued by media conglomerates for copyright infringement typically call on Rothken, a medical researcher turned lawyer. He's made a name for himself by bucking entertainment empires and by backing long-shot copyright cases, such as those involving RecordTV, ReplayTV and MP3Board.com. His efforts have won him praise from the Electronic Frontier Foundation (EFF), the advocacy group that has become synonymous with user rights on the Web.
"Ira has a strong intuition for the little guy," said Fred von Lohmann, an EFF senior staff attorney. "He enjoys these uphill fights. I often refer people to him."
The 44-year-old Rothken is defending another back-against-the-wall company in a case that could set an important legal precedent. Last year, the Motion Picture Association of America (MPAA), the trade group that represents the top film studios, filed a copyright suit against TorrentSpy, a search engine often used by file sharers to locate pirated films. In May, a federal magistrate judge ordered the company to turn over user information stored in its servers' random access memory (RAM).
The courts have never before ruled that RAM, a computer's temporary memory, is a tangible document that must be produced and turned over to litigants in civil cases, according to legal experts. Rothken has filed an appeal, and on August 13 will try to persuade a U.S. District Court judge in Los Angeles to reverse the decision.
At stake is nothing less than Internet anonymity, say some legal experts. If companies can be compelled to turn over RAM any time they face a civil suit, then no U.S. Web site can ever again promise not to share user data, according to Rothken.
Rothken's chances of prevailing are about the same as they usually are in these cases. The odds favor the copyright owners, said Rothken. "Copyright law in this country is Draconian and dramatically skewed on the owner's side," he said.
Until recently, few lawyers would take these cases, said von Lohmann.
First, there's not much money in them. Start-ups typically don't have a lot to spend on legal fees. Then, there is the problem with understanding and then explaining often complicated technical issues to a judge. Finally, there are the opponents--usually crack entertainment lawyers working for the music or movie industries who are famous for going for the jugular.
Representatives from the MPAA and the Recording Industry Association of America (RIAA) declined to comment for this story.
Going up against big guns
For insight into how tough it is to oppose the entertainment sector, consider the conclusions of some long-shot copyright cases Rothken worked on: RecordTV and ReplayTV ran out of funds before their cases were heard, and MP3Board.com settled.
There's no telling whether the start-ups would have survived had their cases gone to trial, but Rothken argues that shouldering legal fees and bad press didn't help.
Applying financial pressure is only part of Hollywood's strategy, Rothken said. Another tactic is to sue founders as well as their companies. In 2000, the RIAA filed a copyright suit against MP3Board.com, a music-file search engine, as well as the company's founders.
Instead of risking their own income, the operators of MP3Board.com settled the case and decided to stop linking to MP3 files, Rothken said.
"I can't say what the MPAA's strategy is," said Gary Fung, founder of IsoHunt, a TorrentSpy rival and Rothken client who also is being sued by the MPAA for copyright infringement. "But they do know they have more time and money than we do."
Rothken isn't intimidated. According to von Lohmann, Rothken is sought after because he is affordable, creative and tough.
After the MPAA sued TorrentSpy, Rothken filed a countersuit and accused the MPAA of corporate espionage. He alleged in the filing that the MPAA hired a hacker to steal confidential information to help its case against TorrentSpy. That suit is still pending. In 2003, when the RIAA announced it was offering amnesty to file sharers, Rothken dubbed the offer "shamnesty" and sued for deceptive trade practices.
The RIAA ended up settling the case, winding down the program, and paying Rothken's attorney fees.
"I think a lot of entertainment litigators aren't used to going up against smart and committed opponents," said von Lohmann, who defended Streamcast Networks after it was sued for copyright infringement in 2001. "Many of them represent big movie studios and when they lean on small companies, they are used to getting them to roll over. That's just not the kind of guy Ira is."
But Rothken denies that he's out to torch copyright law. While he makes headlines for opposing copyright owners, Rothken is himself a stakeholder in the copyright system. A lucrative part of his Novato, Calif.-based law practice is negotiating licensing deals for video game companies.
"I'm in no way on a crusade against copyright law," Rothken said. "I would never say that we should do away with copyright protection. Strong copyright laws are essential for a vibrant and creative economy. That said, I'm hoping that there will be an evolution for U.S. intellectual property law."
FCC vote gives nod to 'open' wireless A picture worth a thousand lies Road Trip 2007: The very large array Extra: China's golden cyber-shield
It's not unusual for a copyright attorney to represent owners as well as those accused of infringing. But the dual roles have sometimes placed Rothken in peculiar situations.
Some might even wonder if Rothken's video game clients object to his representing accused copyright violators.
"I certainly didn't until I saw one of my games on one of these sites," said a laughing Dan Connors, CEO of Telltale Games, creator of Sam & Max and other video games. "It wasn't too bad because Ira made them take it down."
Rothken, who negotiates publishing and licensing deals for Telltale, acknowledges there's far more money in representing copyright holders. Nonetheless, he's been writing code since he was a kid and believes in innovation. Another motivation is the late Jack Valenti.
It was Valenti, the silver-haired former MPAA director, who testified before a congressional committee in 1982 and compared the VCR to the Boston strangler.
"Hollywood has made billions from video recorders and the home rental business," Rothken said. "They wouldn't have seen any of that money had they succeeded in killing that technology."
He argues that while the services he represents may be favored by pirates, the technologies also have legitimate uses.
"I'm all for copyright protection but I take issue with copyright extremism," said Rothken. "Hollywood says that these sites can be used for infringing purposes and therefore should be snuffed. We say 'Wait a second, this site can be used for noninfringing uses as well.' What we're after is a better balance."
http://news.com.com/TorrentSpy+lawye...3-6199730.html
US/E.U. Plan to Database Airline Passengers' Personal Information Raises Deep Privacy Concerns
Nick Langewis
While Homeland Security Secretary Michael Chertoff calls it "an essential security measure," worries arise about a looming privacy threat in the new agreement between the United States and the European Union, effective August 1, 2007, that allows the United States to keep extensive profiles of inbound airline passengers.
In addition to data such as name, address, flight itineraries, and credit card information, the United States will now database more intimate details about passengers as provided by airlines, such as race, political opinions, religious beliefs, and sexual orientation.
Personal data received, even on people not under suspicion, is to be kept on file for fifteen years and only used "when lives are at risk," such as during a terror investigation.
"We're going to be able to connect the dots more quickly," says Russell Knocke of the US Department of Homeland Security, "and we're going to be able to provide our front line personnel with a powerful tool that really can help to save lives."
Jim Dempsey of the Center of Democracy and Technology worries about how the information will be used, especially in cases of abuse and false accusations. "This is part of a broader trend of the government building databases on the ordinary, lawful activities of ordinary, law-abiding people," laments Dempsey.
Passengers will have the right to see the information, and there will be avenues to correct anything that needs to be corrected "in hopefully just a few months," says CNN's Kathleen Koch.
http://rawstory.com/news/2007/Privac...onal_0729.html
Not Everywhere He Wants to Be
I've been denied entry to the US essentially for carrying my trainings material. Wow.
Halvar Flake
It appears I can't attend Blackhat this year. I was denied entry to the US for carrying trainings materials for the Blackhat trainings, and intending to hold these trainings as a private citizen instead of as a company.
After a 9-hour flight and a 4 1/2 hour interview I was put onto the next 9-hour flight back to Germany. Future trips to the US will be significantly more complicated as I can no longer go to the US on the visa waiver program.
A little background: For the last 7 years, I have attended / presented at the 'Blackhat Briefings', a security conference in the US. Prior to the conference itself, Blackhat conducts a trainings session, and for the past 6 years, I have given two days of trainings at these events. The largest part of the attendees of the trainings are US-Government related folks, mostly working on US National Security in some form. I have trained people from the DoD, DoE, DHS and most other agencies that come to mind.
Each time I came to the US, I told immigration that I was coming to the US to present at a conference and hold a trainings class. I was never stopped before.
This time, I had printed the materials for the trainings class in Germany and put them into my suitcase. Upon arrival in the US, I passed immigration, but was stopped in customs. My suitcase was searched, and I was asked about the trainings materials.
After answering that these are for the trainings I am conducting, an immigration officer was called, and I was put in an interview room. For the next 4 1/2 hours I was interviewed about who exactly I am, why I am coming to the US, what the nature of my contract with Blackhat is, and why my trainings class is not performed by an American citizien. After 4 hours, it became clear that a decision had been reached that I was to be denied entry to the US, on the ground that since I am a private person conducting the trainings for Blackhat, I was essentially a Blackhat employee and would require an H1B visa to perform two days of trainings in the US.
Now, I am a full-time employee (and CEO) of a German company (startup with 5 people, self-financed), and the only reason why the agreement is between Blackhat and me instead of Blackhat and my company is that I founded the company long after I had started training for Blackhat and we never got around to changing it.
Had there been an agreement between my company and Blackhat, then my entry to the US would've been "German-company-sends-guy-to-US-to-perform-services", and everything would've been fine. The real problem is that the agreement was still between me as a person and Blackhat.
After the situation became clear (around the 4th hour of being interviewed), I offered that the agreement between Blackhat and my company could be set up more or less instantaneously - as a CEO, I can sign an agreement on behalf of my company, and Blackhat would've signed immediately, too. This would've spared each party of us a lot of hassle and paperwork. But apparently, since I had just tried to enter as a 'normal citizen' instead as an 'employee of a company', I could now not change my application. They would have to put me on the next flight back to Germany.
Ok, I thought, perhabs I will have to fly back to Germany, set up the agreement, and immediately fly back to the states - that would've still allowed me to hold the trainings and attend the conference, at the cost of crossing the Atlantic three times instead of once. But no such luck: Since I have been denied entry under the visa waiver programme, I can now never use this programme again. Instead I need to wait until the American consulate opens, and then apply for a business visa. I have not been able to determine how long this might take -- estimates from customs officials ranged from "4 days" to "more than 6 weeks".
All this seems pretty crazy to me. From the point that 2 days of trainings constitute work that requires an H1B visa, via the issue that everything could've been avoided if I had been allowed to set up the agreement with Blackhat immediately, to the fact that setting up the agreement once I am back in Germany and flying in again is not sufficient, all reeks of a bureacracy creating work for itself, at the expense of (US-)taxpayer money.
I will now begin the Quixotic quest to get a business visa to the US. Sigh. This sucks.
http://addxorrol.blogspot.com/2007/0...sentially.html
What We Know (Now) About the FBI's CIPAV Spyware
G-men pull spyware, not pistols, to make arrest in bomb threat case
Gregg Keizer
Tucked into an affidavit filed by an FBI agent last month was the first hard evidence that federal agents are equipped with more than automatic pistols and handcuffs: The agency was asking a federal judge to let it infect a PC with spyware so they could finger its owner.
The case, which was reported locally in Olympia, Washington, last month and received more national exposure this month, involved bomb threats e-mailed to Timberline High School in Lacey, an IP trail that went cold in Italy and a call to the FBI.
Special Agent Norm Sanders, who swore out the affidavit, could be Efrem Zimbalist Jr.'s doppelganger for all we know, but he must have been more talkative than the close-lipped character from the late-1960s TV drama The FBI to win over a judge. Sanders had to spill some beans about CIPAV, the agency's name for what the rest of us would call spyware -- software the FBI wanted to plant on the PC used to e-mail the bomb threats in the hope of identifying its owner, and thus the sender.
Until Computerworld's Freedom of Information Act (FOIA) request is granted and more information on CIPAV is reviewed -- and maybe not even then -- all we have to go on is this:
What is CIPAV? CIPAV, which stands for "Computer and Internet Protocol Address Verifier," is secret surveillance software that the FBI used last month to help identify whoever was e-mailing bomb threats almost daily to a Washington high school. Although at least one security professional agreed that CIPAV fits the description of spyware, much of what it is, or does, is unknown. What is known: The software collects a wide range of information from the target PC and sends it back to control -- in this case, the FBI -- and automatically records every outbound communication, though not the contents of said communication. If that sounds like a bot, well. ...
What does CIPAV do? As the affidavit spelled out, "the exact nature of [CIPAV] commands, processes, capabilities and their configuration is classified as a law enforcement-sensitive investigative technique," so not all the facts are in.
But according to the court filing, this is what the CIPAV collects from the infected computer:
-- IP address
-- Media Access Control address for the network card
-- List of open TCP and UDP ports
-- List of running programs
-- Operating system's type, version and serial number (in Windows, the serial number is the 25-digit alphanumeric product activation key)
-- Default browser and its version
-- Default language of the operating system
-- Currently logged-in user (username) and registered company name (The latter is optional in Windows.)
-- Last visited URL
Once that initial inventory is conducted, the CIPAV slips into the background and silently monitors all outbound communication, logging every IP address to which the computer connects, and time and date stamping each. The affidavit called this a "pen register." The content of each communication -- the data packets that made up an e-mail message, for instance -- were expressly not to be collected.
What happens to the data the CIPAV collects? According to the warrant application, the CIPAV transmits the information to a computer "controlled by the FBI" in the jurisdiction of the U.S. District Court's Eastern District of Virginia. Presumably, the server is at the FBI Academy in Quantico, Va., which is within the Eastern District.
Does the CIPAV capture keystrokes? We don't know, and the FBI isn't talking.
Can the CIPAV spread on its own to other computers, either purposefully or by accident? Does it erase itself after its job is done? We don't know. The only clue in the affidavit is that the CIPAV would operate as a pen register for up to 60 days after the software had been "activated" by the recipient. In other words, the FBI swore that the monitor would "time out" after 60 days. But not that it would delete itself or not be able to spread in some worm or bot fashion.
Speculation ahead: The affidavit was mum on whether the CIPAV collected the kind of information necessary to propagate, such as e-mail addresses in the PC's address book, instant messaging contacts or even, since it was launched at an as-then-unidentified MySpace user, MySpace's messaging list).
Does the FBI have just one stock CIPAV model? The affidavit does seem to hint that the spyware comes in more flavors than just vanilla. It said, "Because the FBI cannot predict whether any particular formation of a CIPAV [emphasis ours] to be used will cause a person(s) controlling the activating computer to activate a CIPAV, I request that this Court authorize the FBI to continue using additional CIPAV's in conjunction with the target MySpace account (for up to 10 days after this warrant is authorized), until a CIPAV has been activated by the activating computer."
How did the CIPAV get onto the targeted computer? Hard to say specifically, but we can deduce some things from the affidavit and MySpace, which the CIPAV took aim at. Some user action was clearly required to infect the PC with the CIPAV. In the warrant application, the FBI used the term activate several times and alluded to a spyware plant failure if the target did not trigger the CIPAV through the targeted MySpace account.
MySpace accounts can't receive traditional e-mail, so one hacker standard -- attach the CIPAV to a message and hope the recipient is stupid enough to launch it -- wasn't available. Instead, the most likely tactic would have been to send a URL to the suspect account using MySpace's own instant messaging and/or Web mail system. If the suspect clicked on the link -- it would have had to be enticing, so use your imagination here -- and visited the FBI-owned malicious site, an exploit for a zero-day vulnerability (or unpatched one on the suspect's PC) would have let the government download CIPAV to the target hard drive.
But which vulnerability? We don't know. Conceivably, it could have been the FBI's own super-duper flaw, but Occam's razor says it was probably one of the many effective, yet run-of-the-mill, bugs in the wild. Roger Thompson, chief technology officer at Exploit Prevention Labs, took a guess. "If I had to bet, I'd bet on ANI," Thompson said in an IM interview.
Good bet. The animated cursor flaw harks back only to late March, and although Microsoft patched it in an out-of-cycle update on April 2, it's effective enough to still be used by the notorious multistrike hacker exploit kit Mpack as recently as last month, long after CIPAV was deployed.
I remember something about the FBI having something called "Magic Lantern." Any connection? Unlikely, other than as descendant. Magic Lantern was the code name given to FBI-made surveillance software in a November 2001 story broken by MSNBC.com, which outlined a keylogger-type Trojan horse to be delivered as an e-mail attachment.
But that was nearly seven years ago. To give you an idea, that news preceded major security events such as the Slammer and MyDoom worms (2003 and 2004, respectively) and the rise of phishing attacks. Government bureaucracy may move slowly, but seven-year-old security or exploit technology is nearly worthless.
Did the CIPAV work? Apparently. Before the CIPAV's appearance, bomb threats had been received by the school and school administrators on June 4, 5, 6 and 7. Until at least June 8, local police and the FBI had been stymied in their attempts to identify the sender using more traditional methods, such as requesting user information from Google Inc. and MySpace.com and contacting Italian police with a request to locate the computer routing through an Internet service provider's server there.
Once the CIPAV made an entrance, however, the case moved quickly. The warrant application was filed June 12, a Tuesday. At 2 a.m. Thursday, June 14, Lacey, Wash., police arrested an unnamed teenager in his home. The suspect, who had already been identified in news reports as a Timberline High School student, had bail set at US$100,000 in a hearing the following Monday, June 18. On July 15, after he pleaded guilty in juvenile court to charges of identity theft and making bomb threats, the teen was sentenced to 90 days' detention.
With the exception of the affidavit filed by Sanders, however, authorities remained mum throughout as to the specific part that the CIPAV played. We don't know, for instance, when the spyware was activated, whether it was activated after just one version of the CIPAV had been delivered, or what information it collected actually led the police to the boy's home.
http://www.computerworld.com.au/inde...6;fp;16;fpid;0
Court Ruling that NSA Wiretapping is Illegal Drives Emergency Push for New Spy Powers, MSNBC Reports
Ryan Singel
The Bush Administration's hard press for emergency wiretapping powers from Congress before the August break now has an explanation: a secret court decided several months ago that at least one portion of the NSA wiretapping program is illegal, according to MSNBC. That program operated for four years without court supervision, until the Administration bowed to public pressure in January 2007 and allowed the secret Foreign Intelligence Surveillance Court to review it.
In short, prior to the Patriot Act passage, the Administration launched a series of secret, warrantless wiretapping operations, which included snooping on Americans and wholesale data mining of innocent Americans' communications records (the latter only according to press reports). The Administration believes it can do this surveillance since it is a King in wartime and thus never asked Congress to make any of this legal in the Patriot Act for fear it would be turned down.
Years later, a part of this secret surveillance is revealed by the New York Times. After a year of criticism and revelations, the Administration agrees to let a super-secret and very compliant court oversee the program using some very super secret, and legally dubious program warrants. A few months later, a judge from this court finds portions of the program illegal. The administration refuses to make this decision public. Instead, it goes on offense and says it needs the power to wiretap anyone overseas including Americans. A Republican Congressman accidentally leaks the a hint of the decision on Fox News, while saying that Democrats are putting the country at risk. MSNBC follows up with good reporting.
The order by a judge on the top-secret Foreign Intelligence Surveillance Act court has never been publicly acknowledged by administration officials—and the details of it (including the identity of the judge who wrote it) remain highly classified. But the judge, in an order several months ago, apparently concluded that the administration had overstepped its legal authorities in conducting warrantless eavesdropping even under the scaled-back surveillance program that the White House first agreed to permit the FISA court to review earlier this year, said one lawyer who has been briefed on the order but who asked not to be publicly identified because of its sensitivity.
Now, we know why there's an intelligence gap. Democrats afraid of looking soft on terrorism are now at work to give more spying power to the government to fill the mineshaft gap.
Once again: a secret court judge found that the Bush Administration's formerly warrantless wiretapping program was illegal.
And that was the program AFTER it was scaled down in March 2004 after Justice Department officials revolted. I wonder what judges would have made of the earlier program -- the one so bad that then-Attorney General John Ashcroft was ready to resign.
If there's an intelligence gap, and I'm not sure there is, it's only due to the Administration's hubris.
http://blog.wired.com/27bstroke6/200...ruling-th.html
Second Life and WoW "Plagued by Terrorists"
Jihadist training camp
Nick Farrell
Aussie security experts claim that Second Life and online games such as World of Warcraft are being used to train terrorists.
According to the Australian newspaper a terror campaign has been waged in Second Life which has left a trail of virtual dead and injured, and caused hundreds of thousands of dollars' damage.
Apparently there are three jihadi terrorists registered and two elite jihadist terrorist groups in Second Life and they use the site for recruiting and training. This is on top of the Second Life Liberation Army, which has been responsible for some computer-coded atomic bombings of stores on the site.
Rohan Gunaratna, author of Inside al-Qa'ida, said terrorists are rehearsing their operations in Second Life because they can't practice in the real world.
Kevin Zuccato, head of the Australian High Tech Crime Centre in Canberra, says terrorists can gain training in games such as World of Warcraft in a simulated environment, using weapons that are identical to real-world armaments.
So we can expect more terrorist attacks involving broadswords and Heathrow airport to be closed due to suicide dragons.
More
here
.
http://theinquirer.net/?article=41361
Inquiry: London Police Withheld Info
David Stringer
A senior British police officer knew within hours that marksmen had wrongly killed a Brazilian electrician they had mistaken for a terrorist, but deliberately withheld the information from superiors and misled the public, an inquiry into the killing reported Thursday.
Jean Charles de Menezes, 27, was shot seven times in the head in a subway car by counterterrorism police hunting suspects following London's 2005 transit bombings.
The report by the Independent Police Complaints Commission said that Assistant Commissioner Andy Hayman, head of London's police counterterrorism unit, told journalists on the afternoon of the shooting that de Menezes was not linked to the failed bombings a day earlier. Such briefings are often held on condition of anonymity.
But hours later he allowed the police force to put out a press release saying it was not known whether the dead man was one of the failed bombers. The report said Hayman must have misled the public. ``He could not have believed both inconsistent statements were true,'' it said.
It also said Hayman ``deliberately withheld the information ... despite being asked for information'' by Metropolitan Police Commissioner Ian Blair and government officials.
The July 22, 2005 shooting occurred 15 days after four suicide bombers killed 52 bus and subway passengers in the capital, and just a day after a failed attempt to detonate bombs on the transport system. Tensions across London were running high.
Officers initially claimed the Brazilian was a suspect linked to the attacks and police told reporters his bulky clothing and panicked manner had caused commanders to fear he was a suicide bomber. Investigations later showed de Menezes had not run, worn bulky clothing or resisted arrest.
The report paints a picture of chaos within London's Metropolitan Police force after the July 2005 terrorist attacks and criticizes errors made in handling critical information about the hunt for the suspected bombers.
It said rumors swirled around London police stations following the shooting, with several senior officers told that a Brazilian tourist had been killed. By late afternoon, a senior police officer not involved in the killing was told there had been ``a massive cock-up,'' the report said.
But it was the following afternoon before police publicly acknowledged that de Menezes was innocent and had been shot mistakenly.
Hayman ``chose to mislead the public by his actions,'' the report said. It said his decisions had raised serious concerns and recommended authorities take action over his conduct.
His actions ``may have prevented further discussion about the status of the deceased, including the possibility that he was innocent'' on the evening of the shooting, the report said.
It absolved police chief Blair of any blame, saying there was no evidence he had known about the mistakes when he publicly praised his officers.
David Davis, home affairs spokesman for the opposition Conservatives, said the report had highlighted ``a worrying lack of coordination and exchange of information in the senior ranks ... at a time when they should have been acting in a unified way to tackle a serious crisis.''
The inquiry is the second report into the killing, but the first to be publicly released. An earlier investigation by the police complaints board, which has not been published, ruled out prosecuting any police over the case, clearing officers involved of wrongdoing or criminal negligence.
Cressida Dick, the commander in charge of the operation that led to the killing at Stockwell subway station in south London, has since been promoted by London's police force.
The force as a whole is facing trial in October over alleged safety offenses related to its armed response policy.
http://www.guardian.co.uk/worldlates...822753,00.html
Some States Slow to Spend Voting Aid
Joan Lowy
States have spent only about 60 percent of the more than $3 billion they have received to replace antiquated or malfunctioning voting machines and otherwise improve voting, says a report released Tuesday.
The U.S. Election Assistance Commission said in its report that it began doling out funds to states in June 2004. As of Dec. 31, 2006, states had spent $1.8 billion, but still had $1.3 billion in unspent federal funds.
The commission was created under the Help America Vote Act of 2002 to address voting problems identified in the disputed 2000 presidential election between Republican George W. Bush and Democrat Al Gore. The funds distributed by the commission mark the first federal aid program to help resolve voting difficulties, which have historically been left to states to handle.
The rate at which states are spending the federal aid to improve voting is uneven, according to the report. Some states, such as California, Ohio and South Carolina, had spent virtually all the federal money they had been allocated.
But other states had spent only a fraction of their funds. New York, for example, had spent only 1.5 percent of the $219 million it has received. New Hampshire had spent only 2 percent of the $16.6 million it has received.
Commission Vice Chair Rosemary Rodriguez said that unlike most federal assistance programs, states are not required to spend the voting improvement funds immediately.
"Congress, when it decided to fund voting systems in the states, gave a lot of discretion to them on when and how to spend funds," Rodriguez said. "It is federal intervention, but not with a heavy hand."
Ray Martinez, a former commission vice chair and a policy adviser to the Pew Center on the States, said the report's figures may be outdated because they did not include funds spent in the first seven months of this year.
Election officials in a number of states have told him that they have spent all their federal aid and are scrambling to find additional funds to meet all the requirements of the federal voting assistance law, Martinez said.
New York hasn't spent its federal aid because it is still in the process of deciding which voting machines it will approve for purchase by local jurisdictions.
State officials hope to make a decision on the machines by early next year so that they can be ready by September 2008, "but it's a very tight schedule," said Lee Daghlian, a spokesman for the New York State Board of Elections.
http://hosted.ap.org/dynamic/stories...07-31-15-04-50
Connecticut Bans Lever Voting Machines
Secretary of the state says optical-scan devices will be used for Sept. 11 primaries
Marian Gail Brown
It's curtains for those hulking lever-operated voting machines.
Under her power as Connecticut's chief elections official, Secretary of the State Susan Bysiewicz on Monday banned the use of Connecticut's 3,100 lever voting machines effective Sept. 11 for all elections, primaries, and referenda.
Connecticut is switching to optical-scanner machines, compact equipment that looks like high-tech copy machines. Similar technology is being used in 26 states, including most of New England.
Traditional lever voting machines are "no longer suitable for use in any election," because they do not create an audit paper trail under the federal Help America Vote Act, Bysiewicz told reporters at an afternoon press conference in her office at the Capitol.
She was joined by Attorney General Richard Blumenthal, State Elections Enforcement Commissioner Jeffrey Garfield, Connecticut Registrar of Voters Association president George Cody of New Canaan, and representatives from the League of Women Voters and DemocracyWorks.
"We have invested more than $15 million in optical scan technology" in the last nine months, Bysiewicz said. "We did this because we wanted to ensure we had secure, reliable elections. Connecticut's residents deserve the right to know that their vote is safe, secure and, above all, counted."
Blumenthal echoed Bysiewicz's words, but evinced a "certain fondness" for the old machines. Nevertheless, he said he was prepared to seek an injunction against any municipality that balks at using the new voting equipment.
Bysiewicz said she will invalidate any election returns that do not come from optical scanner equipment. Absentee ballots, she said, will be processed through the optical scanners.
In Bethel, elections officials have been preparing for the change for several months, said Mary Legnard, Republican registrar of voters.
Optical scan machines were used during the budget referendum in May so officials would be used to them by November.
"We no longer use lever machines. They're gone," Legnard said. "I don't see any problems if there is a primary."
Bethel Democratic Town Committee chairman Joseph DaSilva said he would prefer that lever machines were still in use because of their reliability.
"I think it will be an adjustment for a lot of people. The lines will be longer, because people will take more time to vote. The longer you've been voting, the longer the adjustment will take," DaSilva predicted.
In New Fairfield, Town Clerk Janice Zackeo said election workers have been training to keep up with the new technology, and another training session is set for next week.
"It's not going to be a problem," she said.
Staff writer John Pirro contributed to this story.
http://news.newstimes.com/news/story.php?id=1060273
Massachusetts Falls to OOXML as ITD Punts
In a not unanticipated move, Massachusetts announced today that Ecma 376, the name given to the Microsoft Office Open XML formats following their adoption by Ecma, would be acceptable for use by the Executive Agencies of the Commonwealth. The announcement was made even as it appears more questionable whether the National Body members of ISO/IEC JTC1 will conclude that the formats are in suitable form to be granted global standards status, and despite the fact that the ITD received comments from 460 individuals and organizations during the brief comment period announced on July 5.
Most of those comments, "addressed revisions made to the Data Formats section [of the proposed changes to the Enterprise Technical Reference Model, or ETRM], specifically the inclusion of Ecma-376 Office Open XML as an acceptable document format for office applications along with the Open Document Format (ODF)." That number is several times the input received in connection with the original draft of the ETRM in August of 2005 that originally included ODF but not Microsoft's OOXML.
The decision was posted today at the Information Technology Division's Web site in a statement attributed to Henry Dormitzer, Undersecretary of Administration and Finance, Interim Commissioner, Department of Revenue, and Bethann Pepoli, Acting Chief Information Officer. That statement read in part as follows:
The Commonwealth continues on its path toward open, XML-based document formats without reflecting a vendor or commercial bias in ETRM v4.0. Many of the comments we received identify concerns regarding the Open XML specification. We believe that these concerns, as with those regarding ODF, are appropriately handled through the standards setting process, and we expect both standards to evolve and improve. Moreover, we believe that the impact of any legitimate concerns raised about either standard is outweighed substantially by the benefits of moving toward open, XML-based document format standards. Therefore, we will be moving forward to include both ODF and Open XML as acceptable document formats. All comments received are posted on this web site.
The "Fair and Balanced – let someone else decide" decision by the current administration and interim CIO Bethann Pepoli stands in sharp contrast to the positions taken by predecessor CIOs Peter Quinn and Louis Gutierrez, backed by then governor (and now-presidential hopeful) Mitt Romney. Both Quinn and Gutierrez insisted on including only "open standards" in the ETRM, and withstood significant pressure from Microsoft to give ground and accept OOXML prior to its adoption by ISO/IEC JTC1.
Tellingly, the statement quoted above retreats from that position, taking cover instead behind the need to move "to XML-based document formats" while abandoning the moral high ground of insisting on international adoption, as well as convincing proof that the Microsoft formats will result in the type of future accessibility that led to the ITD's original position. Rather than waiting – as little as one month - to see whether Ecma 376 would be granted that status by ISO/IEC JTC1, the current administration has opted instead to punt – a substantial and regrettable retreat from the stance that brought OOXML this far along the open standards road.
In so doing, the ITD and the administration of the new governor, Deval Patrick, has relieved some of the pressure previously placed on Microsoft by Massachusetts to open its XML formats. That pressure alarmed Microsoft to such an extent that it forced its formats as quickly as possible through the traditionally slow accredited standardization process, selecting a compliant Ecma as its introduction to ISO/IEC JTC1. The pace it adopted within Ecma resulted in only a superficial repackaging of the over 6,000 page specification for fast-track consideration by the National Bodies that are now in the final weeks of considering whether to approve or disapprove that submission.
The rapid schedule of Ecma 376 has been marked with allegations of "stuffing the ballot box" in several countries, as previously small delegations have suddenly seen an influx of individuals (often employees of Microsoft business partners) seeking qualification to vote on consideration of the specification. It has also resulted in protests that the standard is not in acceptable form for adoption, and that there is insufficient time for the National Bodies to responsibly review the large document. The debate within the National Bodies has been aggressive on both sides, as noted by Microsoft's Director of Corporate Standards Jason Matusow at his blog on July 30:
There is no question that all over the world the competing interests in the Open XML standardization process are going to use all tactics available to them within the rules. Microsoft and its partners (particularly those who have bet their businesses on Open XML), continue to advocate that it is best to enable our customers to choose the technology that best meets the needs of their business.
I will write at greater length in the days to come about the substance of the comments offered, as well as some other interesting and important developments. Rather than dilute the news of the ITD's announcement with such details, however, I will close with this observation: Massachusetts – or, more properly, a small number of courageous public servants – did something important two years ago when they took a stand for open formats. It is regrettable that their successors have seen fit to abandon that principled stance, even to the expedient extent of waiting a short while longer to see whether Microsoft's OOXML formats will be found to be sufficient or lacking under the microscope of the global standards adoption process.
Unlike so many days before as the saga of ODF and OOXML has unfolded, this is not a day to be proud in Massachusetts.
http://www.consortiuminfo.org/standa...70801182558375
The Future of Internet Radio
Will the success of Web radio spell the end of traditional broadcast radio?
John C. Dvorak
Over the past month or so, there has been a heated battle between the music industry and Internet radio about rights and fees. Actually, over the past decade, there has been nothing but trouble surrounding Internet radio. I think it's one of the reasons that podcasting emerged as an alternative to Internet radio. Look closely at podcasting, however; with the exception of the advanced auto-download via RSS aspect, it's actually just more Internet radio.
(An aside: It's interesting to me that many of the people who have pioneered podcasting are trying to ditch the term because it only serves to confuse the market. I suspect the term "podcasting" will be dropped in favor of variations on the Internet radio moniker. The classic "deliverable via RSS model" (developed by Adam Curry and Dave Winer)—on which podcasting was based—will need a new name, such as subscription radio or auto-load radio or who knows what.)
Let's define Internet radio. Simply put, it's the delivery of voice and music over the Internet. This has to be done in a format resembling that of a conventional radio show as opposed to mere file-swapping of music, which is also delivered over the Net. That's it as far as I'm concerned.
The fly in the ointment is that there are no standards for Internet radio—not in the way it's done, how we listen to it, etc. One would hope, however, that both the PC and Mac worlds would have systems on their machines that would take care of anything thrown at them. Not so from my experience. There is always something that works fine on one of my machines but fails on another, presenting me with odd error messages about missing codecs or unknown formats.
This mess began in the very early days of what could be described as Internet radio, when RealNetworks promoted its streaming, buffering player. You'd click on something and it would play, and then you'd click on something else and the player would tell you that you needed to upgrade. You'd upgrade and then it wouldn't play the thing it played before unless you did a paid upgrade, which completely confused the machine half the time.
Luckily, more versatile free and public domain players emerged, and people began to stream MP3s and other formats. The bad news was that there were too many of these players, and each would fight for control of the computer and make a mess. Some sounded better than others. Some could save streams. Nobody in the mainstream media could get a handle on the scene, so reviews were scant, and you had to rely on your kids for the inside poop. That dialogue usually came in the form of "What's this? Why aren't you using such and such? That's what everyone uses." "Oh, okay." What would I know? I only write about this for a living.
The key to understanding Internet radio is the fact that it can exactly mimic transmitter-based terrestrial and satellite broadcast radio in terms of content and style. Internet radio has three huge advantages over transmitter-based distribution, which will absolutely spell the eventual doom of traditional radio.
REACH By its nature, the Internet can distribute the "signal" or show around the world to every nook and cranny. And it can do it while providing high quality at each locale.
ON DEMAND Because the product has to run through servers anyway, there is an on-demand aspect to Internet radio that cannot be duplicated by transmitter-based radio without the use of ancillary TiVo-like equipment. And there are no such devices available. Internet radio can stream in real time or be obtained on demand as needed. You can listen to what you want when you want. This is a big competitive advantage.
LOW COST The death blow, though, always comes down to money. The expense of streaming over the Internet is a fraction of what transmitter-based broadcasting costs. There is no big antenna, no transmitters, no special studios. Nothing within reason can change this metric.
This same argument could be made about TV, with IPTV being the future of TV distribution. Internet radio will pioneer this transition of media to the Net, if for no other reason than it got a head start.
So, you have to wonder: When will the last terrestrial transmitter get turned off? Well, this sort of thing never happens overnight, but certainly by 2020.
http://www.pcmag.com/article2/0,1895,2159688,00.asp
CBS Quarterly Earnings Drop; TV, Radio Off
Georg Szalai
CBS Corp. on Tuesday reported a 48% decrease in second-quarter profit and a 3% revenue slip, but adjusted for various items, including year-ago gains from asset sales, its profit rose 9%.
Confronted with persistent market talk about a possible privatization of his two companies, CBS Corp. and Viacom Inc. chairman Sumner Redstone told analysts in a conference call Tuesday that he likes both "the way they are," adding that "there is an enormous amount of growth in them."
While privatization is not on the front burner, he did acknowledge that "there is a lot of talk inside (the companies) and out" about a potential deal by him to buy one of them out, and his teams will continue to consider options people suggest.
Redstone, who has been feuding with daughter Shari, again lauded CBS Corp. president and CEO Leslie Moonves as "the best executive in the media industry." Analysts didn't ask him about possible scenarios to resolve the disagreements with his daughter.
Meanwhile, CFO Fred Reynolds said that digital revenue at CBS Corp. remains "very small" for now, but it has high margins, and the company hopes to grow it down the line to more than 5% of total revenue. He didn't specify a target date for that goal, but said the firm could start breaking out its digital revenue in the future.
Moonves also played down the digital contributions, saying he is "still very bullish on the power of network TV," which provides the "bulk of money" for CBS Corp. Digital growth is more an evolution than a revolution, he said.
CBS Corp. posted a profit of $404 million, down from the $781.7 million it recorded a year ago when gains from income-tax settlements and the sale of the Paramount amusement parks boosted its bottom line. The recent sale of radio and TV stations also dragged down earnings and revenue in the latest period.
Adjusting for the effects of the items last year and for tax benefits in both periods, second-quarter earnings from continuing operations rose from $360.8 million to $393.1 million.
Revenue declined 3% year-over-year to $3.4 billion, driven by an 11% radio unit decrease and a 4% reduction at the TV unit, partially offset by a 14% gain at book unit Simon & Schuster and 4% growth in the outdoor division.
Operating income before depreciation and amortization edged up minimally to $859.4 million.
Reynolds reiterated his full-year targets for the company based on its first-half results.
Moonves on Tuesday lauded his company's "strong free cash flow, which continues to allow us to return value to our shareholders." He also signaled that another move to return money to shareholders could be on its way as early as this summer as a current stock buyback ends late this month August.
Specifically, Moonves said that the company has about $2.8 billion in cash, with a portion of that being in excess of what it needs for investment purposes. CBS already pays a dividend, which it could boost. Another option is another stock-buyback program.
TV unit revenue fell 4% to $2.2 billion, dragged down by the timing of the NCAA semifinals and the impact of TV station sales. Advertising revenue dropped 11%, with CBS Corp. citing the same factors, but home entertainment revenue increased $83.4 million compared with a year ago, driven by "Star Trek," "CSI: Crime Scene Investigation" and TV library releases, among others. TV OIBDA rose 3%.
Moonves touted the strength of the CBS network in the upfront ad season, including solid results at the "CBS Evening News With Katie Couric" that have seen some ratings weakness. The upfront brought mid- to high-single digit ad rate increases for CBS primetime programming, with "Evening News" seeing "healthy CPM growth and solid volume growth," he said.
The CEO also mentioned high-single-digit ad rate gains at the company's CW network during the upfront.
Second-quarter scatter market ad rates were up in the double digits for CBS, with growth of nearly 30% going into the upfront, and third-quarter scatter is "very strong," Moonves added.
He also expressed joy that the DVR pushback "totally disappeared" this upfront season, saying that ad sales based on Nielsen Media Research's data for people who watched network programs up to three days after their airdates seem to have become a comfortable arrangement for both sides. (The Hollywood Reporter is owned by the Nielsen Co., which also owns Nielsen Media Research.)
Asked about his level of concern over a possible guild strike next year, Moonves said CBS has a "full schedule laid out for a year from now," including reality TV, news magazine and game shows, along with library product, if talks shouldn't lead to a deal. "We're all well prepared," he said in a nod to Hollywood studios, but he also signaled confidence in the success of labor talks.
CBS Radio revenue fell 11% to $463.4 million because of station sales and continued sluggishness of ad trends. Adjusted for the station sales, revenue was down 5%. Radio OIBDA declined 18%.
Moonves lauded the early programming changes introduced by new radio president and CEO Dan Mason, citing a return of a New York station to a popular rock format as a key example that helped first-half radio ratings in the nation's largest market rise 18%. "And New York is just the beginning," Moonves said.
Management declined comment on the status of talks about a settlement with former radio host Don Imus, but Reynolds signaled the company wouldn't take a major charge for it once it is struck.
CBS Corp. Class B shares closed down 3.2% on Tuesday at $31.72 as Wall Street observers saw no real stock catalysts in the results.
"Results were generally in line with expectations, reinforcing the anemic growth trends in CBS' radio and TV ad businesses resulting in subpar normalized revenue growth," Goldman Sachs analyst Anthony Noto said.
http://www.hollywoodreporter.com/hr/...c640a2adba06cc
Clear Channel Revenue, Net Income Up In Q2
FMQB
Clear Channel Communications has released its 2007 second quarter earnings report. For the quarter, revenue was up five percent from $1.7 billion to $1.8 billion, when compared to Q2 2006. Operating expenses for the company increased six percent to $1.1 billion for the quarter. Income before discontinued operations was up 21 percent to $208.7 million. Net income grew by 19 percent to $236 million.
Clear Channel Radio saw its revenue grown by one percent in Q2, due to increases in syndicated programming, traffic and online business. Operating expenses decreased by $6.7 million for the quarter.
CEO Mark Mays said in a statement, "Our second quarter radio revenues were ahead of the industry, while our outdoor unit continued to post solid growth. We continue to make progress in strengthening our diverse portfolio of out-of-home media properties. Our focus remains on transitioning our assets to meet the shifting demands of our audiences, as well as our advertisers by offering compelling content, expanding our distribution capabilities and investing in our brands."
There was no conference call planned to discuss the company's quarterly results, because of the pending buyout of CC by Thomas H. Lee Partners and Bain Capital.
http://fmqb.com/Article.asp?id=447353
Sirius Satellite Radio 2Q Loss Narrows
Sirius Satellite Radio Inc. on Tuesday said its net loss slimmed substantially in the second quarter, as it added more than a half-million new subscribers and revenue grew by about 50 percent.
New York-based Sirius reported a net loss of $134.1 million, or 9 cents per share, compared with a loss of $237.8 million, or 17 cents per share, a year earlier.
On an adjusted basis, excluding stock-based compensation costs, Sirius lost 8 cents per share in the period. Revenue rose to $226.4 million from $150.1 million a year earlier.
Analysts polled by Thomson Financial on average expected a loss of 10 cents per share in the quarter on revenue of $228.3 million.
In other key metrics watched by investors, Sirius' cost for adding each subscriber fell to $108 from $131 in the same period a year ago.
Average monthly revenue per subscriber, however, fell to $10.71 from $11.71 in the same period a year ago, partly on a decline in average advertising revenue per subscriber.
Average monthly churn - reflecting the rate at which users drop out of the service - edged up to 2.1 percent from 1.8 percent in the same period a year ago.
Sirius reported net subscriber additions of 561,493 for the quarter, taking its total to more than 7 million.
The company also said it continues to expect that its combination with XM Satellite Radio Holdings Inc. will be completed by the end of the year.
The deal is facing tough regulatory scrutiny in Washington, and the two companies recently announced proposed pricing plans that would allow users greater choice in which channels they receive and how much they pay.
Sirius shares rose 4 cents, or 1.4 percent, to $3.01 Tuesday.
http://hosted.ap.org/dynamic/stories...07-31-16-50-31
RadioShack Profit Rises on Savings From Fewer Stores
Mark Clothier
RadioShack Corp., the third-largest U.S. consumer-electronics retailer, said profit rose on reduced spending for closed stores. The shares had their biggest drop in more than two years after sales fell the most since 1999.
Second-quarter net income was $47 million, or 34 cents a share, compared with a loss of $3.2 million, or 2 cents, a year earlier. Sales slumped 15 percent to $934.8 million, the Fort Worth, Texas-based company said today in a statement. Analysts estimated sales of $977.6 million.
Chief Executive Officer Julian Day, who took over a year ago, has shut about 500 stores and kiosks, improved the flow of inventory and sold more profitable items. The stock price has almost doubled under Day, while increasing sales have proven more difficult, declining for the fourth straight quarter.
``Cost cutting remains impressive, but we believe there is a limit to how much an organization can cut,'' Scot Ciccarelli, an analyst at RBC Capital Markets, wrote in a research note today.
Shares of RadioShack slumped $2.76, or 9.6 percent, to $26.04 as of 10:36 a.m. in New York Stock Exchange composite trading for the biggest drop since March 2005. They had jumped 72 percent this year before today.
Analysts estimated profit of 25 cents a share, on average, according to a survey by Bloomberg. Second-quarter results included a gain of $10 million, or 7 cents a share, from a tax contingency.
Wireless Phone Sales
Demand of wireless phones and plans, which have made up about a third of RadioShack's sales, fell 20 percent in the quarter. RadioShack's wireless revenue has suffered since it switched to AT&T Inc. from Verizon Wireless in 2006.
``A lot of people who got into this stock before Day came in are saying, 'Okay, he crushed numbers the first two quarters, now they just beat, and revenue is really weak,''' said Anthony Chukumba, an analyst with FTN Midwest Research Securities Corp. in New York. ``Maybe now it's time to take profits and look for the next turnaround story.''
RadioShack has struggled to compete with Best Buy Co., Circuit City Stores Inc. and Wal-Mart Stores Inc., which offer more products. RadioShack has about 6,000 stores, and 750 kiosks in Wal-Mart's Sam's Club locations.
Gross Margin Increases
RadioShack's gross margin, the percentage of sales left over after taking out the cost of products sold, increased 3.3 percentage points because of better inventory management and the sale of more profitable products. Last year, it liquidated karaoke keyboards to make room for flat-panel televisions.
Selling, general and administrative expenses dropped $106 million, or 22 percent, as Day cut payroll and advertising.
Sales in stores open more than 12 months fell 8.9 percent.
After joining RadioShack in July 2006, Day replaced top managers and reduced the company's payroll by 15 percent to about 40,000 full- and part-time employees at the end of last year.
Twelve analysts have a ``hold'' rating on the stock. Seven say ``sell.''
The company didn't give an annual forecast today. In February, it predicted annual per-share profit of as much as $1.20. Analysts estimate $1.48 a share in a Bloomberg survey.
http://www.bloomberg.com/apps/news?p...AYSaM&refer=us
Best Buy Fires Geek Squad Supervisor Following Negative Newspaper Articles About Porn Pilfering
Best Buy is on the offense, launching an internal witch hunt to unmask the "rogue employees" responsible for exposing Geek Squad's pervasive culture of porn pilfering. Their first victim is the Geek Squad supervisor of the Santa Clarita store, one of the only Best Buy locations whose former employees were quoted in recent articles, print as being a center for porn pilfering.
Former Geek Squad agent Brett Haddock, quoted in recent articles in the Minneapolis Star-Tribune and the LA Daily News, reports, "I have confirmation that the direct Supervisor of the Geek Squad in the Santa Clarita store was asked to step down, but I do not have exact numbers right now as to how many employees have been terminated."
Furthermore, Haddock says that some of his fellow coworkers are none too happy with his whistleblowing. "Some employees have been terminated as a direct result of the articles," writes Haddock. "Said employees are a tid bit "miffed" with me, and the article I rode in on. I have already been sent text messages and emails from people upset with "what I did."
I'm standing up for what I believe is moral and right. I'm sorry for any legitimately innocent person that works for Best Buy whom was wrongfully terminated. It is obvious that Best Buy will seek a fall guy for the incident, so they can site it as "an isolated one" but what they do not realize is the stories that run on Consumerist.com depict a nationwide epidemic with Agents of the Geek Squad."
Hopefully, Best Buy/Geek Squad's vigor will extend to a systematic investigation of every single Geek Squad for possible breaches of customer privacy. An isolated report from a Geek Squad agent in the northeast that they had to remove their precinct's harddrives and mail them to Geek Squad headquarters to check for "privacy issues" could be signs of steps in the right direction.
http://consumerist.com/consumer/rumo...ing-284086.php
Burn down the Mission
Why We Must Close the Net
Web rant ... Sir Elton says the internet is destroying music
Caroline Iggulden
POP legend Sir Elton John wants the internet CLOSED DOWN.
Never one to keep his opinions to himself, the Rocket Man has waded into cyberspace with all guns blazing.
He claims it is destroying good music, saying: "The internet has stopped people from going out and being with each other, creating stuff.
"Instead they sit at home and make their own records, which is sometimes OK but it doesn't bode well for long-term artistic vision.
"It's just a means to an end.
"We're talking about things that are going to change the world and change the way people listen to music and that's not going to happen with people blogging on the internet.
"I mean, get out there — communicate.
"Hopefully the next movement in music will tear down the internet.
"Let's get out in the streets and march and protest instead of sitting at home and blogging.
"I do think it would be an incredible experiment to shut down the whole internet for five years and see what sort of art is produced over that span.
"There's too much technology available.
"I'm sure, as far as music goes, it would be much more interesting than it is today."
Multi-millionaire Elton, who turned 60 earlier this year, has admitted in the past that he is a bit behind the times. The Grammy award-winner was once quoted as saying: "I am the biggest technophobe of all time.
"I don't have a mobile phone or an iPod or anything.
"I am such a Luddite when it comes to making music. All I can do is write at the piano."
Sales of Elton's last album The Captain & The Kid were disappointing — it barely shifted 100,000 copies. And in the past Sir Elt has opposed illegal downloading of his music from the net.
But the flamboyant singer has embraced the web in other ways.
The 60th birthday concert Sir Elton played to a 20,000-strong crowd at New York's Madison Square Garden was streamed live over the internet.
The singer also announced earlier this year that his entire back catalogue of albums would be made available for digital download.
The internet has played a huge role in kick-starting the careers of some of Britain's best new talent.
Sandi Thom shot to fame after broadcasting webcam concerts from her London basement flat, while both the Arctic Monkeys and Lily Allen acknowledge the part played by the web in their success.
But Elton also complained about the quality of music being released.
He said: "In the early Seventies there were at least ten albums released every week that were fantastic.
"Now you're lucky to find ten albums a year of that quality.
"And there are more albums released each week now than there were then."
I guess that's what Sir Elt would call a net loss . . .
http://www.thesun.co.uk/article/0,,2-2007350453,00.html
If a Patented Gene Appears in a Song, Who Gets the Royalty?
Sure, genetic music was the out-of-left-field offshoot of the Human Genome Project, but we can't deny that the field -- such as it is -- has shown surprising longevity. If you have a free minute, check out
this newly issued patent
. It covers "music generated by decoding and transcribing genetic information within a DNA sequence into a music signal having melody and harmony," according to the abstract. The inventors listed are a couple of lawyers (hence the title of this post).
http://www.genome-technology.com/iss.../141371-1.html
iPod Noise Pollution Irks Those Nearby
Erin Carlson
Dave Legeret silently fumed as the man seated beside him on the plane blasted techno music on his iPod at full volume.
"It was kind of rude," recalled Legeret, 38, a jewelry designer from Sandy Hook, Conn., who was forced to listen while flying from New York City to Disney World with his wife and 8-year-old son. "Listen to it at a level that just you can hear it and everyone else doesn't have to be subject to it."
Apple Inc.'s ubiquitous iPod is best known as an instrument of solitude - unless the user ignores standards of etiquette by invading the eardrums of fellow commuters, officemates or other innocent bystanders. Then it starts to get annoying. Especially when you're stuck in close proximity.
Amped to its highest volume, the iPod is not nearly as invasive the classic loud cell phone conversation. But it can have its moments. Like when you're standing in an elevator at 9 a.m. and a co-worker cranks up Amy Winehouse's "Rehab." (Too early for that song.) Or when an ear-budded subway rider belts what sounds like a Whitney Houston tune with careless abandon, causing other riders to inch away or flee into another car altogether. (True story.)
"I've heard that problem quite a lot, people singing along," said Leander Kahney, managing editor of Wired magazine's Web site. "And, of course, my kids - when they have the iPod in, they shout. They don't realize with the headphones they're being too loud, so they'll conduct conversations without taking their ear buds out. And they're yelling."
That kind of behavior - an ignorance by the user of volume levels and surroundings - is more odious than the low buzz of the iPod, Kahney said.
"Did anyone ever complain about the noise coming from a Walkman or a CD player?" he said. "Unless you're in a quiet environment, you're really gonna have to strain to hear any kind of noise from somebody else's iPod."
Our world, he said, has become freakishly quiet. "It's not noise pollution - it's noise absence. And I find it almost more disturbing and upsetting than I did loud noise. It's sort of unnatural."
But in places and spaces where silence is golden - planes, trains and office cubicles, for example - even slightest thump-thump-thump of bass can feel like a violation.
And then there's the impromptu karaoke problem. Kahney said a colleague at Wired, which covers technology and how it affects culture, has a bad habit of crooning to his playlist at work.
Any Celine Dion in the mix? "Oh no, he listens to these dreadful old hippie songs," he said. "You know, Creedence Clearwater Revival and the Allman Brothers."
All is forgiven after a friendly tap on the shoulder, Kahney said. A less confrontational approach may in order, though, when someone refuses to cooperate.
Anna Post, an etiquette instructor at The Emily Post Institute, said she'd heard a story about a woman who asked an iPod-using subway rider to turn down the volume, only to have her request ignored. So she used another tactic: Singing along to the music.
"And, all of a sudden, boy, did that iPod get shut off," said Post, who stressed that "a little social shame can go a long way."
Like the cell phone, the iPod and other music players can foster a sense of apathy when the user is among strangers. It's easier to blow off social norms - and channel Justin Timberlake during rush hour - when you don't know who you're irritating.
"Sometimes people can feel a little anonymous in public," Post said. "Like, `Oh. You know what? I didn't hear you. I didn't make eye contact with you. I can just ignore you and pretend like I'm not a bad person for doing this.'"
Of course, many iPod noise polluters should be given the benefit of the doubt. They might be unaware that the volume is up so high. Or they may be hard of hearing (probably because they listen to such loud music).
If the noise is bothersome, Post said it's OK to speak up because most people would be hard pressed not to listen. If they don't, just "grin and bear it and let it go and just be the bigger person," she advised.
Or get an iPod of your own.
"I got to the point where I'm like, `You know what? You really can't beat it,'" said Aimee Wendt, a 27-year-old web designer from Madison, Wis. "If you look around, there are so many people with iPods - you might as well join `em."
Legeret, the man stuck listening to techno on the plane ride to Florida, owns an iPod, as does his wife. They listen at respectable levels, and expect others to do the same.
"I'm really conscious of that," he said. "I'm the type of guy where if I'm in public, I'll try not to offend anybody if I can help it."
http://hosted.ap.org/dynamic/stories...07-31-17-06-15
Cutting a Tumultuous Era's Soul Soundtrack
Ginia Bellafante
One day in the early 1960s, a young man who worked as driver and baggage handler for a group called Johnny Jenkins and the Pinetoppers lugged its instruments into the studios of Stax Records in Memphis, where the band was scheduled for a recording session. As it happened, the young man sang too — in a husky tenor — and spent his idle hours that afternoon begging people to hand him a mike.
By the end of the day, no one had given him a shot, and the label's founder Jim Stewart felt guilty. Mr. Stewart was simply that kind of guy. The task of hearing out the eager aspirant fell begrudgingly to Steve Cropper, guitarist for Booker T. & the MGs, one of the label's popular bands. As Mr. Cropper tells it in "Respect Yourself: The Stax Records Story," a "Great Performances" documentary tonight on PBS: "He started singing 'These Arms of Mine,' and I know my hair lifted out about three inches. I couldn't believe this guy's voice." It belonged to Otis Redding.
Redding's death in a plane crash in Wisconsin in 1967 — he was just 26 — was one of the many setbacks the Stax label would endure. Ill-conceived distribution deals and the ouster of Clive Davis at CBS, with whom Stax had a fortunate relationship, were others. By the mid-1970s, the label was in bankruptcy and fated for an undeserved obscurity among the wider world beyond the fans of R&B.
Stax, eventually owned by the marketing innovator Al Bell, gave birth to the Memphis Sound — a funkier, less refined analogue to Detroit soul — and some of the most influential recordings of the 1960s: "Soul Man," "Respect" (written by Redding), "(Sittin' on) the Dock of the Bay" and "Who's Making Love?," among many others. It has not, however, shared Motown Records' sustained celebrity. That this constitutes one of the crimes of American music history is an argument "Respect Yourself" makes by the pure virtue of its narrative.
The label came to life in the late 1950s when Mr. Stewart, a white bank teller, and his sister Estelle Axton took over an old movie theater in a Memphis neighborhood that was becoming predominantly African-American, with plans to use it as a studio. Mr. Stewart's interest in music initially did not extend beyond country. But, as he points out here, "The wind blew in, and we were smart enough not to fight it."
The wind came in the form of R&B, and Stax helped create a hurricane. Stax completely ignored segregation in a city where the public pool chose to shut down rather than abide by an order to allow blacks and whites to swim together. Booker T. & the MGs was a marriage between Booker T. Jones and other black musicians and the white members of the Mar-Keys. They met and began talking at the Stax record shop, run by Ms. Axton, which operated next to the studio in what had been the movie theater's concession stand.
With the exceptions of people like Otis Redding and Isaac Hayes, many of the Stax artists remain unfamiliar to the public now, a problem that cannot be explained solely by the label's twisted financial fortunes. While Carla Thomas and her father, Rufus, for instance, are fairly well known, many Americans would be hard pressed to cite a single one of their songs or identify either of them in an MTV lineup.
There is a poignant story to be told in the absence of these artists from our collective cultural memory and, regrettably, "Respect Yourself" leaves it aside. Still, this documentary provides an essential account of auteurism in one of American music's greatest eras.
RESPECT YOURSELF
The Stax Records Story
On most PBS stations tonight (check local listings).
David Horn, executive producer; Robert Gordon and Morgan Neville, producers/directors; John Walker, series producer for music; Bill O'Donnell, director of program development. Produced by Tremolo Productions, Concord Music Group and Thirteen/WNET New York.
http://www.nytimes.com/2007/08/01/ar...on/01resp.html
Elvis Managers Plan Graceland Overhaul
Woody Baird
The thousands of Elvis Presley fans descending on Memphis for the 30th anniversary of his death Aug. 16 won't see much sign of it, but plans are moving along for big-time changes at Graceland.
Managers of Presley's famous home want to overhaul its tourist complex - with a new visitors center bigger than a football field, a convention hotel and high-tech museum displays that can give a new, digital life to the King himself.
All it will take to bring about those wonders is $250 million or so; the total reorganization of CKX Inc., the New York-based company that controls all things Elvis; and a publicly supported facelift for Graceland's struggling neighborhood.
The obstacles are far from small, but the people behind the plans, led by CKX Chairman Robert F.X. Sillerman, have a history of putting together big deals and making money for investors.
Sillerman, a multimillionaire dealer in media and entertainment assets, took over Graceland in 2005 when he bought the rights to Elvis' name and image from daughter Lisa Marie, Presley's sole heir.
When Presley died, his finances were in sad shape. Led by his ex-wife Priscilla Presley, the estate formed Elvis Presley Enterprises, opened Graceland to the public and solidified the legal rights to make money on Elvis' name and image.
Last year, Graceland took in $27 million in revenue, and the overall Elvis business brings in more than $40 million a year. That made him the second-highest grossing dead celebrity in 2006, behind only Nirvana's Kurt Cobain, according to Forbes.
Lisa Marie Presley still owns her father's house and 15 percent of Elvis Presley Enterprises, but CKX controls Graceland and its sprawling complex of souvenir shops and memorabilia museums.
"As great as it is," Sillerman said after a recent visit to Graceland, "it can be so much better."
The big, white-columned house Presley bought in 1957 for just over $100,000 draws close to 600,000 visitors a year, and for a week around the anniversary of his death on Aug. 16, 1977, it attracts legions of his still-adoring fans.
Graceland's current visitors center, souvenir shops and museums were cobbled together by renovating a small strip mall across the street from what the Elvis faithful affectionately call "the mansion."
The new plans call for leveling all that and building a 80,000-square-foot visitors center designed from the ground up for handling big crowds and high-tech exhibits.
"To put that in perspective, that's about six or seven times the size of the mansion," Sillerman said.
The center will be equipped for the kind of technical wizardry that allowed singer Celine Dion to recently perform what appeared to be a live duet with Elvis on the "American Idol" TV show, which CKX also owns.
"People will actually think Elvis is there," Sillerman said. "It's going to be, 'Oh, wow,' I can tell you that."
For years, Elvis Presley Enterprises, now a CKX subsidiary, has been buying land for expansion and has put together 100-acres needed for the renovation, which would move the tourist center to the same side of Elvis Presley Boulevard as Graceland.
"We've continued all these years to be a major destination attraction with a busy, pretty unattractive street running right through the middle of it," said Jack Soden, EPE's top executive and a major player in opening Graceland to the public in 1982.
Graceland's 128-room Heartbreak Hotel, also on the wrong side of the four-lane street, is to be replaced by a convention hotel, on the better side, with up to 500 rooms.
No timeline for the expansion has been set, Soden said.
"But moving straight ahead, with every intention of keeping the ball moving, we're probably looking at something in the neighborhood of a three-year process," he said.
Top CKX managers, led by Sillerman, want to buy the company for $1.3 billion, at $13.75 a share plus stock equaling 25 percent of FX Luxury Realty, an affiliate with plans to develop hotels, casinos or other such projects with CKX.
Shareholders are expected to vote on the proposal perhaps in October, said Sillerman, the company's largest stockholder with 34 percent.
The plan is to take CKX private, with a small group of big-dollar investors including Sillerman and "American Idol" creator Simon Fuller, and continue its focus on intellectual property and entertainment content.
Fuller is chief executive of CKX subsidiary 19 Entertainment, the company's biggest revenue source and owner of the "American Idol" franchise. After the buyout, CKX would become 19X.
FX Luxury Realty, as FXLR, would remain public with a much broader shareholder base to develop real estate projects in Memphis, Las Vegas and elsewhere, including abroad.
CKX, which also owns the rights to former heavyweight champion Muhammad Ali's name and image, might have a better shot at other such deals as a private company, since celebrities are often reluctant to have their financial dealings made public, said Bear Stearns analyst Christopher Ensley.
Bear Stearns, which is not involved in the buyout, predicts a total cost, including expenses, of $1.5 billion, with $600 million in equity and $950 million in debt. CKX management is expected to provide $200 million with the rest coming from institutional investors.
With Sillerman and other CKX managers holding more than 45 percent of its shares, approval for the buyout is likely, with a closing perhaps by the end of the year, Ensley said.
"I looked at the transaction several different ways, and I thought the valuation was full and fair to investors," he said.
Sillerman's past success in putting together investment packages may help attract buyout backers, Ensley said.
In the 1990s, Sillerman helped put together a group of radio stations that sold for $2 billion, and he was a leading founder of a SFX Entertainment, a sports and live concert company that sold for $4 billion in 2000.
Graceland managers have been working on their expansion plans for more than a year, and Sillerman has come to Memphis to talk with city, county and state officials about their assistance.
CKX wants a "mutual cooperation agreement" with local government for major highway and utility improvements and renovation help for other businesses in the area, particularly along Elvis Presley Boulevard, a once vibrant commercial strip now dotted with used-car lots and empty buildings.
"We don't want to create an island," Soden said. "We want to be a catalyst for the right kind of growth and the right kind of revitalization of the commercial corridors."
http://hosted.ap.org/dynamic/stories...07-31-16-03-39
Junk Filter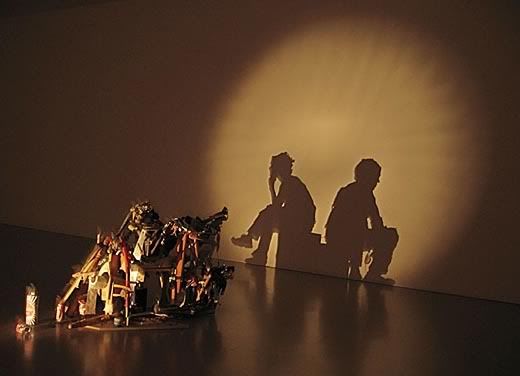 Hollywood Pros to Launch Online Video Site
Gary Gentile
When it debuts Tuesday on the Web, My Damn Channel will become the latest attempt by Hollywood professionals to cash in on the huge popularity of online video.
Comedian Harry Shearer, filmmaker David Wain and music producer Don Was, among others, also hope to find creative freedom seldom offered by traditional media companies.
The site is the brainchild of former MTV and CBS Radio executive Rob Barnett, who believes Internet audiences want to see professionally produced shows other than network TV fare.
"The old media companies don't know how to program for this medium," Barnett said. "There is a focus on reruns and outtakes, and I don't think that cuts it."
Shearer, who provides the voices for several characters on "The Simpsons" TV show, will produce a weekly political and pop-culture satire show for the site. Was, who has produced records for Bob Dylan, The Rolling Stones and Bonnie Raitt, will host a music interview show with actor Paul Reiser.
Wain, writer and director of the upcoming film "The Ten," starring Jessica Alba and Paul Rudd, will produce 10 comedy shorts.
Barnett points to the buzz created by the Will Ferrell video "The Landlord," which helped launch Ferrell's Web site, "FunnyorDie.com," as an example of video Web opportunities.
According to the site, the video has been viewed more than 40 million times.
My Damn Channel will syndicate its videos on other Internet sites and collect revenue from advertising. The site has already signed a distribution deal with YouTube, which is owned by Google Inc.
The site is backed by Okapi Venture Capital. The amount of the investment was not disclosed.
Jupiter Media analyst David Card said there is a growing demand for amateur and professional video on the Web.
Still, even videos from pros must find an audience, which can be difficult without an enormous amount of promotion.
"You still need to cut through the clutter and sign some major distribution deals," Card said.
Shearer said the Web provides huge creative opportunities when compared to traditional networks and studios.
"If you walk into any of those places today, you will sooner or later be smothered by network creative input," Shearer said. "And unless you have made the studios about a billion dollars, your project will be creative inputted to death."
http://hosted.ap.org/dynamic/stories...07-31-01-10-06
TV Anchors Subjected to Ridicule Online
Jake Coyle
In the 1987 movie "Broadcast News," Aaron Altman, played by Albert Brooks, has one shot at the anchor's seat, only to be beset by a rabid case of flop sweat.
William Hurt's character, the slick but shallow Tom Grunick, later describes Altman's moist meltdown as unprecedented, "unless you count `Singin' in the Rain.'"
Nowadays, there's much precedent. Video-sharing sites like YouTube are ensuring that every TV anchor mishap is preserved and distributed. No, the onset of online video has not been kind to television personalities.
Reporting for a Ball State University news program, Brian Collins runs through the day's sports news in such awkward fashion that even Ricky Gervais would squirm watching:
http://tinyurl.com/yc5x7b
. Millions have now witnessed Collins' disaster and his catch phrase "Boom goes the dynamite" has become part of the lexicon.
Nearly 400,000 have watched a compilation of TV news bloopers on YouTube:
http://tinyurl.com/yw84wp
. Among the videos included are the now infamous local news woman who falls hard while reporting on grape stomping, as well as Michelle Kosinksi's canoe paddling in ankle-deep flooding in New Jersey - as seen on "The Daily Show."
Verbal slips can make a big splash too, like this local news anchor who introduced a segment on a blind mountain climber by accidentally saying he was gay:
http://tinyurl.com/yy35eg
. This anchor for Sky News misunderstood breaking news on playwright Harold Pinter:
http://tinyurl.com/2bcthv
. She announces he has died when he had in fact just won the Nobel Prize for Literature. What a comeback!
Some mistakes can look like outtakes from Will Ferrell's "Anchorman: The Legend of Ron Burgundy." Stephanie Soviar, reporting live for an NBC affiliate in Indiana, crashes an ATV in just seconds:
http://tinyurl.com/2catju
.
Cheryl Stewart for NBC's Portland affiliate attempts an ollie on a skateboard during an interview with an extreme sports athlete:
http://tinyurl.com/27qbrt
. When her trick doesn't go quite as planned, she receives scant assistance from the BMX bike pro.
Still others are remarkable for their peculiar tangents. NY1's Roger Clark is here seen segueing from a Manhattan traffic report to a James Earl Jones impression from "Coming to America":
http://tinyurl.com/24ybkx
.
And then there are the weathermen. Gesturing blindly at their green screens while attempting to predict the future, they have long been the most parodied figures of any nightly newscast.
King of them all is this Miami weatherman:
http://tinyurl.com/j5z3q
. A cockroach's seemingly innocuous decision to crawl up this man's leg during a live broadcast has resulted in the glee of hundreds of thousands.
This wannabe weatherman, giving the forecast for Ohio University Public Television, should be paired with Collins:
http://tinyurl.com/yoc9bd
. As a duo, their powers of awkwardness would be so great that they would power the Internet for years.
Still, you can't help but feel sympathy for the thousands of anchors, reporters and weathermen that populate our morning shows and local news programs. Without their pratfalls, flop sweats and catch phrases, YouTube would be a less joyful place.
http://hosted.ap.org/dynamic/stories...07-31-16-49-01
Band Manager in Nightclub Fire Case to Seek Parole
Eric Tucker
The former rock band tour manager whose pyrotechnics ignited a nightclub fire that killed 100 people is scheduled for a parole hearing on Sept. 19 that could result in his early release from prison, the chair of the parole board said Tuesday.
Daniel Biechele will become eligible for parole in September after serving 16 months, or one third of a four-year prison sentence he received in May 2006.
Biechele pleaded guilty last year to 100 counts of involuntary manslaughter for his role in the Feb. 20, 2003, fire. The blaze began when Biechele lit pyrotechnics at the start of a concert for the hair-metal band Great White at The Station nightclub in West Warwick. The display set fire to flammable foam on the walls and raced through the one-story roadhouse.
A four-member panel of the parole board will meet with Biechele at the minimum security facility of the state prison, where he is serving his sentence, said Lisa Holley, chair of the parole board. Victims' relatives will have a separate hearing, currently scheduled for Sept. 5, she said.
The board weighs factors such as an inmate's remorse, risk of reoffending and plans for life after prison. It has the option of granting an inmate immediate parole; granting parole at a later date; denying parole but scheduling another hearing several months later; or denying parole altogether and requiring prisoners to serve out their sentence.
"What we don't do is, we don't retry cases," Holley said. "That's not our role."
Holley said she could not comment on Biechele's chances for parole because she was not familiar with his case. Biechele's attorney, Thomas Briody, declined to comment.
Biechele tearfully apologized to victims' relatives at the end of his sentencing hearing, saying he never intended for anyone to be harmed and wasn't sure he would ever forgive himself. Soon after entering prison, he began a work-release job as a bookkeeper for a nonprofit agency.
Some victims' family members expressed ambivalence about the prospect of an early release, saying they hold Biechele less responsible than club owners Jeffrey and Michael Derderian. The men are blamed for installing the foam as soundproofing and for operating a business that prosecutors said put patrons' lives in danger.
The Derderians reached plea deals last year. Michael Derderian is serving a four-year term, while Jeff Derderian received a suspended sentence with community service and probation. Many victims' relatives have said they think those sentences are too lenient.
"I just don't see investing the same amount of emotion into his being released than I do for the Derderians," said James Gahan, whose son Jimmy, 21, was among those killed. "That was the real miscarriage."
Chris Fontaine, who lost her son, 22-year-old Mark Fontaine, said she had no problem with Biechele receiving parole even though she believes he was "foolish" in using the pyrotechnics.
"He's a young man," she said. "He has a full life ahead of him, and I think he should be able to get on with it."
But John Richmond, whose 40-year-old daughter, Kelly Vieira, was killed, said it was too soon for Biechele to be released.
"A couple of years (in prison) doesn't mean anything when you're talking about people that are dead," Richmond said.
http://hosted.ap.org/dynamic/stories...07-31-14-03-59
From 40.7 to 42.8 % Solar Cell Efficiency
University of Delaware-led team sets solar cell record, joins DuPont on $100 million project.
Press Release
Using a novel technology that adds multiple innovations to a very high-performance crystalline silicon solar cell platform, a consortium led by the University of Delaware (UD) has achieved a record-breaking combined solar cell efficiency of 42.8 percent. The current record of 40.7 percent was attained in December 2006 by Boeing's Spectrolab, Inc.
The research was led by Allen Barnett, principal investigator and UD professor of electrical and computer engineering, and Christiana Honsberg, co-principal investigator and associate professor of electrical and computer engineering. The two direct the University's High Performance Solar Power Program and have been working to achieve the 50 percent efficiency goal set by the Defense Advanced Research Projects Agency (DARPA).
Barnett and Honsberg said that reaching the 42.8 percent mark is a significant advance in solar cell efficiency, particularly given the unique small and portable architecture being used by the consortium and the short time—21 months—in which it was developed.
Honsberg said the previous best of 40.7 percent efficiency was achieved with a high concentration device that requires sophisticated tracking optics and features a concentrating lens the size of a table and more than 30 centimeters, or about 1 foot, thick. The UD consortium's devices are potentially far thinner at less than 1 centimeter.
"This is a major step toward our goal of 50 percent efficiency," Barnett said. "The percentage is a record under any circumstance, but it's particularly noteworthy because it's at low concentration, approximately 20 times magnification. The low profile and lack of moving parts translates into portability, which means these devices easily could go on a laptop computer or a rooftop."
Honsberg said the advance of 2 percentage points is noteworthy in a field where gains of 0.2 percent are the norm and gains of 1 percent are seen as significant breakthroughs.
"This achievement is the direct result of the new architecture we developed under the DARPA program," Barnett and Honsberg said. "By integrating the optical design with the solar cell design, we have entered previously unoccupied design space leading to a new paradigm about how to make solar cells, how to use them, and what they can do."
In November 2005, the UD-led consortium received approximately $13 million in funding for the initial phases of the DARPA Very High Efficiency Solar Cell (VHESC) program to develop affordable portable solar cell battery chargers.
The highly efficient VHESC solar cell uses a novel lateral optical concentrating system that splits solar light into three different energy bins of high, medium and low, and directs them onto cells of various light sensitive materials to cover the solar spectrum. The system delivers variable concentrations to the different solar cell elements. The concentrator is stationary with a wide acceptance angle optical system that captures large amounts of light and eliminates the need for complicated tracking devices.
The VHESC would have immediate application in the high-technology military, which increasingly relies upon a variety of electronics for individual soldiers and the equipment that supports them. As well, it is hoped the solar cells will have a large number of commercial applications.
Today, the American soldier carries a pack that weighs nearly 100 pounds of which about 20 pounds are the three-day supply of batteries needed to power their gear. The DARPA program aims to dramatically reduce the battery logistics pipeline and provide the soldier with more power at reduced weight, thus improving mobility, survivability and the availability of advanced electronic technologies on the battlefield.
As a result of the consortium's technical performance, DARPA is initiating the next phase of the program by funding the newly formed DuPont-University of Delaware VHESC Consortium to transition the lab-scale work to an engineering and manufacturing prototype model. This three-year effort could be worth as much as $100 million, including industry cost-share.
During the first 21 months of the VHESC program, a diverse team of academia, government lab and industrial partners, led by UD, was focused on developing the technology basis for a new extremely high efficiency solar cell. The rapid success of that effort has enabled the present transition to a focus on prototype product development.
Barnett credits the early success of the program to the team approach taken to solving the problem. Partners in the initial phase included BP Solar, Blue Square Energy, Energy Focus, Emcore and SAIC. Key research contributors included the University of Delaware, National Renewable Energy Laboratory, Georgia Institute of Technology, Purdue University, University of Rochester, Massachusetts Institute of Technology, University of California Santa Barbara, Optical Research Associates and the Australian National University.
"What we've done," he said, "is create a virtual lab by having all of these companies, universities and national laboratories in the consortium. This has given us access to a broad range of capabilities in terms of expertise and equipment."
That approach is exemplified by the fact that the record-breaking system features three types of solar cells-one made by industry (Emcore), one by the National Renewable Energy Laboratory and one by UD.
"This is a solar cell that works," Barnett said, adding, "This technology has the potential to change the way electricity is generated throughout the world."
Barnett believes the 50 percent efficiency mark is just the beginning. "Our best inventions are in front of us," he said. "The consortium has been a super team, and has worked to develop new devices and architectures based on a breakthrough design paradigm."
The newly formed DuPont-University of Delaware VHESC consortium will be made up of industrial partners, national laboratories and universities. The consortium's goal is to create solar cells that operate at 50 percent in production, Barnett said. With the fresh funding and cooperative efforts of the DuPont-UD consortium, he said it is expected new high efficiency solar cells could be in production by 2010.
http://www.renewableenergyaccess.com...story?id=49483
E-Dragsters Go for Gas-Powered Records
Aaron Clark
Straddling a 619-pound motorcycle, Scotty Pollacheck tucks in his knees and lowers his head as he waits for the green light. When he revs the engine, there's no roar. The bike moves so fast that within seconds all that's visible is a faint red taillight melting in the distance.
Pollacheck crosses the quarter-mile marker doing 156 mph; he's traveled 1,320 feet in 8.22 seconds, faster than any of the gas-powered cars, trucks or motorcycles that have raced in the drag sprints on this weekend at Portland International Raceway.
It's particularly impressive given Pollacheck is riding a vehicle that uses no gasoline and is powered entirely by lithium-ion batteries.
Electric vehicles are making their presence felt at amateur drag races across the country, challenging gas-powered cars and motorcycles. The "amp heads," computer geeks and tree-hugging environmentalists driving the electron-powered vehicles are starting to kick some major rear end.
Pollacheck and his bike - dubbed the KillaCycle - are part of a growing movement that's exploiting breakthroughs in battery technology and could soon challenge the world's fastest-accelerating vehicles in the $1 billion drag-racing industry.
"In professional drag racing I expect to see the electrics eventually pass up the fuel dragsters," said Dick Brown, president of AeroBatteries, which sponsors White Zombie, the world's quickest-accelerating street-legal electric car - a 1972 white Datsun 1200.
"Electric gives you instant torque whereas gasoline you have to build up," Brown said. "As we learn to manage it, you're going to see some really amazing performances."
Brown believes electric vehicles will challenge the top drag-racing records within five years.
The KillaCycle runs on 990 lithium-ion battery cells that feed two direct current motors, generating 350 horsepower. The bike accelerates from zero to 60 mph in just under a second - faster than many professional gas-powered drag motorcycles and within striking distance of the quickest bikes that run on nitromethane. With that hyper-potent racing fuel, riders can get to 60 mph in 0.7 seconds.
Bill Dube, KillaCycle's owner and designer, likens the sleek, hulking bike to an oversized household appliance.
"This is like a giant cordless drill with wheels," said Dube, who designs pollution measurement instruments for the National Oceanic and Atmospheric Administration.
Except for the batteries he receives from sponsor A123 Systems, Dube pays the costs of his racing team - about $13,000 a year - out of his own pocket.
"We have a chance of actually taking away some nitromethane records, perhaps the overall record," said Dube.
In drag racing, two vehicles accelerate from a standstill and race over a straight quarter-mile track. The National Hot Rod Association oversees the racing of amateur street-legal cars on hundreds of tracks around the country as well as the professional drag circuit.
In the most popular professional division, Top Fuel Racing, dragsters with large rear wheels and narrow bodies reach speeds exceeding 330 mph in 4.6 seconds. Drivers are practically flattened against their seats during their short ride, meeting more g-forces than astronauts during a space shuttle launch.
The National Electric Drag Racing Association holds just four races a year. But electric drag racers are increasingly showing up at drag strips across the country to show what they can do.
Their vehicles are posting faster and faster times at amateur meets, but they still have a ways to go before matching professional world record times. The fastest quarter-mile time by an electric vehicle is the KillaCycle's 8.16 seconds - that's 2.36 seconds off the nitromethane world record for drag bikes set by Larry "Spiderman" McBride last year.
And larger electric vehicles have even more catching up to do. White Zombie's best time in a quarter-mile is 11.46 seconds - that's quicker than a 2007 505-horsepower Corvette ZO6, one of the fastest production vehicles available to the general public - but it's still 6.4 seconds away from the Top Fuel record.
Not everyone in the gas-powered crowd is convinced electric vehicles are the next big thing.
"I certainly don't see them challenging for professional records in the near future," said Graham Light, senior vice president of racing operations at the NHRA. "We don't have a blind eye to new technology, new innovations and new methods of doing things" but "at this point I don't see a strong movement toward electric cars."
But electric vehicle racers say people like Light are out of the loop. They say rapid advances in battery technology will give EVs a shot at drag-racing records.
"This is a disruptive technology and there is a lot of room for improvement in this area," said Ric Fulop, founder and vice president of business development for A123, the maker of KillaCycle's batteries.
In December, the KillaCycle will receive a second-generation battery pack that will have twice as much juice as its current 374-volt system, giving it close to 1,000 horsepower. Fulop said he believes the KillaCycle can break the drag racing motorcycle record within the next year.
Electric drag racers are test-driving the technology that will eventually spill over into mass production cars, analysts say.
Today's hybrid cars, like Toyota Motor Corp.'s Prius, use nickel metal hydride batteries, which cost less than lithium-ion batteries.
But the price of lithium-ion is expected to drop. In addition, the latest generation of batteries offers a higher rate of conductivity and takes less time to charge - the KillaCycle's battery pack can be juiced up in five minutes. New materials also mean the battery is less prone to overheating and explosions - a danger of earlier generations.
Experts say lithium-ion batteries that will power a car tens of thousands of miles over their lifetime and deliver more horsepower are on the horizon.
The rechargeable lithium-ion battery market, which today mainly powers consumer gadgets, is worth an estimated $4 billion to $6 billion. That's expected to mushroom to between $9 billion and $11 billion by 2011 as the technology becomes more widely used by the military, medical and automotive industries, according to analysts at Frost & Sullivan.
The Chevrolet Volt, which is expected to be released in 2010, is a consumer hybrid that uses gas to power a charger and can travel 640 miles on a tank of gas and up to 40 miles on one electric charge. The vehicle will run on a lithium-ion pack similar to the one used by the KillaCycle.
Dube and other EV racers say electric cars aren't just about 2-cent-a-mile transportation, lessening reliance on foreign oil or curbing global warming. They're also about performance.
"For electric cars to matter, people have to buy them," he said. "If you have a car that is faster than everyone else's, if it's electric so be it, but people will buy it."
http://hosted.ap.org/dynamic/stories...07-30-10-03-39
If AT&T Ran The Highway System...
Thomas Claburn
If AT&T ran the highway system, things would be different. Only AT&T-approved cars would be allowed on the roads, all of which would be toll roads.
Drivers would have to prepay their tolls, based on the estimated number of miles they expected to drive. Those who drove fewer miles than estimated would get no refund; those who drove more would be charged for the overage at a higher rate.
The AT&T-approved Apple iCar would be limited to a top speed of 30 mph. Sales people in AT&T car showrooms would have no idea how the iCar operated.
Buyers of the iCar would be required to use it for a period of two years or to pay a penalty. In addition to the purchase price of the iCar, buyers would have to pay a one-time activation fee to get the engine to start, not to mention the taxes.
AT&T's roads would feature fluctuating speed limits. In some cases, speed limit reductions would correspond to the traffic on the road; in others, the speed limit would just drop for no apparent reason. Posted speed limits would not correspond with actual ones.
The engines powering AT&T cars would sometimes just stop, depending on the driver's location. No warning about these "dead spots" would be provided.
Many of AT&T's roads would be made of dirt, despite tax credits AT&T received to pave its roads.
AT&T-approved cars would not rely on risky user-operated windows or doors. Entering or exiting the vehicle and raising or lowering the windows would be authorized upon request by a remote AT&T operator.
For the sake of safety, passengers would not be allowed to load unauthorized food content into the vehicle. Adding and removing authorized cargo to and from the vehicle would be allowed, for a fee.
AT&T-approved cars would come equipped with an integrated digital jukebox, complete with a coin slot for easy listening. Input and output connectors would be disabled, for passenger protection.
AT&T would make horn tones available for $3.99. No transfer of music from the car's jukebox to its horn tone storage chip would be allowed.
AT&T's Terms of Operation would specify the kinds of driving allowed on the AT&T highway system. Ride sharing, trailers, off-road driving, picking up hitchhikers, and cruising would all be grounds for license suspension.
Car customization would be allowed only using AT&T-approved colors and accessories.
Driving beyond the coverage of AT&T's highway network would incur roaming charges.
AT&T's road system would report the start point and end point of all trips to the National Security Agency. This information would be used for your protection.
If none of this sounds particularly appealing, don't worry. This is just one possible future of many. AT&T knows enough to stick to its core competency: innovation in telecommunications.
http://www.informationweek.com/blog/...t_ran_the.html
New Scrutiny for Facebook Over Predators
Brad Stone
Facebook, the online social network, has stolen some of MySpace's momentum with users and the news media. Now, it is being subjected to the same accusations that it does not do enough to keep sexual predators off its site.
Richard Blumenthal, Connecticut's attorney general, said that investigators in his state were looking into "three or more" cases of convicted sex offenders who had registered on Facebook and had "also found inappropriate images and content" on the service. The inquiry continues, he said, and state officials have contacted Facebook and asked it to remove the profiles.
"There is no question that Facebook is encountering some of the same problems that MySpace has posed," Mr. Blumenthal said. "They should be held accountable, and we intend to do so."
MySpace has been implicated in dozens of cases around the country in which predators used the service to contact and arrange improper meetings with minors. Some of these encounters have led to criminal charges against the offenders, and civil suits against MySpace.
Chris Kelly, Facebook's chief privacy officer, said he was not familiar with the Connecticut investigation but that the company has received "a number" of such reports and usually takes down such profiles within 72 hours.
"We want to be a good partner to the states in attempting to address this societal problem," Mr. Kelly said. "We've worked with them for quite some time now, and we look forward to continuing our fruitful partnership."
Facebook, founded in 2004 and based in Palo Alto, Calif., has positioned itself as the safe social-networking alternative. It has generally gone to greater lengths than rivals to keep adults and under-age users apart, at first allowing only college and high school students to join the service, and then largely restricting online communication to users at the same school.
Last year, the site opened to the general public, but it still maintains various restrictions. For example, a user's full profile is not accessible to the general online public, and the full profile of an under-18 Facebook member is not viewable by a user who is over 18, unless the two are confirmed friends on the service. But in some cases, Facebook's younger users are vulnerable to sexual solicitations from older users, as was demonstrated last week to The New York Times by an anonymous person who described himself or herself in an e-mail message as "a concerned parent." The evidence of this person's activities on Facebook may give state investigators further cause for concern.
In early July, this person opened a fake account on the site, posing as a 15-year-old girl named Jerri Gelson from North Carolina. The photograph on the fake profile page is of an under-age girl whose hair conceals her face. On the profile page, Ms. Gelson — whom the "concerned parent" said was not a real person — is described as looking for "random play" and "whatever I can get."
This person then signed up for three dozen sexually themed groups — forums of users organized around a particular topic. In the directory of groups on Facebook, under the "sexuality" category, there are now dozens of groups with sexually explicit topics, even though Facebook prohibits "obscene, pornographic or sexually explicit" material in its Content Code of Conduct policy.
The groups that were signed up for include "addicted to masturbation ... and you know if you are!", "Facebook Swingers" and "I'm Curious About Incest."
When the Jerri Gelson profile was linked to these groups, her name and profile photo became visible to the group's other users, and adult men began sexually propositioning her with e-mail messages over Facebook. "I saw your profile pic and thought I should get in touch with this hot girl!" wrote one bald, goateed man from Toronto. "Like what u see?" wrote another man from Mississippi, whose profile picture featured him sitting naked on his couch.
Several other men and women who sent e-mail messages to the Jerri Gelson account also had nude pictures of themselves on their profiles.
Mr. Kelly of Facebook said the company strictly prohibits depictions of nudity on the site and groups that encourage pornography and online sexual activity. "Those people aren't welcome on our service, and they never have been," he said.
He also said that such images are quickly removed from Facebook, since customer service representatives monitor the site and other users are encouraged to flag inappropriate content. However, some of the explicit images sent to the Jerri Gelson account were three weeks old and are still on the site.
The person who created the Jerri Gelson page had actively joined the sex-themed groups and added some of the adults who e-mailed her to her list of confirmed friends. Mr. Kelly said, "We want to, by default, protect people, but if there's a situation where younger users are reaching out, there's only so much we can do."
MySpace, a division of News Corporation, has reacted to concerns about sexual predators on its site by hiring Sentinel Tech Holding a Miami company that maintains a database of the sex-offender registries from all 50 states. State attorneys general recently announced that MySpace had deleted 29,000 profiles set up by convicted sex-offenders through such screening.
Mr. Kelly said that Facebook, which is a privately held company, was proposing a different way to identify convicted sex offenders on the service. Instead of working through Sentinel, the company has proposed building a database of names and e-mail addresses for convicted sexual offenders that could be compared to the membership rolls of Internet sites. For that approach to work, however, Facebook would have to wait until all 50 states had passed legislation requiring sex-offenders to register their e-mail addresses. Currently such legislation is signed or pending in 13 states.
Asked about that approach, Mr. Blumenthal, the Connecticut attorney general, said, "I think there are more efficient and effective ways to do the screening."
Mr. Blumenthal said he was taking a particular interest in Facebook because his children use the service. He said of its recent opening to a more general audience, "I have observed its mutation into a somewhat different kind of site. There are now some troubling aspects to its features and culture that were absent before."
http://www.nytimes.com/2007/07/30/bu...0facebook.html
Facebook Kills "Audio" for Copyright Violations
Eric Eldon
Facebook completely removed the Audio music-sharing application from its platform last night, saying it violated music copyrights.
Audio was developed by a third party using Facebook's platform for developers, and Facebook says Audio violates its newly updated developer terms of service.
Audio allowed users to upload audio files in the mp3 format, share them with each other and listen to them within Facebook. By the end of last week, it had nearly 750,000 users.
The move is significant for two reasons. It shows Facebook is taking a harder line on third-party developers using its site in ways that could be considered illegal. It also shows that Facebook may be giving developers a smaller window to mend their ways — Facebook updated its terms of service for developers on July 25, and notified Audio at that time that it was in violation. It pulled Audio last night — less than a week later.
Audio first came to our attention because it experienced runaway growth on Facebook immediately upon the launch of Facebook's developer platform in late May.
The company tells us that Audio has had "sufficient notice" to make adjustments. It actually removed Audio once before, within two days of launching its developer platform in May (our coverage). No clear reasons were given at the time, but it is our understanding that Facebook was having an internal discussion about the legality of Audio. However, Facebook re-instated the application only a couple of days later.
Audio continued to grow within the first couple of weeks after launch, reaching nearly half a million users. We noticed that its growth gradually slowed while competing music-sharing applications such as iLike continued to grow. We noticed that Audio's message board filled with debate about its legality, and about potential liability faced by those using it.
We noted, then, that Audio highlighted how Facebook could potentially be held responsible for using its platform in ways that could make it susceptible to challenges from the record industry.
[Update: Audio is now telling us that it expects to be back online "within the next several days." Here's what happened, according to Audio: It was given a DMCA takedown request from a record label, sent via the RIAA — then Facebook decided to take Audio offline while the matter remained unresolved. Facebook isn't commenting on this odd situation, except to say that "any application is allowed on the site if it complies with our terms of service." ]
http://venturebeat.com/2007/07/31/fa...ht-violations/
Borders Launches Book Drive for Underprivileged Children
Samantha Shea
Beginning today, back-to-school shopping at Borders Books & Music could mean a lot more than new pens or textbooks.
Borders stores across the country are launching a month-long book drive, aimed at "helping underprivileged children build their own home libraries," said Craig Kennedy, Borders' district marketing manager for Connecticut and upstate New York.
Shoppers can pick up a book at Borders -- or bring in a new book from home -- and donate it to the drive at the register, according to Kennedy.
Borders has partnered with the Ronald McDonald House of Connecticut and other local organizations to help get the books to kids through seven nonprofits around the state, each affiliated with a nearby store.
The nonprofits include the Head Start Program at the Connecticut Institute for Communities Inc. in Danbury.
The program came about through a previous partnership between the Ronald McDonald House of Connecticut in New Haven and the Westfield Meriden mall, said Michael Rohde, the Ronald McDonald House's director of development.
The mall's owner suggested the Ronald McDonald House when Borders, which was looking for a nonprofit with a statewide reach, asked about possible partners.
Rohde said his group, members of which have contacts throughout the nonprofit community, recommended the seven local nonprofits.
Those organizations will receive the books, while Borders will donate 5 percent of the sale proceeds to the Ronald McDonald House.
"Everybody wins," says Rohde, adding, "It's going to put new books in the hands of children who need them."
The local organizations, which have sent in "wish lists" with requests for everything from Dr. Seuss books to "Clifford the Big Red Dog," plan to give the books to their young participants.
Shirley Ricart-Carter, director of the Head Start program in Danbury, hopes the drive will bring in at least 307 books, enough for each participating child to have one.
Kennedy, however, seems hopeful the Connecticut stores will far surpass that goal. He said Borders stores in the Southeast U.S. collected nearly 50,000 books last year in a regional drive.
"I think Connecticut can easily raise 10,000 books," Kennedy said. "Although I hope it will be even more."
"We're focusing on emerging literacy skills," said Ricart-Carter, while Jim Maloney, president and chief executive officer for the nonprofit, said, "These kids are 3 and 4. They're just beginning to learn how to read."
Head Start is a 40-year-old anti-poverty program that gets about 80 percent of its money from the federal government. It works with preschool children and their families, focusing on school readiness skills, nutrition and health. But families also get help with job training, literacy and health issues.
About 90 percent of children need to be from low-income families, Maloney said. His Head Start program opens the remaining 10 percent of spots to children from any income level who have emotional, physical or learning disabilities.
The program, Maloney said, often has a waiting list as long as its participant roster.
"We're trying to get the word out that there are kids, even here in Fairfield County, that don't have books of their own," Kennedy said. "We want to increase literacy in younger generations and develop curious and devoted readers."
While that goal may seem lofty for a first-ever nationwide drive, plans to make the drive an annual one may put those goals in perspective.
"I think it really should be an annual event," Kennedy said. "We hope to build it up and really change reading for these kids."
And, said Maloney, the donations are tax deductible.
Staff writer Pam Dawkins contributed to this report.
http://news.newstimes.com/news/story.php?id=1060312
AOL Slows Decline but Faces Challenges
Anick Jesdanun
Although AOL managed to slow down its decline by boosting its quest for advertising dollars, the disclosure that ad growth has cooled suggests its road back to prosperity will be rough.
AOL had its weakest quarter of advertising growth since the company announced a year ago it would try to drive traffic to its ad-supported Web sites by giving away AOL.com e-mail accounts, software and other features once reserved for paying customers.
AOL, Time Warner Inc.'s online division, had $522 million in ad revenues in the quarter ending June 30, a 16 percent increase from $449 million a year earlier. By contrast, ad revenues grew 40 percent or more in each of the previous four quarters.
And ad growth remained too meager to fully offset declines in subscription revenue, which continued to plummet, as expected, following last August's strategy shift. AOL had 10.9 million paying U.S. subscribers for Internet access as of June 30, a 60 percent drop from its peak of 26.7 million in September 2002.
Overall revenues at AOL dropped 38 percent to $1.3 billion. AOL now accounts for 11 percent of Time Warner's revenues, about half of the 20 percent it had contributed until last June.
In a conference call Wednesday, Time Warner Chairman and CEO Dick Parsons said the company no longer expects AOL's ad sales to meet or exceed the growth rate seen by the broader U.S. The Week in Review is edited and published by Jack Spratts. Internet industry this year. Parsons said Time Warner was revising its outlook so AOL managers can make decisions based on long-term needs, not short-term targets.
Parsons attributed some of the slowdown to recent redesigns in AOL's Web sites, including tools for e-mail and search.
"Users usually need a little time to become accustomed to the redesigned pages, and advertisers naturally want to see how the new program performs before reinvesting significantly," he said. "Improvements like these to AOL's programs and products, which we're confident will yield long-term benefits, will come with some disruptions."
Despite the setback, AOL succeeded in reducing its dependency on subscription dollars, which now account for 55 percent of the unit's revenues, compared with 76 percent a year ago.
Over the past 12 months, AOL's ad revenues grew 37 percent - higher than Yahoo Inc.'s 11 percent and Microsoft Corp.'s 21 percent, but less than Google Inc. (nasdaq: GOOG - news - people )'s 64 percent, according to an Associated Press analysis of quarterly earning reports.
According to comScore Media Metrix, AOL's U.S. audience grew about 1 percent to 114 million unique visitors in June. But that's less than the 3 percent growth seen by both Yahoo and Microsoft's MSN and Live properties and the 18 percent at Google after excluding YouTube and other recent acquisitions by the search engine leader.
AOL also trails all but Yahoo in page view growth - and Yahoo's decline is partly attributable to its increased use of Ajax, which delivers updates to users without requiring a new page. In search, AOL is behind those three as well.
But AOL is tops under Nielsen/NetRating's new measure of total minutes. Americans spent 25 billion minutes in June using AOL properties, including MapQuest, Moviefone and its popular AIM instant-messaging service. Yahoo was the closest rival, with 20 billion minutes.
AOL's agreement to buy behavioral-targeting ad firm Tacoda Inc. should result in more dollars per ad sold. David Hallerman, a senior analyst at the research group eMarketer, said the purchase also extends AOL's reach to third-party sites that already have deals with Tacoda but not AOL.
Parsons told financial analysts that ad dollars have been shifting toward third-party ad networks, putting pressure on AOL's own sites. But AOL should be able to weather that, he said, with holdings like advertising.com, which sells ads for both AOL and outside sites. The company said advertising on such third-party sites rose 32 percent.
AOL's rivals are also hoping to further extend their ad reach beyond their own sites. Google plans to buy DoubleClick Inc., while Yahoo acquired Right Media Inc. and Microsoft has announced it's buying aQuantive Inc.
To boost traffic, AOL has more work to do.
David Card, a senior analyst at Jupiter Research, said AOL has done relatively well but is surprisingly behind in user-generated media and social networking, which the company pioneered in the 1990s with its popular chat rooms and buddy lists for instant messaging.
"Clearly they are not MySpace and Facebook," Card said, referring to the two leading online hangouts.
Rob Enderle, principal analyst with the Enderle Group, said AOL's strategy shift was crucial and has kept the company in business, but unless it becomes more competitive, "this property will be without value by this time next year."
The first year was about "patching the holes in the boat to make sure it doesn't sink," Enderle said. "Now they have to figure out how to fire up the boilers to get it moving again."
http://www.forbes.com/feeds/ap/2007/...ap3977666.html
Links for the following two stories at their respective sites – Jack.
Online Storage: 80+ File Hosting and Sharing Sites
Sean P. Aune
From sending one document to backing up an entire business, data storage is the key to everything nowadays. Due to popular demand, we've put together a list of more than 80 of the leading file hosting services, many of which are completely free.
Online Backup
Allmydata.com - Unlimited storage and automated backup for $4.99 a month.
Angelbackup.com - Prices as low as $1.95 for 2GB of automated backup.
BlogBackupOnline.com - Automatically backs up your blog for you with up to 50MB of storage.
Carbonite.com - Backup your entire hard drive automatically, no free version.
CrashPlan.com - Automated backup plans as low as a one-time $20 fee, unlimited space.
Datapreserve.com - Automated, managed off-site remote backups, focusing on businesses.
Egnyte.com - Backup your files, store them securely, export them back to your computer in a crash. Share with co-workers for collaborative work.
ElephantDrive.com - 1GB of free storage, automated backups; up to 1TB in subscription form.
File123.com - 1GB of space for free, up to 10GB of backup for as low as $4.95 a month.
gDisk - Turn your Gmail account in to an online storage space for free.
GoDaddy.com - All paid plans, as low as $5.99 a year for 50MB, sync between multiple computers.
IBackup - Anywhere from 5GB to 300GB of storage, no free services.
iOmega iStorage - Automated backups for personal or business users, file sharing available.
Ironmountain.com - Focusing on professional backup solutions from small business up to government agencies.
MediaMaster.com - Unlimited storage of your music collection.
Mozy.com - Automated online backup of your selected files with versioning.
Mp3Tunes.com - Unlimited free storage of your music collection, streaming play of the songs from anywhere.
MyOtherDrive.com - Store up to 5GB of files, use as backup or share.
Omnidrive.com - Backup anywhere from 1GB for free, use as backup you can access from anywhere, or use as a file host to use on other sites.
Orbitfiles.com - 6GB of storage for your files, automated backup, ability to share with family and friends.
SOSOnlineBackup.com - Automated backup of your essential files.
Steekr.com - Online backup of digital media, free up to 1GB, subscriptions for more. Stream your stored music for listening anywhere, share files with friends.
Strongspace.com - Minimum of a 5GB subscription package, files are shareable with other registered users.
Textive.com - Backup your documents for free. Choose to publish some or all of your files, get paid for them.
Titanize.com - Online backup that allows you to snyc with other devices and share links to your files.
Trueshare.com - Secure off-site data backup, packages as small as 3GB up to 1TB.
Yuntaa.com - Sync your hard drive with your online storage, restore, or share. Free up to 1GB.
Sending Services
Arunalabs.com - Send large files to anyone on the net.
Bigfilez.com - Send a file up to 500MB in size to multiple recipients.
Bigupload.com - Send files up to 500MB in size, up to 2GB for premium members.
BoxCloud.com - Up to 1GB of free sending, more space with paid plans.
Driveway.com - Send an unlimited number of files up to 500MB each in size.
DropSend.com - Email files up to 250MB in size, subscriptions get you larger files and more storage.
FileFactory.com - Send up to 25 files at a time at 300MB per file.
JustUpIt.com - Send a file up to 120MB to up to four email addresses.
Jagbox.com - Upload a file up to 100MB in size, share the link, set an expiration time.
LeapFILE.com - Send files of various sizes, 7 day trial, subscription thereafter.
Localhostr.com - Upload a file up to 50MB in size, share it with friends.
MailBigFile.com - Send up to a 100MB file to one recipient, up to 2GB to 5 recipients if you subscribe.
MoveDigital.com - Store and deliver large files easily with a drag-and-drop interface.
Pandafile.com - Send a file, no limitations mentioned.
Send6.com - Send up to six large files at once for free, private branding available.
Sendspace.com - Send files up to 300MB in size, unlimited downloads.
SendThisFile.com - Subscription only, size and bandwidth vary with plan.
Sharebee.com - Upload a file, share the link, no mention of limitations on size.
YouSendIt.com - Email files up to 100MB in size for free, bigger limits by subscription.
YouSwap.com - Upload and send up to 1GB of files to multiple email addresses.
Storage/Sharing Services
4shared.com - Share a file or an entire folder for free, up to 1GB. More space available for annual subscription plans.Badongo.com - Unlimited file storage, inactive files files deleted after 45 days for free members, never for premium members.
BigFilebox.com - Free storage up to 100MB, more space available for a fee.
BooMP3.com - Free unlimited storage of audio files.
Box.net - Up to 1GB of storage of files up to 10MB size each, more space for monthly or annual fee.
BOXSTr.com - 10GB of storage of files up to 250MB in size each, 10GB of bandwidth.
DivShare - Upload a file, store it forever, embed it anywhere you want. Premium service allows you to brand your embeds.
Ewedrive.com - Store up to 1GB for free, more available at a fee.
Exaroom.com - Upload files, make a profile, let friends browse and download your files, access your files from anywhere.
FileDEN.com - 1GB of storage, files up to 50MB each, hotlinking allowed of all file extensions.
FileHo.com - Unlimited storage, you can choose to share your files or keep them private.
FileNanny.com - Store up to 500MB of files and share them with anyone.
FilePanda.com - Upload files up to 200MB in size, share them with others.
Flypicture.com - Unlimited hosting of pictures, audio or movie files, free use for blogs and auctions.
Freefilehosting.net - Free hosting of files up to 3MB in size, use anywhere.
GigaSize.com - Store up to 1.5GB, share files for up to 90 days.
I2drive.com - Plans as low as $4.99 for 500MB of storage.
In.solit.us - Upload your files, keep them private or opt to make them public so anyone can download them.
Jumbodir.com - Upload without even registering, up to 2GB of space and no time limits if you do register.
Mediafire.com - Upload up to 10 files of up to 100MB each at a time, unlimited storage, link and share if you like.
MediaMax.com - Up to 25GB of free storage, 10MB per file, more space and size limits available by subscription.
Megaupload.com - Up to 50GB of free storage and sharing capabilities for free.
Mofile.com - Up to 1GB of sharing storage.
MyDataBus.com - Upload up to 5GB of files for free and share, can integrate with Facebook.
MyFabrik.com - 1GB of media storage you can share and embed.
OneDump.com - Free hosting and sharing of up to 10 files of 5MB each.
QuickSharing.com - Up to 500MB per file, deleted after 30 days of inactivity.
RapidSahre.com - Share an unlimited number of files up to 100MB in size, an unlimited number of times.
Supload.com - Unlimited image hosting for use with sites such as eBay and MySpace.
TagAndFile.com - Store up to 100MB for free, more space available for a fee.
Tilefile.com - Upload and organize your files, share them with friends.
Upfordown.com - 20GB of storage with 50GB of bandwidth the first month for free.
Webcargo.net - Mail files up to 100MB for free, stay online for up to 7 days. More paid options.
WOOfiles.com - Up to 1GB of storage, share with friends.
Xdrive.com - Up to 5GB of storage, access from anywhere, share with friends and family.
zUpload.com - Share files up to 500MB in size, unlimited downloads.
http://mashable.com/2007/07/28/online-storage/
Download Everything: 30+ Firefox Add-ons For Downloading Images, Videos & Files
Sean P. Aune
Every day we all run across content we would like to save a copy of. Sometimes, it's even legal to do so. This toolbox gives you Firefox add-ons to save just about anything from a webpage you could ever want. Obviously you shouldn't install these all at once.
File & Page Saving
Backgroundimage Saver - Helps you save the background image of a page even when hidden behind a transparent GIF.
BatchDownload - Assists you in downloading multiple image links at once.
Bazzacuda Image Saver - Will cycle through your open tabs, if any tab has an image and nothing else, the image will be saved and you can have the tab close automatically.
Downloads in Tab - Moves the download manager to a tab.
Download Manager Tweaker - Open the standard download manager as a separate window, a new tab, or the sidebar.
Download Statusbar - Rid yourself of the pop-up download window and manage everything from your status bar.
Download Sort - Automatically save downloads to different directories when using "Save Link As" or "Save Image As".
DownThemAll! - Download one link or multiples, has a built-in accelerator.
Facebook Photo Album Downloader - Download complete Facebook photo albums.
FlashGot - Download one link, selected link, or all the links on a page.
Image Download - Download all the pictures and filter by width, height, type, create sub folders and more.
Image Toolbar - Provides one click to image actions such as downloading.
Launchy - Enables you to open links and mailtos with the external applications of your choice.
OpenDownload - Adds functions similar to IE's 'Open' and 'Run'.
PDF Download - Checks every link to see if it is a PDF, if it is, it gives you the option to open it inside or out Firefox, download it to a folder or view it as HTML.
Pterodactl - Saves the largest image on the page, in all tabs, and renames files to keep from having conflicts.
Save As Image - Saves the currently displayed tab as an image creating an instant screenshot.
SafeDownload - Automatically scan downloaded files for viruses.
Save Complete - Aids you in saving complete webpages.
Save Image In Folder - Save images to special folders on your hard drive.
Save Images - Saves images from the current tab's cache to a specified location.
Save Link In Folder - Save links to special folders on your hard drive.
Screengrab! - Saves the entire web page as an image.
Sourceforge Direct Download - If you frequently download from Sourceforge, this will help you skip the mirror selection step.
ScrapBook - Helps you save portions or entire webpages and then organize them.
TiX Now! - Improves downloading speed from Rapidshare and MegaUpload amongst others.
Video Downloading
Amazing Media Browser - Scans a page for embedded media and helps you download the source files.
Download Embedded - Provides the ability to download several forms of media.
Download Helper - Will extract content from many different sites.
Fast Video Downloader - Can save videos from around 60 video sites.
GetVideo - Provides access to the direct path to get the video.
Google Video Downloader - Adds a button to the status bar to save videos from Google Video.
Media Pirate - The Video Downloader - Gives you the ability to save videos from approximately a dozen sites.
PimpFish Basic Toolbar - Capture video files from numerous sites.
UnPlug - Scans a web page for media players and tells you where the media files are stored so you can download them.
Video Download - Adds a simple right click command to download videos from numerous sites.
http://mashable.com/2007/08/01/firefox-downloads/
From June
Good Copy, Bad Copy: Superb Copyright Documentary on the Remix Wars
Cory Doctorow
I just watched
Good Copy, Bad Copy
, a stunning Danish documentary on remix culture and copyright, available as a
free download
. The film skips around the world, showing the changing attitudes toward art and culture in Nigeria, Sweden, Brazil, the UK, and the US, answering statements about incentives and creativity by the MPAA and IFPI by showing us real artists (like Danger Mouse and Girl Talk) making wonderful art that, according to the gangsters in the entertainment industry, no one will make without copyright.
The movie has a very light touch, and a lot of humor. This has been a banner year for copyright documentaries, but this is the best looking of the lot, with superb production values. This is a masterclass on the copyright wars crammed into 58 minutes of video -- a must-see.
http://www.boingboing.net/2007/06/17...ad_copy_s.html
Share this doc! It's well worth an upload – Jack
DRM Scorecard: Hackers Batting 1000, Industry Zero
Alexander Wolfe
Forget the moral questions: Whether the millions of kids who load up their iPods from LimeWire are thieves, or whether there's something incongruous about Sheryl Crow, a millionaire many times over, railing against piracy. When you look at the technology, there's no getting around the fact that DRM is an abject failure. I put together a scorecard, which shows that every single significant attempt at consumer-music DRM has been cracked. Here it is:
CSS: Cracked
The 10-year-old Content Scrambling System employed on early DVDs is such a technological relic at this point that Crunchgear recently reported that: "According to the Finnish courts, CSS is so weak that it doesn't even count as a protective measure anymore."
FairPlay: Cracked
In a game of iPod cat and mouse, the DRM system used in iTunes' music has been repeatedly cracked and then "fixed" by Apple. Last fall, the cracking program called QTFairUse6 had been updated so it could continue to perform its DRM-stripping duties within hours after Apple released iTunes 7.
The question this raises for me here is, does this mean that the Mac faithful are willing to fork over extra coin to buy the latest "cool" gadget offered up by Steve Jobs, but they balk at the 99-cents a song they're supposed to pony up on iTunes?
As for Apple, now there are rumblings out of Europe that FairPlay might be illegal in France, Norway, and Germany.
AACS: Cracked
There's been no update from the Advanced Access Content System people on the cracking of their AACS DRM, which is used in the new high-definition HD DVD and Blu-ray DVDs, since May 7, when the AACS site posted the following in response to the news that the crack of its DRM had been widely posted on the Web:
"AACS LA began several weeks ago sending letters to parties trafficking in tools used to circumvent AACS technology on Blu-ray and HD DVD movie discs. The letters requested the removal solely of illegal circumvention tools, including encryption keys, from a number of Web sites. AACS LA recognizes the value of active public discussion and commentary related to these issues, and has not requested the removal or deletion of any such discussion or commentary. AACS LA is encouraged by the cooperation it has received thus far from the numerous Web sites that have chosen to address their legal obligations in a responsible manner."
In response to the crack, MGM took a hiatus from releasing Blu-ray discs, but now they're back.
In response to the crack, AACS-compliant vendors are apparently looking at both key revocation and the use of digital watermarks as the answer to their problems.
Hey, why don't they just take a page from a World War II movie, and issue a daily code book?
Windows Media DRM: Cracked
The widely circulated crack comes in the form of a program called FairUse4M. The first iteration of this crack worked with Windows Media Player 10 under Windows XP, but for a long time wouldn't work on Vista. Alas, FairUse4M has now been updated to crack WMP11 running on Vista.
Most recently, the cracking of Windows Media DRM has thrown a bit of a monkey wrench into the BBC's plans to release its iPlayer. However, like true Brits, they're soldiering on and releasing it, possibly convinced that it's not much use worry about what those stupid Americans are up to with their software schemes, anyway.
Sony-BMG Rootkit: Busted
The big DRM scandal of 2005, this one wasn't so much cracked as it kicked to the curb. The unhappy recap: A bunch of Sony CDs were equipped with either XCP or MediaMax copy protection software. Unbeknownst to users, XCP installed concealed software ("rootkits") on users' PCs. MediaMax sent user info over the Internet. The whole mess was a big scandal for Sony, resulting in a spate of legal activity, the most recent instance being a suit filed by Sony against the developer of MediaMax.
The one major online music DRM technology about which I couldn't find any definitive cracking information is Rhapsody DNA, used by the RealNetworks' subscription music service. Regardless of the status here, since Rhapsody, while nice, isn't rocking the online music world, I think it's safe to say I've made my point.
http://www.informationweek.com/blog/...orecard_h.html
Until next week,
-
js
.
Current Week In Review

Recent WiRs
-
July 28th
,
July 21st
,
July 14th
,
July 7th
,
June 30th
,
June 23rd
Jack Spratts'
Week In Review
is published every Friday. Submit letters, articles and press releases in plain text English to jackspratts (at) lycos (dot) com. Submission deadlines are Thursdays @ 1400 UTC. Please include contact info. Questions or comments? Call 213-814-0165, country code U.S.. The right to publish all remarks is reserved.


"The First Amendment rests on the assumption that the widest possible dissemination of information from diverse and antagonistic sources is essential to the welfare of the public."
- Hugo Black