Founded 2002
"If you do something on peer-to-peer and do it well, it's marketing on steroids."
– Mitchell Reichgut
"The cost reduction that digital-web distribution of music makes possible is so large, that a competitive market for music could leave plenty of room for charging the lawful purchaser of originals for the implicit value of the copies he/she will eventually donate or sell to others, again via the Web."
– Michele Boldrin
"[MySpace China] users are told to click a button if they spot any 'misconduct' by other users. This 'misconduct' includes actions such as 'endangering national security, leaking state secrets, subverting the government, undermining national unity, spreading rumors or disturbing the social order' – according to the site's terms and conditions."
– Lu EnJie
"Even when I smashed my guitars up, they were like, 'Oh right, Pete's breaking guitars. We know what he means.' Whereas I was saying, 'This is autodestructive art.'"
– Pete Townshend
"People want to own their music."
– Steve Jobs
"Rarely have so many avoidable problems been created by one man's obsession with his own image. Then again, this is Steve Jobs we're talking about."
– Joe Nocera
April 28th, 2007
Free Music Downloads, Lawsuit not Included
Peer-to-peer networks are going legit with pop-up ads embedded in MP3s. Business 2.0 Magazine reports.
Michael Myser
The next user to download a song from a peer-to-peer file-sharing service like LimeWire could be in for a surprise. Not a recording industry lawsuit, but a pop-up asking him to look at an ad--either text or video--in return for a free and legal copy of the music.
For that, the record labels, which have been trying to monetize illegally traded music for years, can thank a three-year-old company called Intent MediaWorks. Intent has figured out how to embed pop-ups in music and video files unobtrusively, and the company claims that 60 percent of users are willing to endure the resulting pop-up ads.
"Consumers don't want to rip people off," says Les Ottolenghi, president and co-founder of Atlanta-based Intent. "They just want to get music as easily as possible."
Intent is seeding the peer-to-peer networks at a rapid clip. In February its digital media files were downloaded 1.7 million times. By December it expects that number to grow to at least 10 million.
At a cost to the advertiser of $5.80 per 1,000 ad views for text and $30 or more for video, that's a healthy revenue stream. Intent shares the money with artists and their labels, which can also choose to serve up their own promotions within the pop-ups.
Intent's customers already include Nettwerk Music Group, which publishes Barenaked Ladies, Avril Lavigne, and Sarah McLachlan, and Chuck D's Slamjamz Records; the company also expects to sign at least one of the Big Four music firms by mid-2007. Advertisers thus far have included Audi and Coca-Cola (Charts, Fortune 500).
Since Intent follows users no matter what the latest popular file-sharing service is--FrostWire and Shareaza, anyone?--advertisers will pay to reach the eyeballs.
The peer-to-peer audience is made up of young, affluent, and technically savvy consumers, notes Mitchell Reichgut, a principal at ad firm Jun Group. "That's the kind of person you want to reach," he says. "If you do something on peer-to-peer and do it well, it's marketing on steroids."
http://money.cnn.com/2007/04/20/maga...ney_latest#TOP
Qtrax Offer First Legal Ad-Supported P2P
Rachael Darmanin
Qtrax, an online peer-to-peer music network, has reached an agreement with Sony BMG that will allow them to launch the first legal ad-supported P2P system. Users of Qtrax will be able to access songs from the giant label's catalog for a predefined number of times, now with a click-to-buy purchase option. Qtrax is owned by Brilliant Technologies Corporation, a technology holding company that works with Universal Music Publishing, Warner Music Group, and The Orchard, among others. Their deal with Sony BMG is looked at as a start to finding a middle ground between P2P music networks and anti-piracy laws.
"Some see it as trailblazing the ad-supported model and allowing the possibility that in future music downloading will be paid for, in part or in whole, by advertisers," Allan Klepfisz, president and CEO of Brilliant Technologies said, via press release. "Others see it as an effective means of encouraging consumers to sample and subsequently purchase music. Still others see it as the ultimate tool against piracy."
Qtrax can be downloaded for free and besides its music networking software, it also provides users with a player that can play MPQs (Qtrax's format) as well as MP3 and WMA tracks.
http://prod1.cmj.com/articles/displa...hp?id=35047333
Yahoo Strikes Deal to Catalog Lyrics Online
Web giant partners with Gracenote
Yahoo has teamed up with Gracenote, an Emeryville company, to offer what it is calling "the largest catalog of legal, licensed song lyrics" on the Web.
"It fills a huge, gaping hole out there," said Ian Rogers, general manager of Yahoo Music.
While there are plenty of Web sites offering lyrics, Gracenote is the first company to have gone through the painstaking process of negotiating deals with the thousands of publishers who own copyrights to the lyrics. The catalog offered by Yahoo will include lyrics of 400,000 songs owned by more than 10,000 publishers.
About 9,000 artists are represented, ranging from classic names such as the Beatles and Bob Dylan to more recent stars like Radiohead and Beyonce.
"The problem is music publishing is very fragmented," Rogers said.
Craig Palmer, chief executive of Gracenote, said it took more than two years and nearly 100 deals to forge the legal framework behind the database. Gracenote then had to create standards for publishing lyrics on the Web and put together an automated system for compensating the songwriters. This can include as many as 10 writers on a single hip-hop song.
"The copyrights, the database and the payments issues all had to be solved in order to bring this obvious service to market," Palmer said.
Yahoo's song lyrics are supposed to be the official versions. Under the licensing agreement, Yahoo will share with copyright holders the revenue from the ads that will be displayed alongside the lyrics.
Music publishers such as BMG Music Publishing, EMI Music Publishing, Sony/ATV Music Publishing, Universal Music Publishing Group and Warner/Chappell Music are contributing lyrics.
One advantage Yahoo's library will have over other sites is that it will be clean. Competitors tend to pepper their sites with pop-up ads and spyware.
"Those sites generally aren't healthy places for your computer to be," said music analyst Phil Leigh of Inside Digital Media.
Leigh said Yahoo's lyric database may boost the music industry by creating a new revenue stream for artists and song publishers by making it easier for people to identify a tune they might hear on the radio or on the Web.
"I also suspect this might cause the music industry to step up its efforts to take legal action against these unauthorized (lyric) sites with Yahoo cheering them on in the background," Leigh said.
The National Music Publishers Association, a trade group, didn't respond to requests for an interview about Yahoo's database.
Yahoo is hoping its database stimulates even more traffic on its music service, which is already the most popular on the Web. Yahoo Music attracted 22 million U.S. visitors last month to rank it ahead of AOL music (17.5 million visitors) and MySpace music (14.8 million visitors), according to comScore Media Metrix.
http://www.siliconvalley.com/news/ci_5738001
A Jack Hack
What's That Spell?
Jack Spratts
The new Yahoo/Gracenote music site uses lossless png image files to display easy to read lyrics while deliberately making regular mouse-over copying impossible (
try it and see
). However lyrics can still be saved as text with just a few simple steps.
First, you'll need to capture the image. That's easy to do with a browser like
Opera
. Then you'll have a copy of the words you can work with, such as this crisp Cocteau Twins png from the site (below).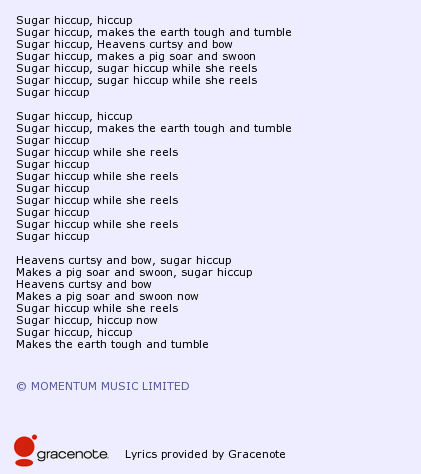 Next you'll need an
OCR
ripping program like FineReader. That's it, although there may be some additional DRM or other minor issues to contend with. When I first tried it using an outdated version all it produced were several small green dots but after changing the file ending to ".jpg" my old program was able to convert the above image to text…
…and this is what I finally got using FineReader 4x:
Sugar hiccup, hiccup
Sugar hiccup, makes the earth tough and tumPle
Sugar hiccup. Heavens curtsy and bow
Sugar hiccup, makes a pig soar and swoon
Sugar hiccup, sugar hiccup while she reels
Sugar hiccup, sugar hiccup while she reel5
Sugar hiccup
Sugar hiccup, hiccup
Sugar hiccup, makes the earth tough flna'tumtfle.
Sugar hiccup
Sugar hiccup while she rEEl5 .
Sugar hiccup
Sugar hiccup while she rEEl5 .
Sugar hiccup
Sugar hiccup while she rEEl5 .
Sugar hiccup
Sugar hiccup while she rEEl5 .
Sugar hiccup
Heavens curtsy and bovr, sugar hiccup
Makes a pig soar and swoon, sugar hiccup
Heavens curtsy and bow
Makes a pig soar and swoon now
Sugar hiccup while she reels
Sugar hiccup, hiccup now
Sugar hiccup, hiccup
Makes the earth tough and turntflE
Not perfect as you can see but easily corrected and much faster than transcribing the Twins by ear.
I might add that with
FineReader
now up to version 8, your rips will no doubt be even better.
- js
Collaboration Tools
3 Online Sharing Solutions for Your Documents
Josh Lowensohn
If you're anything like me, you've got a ton of documents that have piled up over the years. People my age (recent college grads) are some of the worst, with nearly a decade of research papers, projects, and various snippets saved along the way--many of which took hours of hard work and are now relegated to hard archive somewhere in your documents folder or on burnt optical media. Lucky for your files, there are a few places to share them with others who might be interested in reading.
Scribd
is one of the most popular solutions, and my personal favorite of the bunch. It calls itself the "YouTube for documents," which is a fairly apt description. Scribd users can share popular document formats like Word, PDF, plain text, PowerPoint, and Excel. Each uploaded document can be made private or public, and is completely searchable. Users can also embed a document on Scribd on any Web site or blog. Users who like what they see can save the file as a PDF, Word file, text or MP3 (spoken by an electronic voice).
What's really neat about Scribd is the built-in statistics tracking. This lets you keep track of when and where people have looked at your work, with some neat charts and a viewing log.
YouScript
has been around for a couple of months now. YouScript gives your documents (mainly movie or TV scripts) a social networking spin, with the option to create writing groups to share your files with others online. Each group can schedule meetings, hand out assignments or 'homework', and discuss work in the integrated forums and comments. Unlike Scribd, however there's no built-in reader, and documents are managed in a PDF viewer.
OpenFloodgate
is a document sharing service created by a Tina Seelig, Executive Director for the Stanford Technology Ventures Program. We heard about OpenFloodgate this morning, and were pitched with the idea that it could be used to share documents for small companies using its document privacy features. Any uploaded document is displayed in an HTML viewer that converts each page into its own image. What's neat is OpenFloodgate's text size selector. This lets you pick from three sizes, including extra large, which is about the size of a children's book. Also cool are user comments, which shows up as an overlay box on top of the document, not as a separate section.
I'd expect to see more of these sites popping up in the future, although with Google Docs, Thinkfree, and Zoho at work on online replacements for our office apps, we're likely to see file migration moving further and further away from the hard drive.
http://www.webware.com/8301-1_109-97...l?tag=nefd.aof
A Winjammer by Any Other Name
NINJAM is a program to allow people to make real music together via the Internet. Every participant can hear every other participant. Each user can also tweak their personal mix to his or her liking. NINJAM is cross-platform, with clients available for Mac OS X and Windows.
NINJAM uses compressed audio which allows it to work with any instrument or combination of instruments. You can sing, play a real piano, play a real saxophone, play a real guitar with whatever effects and guitar amplifier you want, anything. If your computer can record it, then you can jam with it (as opposed to MIDI-only systems that automatically preclude any kind of natural audio collaboration1).
Since the inherent latency of the Internet prevents true realtime synchronization of the jam2, and playing with latency is weird (and often uncomfortable), NINJAM provides a solution by making latency (and the weirdness) much longer.
Latency in NINJAM is measured in measures, and that's what makes it interesting.
The NINJAM client records and streams synchronized intervals of music between participants. Just as the interval finishes recording, it begins playing on everyone else's client. So when you play through an interval, you're playing along with the previous interval of everybody else, and they're playing along with your previous interval. If this sounds pretty bizarre, it sort of is, until you get used to it, then it becomes pretty natural. In many ways, it can be more forgiving than a normal jam, because mistakes propagate differently.
Part tool, part toy, NINJAM is designed with an emphasis on musical experimentation and expression.
How does NINJAM work?
NINJAM uses OGG Vorbis audio compression to compress audio, then streams it to a NINJAM server, which can then stream it to the other people in your jam. This architecture requires a server with adequate bandwidth, but has no firewall or NAT issues. OGG Vorbis is utilized for its great low bitrate characteristics and performance. Each user receives a copy of other users audio streams, allowing for each user to adjust the mix to their liking, as well as remix later. This uses more bandwidth than having a server encode a single stream, but has numerous benefits (including lower server CPU use and the client having the full multichannel data for later use).
NINJAM can also save all of the original uncompressed source material, for doing full quality remixes after the jam.
http://ninjam.com/
Pete Townshend: Next 'Who' Album To Be Inspired By Computer Music
The guitarist, with the help of mathematician and composer Lawrence Ball and software engineer David Snowdon, has created a computer system called 'The Method' which allows users to make unique pieces of music created by inputting personal information, sounds and a rhythm.
Users will 'sit' for the software in the same way a person would pose for a portrait painting, and the compositions created will be posted on the site. Townshend plans to use the music created on the web on the next Who album as long as his bandmate Roger Daltrey gives the project the go-ahead.
Speaking at the launch of 'The Method' yesterday, Townshend told BANG Showbiz: "When I first had this idea John Entwistle and Keith Moon were still alive and in the band. They were very dismissive of it.
"Even when I smashed my guitars up, they were like, 'Oh right, Pete's breaking guitars. We know what he means.' Whereas I was saying, 'This is autodestructive art.'
"But today The Who is just me and Roger Daltrey. If I was going to work with this idea, I would want to do it full on and if Roger was into it then I don't see why we couldn't make an album."
Townshend first had the idea for 'The Method' in 1971 when he wrote a futuristic film script called 'The Lifehouse' in which he prophesised about the coming of the internet, and how it would allow people to "share music, make music and call people together to celebrate".
Despite his passion for computer composed music, the rocker admits he hasn't been able to get singer Daltrey, who is a self-confessed technophobe, to try out the unique software.
He explained: "He hasn't tried it out yet. I suppose he might if I led him to the computer. I think he would need to be let alone to try it out."
http://www.postchronicle.com/news/en...21277130.shtml
Roger Daltrey Biography in the Works
Who singer Roger Daltrey will be the subject of a new authorized biography, titled Behind Daltrey's Eyes.
The book was originally begun by author Jalanne Barnes in 1976, but was scrapped in 1987. A new official site discussing the book's mission and stalled history can be found at rogerdaltrey.blogspot.com.
Barnes says that over the years, the Who's main creative force and principle songwriter Pete Townshend had been adamantly opposed to the project. She posted on her site that, "Years ago, when Pete Townshend discovered I was writing a biography about Roger Daltrey, he told me a book about the Who's lead singer could only be written in one of two ways: a fluff piece from a groupie or a hard-nosed expose that would make Townshend look like a tyrant. He could see no other outcome to such an endeavor."
She added that Townshend has since softened his stance about the book: "(Back then) Townshend truly believed that a book about Daltrey written by someone who knew him well could destroy everything Pete had worked so hard to achieve professionally... It is now thirty-one years later and I no longer care what anyone thinks or says about a woman being the author of a book about Roger Daltrey. His story deserves to be told. I think Pete Townshend now understands that."
There has been no word as to when Behind Daltrey's Eyes will be published. The biography will be the first book to be dedicated entirely to Daltrey's life and career.
Roger Daltrey says that despite the fact that the Who had desperately wanted to devote a portion to their nightly concerts to rarely performed material, there simply wasn't enough room in the context of the band's current show: "There's only tiny bits of it you can change every night and us trying to place a lot of the newer songs, obviously a lot of the older ones have to drop out. So, we're stuck between a rock and a hard place. We do our best, and hopefully we will find other formulas to present the other music that people want to hear in different situations in the future."
The Who kick off their final European leg on May 16th in Lisbon, Portugal.
http://www.therockradio.com/2007/04/...-in-works.html
Warner, Bertelsmann Settle Over Napster
Candace Lombardi
Warner Music Group and Bertelsmann have settled a lawsuit regarding Bertelsmann's involvement with Napster's music service in 2001, both companies announced Tuesday. Bertelsmann will pay $110 million to Warner Music, according to a filing with the U.S. Securities and Exchange Commission. The settlement reached by the two companies did not require Bertelsmann to admit liability. Both Bertelsmann and Warner Music declined to comment on the settlement.
Warner Music and several other music publishers in separate lawsuits accused Bertelsmann of profiting from Napster's enablement of illegal music sharing of published music content from 2000 to 2001. Bertelsmann has maintained that it only invested in Napster after the music service changed its practices to abide by copyright laws. Bertelsmann and EMI Group reached a settlement on Napster in March. Bertelsmann settled with Universal in June 2006 over the same issue for $60 million including reimbursement for legal costs.
http://news.com.com/Warner%2C+Bertel...3-6178722.html
Judge Denies RIAA "Reconsideration" Motion in Capitol v. Foster, Calls Plaintiffs' Counsel "Disingenuous", Motives "Questionable"
Ray Beckerman
In Capitol v. Foster, Judge Lee R. West has reaffirmed his decision that Ms. Foster is entitled to be reimbursed by the RIAA plaintiffs for her attorneys fees, rejecting the RIAA's Motion for "Reconsideration".
Judge West emphasized the Supreme Court's holding in Fogerty that
[b]ecause copyright law ultimately serves the purpose of enriching the general public through access to creative works, it is peculiarly important that the boundaries of copyright law be demarcated as clearly as possible. Thus, a defendant seeking to advance meritorious copyright defenses should be encouraged to litigate them to the same extent that plaintiffs are encouraged to litigate meritorious infringement claims.
Judge West, in reviewing the rationale for his decision, noted that
While the Court stopped short of finding the plaintiffs' secondary copyright infringement claims frivolous or objectively unreasonable, it did find that such claims were "untested and marginal." While the Court did not find the plaintiffs' motives were necessarily improper, it did find those motives to be questionable in light of the facts of the case.
He further held that
contrary to the plaintiffs' assertion, the Court did conclude that the Fogertv factor regarding the need for compensating the prevailing party under the particular circumstances of the case was, in fact, met. The Court noted that where, as here, the prevailing party is the defendant who, by definition, receives no award for damages at the successful conclusion of a meritorious defense, considerations of compensation become particularly important.
In response to the RIAA's argument that their research had turned up no reported cases in which a Court had awarded fees but not listed the "Fogerty factors", the Judge pointed out to the RIAA that his research had turned up a number of unpublished cases in which these same plaintiffs had been awarded attorneys fees, without the Court's having listed the "Fogerty factors":
'The plaintiffs stress that they "they are not aware of a single reported decision where a Court has found none of the Fogerty factors but still awarded fees ... ." See Plaintiffs' Reply in Further Support of Their Motion for Reconsideration of this Court's Feb. 6,2007 Order at p. 3, (emphasis in original). The Court has made no effort to canvass all such cases. Its cursory research has, however, uncovered a number of unpublished cases where courts granted record company plaintiffs, including several of the plaintiffs herein, awards of attorneys' fees without so much as a passing mention of Fogerty or its factors. See e.g, Capitol Records, Inc. v. Lyons, 2004 WL 1732324 (N.D. Tex.); Elektra Entertainment Group. Inc. v. Bryant, 2004 WL 783 123 (C.D. Cal.); UMG Recordings, Inc. v. Davito, 2005 WL 3776349 (N.D. Ind.).
The Judge labeled as "disingenuous" the RIAA's contention that had it not moved to dismiss the case, it could have proved secondary liability on defendant's part:
The plaintiffs assert that had the case continued, they would have proved their secondary liability claims. Specifically, they contend they would have been able to show that the defendant knew or "should have known" that her Internet account was being used by a member of her household to infringe the plaintiffs' copyrights. That may be so. The plaintiffs, however, chose not to pursue the claim. The Court finds disingenuous the plaintiffs' assertion that "had they been given an opportunity, they would have been able to prove vicarious infringement." The plaintiffs were in no way deprived of an opportunity to prove their allegations. They moved, voluntarily, to dismiss their claims after the defendant had already made a substantial investment toward defending against those claims.
The Court also rejected the RIAA's statements about the settlement history of the case as being simply "not true":
The plaintiffs contend that beginning on April 21,2005, they gave the defendant "repeated opportunities to end this litigation without paying anything." Of course, that is not true. By the time the plaintiffs offered to dismiss their claims against the defendant, she had made a considerable litigation investment, and would have been required to pay those expenses already incurred. Furthermore, the plaintiffs offered merely to dismiss their claims without prejudice, thus leaving the defendant exposed to continued litigation in the matter. The plaintiffs also persist in conflating the defendant's daughter's infringement with liability on the part of the defendant.
While the plaintiffs obtained a default judgment against the daughter, there has never been any finding of liability on the part of the defendant. On the contrary, she prevailed against the plaintiffs' claims.
http://recordingindustryvspeople.blogspot.com/
RIAA Secretly Tries to Get ISP Subscriber Info
In an attempt to change the rules of the game, the RIAA
secretly
went to a federal district court in Denver with an ex parte application. The goal was to get the judge to rule that the federal Cable Communications Policy Act does not apply to the RIAA's attempts to get subscriber information from cable companies. Just to clarify, ex parte means that the application was secret, no one else — neither the ISP nor the subscribers — were given notice that this was going on. They were, in effect, asking the Court to rule that the RIAA does not need to get a court order to be able to force an ISP to disclose confidential subscriber information. The Magistrate Judge declined to rule on the issue, but did give them the ex parte discovery order they were looking for.
http://yro.slashdot.org/article.pl?sid=07/04/27/1439245
RIAA Security Expert's Quest For Reliability
In the ongoing case of UMG v. Lindor, Ms. Lindor has now moved to
exclude
the trial testimony of the RIAA's 'expert' witness, Dr. Doug Jacobson. Jacobson is the CTO and co-founder of Palisade Systems, Inc, and a teacher of internet security at Iowa State, but in his February 23rd deposition testimony she argues he failed to meet the reliability standards prescribed by Daubert v. Merrell Dow Pharmaceuticals, Inc. and Federal Rule of Evidence 702. The Groklaw and Slashdot communities participated in both the preparation of the deposition questions, and the vetting of the witness's responses.
http://yro.slashdot.org/article.pl?sid=07/04/28/202206
Music Industry Wins UW IDs in File-Sharing Case
Ed Treleven
As many as 53 UW-Madison students could be slapped with lawsuits by the music recording industry after a federal judge on Wednesday ordered the university to surrender their names and other information for sharing digital music files over the Internet.
On Tuesday, 16 record companies represented by the Recording Industry Association of America filed a lawsuit in U.S. District Court seeking the names associated with 53 Internet connections for copyright infringement. On Wednesday, U.S. District Judge John Shabaz signed an order requiring UW-Madison to relinquish the names, addresses, telephone numbers, e-mail addresses and Media Access Control addresses for each of the 53 individuals.
The lawsuit and decision came as no surprise to the university, which last month declined to send out "settlement letters" from the RIAA to alleged copyright violators among UW-Madison students.
"We had every indication that they were going to be going in this direction," said Ken Frazier, interim chief information officer at UW-Madison. "It's the step the RIAA would have to take to get the identity of a user of our network."
The RIAA's "John Doe" lawsuit asks that users associated with the 53 IP (Internet Protocol) address - a series of numbers given to a computer connection on the Internet - be turned over to the record companies named in the lawsuit.
John Doe lawsuits are a routine step that the RIAA takes to learn the identities of those whom it suspects of illegally sharing copyrighted music over the Internet. Generally, RIAA investigators monitor peer-to-peer file-sharing networks - in the UW-Madison case those were the Gnutella and AresWarez networks - and take down the IP addresses of those who are sharing files.
The 53 UW-Madison IP addresses accounted for 24,977 shared audio files, according to court documents.
The RIAA used to directly subpoena the names of those subscribers from Internet service providers, but in 2003 an appeals court ruled that such information could only be obtained under the supervision of a judge. That led to the use of John Doe lawsuits.
But Frazier said that having IP addresses does not mean that the RIAA can find the individuals who were sharing music files. Students share Internet ports and computers, he said, and it's possible that some IP addresses can lead to common areas such as labs.
"There is a very imperfect relationship between an IP address" and a person, Frazier said.
Third-year UW-Madison student Jacob Dalton said that he often downloads free audio files. He lives off campus, mostly using a laptop, but sometimes uses campus computers and networks.
"I'm interested in whether I'd be affected," he said. "If I am, it's kind of scary."
Once the RIAA has the information that UW-Madison has been ordered to supply, it will likely send settlement offers to people it has identified as having illegally shared music over the Internet, often about $3,000. If those offers fail to settle the cases, the RIAA will sue those individuals in federal court to recover money it claims it is owed for the shared music.
Most of the more than 30 file sharing lawsuits heard in the federal court in Madison have ended in default judgments or stipulated settlements. Judgments have ranged between $5,000 and $15,000.
No doubt that price, and the entire process, will be daunting to students, Frazier said.
"We continue to be really concerned for students," he said. "The prospect of being sued in federal court is a really scary one."
State Journal reporter Deborah Ziff contributed to this article.
http://www.madison.com/wsj/home/loca...hp?ntid=131102
Ohio University Announces Changes in File-Sharing Policies
In an effort to ensure that every student, faculty member and researcher has access to the computer resources they need, Ohio University announced today it will restrict the use of all peer-to-peer, or P2P, file-sharing on the campus computer network.
"The network is a shared resource, and we must ensure that it is available to all users," said Chief Information Officer Brice Bible. "Peer-to-peer file-sharing consumes a disproportionate amount of resources, both in bandwidth and human technical support."
Beginning at 12:01 a.m. Friday, April 27, the university will begin monitoring its network for P2P file sharing activity and disabling Internet access for computers found in violation of the new policy. Once disabled, a computer's Internet access will remain off until its user contacts the IT Service Desk (740-593-1222) and agrees to abide by the university's computer and network use policy. A second violation will result in Internet access being disabled again and a referral to University Judiciaries if a student is in violation or to the appropriate administrator if an employee is involved.
Although P2P file-sharing can sometimes be used for legitimate reasons, any use of P2P software on the campus network may result in Internet access being disabled under this new policy. Individuals who need to use P2P software for legitimate purposes can discuss their needs with the IT Service Desk.
In addition to consuming bandwidth and technological resources, P2P file-sharing also exposes the university network to viruses, spyware and other attacks. It also is frequently used for illegally distributing copyrighted works.
Today's announcement follows the recent crackdown by the Recording Industry Association of America on illegal music downloading. The RIAA sent more than 1,200 prelitigation letters to colleges and universities, including 100 to Ohio University. It also initiated "John Doe" lawsuits against users of computers on Ohio University's network. The university estimates staff members have spent nearly 120 hours dealing with the prelitigation letters from the RIAA.
"Left unchecked, P2P applications can consume all available network bandwidth," said Bible. "In fact this happened at Ohio University years ago when the original Napster file-sharing program became widely available."
Some file-sharing programs that could trigger action are Ares, Azureus, BitTorrent, BitLord, KaZaA, LimeWire, Shareaza and uTorrent.
Students are being informed of this policy change today through campus e-mail. In addition, IT officials will host an information session at noon Thursday, April 26, in Baker University Center 230 for all interested parties. To learn more, users can check the "frequently asked questions" page.
http://www.ohio.edu/students/filesharing.cfm
U.S. Copyright Report More Rhetoric Than Reality
Michael Geist
This week the Office of the United States Trade Representative (USTR), the U.S. government department responsible for international trade, will release its annual report card on intellectual property protection around the world. The "Special 301 report" typically identifies about 50 countries that the U.S. has targeted for legal reform.
This year, it is a virtual certainty that Canada will receive special attention, with the U.S. claiming that the country has neglected to address critical issues and suggesting that it is rapidly emerging as a piracy haven. While the report will generate media headlines and cries for immediate action from Industry Minister Maxime Bernier and Canadian Heritage Minister Bev Oda, the reality is that Canada's record on intellectual property protection meets international standards.
Moreover, differences between the U.S. and Canadian economies - the U.S. is a major exporter of cultural products and has therefore unsurprisingly made stronger copyright protection a core element of its trade strategy while Canada is a net importer of cultural products with a billion dollar annual culture deficit - means that U.S.-backed reforms may do more harm than good.
In fact, the U.S. claims fail to recognize that the current Canadian legal framework is successfully supporting a rapidly developing digital marketplace featuring digital download music sales that grew by 122 percent last year (nearly double the U.S. rate) with twice as many online music sellers as the U.S. when measured on a per capita basis.
Consider three issues likely to generate criticism in the Special 301 report - the fact that Canada has not ratified the World Intellectual Property Organization's Internet treaties, extended the term of copyright by an additional 20 years, or introduced anti-camcording legislation designed to stem movie piracy.
Notwithstanding the pressure on Canada to act on these issues, even one-time U.S. supporters are beginning to admit that these policies are open to doubt. Last month, Bruce Lehman, who served as the Assistant Secretary of Commerce in the Clinton Administration where he was the chief architect of the WIPO Internet treaties, acknowledged that "our Clinton administration policies didn't work out very well." Meanwhile, Marybeth Peters, the U.S. Registrar of Copyrights has noted that the U.S. extension of copyright was a "big mistake," and the President of the U.S. National Theater Owners Association has advised his members that notwithstanding the introduction of anti-camcording laws, unauthorized camcording in the U.S. is on the rise.
Not only are the policies suspect, but the USTR report should be seen for what it is - a biased analysis of Canadian law supported by a well-orchestrated lobby effort.
Since the mid-1990s, the USTR has placed intellectual property protection at the very top of its priority list. As a result, dozens of countries have entered into trade agreements with the U.S. in which they undertake to implement U.S. style intellectual property protections.
The latest example is this month's free trade agreement between the U.S. and South Korea. As part of that deal, the U.S. demanded that South Korea extend the term of copyright, ratify the WIPO Internet treaties, decrease Korean content requirements, and open Korean broadcast and telecommunications companies to total U.S. ownership.
Canada has not faced similar trade pressures - the North American Free Trade Agreement pre-dates the shift in USTR priorities - yet it has not been spared intense U.S. lobbying.
In recent months, U.S. Ambassador David Wilkins has publicly called on Canada to introduce copyright reform, characterizing our laws as the weakest in the G7 (conveniently overlooking the fact that the G7 no longer exists and references to the G8, which includes Russia, would not be accurate), while U.S. Senators Dianne Feinstein and John Cornyn have written a public letter to Prime Minister Stephen Harper demanding anti-camcording legislation.
Government documents obtained under the Access to Information Act reveal that lobbying pressure is even more intense behind closed doors. During the first nine months of 2006, the documents show meetings focused exclusively on intellectual property were held between U.S. and Canadian officials in January and September in Washington as well as in April, May, and August at the U.S. embassy in Ottawa.
The documents also reveal that even Canadian Members of Parliament have used their positions to promote USTR concerns. In August 2005, then Canadian Heritage Parliamentary Secretary Sarmite Bulte sent a personal request to Frank McKenna, the Canadian Ambassador to the United States, to meet for "a briefing on USTR concerns" with Canadian copyright reform. The private meeting, which took place a month later in Washington, featured the Ambassador, Ms. Bulte, and Canadian Recording Industry Association President Graham Henderson.
While the USTR report and its supporters seek to paint Canada as a laggard on copyright, this rhetoric ignores the fact that Canada is compliant with its international obligations and that Canadian law is consistent with the laws in most countries around the world. For example, of the three highlighted issues (WIPO ratification, copyright extension, and camcording), only three of 192 United Nations members - the U.S., Singapore, and the Czech Republic - have completed all three reforms.
Canada need not become the fourth country on that list. The USTR may give a Canada a failing grade, however, the real failure lies with countries that cave into such bullying by enacting laws that are not in their national interest.
http://www.michaelgeist.ca/content/view/1889/159/
News From The North
The TankGirl Diaries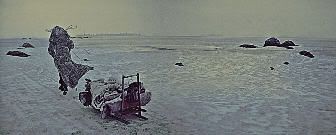 European Parliament Criminalises Businesses, Consumers, Innovators
Strasbourg, 25 April 2007 -- The European Parliament today accepted the IP Criminal Measures directive after its first reading in a vote of 374 to 278, and 17 abstentions. It left several unexamined rights in the scope, and threatens to criminalise consumers and incriminate ISPs. Recommendations from an alliance of libraries, consumers and innovators were not followed, although Parliament was clearly divided on several issues.
Terrorists illegally copying and selling phone directories will probably not sleep very well tonight. Neither will spare parts makers who, according to Parliament, should risk criminal penalties if they infringe on a part's design right. It is very strange that the rapporteur insisted on having these unexamined database and design rights included in the scope", said Jonas Maebe, FFII analyst.

"Today, 'inciting' is only criminal in some member states, and in exceptional cases such as hate speech. Elevating IPRs to the same level is a scary development. The inciting clause is also reminiscent of the US 'Induce Act', which threatened to make MP3 players such as the iPod illegal", Maebe added.

He continued: "On the positive side, Parliament did decide that abuse of these misguided measures has to be punishable, and that the neutrality of investigations should be safeguarded. It also explicitly mentioned several statutory exceptions to IPRs, where criminal measures should not be applied."
The Commission introduced the Criminal Measures IP directive, also known as IPRED2 or Criminal Enforcement directive, as a way to combat organised crime and terrorism. It would do so by turning all intentional, commercial scale infringements of all IP rights into a criminal offence.
The problem with this logic is that very few infringements have anything to do whatsoever with criminal activities, let alone with terrorism. Furthermore, the TRIPs treaty already requires criminal measures against commercial scale copyright piracy and counterfeiting, and in most other cases civil law is more appropriate.
The directive is also controversial because it is the first time that the European Parliament is co-legislating criminal law in the EU to such an extent. This also means that individual governments lose their veto power when the directive will be treated in the Council.
Source:
Foundation for a Free Information Infrastructure
The Swedish Pirate party
criticizes
the directivy harshly. The directive criminalizes the 'incitement to a copyright infringement' while Piratpartiet sees on the contrary that pirate copying is beneficial to the society, and argues so in its party program. Therefore Piratpartiet sees that the directive would criminalize the party itself, thereby letting the narrow economical interests of copyright industry override the principles of freedom of thought and political democracy.
http://www.p2pconsortium.com/index.php?showtopic=12771
http://reflectionsonp2p.blogspot.com/
ISPs are Called on to do More Against "Hate Pages" on the Web
Monika Ermert and Robert W. Smith
Internet providers will be expected to do more against violence- and hate-extolling pages on the Internet. A declaration of the European Parliament, which will be submitted to a plenary session in Strasbourg next week, is designed to give a decisive push in this direction. The draft of the declaration, which heise online has seen, calls on providers in somewhat vague language to make provisions against "hate pages" part of their standard terms and conditions. The ultimate object of the push by five EU Members of Parliament, Glyn Ford and Claude Moraes of the UK's Labour Party, the Hungarian Liberal Party member Viktória Mohácsi and the two German European Members of Parliament Bernd Posselt (Christian Social Union; CSU) and Feleknas Uca (The Left Party), is to banish racism and hate propaganda from the Internet altogether. The preamble to the declaration mentions anti-Semitism, Islamophobia and anti-Romany campaigns. Should the providers refuse to act more forcefully the five initiators of the declaration have vowed to pressure the European Commission into drafting appropriate legislation.
For the document to have its desired effect, however, a majority of MPs, the larger the better, will need to sign it. In their current declaration the Members of Parliament also call on the EU Commission to become more engaged in the fight against racial hatred on the Web. The Commission should, within the framework of the Safer Internet Plus program, do more to have such nefarious content removed, the parliamentarians declare. In addition it would be wise to learn from efforts undertaken in this regard by other countries, such as the United States, the MPs write. It is there, however, that many of the anti-Semitic pages that so upset the Europeans are hosted and where by invoking the First Amendment to the Constitution, which prohibits Congress from making any law "abridging the freedom of speech, or of the press," such pages are able to last. It needs to be said, though, that organizations such as jugendschutz.net have repeatedly pointed out that providers are willing to remove pages from the Web when requested to do so by authorities whose duty it is to protect the young.
The final section of the declaration addresses the member states of the European Union. These are there called upon to ratify, if they have not yet done so, as quickly as possible the Additional Protocol to the Convention on Cybercrime, concerning the criminalization of acts of a racist and xenophobic nature committed through computer systems of the Council of Europe. Germany too has not yet ratified the Additional Protocol.
A question not addressed in the declaration is whether the appeal it contains is primarily aimed at Web hosters or whether entities that offer Internet access services are also thereby to be reminded of their duties. The delicate question of where to draw the line between pages a company should on no account host and those it might find offensive but not be expected to do anything about, the initiators also fail to give an answer to in their short text.
http://www.heise.de/english/newsticker/news/88577
Murdoch Is Taking MySpace to China
David Barboza
Rupert Murdoch's News Corporation is bringing MySpace.com to China, a latecomer that is betting it can overcome its handicap by competing unconventionally as a start-up.
The News Corporation signed a deal to license the brand for its popular online social networking site and allow local Chinese entrepreneurs who understand their market to pick and choose to build an indigenous business. With this approach, the News Corporation, hopes to succeed where other Western Internet ventures have failed.
The company and two venture capital firms agreed earlier this month to hire a former Microsoft executive to license the MySpace.com brand and technology in China in an attempt to capture some of the business in the world's fastest-growing Internet market.
MySpace.com is entering China at a time when social-networking and online gaming and entertainment sites are already wildly popular.
"They want to avoid some of the mistakes made by the first and second waves of international Internet companies that came to China," said William Bao Bean, a partner at Softbank China & India, a venture capital firm. "By putting a local manager in, they give the company a fighting chance. This is a very crowded area with at least 100 companies competing in the same space that MySpace has entered."
American Internet companies have scrambled to set up operations in China's booming online marketplace, which already has more than 137 million Internet users, second only to the United States.
But the China operations of Amazon.com, eBay, Yahoo and even Google have all either lost ground or ceded the leading market position that they enjoy abroad to local rivals despite, in some cases, spending hundreds of millions of dollars to acquire established Chinese competitors.
The new company, called MySpace China, will tailor the site to the Chinese market. For instance, while MySpace.com invites newcomers to meet their first friend, Tom, who is a company founder, MySpace China introduces new visitors to a Chinese friend.
Still, it faces stiff competition from China's home-grown Internet companies, including Baidu, Tencent, Sina and 51.com, as well as dozens of other MySpace.com-like Internet start-ups.
Analysts say that Chinese Internet entrepreneurs like Robin Li of Baidu, Ma Huateng of Tencent and Jack Ma of Alibaba.com, have managed to outmaneuver their Western counterparts, partly because they have a better sense of the needs of Chinese Internet users.
Foreign Internet companies have also struggled to find the right balance between complying with China's stringent censorship — sometimes having their sites blocked in China — and providing enough interesting content to attract users.
Mr. Murdoch has tried to gain access to the Chinese market for some of his media properties, but has faced difficulties because of tight controls. Now the News Corporation, which acquired MySpace in 2005 for about $580 million, has teamed up with IDG VC, a unit of the Boston-based International Data Group, and China Broadband Capital Partners. In effect, they are financing a Chinese start-up.
Richard Ji, an Internet analyst at Morgan Stanley, said MySpace China might use the News Corporation's content. "They have a competitive advantage in sports content," Mr. Ji said. "The Chinese government likes sports content, and so do advertisers here."
The group, headed by the News Corporation, did not say how much it has committed to investing in MySpace China, but people close to the talks say that the funding is substantial. The strategy and partnership were partly devised with the help of Wendi Deng, Murdoch's Chinese-born wife, according to people involved in the deal. Ms. Deng is not an officer of the News Corporation, but she has been named to the board of directors of MySpace China, according to people involved in the talks.
According to the deal, the News Corporation, IDG and China Broadband Capital will largely fund the operations of MySpace China. IDG, which is headed in China by Hugo Shong, has more than $800 million under management and has invested in some of China's biggest Internet start-ups, including Baidu, Tencent, 3721.com and Eachnet.
Luo Chuan, 38, who used to run Microsoft's MSN portal in China, will be the company's chief executive. "We want to create a site that allows people to find serious relationships and to share something with new friends," he said, "to share pain and loneliness."
http://www.nytimes.com/2007/04/27/bu...27myspace.html
MySpace Now Available in China - Minus Politics and Religion
Lu EnJie
MySpace, the world's largest social networking website, has finally come to China, the world's most populous nation. After months of delays, China's 1.3 billion citizens are now able to create their own pages on the Chinese-language version of MySpace. But unlike MySpace in other countries, sensitive topics like religion and politics are nowhere to be found on the Chinese site, and users are asked to report 'subversive' activity.
MySpace, which already has more than 100 million users worldwide, is backed by News Corporation, one of the world's largest media groups. The company formally announced MySpace China yesterday, and the site went live shortly after midnight in China, with a layout which mimics that of its main global site - with a few key differences.
Discussion forums on subjects like religion and politics are nowhere to be found on the new Chinese MySpace site, even though these are popular topics on other international MySpace sites. Instead, users are only offered safer topics for conversation, such as humor, sport and movies.
Users are told to click a button if they spot any 'misconduct' by other users. This 'misconduct' includes actions such as 'endangering national security, leaking state secrets, subverting the government, undermining national unity, spreading rumors or disturbing the social order' – according to the site's terms and conditions.
Attempts to post content containing a variety of sensitive terms, such as 'Taiwanese independence', the 'Fa Lun' religious movement or the Dalai Lama, produce the following message. 'Sorry, the article you want to publish may contain inappropriate content. Please delete the unsuitable content, and then try reposting it. Thank you. '
http://texyt.com/MySpace+China+censo...s+religion+064
Yahoo's China Unit is Ordered to Pay Music Companies for Copyright Violations
Yahoo's China unit has been ordered to pay the world's biggest music companies compensation for copyright violations two weeks after the United States sued China at the World Trade Organization to stop intellectual piracy in the Asian nation.
The Web site, operated by Alibaba.com, must delete links to 229 songs on nonaffiliated sites and pay 210,000 yuan, or $27,176, in compensation to companies including EMI Group, according a ruling by the Beijing Second Intermediate People's Court posted Tuesday on the Web site of the Chinese Supreme Court.
About 85 percent of recordings in China are illegal, with sales of pirated music worth $410 million in 2005, according to the International Federation of the Phonographic Industry, the industry group that organized the suit. EMI, Warner Music Group and nine other record companies sued Yahoo China in March on claims that it violated copyrights by allowing users of its search engine to find links to pirated music.
"Chinese Internet companies will face more lawsuits in the future because they've become more profitable and more people are paying attention to them," Tony Chen, a partner at the law firm Jones Day, said by telephone Tuesday from Shanghai.
Yahoo China said it was planning to appeal the ruling. "This is a case that has far-reaching implications for all search engines," it said in an e-mailed statement.
Yahoo and the digital media company Gracenote opened an online lyrics service Tuesday, the first industry-backed effort in a market dominated by unauthorized, rogue Web sites, Reuters reported from Los Angeles.
The Yahoo deal follows an agreement last summer between music publishers and Gracenote, giving Gracenote the rights to lyrics from the North American catalogs of Bertelsmann's BMG Music Publishing, Vivendi's Universal Music Publishing Group, Sony/ATV Music Publishing, jointly owned by Sony and Michael Jackson, peermusic and other publishers.
Terms of the Yahoo deal were not disclosed but officials said it was a variable revenue-sharing agreement based on advertising.
http://www.iht.com/articles/2007/04/...ness/yahoo.php
Sony says China Pirated Spider-Man DVDs are Fakes
Sony Pictures Entertainment on Tuesday said DVDs in China that were reported to be pirated copies of widely anticipated "Spider-Man 3" are in fact copies of its predecessor, "Spider-Man 2."
"Contrary to news reports about stolen copies of 'Spider-Man 3' being sold illegally on the streets in China, our investigation in China has revealed no case of the film being pirated to date," Sony Pictures said in a statement.
"After an initial investigation of online sites worldwide, we have so far found no pirated copies of 'Spider-Man 3' on the Internet," Sony added.
Reports of the illegal copies highlight the speed with which some movie pirates work to put fake DVDs on the street, and Sony's response underscores the determination of Hollywood's studios to stop the piracy they say costs them billions of dollars annually in lost revenues.
The movie about a crime-fighting superhero with spider-like powers will not be released to theaters until May 4 after a series of global premieres that began last week in Tokyo.
Earlier this week, news reports from Beijing said illegal, or pirated, copies of "Spider-Man 3" DVDs were selling for roughly $1 in city street bazaars.
Sony said, "We have uncovered examples of 'Spider-Man 2' being sold in 'Spider-Man 3' boxes in China. But thus far, we can find no instance where 'Spider-Man 3' has appeared on DVD."
Sony Pictures, a unit of Japanese electronics company Sony Corp., said similar hoaxes have occurred in the past ahead of the release of other major films.
http://www.reuters.com/article/filmN...45741420070425
China Aims to Tame Internet and Spread Party Line
Chinese President Hu Jintao on Monday launched a campaign to rid the country's sprawling Internet of "unhealthy" content and make it a springboard for Communist Party doctrine, state television reported.
With Hu presiding, the Communist Party Politburo -- its 24-member inner council -- discussed cleaning up the Internet, state television reported. The meeting promised to place the often unruly medium more firmly under propaganda controls.
"Development and administration of Internet culture must stick to the direction of socialist advanced culture, adhere to correct propaganda guidance," said a summary of the meeting read on the news broadcast.
"Internet cultural units must conscientiously take on the responsibility of encouraging development of a system of core socialist values."
The meeting was far from the first time China has sought to rein in the Internet. In January, Hu made a similar call to "purify" it, and there have been many such calls before.
But the announcement indicated that Hu wants ever tighter controls as he braces for a series of political hurdles and seeks to govern a generation of young Chinese for whom Mao Zedong's socialist revolution is a hazy history lesson.
"Consolidate the guiding status of Marxism in the ideological sphere," the party meeting urged, calling for more Marxist education on the Internet.
The Communist Party is preparing for a congress later this year that is set to give Hu another five-year term and open the way for him to choose eventual successors. In 2008, Beijing hosts the Olympic Games, when the party's economic achievements will be on display, along with its political and media controls.
In 2006, China's Internet users grew by 26 million, or 23.4 percent, year on year, to reach 137 million, Chinese authorities have estimated.
That lucrative market has attracted big investors such as Google and Yahoo. They have been criticized by some rights groups for bowing to China's censors.
The one-party government already wields a vast system of filters and censorship that blocks the majority of users from sites offering uncensored opinion and news. But even in China, news of official misdeeds and dissident opinion has been able to travel fast through online bulletin boards and blogs.
Authorities have also launched repeated crackdowns on pornography and salacious content. The latest campaign against porn and "rumor-spreading" was announced earlier this month.
The meeting also announced that schools and sports groups would be encouraged to use healthy competition as a way to shape youth, the report said.
"Sports plays an irreplaceable role in the formation of young people's thinking and character, mental development and aesthetic formation," the meeting declared.
http://www.reuters.com/article/techn...K8130920070423
Fingerprint Scanners Track Chinese College Students
A Chinese college has introduced fingerprint scanners to stop student truancy, the China Daily said on Tuesday. But not everyone is pleased about it.
Meiya College of International Studies at Hunan University spent 250,000 yuan ($32,360) last year to install the scanners in each of its 30-plus classrooms.
"Students are now required to 'check in' to each class by pressing their thumbs against the scanner," the newspaper said.
Hou Lichen, dean of the college in the central province of Hunan, said that in the past, teachers would record attendances by taking registers. However, these were time-consuming and it was easy to cheat.
Attendance had risen to 95 percent since the scanners were introduced, the newspaper said.
However, not everyone likes the idea.
Gu Yifan, a first-year student, said she would never skip class, regardless of whether there was a scanner.
"We are adults. Is it really necessary to control us in this way?" she was quoted as saying.
Other students said they feared the fingerprint data could be leaked out of the college and used for other purposes.
Hunan University isn't the first educational institution to employ biometrics, however. In 2005, St. Andrew's College, a K-12 school in Ireland, tested fingerprint readers in a bid to stamp out truancy.
http://news.com.com/Fingerprint+scan...3-6178807.html
A New Twist on Snooping at Wal-Mart
Michael Barbaro
A former Wal-Mart computer technician, who asserted that company employees eavesdropped on board meetings and conducted clandestine surveillance on shareholders, has reversed himself and denied both claims in sworn testimony, the giant retailer said yesterday.
Bruce D. Gabbard, who was fired in March for taping telephone calls between Wal-Mart employees and a reporter for The New York Times, had told The Wall Street Journal that he was part of an elaborate operation that snooped on employees, stockholders and company critics.
After receiving angry letters from shareholders, who demanded an investigation of the accusation, Wal-Mart's chief executive, H. Lee Scott Jr., took the unusual step of publicly denying several of Mr. Gabbard's most damaging charges in a statement and released portions of his sworn testimony conducted after the Journal articles were published.
"Some of the most disturbing assertions," made by Mr. Gabbard, the chief executive wrote, "simply are not true."
In a transcript of Mr. Gabbard's testimony, conducted by a lawyer for Wal-Mart on April 18, the former technician said several statements were taken out of context or inaccurately attributed to him in the articles, Wal-Mart said.
For example, Mr. Gabbard denied that he secretly listened in on or taped board meetings, seemingly contradicting his assertion in an article on April 9 when he said, "I'm the guy listening to the board of directors when Lee Scott is excused from the room."
Wal-Mart said it sought Mr. Gabbard's sworn testimony after publication of the Journal articles and that he had voluntarily agreed, adding that it had not made any financial settlement with Mr. Gabbard to secure his testimony.
Mr. Gabbard did not respond to a message and his lawyer, W. H. Taylor, declined to comment on Wal-Mart's claims.
Wal-Mart did not deny several other assertions in the Journal articles — that, for example, company employees conducted surveillance on groups critical of the company, like Acorn, and firms hired by the company, like McKinsey & Company, the consultant.
Mr. Gabbard worked in Wal-Mart's Threat Research and Analysis Group, a special team inside Wal-Mart's information technology department. The team is responsible for, among other things, securing the flow of information among senior executives and directors, the company said.
A spokesman for The Wall Street Journal, Robert Christie, said the newspaper was "confident that the information provided to The Journal by Mr. Gabbard, who is being investigated by the criminal arm of the United States attorney's office for conduct relating to Wal-Mart, was accurately reported." Mr. Christie noted that Mr. Gabbard made similar statements to The Associated Press.
Wal-Mart said that its own investigation into Mr. Gabbard's assertions showed that no employee had either secretly listened in on board meetings or conducted surveillance on shareholders.
Wal-Mart did concede, however, that employees have in the past researched the background of shareholders expected to attend its annual meeting in Arkansas. It justified this to prepare for investors with "a history of being disruptive" who "might use this high-profile forum to stage an inappropriate or disruptive protest."
In one case, for example, publicly available Web sites, found through Google, were searched regarding PETA, or People for the Ethical Treatment of Animals, before a member of the group was scheduled to present a shareholder proposal at the 2006 annual meeting, the company disclosed.
But Wal-Mart said the research did not prevent PETA members from speaking at the meeting.
Chris Kofinis, the head of communications for WakeUpWalmart.com, a union-financed group critical of the company, called for an independent investigation of Mr. Gabbard's claims "to determine, once and for all, who is telling the truth."
Wal-Mart fired Mr. Gabbard after discovering that he had taped telephone conversations between this reporter and members of Wal-Mart's public relations staff and intercepted electronic text messages sent by employees. Wal-Mart said it had not authorized those activities.
For Wal-Mart, Mr. Gabbard's most inflammatory accusations surrounded the surveillance of shareholders. An internal memorandum dated January 2007, provided to The Journal, suggested that Wal-Mart might conduct "background work on the potential threat assessment" of certain shareholders submitting proposals for its annual meeting in June.
In a statement yesterday, Wal-Mart's general counsel, Thomas A. Mars, said that the company had never carried out any such research on those shareholders in preparation for this year's annual meeting — "not even through Google," he wrote.
http://www.nytimes.com/2007/04/21/bu...21walmart.html
Seeing Through Walls
Have you considered that someone could be reading what's on your monitor from a few rooms away? It's unlikely, but possible, as work by Cambridge University computer security researcher Markus Kuhn shows.
A radio antenna and radio receiver - equipment totalling less than £1000 - is all you need. Kuhn managed to grab the image to the left through two intermediate offices and three plasterboard walls.
Back in 1985, Wim Van Eck proved it was possible to tune into the radio emissions produced by electromagentic coils in a CRT display and then reconstruct the image. The practice became known as Van Eck Phreaking, and NATO spent a fortune making its systems invulnerable to it. It was a major part of Neal Stephenson's novel Cryptonomicon.
CRTs are now well on the way to being history. But Kuhn has shown that eavesdropping is possible on flat panel displays too. It works slightly differently. With a flat panel display the aim is to tune into the radio emissions produced by the cables sending a signal to the monitor. The on-screen image is fed through the cable one pixel at a time. Because they come through in order you just have to stack them up. And Kuhn has worked out how to decode the colour of each pixel from its particular wave form.
If everything is just right, you can pick up signals from some distance. "I was able to eavesdrop certain laptops through three walls," says Kuhn. "At the CEBIT conference, in 2006, I was able to see the Powerpoint presentation from a stand 25 metres away." Here's the image he managed to get:
Kuhn also mentioned that one laptop was vulnerable because it had metal hinges that carried the signal of the display cable. I asked if you could alter a device to make it easier to spy on. "There are a lot of innocuous modifications you can make to maximise the chance of getting a good signal," he told me. For example, adding small pieces of wire or cable to a display could make a big difference.
As for defending against this kind of attack, Kuhn says using well-shielded cables, certain combinations of colours and making everything a little fuzzy all work.
http://www.newscientist.com/blog/tec...ugh-walls.html
When YouTube is a Threat
Eric Pfanner
As YouTube, the Internet video-sharing service, generates millions of new fans in far-flung countries, it is making enemies of some of their governments. Many are putting pressure on the company to tailor, or self-censor, its site to take account of local sensibilities, analysts say.
So far, YouTube, which Google acquired in November for $1.6 billion, has refused to back down in its standoff with the military-appointed government of Thailand, which recently cut off access to YouTube over a video that denigrated the country's king, Bhumibol Adulyadej.
But Thailand is only one of a growing number of countries that are worried about the power of Internet video, which cuts across linguistic borders and allows individuals anywhere to publish dissident tracts, sexually risqué films or other undesirable "user-generated content."
Since April 11, for instance, China has quietly blocked access to DailyMotion, a French video-sharing site, for unexplained reasons, company executives said.
"You've got this explosive growth in the popularity of YouTube, and a lot of countries feel threatened by this," said Ronald Deibert, director of the Citizen Lab at the University of Toronto and a member of the Open Net Initiative, a group of academics who monitor Internet censorship.
"Governments are getting more savvy about the way people use these tools to promote revolutions," Deibert said.
Though YouTube is based in the United States, much of its recent growth has come overseas. According to ComScore Networks, which tracks Internet traffic, three-quarters of the 134 million unique visitors to YouTube in February were outside North America, with the Middle East and Africa recording the most rapid increases.
YouTube says that a big part of its appeal is that it provides would-be video stars, and their fans, with a single, global platform, unlike localized user-generated content sites.
"YouTube remains committed to creating a community where people from around the world can express themselves and share their views," said Julie Supan, head of global communications at YouTube.
But analysts say localization would be a logical step in the wake of Google's acquisition. Google has embraced the idea of local versions for its search engine, introducing separate sites for more than 100 countries.
YouTube declined to comment on whether it was considering such a move, which might not come without criticism. Google's decision last year to censor the Chinese version of its search engine, Google.cn, to placate government concerns drew scorn from some free-speech advocates.
Analysts say there are several ways in which YouTube could be adapted for international markets. The company could, like the Google search engine, create local-language sites, denoted with separate suffixes like .fr for France or .cn for China.
Or the company could keep the single address,
www.youtube.com
, and automatically send users in different countries to local versions, a process called geographical zoning. These sites could have entirely different content or could simply block access to certain material in some markets, analysts say.
DailyMotion, for instance, uses this approach to send users to any of five different sites, depending on where the users are located, to comply with local laws.
"It wouldn't be that difficult technologically for YouTube to do geographical zoning," said Jonathan Zittrain, a professor of Internet governance and regulation at Oxford University. "But it is partial censorship."
For now, YouTube relies on a two-step editing method to try to ensure that videos comply with the site's "terms of use," which state that material deemed to be pornographic, violent or racist, among other things, is unwelcome.
The site asks users to flag any videos they see as inappropriate; editors at YouTube then review these clips and have the final say on whether they stay up or go.
The problem with this system is that video that seems inoffensive to viewers in San Bruno, California, where YouTube is based, can be incendiary in other places, at least to some individuals or governments.
Supan said YouTube hoped to resolve the dispute in Thailand "in the near future." But Thailand, which called the video of the king "insulting," is not the only country to take action against YouTube.
A Turkish court last month responded to clips that appeared to denigrate Mustafa Kemal Ataturk, the founder of modern Turkey, by ordering Internet providers to block access to YouTube. Iran has been barring YouTube and several other Western Web sites since December, objecting to "corrupting" influences.
In general, Deibert said, Internet censorship is on the rise globally. The Open Net Initiative found that over the past year, more than two dozen countries regularly blocked sites entirely or filtered out content they considered offensive.
As recently as 2002, only China, Iran and Saudi Arabia did so, he said.
Though YouTube has balked at the Thai government's demand that it remove the video of the king, it sometimes gives in to similar requests. It pulled one of the Ataturk clips, for instance, whereupon service was restored in Turkey.
From time to time, YouTube has also removed other videos that might have passed muster in the United States. Last year, for instance, it dropped a clip of a model, Daniela Cicarelli, frolicking on a beach in Brazil with her boyfriend, after a court in that country ordered Internet service providers to block access to YouTube.
Last autumn, YouTube took down videos posted by the National Democratic Party, a far-right group in Germany that wanted to use YouTube for weekly broadcasts.
Other American Internet companies have had to adjust their European sites to take account of laws in several countries prohibiting the display of Nazi imagery.
Analysts say it is unclear what YouTube might have to do about videos dealing with Nazi themes, which are not hard to find on YouTube.
Elsewhere, politicians have spoken out against YouTube for another reason, contending that it encourages "cyber-bullying."
Alan Johnson, the British Education Secretary, called on YouTube not to carry videos of students insulting each other or their teachers, apparently an increasingly popular genre of video in Britain. In several countries, individual schools have blocked access to YouTube over similar issues.
Internet experts are watching closely for any developments in China. YouTube says it has not encountered any censorship there, though the government routinely filters out Internet content about topics like "democracy" and "Tiananmen Square."
For now, that means even the Chinese can still find on YouTube the famous video of a lone dissident standing in the path of a tank during the uprisings in 1989, analysts say.
But Beijing's move to block access to DailyMotion prompted speculation that it might soon apply pressure to Google to adapt YouTube for the Chinese market.
"They are probably saying, 'You censored your search engine - now you have to censor YouTube,' " said Julien Pain, head of the Internet freedom desk at Reporters Sans Frontières in Paris. "If Google agrees to censor YouTube, then the Chinese will have won. We're already on a slippery slope."
http://www.iht.com/articles/2007/04/22/news/youtube.php
Digital Proves Problematic
Industry lacks method to store footage
David S. Cohen
As far as movies are concerned, digital, like diamonds, was supposed to be forever.
No more dyes to fade, no more film stocks to decay or catch fire. Just pristine digital data, preserved for all time, and release prints as clear and sharp as the images caught by the camera.
Just one problem: For long-term storage, digital is -- so far -- proving to be a time bomb, more permanent than sand painting but not much else.
Simply put, there's no generally accepted way to store digital "footage" for more than a few months. After that the industry is using a hodgepodge of improvised solutions, some rather costly, others not very reliable.
That looked like a small problem when digital filmmaking was limited to low-budget indies, animation houses and tech pioneers like James Cameron and George Lucas.
Now, though, that small problem is growing geometrically as the major studios shift away from film to digital capture. Such recent releases as "300," "Apocalypto," "Zodiac" and "Superman Returns" were shot on digital. Their digital masters could be seriously degraded if the problem isn't addressed quickly.
In fact, the problem is so severe that the Academy of Motion Picture Arts & Sciences' Science and Technology Council warned in 2005 that within just a few years films shot with digital cameras could be lost.
Two years on, digital is going mainstream, but "The problem is still there," says Phil Feiner, chairman of the Acad Sci-Tech Council's archiving committee. And those few years the council warned of are nearly up.
It's not that there's no way to store digital data. On the contrary, there are dozens of ways to store it, most of which go obsolete in just a few years. Remember 5" floppies and Zip disks?
And the disks that have stuck around? Not so reliable.
Data tapes are balky and can fall apart. Data DVDs and CDs have a history of "rotting" and can't be counted on to last as long as their commercially pressed cousins.
Plus there's no reason to expect that the computers of 20 years from now -- never mind 100 -- will be able to plug in to today's hard disks.Some private companies are jumping in as awareness of the problem grows, and Feiner's committee will be launching several initiatives over the months to come.
But the amount of digital footage that needs to be archived is growing faster than ever.
More than one tech expert, including the Academy's Sci-Tech Council director Andy Maltz, told Variety they had found archival tapes unreadable just 18 months after they were made.
Feiner, the former longtime prexy of Pacific Title, says when he worked on studio feature films he found missing frames or corrupted data on 40% of the data tapes that came in from digital intermediate houses.
The tapes were only nine months old.
"On certain pictures we had to go into the DI negative and re-scan the data," he says. "You couldn't retrieve it. Gone."
Milt Shefter, who is a team leader on Feiner's digital archiving committee, warns that "Long term, it's possible that we're looking going back to the early days of motion pictures, where films are made, put out for a week or two, then thrown away."
With acetate or polyester film, the typical approach to archiving has been summed up as "store and ignore."
Color film can be turned into black-and-white color separations on polyester stock. Properly stored in cool vaults at low humidity, such film can last centuries. But there's no way to "store and ignore" digital.
Instead, digital data has to be copied, or "migrated," to new storage every few years.
Migration, however, takes computers, an IT staff, software and a lot of labor. In short: money.
While indies may lack the funds to do regular migration, studios are plunging in.
Sony's VP of asset management and film restoration, Grover Crisp, says the studio has put in a program of migrating every two to three years.
"The motion pictures and original material, those are primary assets of the company," says Crisp. "We all want to do whatever we can to protect those assets."
Disney's VP of production technology Howard Lukk, says as the studios' digital archives grow, migration becomes a bigger job.
"It's like painting the Golden Gate Bridge and it getting a foot longer every year."
Not only are more films shot digitally now, but digital filmmaking encourages directors to shoot more footage.
Mel Gibson told Variety, "Here's the horror. In the average film, it's 900,000 feet to 1.2 million to make a film, roundabout.
"('Apocalypto') was the equivalent of 3 million feet, so it's a lot of stuff that you don't use but it's recorded."
"The technological issues here are not going to be solved by the entertainment industry," says Shefter. "It's going to take big business, big science and maybe big government."
In the meantime, the Academy is stepping in to make the motion picture industry's voice heard in any big business initiative to solve the problem.
The digital archive project is the broadest initiative launched since the Acad decided in 2003 to fund the current incarnation of the Science & Technology Council.
Maltz expects a report that will pin down what the industry needs to do to be released in a few months.
Meanwhile, private industry is attacking digital archiving, too, with at least one announcement in the field planned for NAB.
At NAB, Elektrofilm Digital Studios and Sun Microsystems announced a service to manage and archive the vast amounts of video from feature film production.
Many tech experts expect the studios to eventually outsource all their archiving and migration to companies like Elektrofilm rather than try to do it themselves. Feiner says what is happening is, in effect, the birth of a new business: digital archiving.
He speaks from experience. Earlier this year, three companies received Science & Technology Awards for their work on archiving. Feiner and his Pacific Title team were among the winners.
Their solution takes the data from a digital intermediate and turns it into three-color separation negatives.
In other words, they take the digital movie and turn it into good old-fashioned film.
http://www.variety.com/article/VR1117963533.html
From Many Tweets, One Loud Voice on the Internet
Jason Pontin
"ONLY connect," the English novelist E. M. Forster admonished mankind. I don't think, however, that he meant that we should connect exclusively, or continuously.
Habitual users of a new, free communications service called Twitter would disagree. For anyone unfamiliar with the latest trends in technology, "Twitterers" send and receive short messages, called "tweets," on Twitter's Web site, with instant messaging software, or with mobile phones. Unlike most text messages, tweets — usually in answer to Twitter's prompt, "What are you doing?" — are routed among networks of friends. Strangers, called "followers," can also choose to receive the tweets of people they find interesting.
Tweets are published on a "public timeline" on Twitter's home page. As I write this column, "54626" in Scottsdale, Ariz., is wondering, "Does anyone else really dig the word 'Mandible'? I kind of love it right now." "Opheliac9" in Minneapolis posts, "Guess what? I'm at the CC. Come one, come all." "Angelamaria" in the Philippines is simply "annoyed."
David Troy, a software developer in Maryland, has created a Web site called Twittervision that superimposes this public timeline on a Google map. Every few seconds, a tweet appears and vanishes somewhere on the globe. It is an absorbing spectacle: a global vision of the human race's quotidian thoughts and activities, or at least of that portion of the species who twitter.
Most twitterers communicate with small networks of people they know, but the most popular have thousands of friends and followers. One of the best-loved twitterers, Paul Terry Walhaus, a gray-haired blogger from Austin, Tex., has 9,177 friends and 1,851 followers, according to the tracking site Twitterholic.
At least one politician has tuned into the service. John Edwards, who has 2,001 followers and 2,082 friends, recently twittered that his presidential campaign would be "carbon neutral."
After Robert Scoble, who writes a popular technology blog called Scobleizer and who himself has 2,985 followers and 3,045 friends, challenged this ambitious vow on Twitter, Mr. Edwards twittered back that he would, as president, offset his campaign's carbon emissions by financing alternative energy research.
Twitter, which was created by a 10-person start-up in San Francisco called Obvious, is a heady mixture of messaging; social networking of the sort associated with Web sites like MySpace; the terse, jittery personal revelations of "microblogging" found on services like Jaiku; and something called "presence," shorthand for the idea that people should enjoy an "always on" virtual omnipresence.
It's easy to satirize Twitter's trendiness, and cranky critics have mocked the banality of most tweets and questioned whether we really need such an assault upon our powers of concentration. But right now, it's one of the fastest-growing phenomena on the Internet.
In March, when Twitter was voted "best of the Web" at South by Southwest, the annual multimedia and music festival in Austin, the service had 100,000 members, according to Biz Stone, an engineer at Obvious. The festival prize prompted, or coincided with, a remarkably rapid adoption of Twitter by the international digerati. Although Obvious has become secretive about how many people use Twitter, Evan Williams, the founder of Obvious, told me that there were three and a half times more tweets in the second week of April than there were before South by Southwest.
Celebrity twitterers, Twittervision and the triviality of tweets have dominated early discussions of Twitter on blogs and Web sites. But Mr. Williams argues that critics do not appreciate the true utility of his service.
"It's understandable that you would look at someone's twitter that you don't know and wonder why it would be interesting," he says. "And celebrity twitterers are really outliers, even though they get a lot of attention."
Instead, Mr. Williams says, Twitter is best understood as a highly flexible messaging system that swiftly routes messages, composed on a variety of devices, to the people who have elected to receive them in the medium the recipients prefer. It is a technology that encourages a new mode of communication, he contends.
"It adds a layer of information and connection to people's lives that wasn't there before," Mr. Williams says. "It has the potential to be a really substantial part of how people keep in touch with each other."
MANY twitterers agree. Mr. Scoble, the blogger, wrote to me by e-mail: "Twitter lets me hear from a lot of people in a very short period of time."
Tony Stubblebine, who founded a social network called CrowdVine, wrote to me: "At some point I got so busy and self-absorbed that I stopped reading or writing personal e-mails. I'd see my sister about once a month and ask, 'What's up?' only to find out, 'Not much.' Now I have a much more detailed picture of her life."
But others who have tried the service are less enamored of the new connectedness. Bruce Sterling, the science fiction writer and journalist, who used Twitter at South by Southwest, wrote to me, "Using Twitter for literate communication is about as likely as firing up a CB radio and hearing some guy recite 'The Iliad.' "
My own experiences with Twitter were mixed. I quickly realized that decrying the banality of tweets missed their point. The only people in the world who might be interested in my twittering — my family, my close friends — were precisely the ones who would be entertained and comforted by their triviality.
But I also strongly disliked the radical self-revelation of Twitter. I wasn't sure that it was good for my intimate circle to know so much about my daily rounds, or healthy for me to tell them. A little secretiveness is, perhaps, a necessary lubricant in our social relations. I wondered whether twittering could ever have broad appeal.
Mr. Williams, who is 34, doesn't seem to understand such reservations. "People seem to like it," he says, adding that he wants to expand Twitter as quickly as possible. He candidly acknowledges that he doesn't know how Twitter will earn money — although he speculates that direct marketing on the network has commercial potential.
"It's sort of a classic Internet thing, trying to make something popular," he says. "I'm not terribly worried about the business, because I'm confident we can extract value, and I'm funding all of it right now."
He can afford to do so. Mr. Williams is a serial entrepreneur who made his fortune by selling Pyra Labs, the creator of Blogger, a popular blog publishing tool, to Google in 2003.
Sending tweets broadcasts "I am alive!" Reading tweets satisfies the craving of many people to know the smallest details of the lives of those they love. But whether those twin impulses are universal enough to make Twitter really popular — that is, whether Forster's admonition has an absolute logic — and whether the service can be made into a sustainable business, are quite unknown. I'm skeptical.
http://www.iht.com/articles/2007/04/22/news/slip23.php
It Don't Mean a Thing if You Ain't Got That Ping
Matt Richtel
THE BlackBerry network went dark last week — cache-flow problems, apparently. Service stopped for a mere 12 hours, but to bereft users, 12 minutes was too long. Information feeds our lives, they protested, and the BlackBerry provides it. What if we miss the e-mail message that makes or breaks our happiness, or our bank account?
That's always possible, of course. But what if what the users were missing was more primitive and insidious than uninterrupted access to information?
Experts who study computer use say the stated yearning to stay abreast of things may mask more visceral and powerful needs, as many self-aware users themselves will attest. Seductive, nearly inescapable needs.
Some theorize that constant use becomes ritualistic physical behavior, even addiction, the absorption of nervous energy, like chomping gum.
This behavior is then fueled by powerful social motivators. Interaction with a device delivering data gives a feeling of validation, inclusion and desirability. (It's no fun to be the only un-pinged person in the room.)
James E. Katz, director of the Center for Mobile Computing at Rutgers University, said the data coming from the devices was really secondary. "Look at a lot of the communication — it's idiotic in terms of substance," Mr. Katz said. "But it's vital in terms of meaning."
Mr. Katz argues that participation gives people a sense of belonging, one traceable to the atavistic desire to congregate and cooperate for safety and survival. In addition, he said, the constant checking is an exercise in optimism, like being an explorer or a gambler. Eternal hope delivered in tiny bits while you're on the go.
"It's random reinforcement," Mr. Katz said. The fact that you don't know when important news will come, he said, "means you will quickly engage in obsessive compulsive behavior."
These social needs and yearnings may drive the use. But at some point, that use becomes an end unto itself — a physical ritual that can take on some of the qualities of actual addiction, said Dr. John Ratey, a clinical associate professor of psychiatry at Harvard, where he specializes in neuropsychiatry.
Several years ago, Mr. Ratey began using the term "acquired attention deficit disorder" to describe the condition of people who are accustomed to a constant stream of digital stimulation and feel bored in the absence of it. Regardless of whether the stimulation is from the Internet, TV or a cellphone, the brain, he said, is hijacked.
"I liken it to a drug," Mr. Ratey said. "Drug addicts don't think; they just start moving. Like moving for your BlackBerry."
When the BlackBerry system faltered on Tuesday night, Steven M. Krausz, a Silicon Valley venture capitalist, was attending an industry dinner at a conference in Washington, D.C. The malfunction didn't interrupt his habit.
"I checked it at least a dozen times during dinner," Mr. Krausz said, in part because he was curious about when service would be restored but also because the constant checking was a placeholder for less desirable activities.
"I'd rather reach for the BlackBerry than reach for bread or dessert and put some high-cholesterol item in my mouth," he said, calling his habit "a reflexive response." Besides, he added, he checked his device regularly "because it was a boring dinner speaker."
There were two speakers, actually: Dr. Anthony S. Fauci, head of the National Institute of Allergy and Infectious Diseases, and Dr. Tadataka Yamada, executive director of global health for the Bill & Melinda Gates Foundation. Not the least boring to some listeners, but the threshold for boredom is low these days, say compulsive device operators.
BlackBerry users do half-joke that they have become junkies, insatiable data tokers. But because the tool is tied to productivity, defined by some as essential to modern employment, overusers don't really regard their habit as the digital equivalent of firing up a Marlboro outside work.
Perhaps they should re-examine the tie to productivity, however. The technology creates the allusion that every moment can be a productive one, said Tara Hunt, 33, a marketing director for a technology consulting company in San Francisco. When you're not participating, it's like you're suggesting that you're not keeping up, she said.
"I might think I'm missing out if Google bought another company and I wasn't part of the echo chamber around it," Ms. Hunt said, referring to the chance she'd miss news of an industry development. "At the end of the day, it doesn't matter a whole lot."
B. Marc Averitt, a technology investor, said that on the face of it, his fear was that someone would send him a message, become frustrated and bored if there wasn't an immediate response, then go look elsewhere for an answer. He keeps up, he said, because everyone else is doing it, forcing his hand.
But on a deeper level, Mr. Averitt said he found a frustrating, even counterproductive, psychological fixation. And one that he sometimes has to satisfy in secret. On vacations, he said, he has been known to check his BlackBerry even after promising his wife he wouldn't. His wife says the activity takes him out of the real emotions of the present.
And perhaps, for some, that is the point.
Dr. Ratey, from Harvard, likens the problem to a food addiction, which is one of the most beguiling for psychiatrists. After all, he said, food is essential for life, but problematic in excessive doses. And that's what makes breaking technology addiction so difficult.
Sometimes the habit is there even when the device isn't. Users talk of phantom urges, like (no kidding) the feeling of a hip vibrating, as if to suggest a belt-hooked BlackBerry is buzzing when, in fact, the person is the shower. Others hear a beep in the night, say from outdoors or an alarm clock, and reach for the device.
"It's like Pavlov's dog," Mr. Averitt said.
http://www.nytimes.com/2007/04/22/we...22richtel.html
To Find the Danger, This Software Poses as the Bad Guys
Michael Fitzgerald
FOR all our dependence on computer software, the truth is, it isn't very safe. Recent data breaches involving tens of millions of confidential company files have made this all too clear.
Why is software potentially so dangerous to the health of a business? There are scores of reasons. The big one is that software systems are so complex that it is next to impossible to find all the holes.
That can lead to trouble: hackers stealing trade secrets, for example, or customer information. Company servers can also be infiltrated and used to send spam, or data can inadvertently be exposed to anyone with access to a search engine.
The rise of the Web, which encourages companies to connect their programs to those of other companies, creates the potential for even more software problems — most code wasn't written with sharing in mind.
Then there is the growing practice of releasing unfinished "beta" code to the Web to keep ahead of competitors, which can make it seem as if the software industry prefers to fix products after the fact. Indeed, at times, the software industry appears to be racing downhill while still trying to build its car.
A new company, Veracode, of Burlington, Mass., gives companies a way to help keep the wheels on. In February, Veracode introduced SecurityReview, a service that lets companies automatically test their code, either alone or with other businesses. The goal is to find vulnerabilities that could leave data exposed or that hackers could exploit.
Some of these vulnerabilities are as old as software itself — like the buffer overflow, in which hackers hijack computer systems by interrupting program commands and inserting new ones. Veracode's tool finds these and other common problems with software by acting as an automatic hacker.
Little wonder, since the company's founders, Chris Wysopal and Christien Rioux, were members of the L0pht, a security research group. The L0pht spent much of its time looking for security weaknesses in software, and its members were often criticized as finding problems but not solutions, Mr. Wysopal says. In part to address this, the L0pht evolved into a part of the security consulting firm @Stake (later bought by Symantec).
Much of Veracode's software was written by Mr. Rioux, a prolific programmer who says he writes code to relax. (While working on SecurityReview, he wrote a version of the computer game Quake 3: Arena that would run on hand-held computers using Microsoft's Windows Mobile operating system — no easy feat, since the chips in such hand-helds don't include the operations typically needed to run high-level computer graphics.)
Mr. Rioux's automatic hacking tool grew out of more than a decade of finding software vulnerabilities, and noticing that programmers make the same mistakes over and over again, he says. That led Veracode to develop a patented technique for dealing with these predictable problems. Companies pay for the service by megabytes of code tested, which Veracode says will make it economical for companies to use.
Tools like Veracode's are useful because companies would otherwise have to hire security consultants to hack into their systems, a process called penetration testing. This is expensive and limited in its impact — most companies can afford to hire such consultants only for a week or two, and the next time a business updates its software, it needs another test.
The company has already signed its first customers, says Matt Moynahan, Veracode's chief executive. He says they're attracted to the service partly because it includes a security rating system to assess the risks that software presents to operations.
Veracode isn't the first company to try to automate elements of hacking. Companies like Fortify, Coverity and Watchfire offer automated tools to help companies test aspects of their software, as does Microsoft. But Veracode is the first to offer a service that tests binary code, produced after a program's source code has been put through a compiler and converted into the 0's and 1's needed to make it work.
Joseph Feiman, an analyst at the Gartner Group, the market research firm, says a service to test binary code is a breakthrough because the Web 2.0 phenomenon is built on the idea of companies sharing their applications with partners, suppliers and customers, adding new security risks with every connection.
Veracode lets companies test much of that code, though it cannot test scripting tools, particularly important in Web development. It also needs humans to check on false positives and negatives. "We can't say we're selling a silver bullet," Mr. Wysopal says.
Business executives may be forgiven for wondering why they've spent billions of dollars on firewalls, antivirus software and other security tools, only to find that they need to spend more money.
Simeon Simeonov, a venture capitalist whose firm joined with two others to invest $19 million in Veracode, says that what companies have now is a castle and moat, "but those aren't going to protect you from the assassin who sneaks in on market day."
IT is also important to point out that security develops over time. Federal law did not mandate seat belts in cars until 1968, notes Brian Chess, a former hardware engineer who is now the chief scientist at Fortify, which offers a tool to test source code. He says companies like his are a sign that the software industry is maturing.
Michael Howard, a senior security program manager at Microsoft and the author of six books on software security, says he thinks that software can't be compared to traditional engineering. "Would a car survive attacks every 15 minutes from anywhere in the world?" he asked. "I would say no."
Microsoft, which as the world's biggest software company is also the world's biggest hacker target, stepped up efforts five years ago, when Bill Gates, its chairman and then the chief executive, wrote one of his fabled memos demanding that the company improve the security of its products.
Mr. Howard has been intimately involved in that effort, and says that it is paying off. For instance, the latest version of Microsoft's Internet Information Server has had one-third of the vulnerabilities discovered in its predecessor.
Microsoft has also developed what it calls the Security Development Lifecycle, which mandates how to create a secure software development culture. Microsoft takes security seriously enough to share these even with rivals like Adobe. Even longtime critics of Microsoft say the company has made progress.
Mr. Howard says that more improvements will always be needed because data thieves will always find new ways to get into systems (some of which, like sweet-talking employees out of passwords, can foil the best software). It is, he says, part of the cost of doing business in the digital age.
http://www.nytimes.com/2007/04/22/bu...y/22proto.html
50% Good News Is the Bad News in Russian Radio
The Russian government is expanding its control over media companies and demanding more upbeat news.
Andrew E. Kramer
At their first meeting with journalists since taking over Russia's largest independent radio news network, the managers had startling news of their own: from now on, they said, at least 50 percent of the reports about Russia must be "positive."
In addition, opposition leaders could not be mentioned on the air and the United States was to be portrayed as an enemy, journalists employed by the network, Russian News Service, say they were told by the new managers, who are allies of the Kremlin.
How would they know what constituted positive news?
"When we talk of death, violence or poverty, for example, this is not positive," said one editor at the station who did not want to be identified for fear of retribution. "If the stock market is up, that is positive. The weather can also be positive."
In a darkening media landscape, radio news had been a rare bright spot. Now, the implementation of the "50 percent positive" rule at the Russian News Service leaves an increasingly small number of news outlets that are not managed by the Kremlin, directly or through the state national gas company, Gazprom, a major owner of media assets.
The three national television networks are already state controlled, though small-circulation newspapers generally remain independent.
This month alone, a bank loyal to President Vladimir V. Putin tightened its control of an independent television station, Parliament passed a measure banning "extremism" in politics and prosecutors have gone after individuals who post critical comments on Web chat rooms.
Parliament is also considering extending state control to Internet sites that report news, reflecting the growing importance of Web news as the country becomes more affluent and growing numbers of middle-class Russians acquire computers.
On Tuesday, the police raided the Educated Media Foundation, a nongovernmental group sponsored by United States and European donors that helps foster an independent news media. The police carried away documents and computers that were used as servers for the Web sites of similar groups. That brought down a Web site run by the Glasnost Defense Foundation, a media rights group, which published bulletins on violations of press freedoms.
"Russia is dropping off the list of countries that respect press freedoms," said Boris Timoshenko, a spokesman for the foundation. "We have propaganda, not information."
With this new campaign, seemingly aimed at tying up the loose ends before a parliamentary election in the fall that is being carefully stage-managed by the Kremlin, censorship rules in Russia have reached their most restrictive since the breakup of the Soviet Union, media watchdog groups say.
"This is not the U.S.S.R., when every print or broadcasting outlet was preliminarily censored," Masha Lipman, a researcher at the Carnegie Moscow Center, said in a telephone interview.
Instead, the tactic has been to impose state ownership on media companies and replace editors with those who are supporters of Mr. Putin — or offer a generally more upbeat report on developments in Russia these days.
The new censorship rules are often passed in vaguely worded measures and decrees that are ostensibly intended to protect the public.
Late last year, for example, the prosecutor general and the interior minister appeared before Parliament to ask deputies to draft legislation banning the distribution on the Web of "extremist" content — a catch phrase, critics say, for information about opponents of Mr. Putin.
On Friday, the Federal Security Service, a successor agency to the K.G.B., questioned Garry Kasparov, the former chess champion and opposition politician, for four hours regarding an interview he had given on the Echo of Moscow radio station. Prosecutors have accused Mr. Kasparov of expressing extremist views.
Parliament on Wednesday passed a law allowing for prison sentences of as long as three years for "vandalism" motivated by politics or ideology. Once again, vandalism is interpreted broadly, human rights groups say, including acts of civil disobedience. In a test case, Moscow prosecutors are pursuing a criminal case against a political advocate accused of posting critical remarks about a member of Parliament on a Web site, the newspaper Kommersant reported Friday.
State television news, meanwhile, typically offers only bland fare of official meetings. Last weekend, the state channels mostly ignored the violent dispersal of opposition protests in Moscow and St. Petersburg.
Rossiya TV, for example, led its newscast last Saturday with Mr. Putin attending a martial arts competition, with the Belgian actor Jean-Claude Van Damme as his guest. On the streets of the capital that day, 54 people were beaten badly enough by the police that they sought medical care, Human Rights Watch said.
Rossiya and Channel One are owned by the state, while NTV was taken from a Kremlin critic in 2001 and now belongs to Gazprom. Last week, a St. Petersburg bank with ties to Mr. Putin increased its ownership stake in REN-TV, a channel that sometimes broadcasts critical reports, raising questions about that outlet's continued independence.
The Russian News Service is owned by businesses loyal to the Kremlin, including Lukoil, though its exact ownership structure is not public. The owners had not meddled in editorial matters before, said Mikhail G. Baklanov, the former news editor, in a telephone interview.
The service provides news updates for a network of music-formatted radio stations, called Russian Radio, with seven million listeners, according to TNS Gallup, a ratings company.
Two weeks ago, the shareholders asked for the resignation of Mr. Baklanov. They appointed two new managers, Aleksandr Y. Shkolnik, director of children's programming on state-owned Channel One, and Svevolod V. Neroznak, an announcer on Channel One. Both retained their positions at state television.
Mr. Shkolnik articulated the rule that 50 percent of the news must be positive, regardless of what cataclysm might befall Russia on any given day, according to the editor who was present at the April 10 meeting.
When in doubt about the positive or negative quality of a development, the editor said, "we should ask the new leadership."
"We are having trouble with the positive part, believe me," the editor said.
Mr. Shkolnik did not respond to a request for an interview. In an interview with Kommersant, he denied an on-air ban of opposition figures. He said Mr. Kasparov might be interviewed, but only if he agreed to refrain from extremist statements.
The editor at the news service said that the change had been explained as an effort to attract a larger, younger audience, but that many editorial employees had interpreted it as a tightening of political control ahead of the elections.
The station's news report on Thursday noted the 75th anniversary of the opening of the Moscow metro. It closed with an upbeat item on how Russian trains are introducing a six-person sleeping compartment, instead of the usual four.
Already, listeners are grumbling about the "positive news" policy.
"I want fresh morning broadcasts and not to fall asleep," one listener, who signed a posting on the station's Web site as Sergei from Vladivostok, complained. "Maybe you've tortured RNS's audience enough? There are just a few of us left. Down with the boring nonintellectual broadcasts!"
The change leaves Echo of Moscow, an irreverent and edgy news station that often provides a forum for opposition voices, as the only independent radio news outlet in Russia with a national reach.
And what does Aleksei Venediktov, the editor in chief of Echo of Moscow, think of the latest news from Russia?
"For Echo of Moscow, this is positive news," Mr. Venediktov said. "We are a monopoly now. From the point of view of the country, it is negative news."
http://www.nytimes.com/2007/04/22/wo...russia.html?hp
In Search of the Man Who May Have Created Jazz
Michael Cieply
New Orleans
NO one is really sure what this city's first "cornet king," Charles (Buddy) Bolden, sounded like 100 years ago, much less what made him tick. The lore says a single wax recording of Bolden's namesake ensemble was demolished with the old shed in which it was stored in the early 1960s. What is probably the most reliable rendering of his trademark tune, "Buddy Bolden's Blues," came from Jelly Roll Morton, who had heard it performed and put it on a record years after the master's death. But even the song's own lyrics warn against trusting too much. "I thought I heard Buddy Bolden say," runs the remarkably tentative opening line.
Yet this elusive character, who some aficionados say invented jazz before lapsing into ultimately fatal insanity before the age of 30, has been coming into focus in recent weeks as a troupe of seasoned filmmakers and impassioned amateurs struggle to capture Bolden and his world in not one but two, related, movies.
Eccentric in concept, ambitious in scope and not cheap — backers put the cost at more than $10 million — the twin pictures will probably stretch the limit of what independent film can do by the time they are seen on festival or commercial screens next year.
Dan Pritzker — a billionaire's son best known as founder of and guitarist for the off-center soul-rock band Sonia Dada, and an important investor in the project as well as its director — has never made a movie. Yet that neophyte status has not kept him from attracting an impressive group of actors and behind-the- camera talent, including members of the Marsalis clan, to tell the story of a man Pritzker likens to "a shaman who flipped on the lights."
The first picture, currently titled "Bolden," is a musical biography with Anthony Mackie ("We Are Marshall") in the lead role and Wendell Pierce ("The Wire") and Jackie Earle Haley (an Oscar nominee this year for "Little Children") among the supporting cast. The second is an hourlong silent film called "The Great Observer," in which a young boy named Louis, recalling Bolden's more celebrated successor Louis Armstrong, dreams of playing the horn while becoming entangled with the denizens of New Orleans's red-light district, played by a company of ballerinas.
The films, which have no distributor yet, are meant to make their debuts in tandem. If all goes according to Mr. Pritzker's plan, the second will play over a live performance by Wynton Marsalis, who is executive producer of the movies and has written original music that is meant to evoke the man Armstrong, Morton, Kid Ory, Sidney Bechet and other early jazzmen described as both influence and shadowy myth.
"There's a fine line between guts and stupidity," Mr. Pritzker said of his project last month. At the time, he was simmering in the spring heat with 100 mostly local players on a shoot that will end on locations and sets in Wilmington, N.C. The day's work took the group to the Carrollton cemetery in an Uptown neighborhood, where a row of small frame houses had been painted blue-gray and modestly changed to stand in for the city of Bolden's late-19th-century youth.
"This is a city that lives its history but doesn't always know it," explained Mr. Mackie, 28, who grew up here before leaving to attend arts school in North Carolina and then the Juilliard School. In character as Buddy Bolden, the actor wore a heavy blue band uniform with red piping and spent much of the day sweating through a scene in which notes from his horn jump the expected musical tracks at the end of a funeral, triggering a boisterous exit parade.
In and out of the clouds, the sun has only slightly annoyed the director of photography, Vilmos Zsigmond, a film veteran ("The Black Dahlia," "The Witches of Eastwick") who suggested that weathermen should be as competent to predict cloudy and bright as cinematographers are to deal with uncertain light. As things settled on the bright side, Mr. Pritzker mulled a replay of the funeral parade on the video monitor, then set up another take, this time with Mr. Marsalis's music blaring from a loudspeaker. Arms started swinging. Handkerchiefs waved. Sun umbrellas pumped in time as locals picked up the Bolden spirit.
"If this music doesn't make you move around, something's wrong," said Mr. Pritzker, 47, speaking later over lunch in his cramped trailer. With long, dark, gray-flecked hair, he wore jeans and green clogs and showed obvious discomfort only when the subject turned to the settling of a family dispute over the Pritzker financial empire, himself among the contentious heirs. "We're all done with that; relationships are all back together," Mr. Pritzker said of the wrangle, which had been simmering even before his father, Jay, died in 1999. Among other things, its resolution left Dan free (and with enough money) to pursue a notion that had dogged him since 1995, when a radio executive in Boulder, Colo., happened to ask if he had ever heard about Buddy Bolden and the birth of jazz.
"That he impacted my life so deeply and I didn't know who he was, that was unbelievable to me," said Mr. Pritzker, a professional musician who considers himself a connoisseur of American music.
He was to find that hard facts about Bolden are in short supply. That he was born to a working-class family in 1877 is firmly established. By the testimony of others who played with or around him, Bolden was among the first to break through accepted musical forms, pushing his group into the raucous improvisational style that would become known as jazz. In the first decade of the 20th century, he ruled the musical roost in New Orleans. By 1907, however, dementia, probably induced or assisted by alcohol, left him unable to function. That year he was committed to an insane asylum in Jackson, La., where he played his cornet only rarely with ensembles made up of patients, and where he remained until his death in 1931.
Lacking the factual base for conventional biography on the order of "Ray," about Ray Charles, or "Walk the Line," about Johnny Cash, Mr. Pritzker and his collaborators — including the writers Derick and Steven Martini (who have written for the television series "South Beach") — have chosen to develop the myth. Their telling imagines Bolden, in the last year of his life, hearing a radio broadcast in which Armstrong, who became the public face of New Orleans jazz, paid tribute to the music's supposed birth with Bolden.
That vision, in fact, may be only slightly exaggerated. "If you look at oral histories from the musicians, they all basically talk about Bolden when they talk about where jazz came from," said Bruce Raeburn, curator of the Hogan Jazz Archive at Tulane University. According to Mr. Raeburn, those who heard Bolden agreed, first, that he was loud, and, second, that his music opened the door to improvisation. "His combination of charisma and playing style is what put it over," he said.
(Donald M. Marquis, whose "In Search of Buddy Bolden: First Man of Jazz" was first published in 1978, remained cautious enough about claims that Bolden invented jazz to include in a 2005 edition an epilogue noting that his text made no such assertion, and that the book's title had not been his preferred choice.)
More surprising than Mr. Pritzker's quest is its contagious quality. The New Orleans-born Mr. Marsalis became involved after a query from Mr. Pritzker's producer, Jonathan Cornick, a production veteran whose credits range from studio films like "Super Mario Brothers" to independent features like David Mamet's "State and Main." Both Ellis Marsalis, the family patriarch, and Delfeayo, Wynton's brother, have also contributed to the film.
The Marsalis presence may eventually bestow event status on the relatively small films if, as Mr. Pritzker envisions, they play at a major festival or at Lincoln Center, with Wynton Marsalis, artistic director of the center's jazz program, leading a live musical performance in time with the silent picture. Mr. Marsalis said that such a performance was possible but that he had no firm plan at this point.
Mr. Pritzker said that idea was inspired about seven years ago by a similar show, during which a symphony in Chicago performed behind Charlie Chaplin's "City Lights." The experience, he said, was "jaw-dropping." Mr. Pierce, who plays an important role as a music and events promoter in the movie, has a more than professional connection to the project, as a longtime friend of the Marsalis family and an alumnus of the New Orleans Center for Creative Arts, which has been the spawning ground for local performers, including Mr. Mackie.
"We live culture," said Mr. Pierce, one of several Louisiana natives who talked of the attempt to recapture Bolden with near missionary fervor. Speaking by phone from Baltimore, where he is in production on the HBO series "The Wire," he said he found it exhilarating to plumb his hometown's musical heritage "at a time when we're kind of questioning American aesthetic values."
Extending that enthusiasm to a film audience that has never really warmed to jazz biography (movies like Clint Eastwood's "Bird" haven't performed that well at the box office) will be tough. Yet Wynton Marsalis is hopeful. "The world is always ready for everything," he said. "All you have to do is play music with passion and feeling, and people will connect."
For Mr. Pritzker, perhaps the greater risk lies in going public with a figure many aficionados may have preferred as a more private image. Mr. Marsalis, for instance, has expressed reservations, the director said, about his tendency to lift the street player Bolden to the realm of the mythic, ballerinas and all.
"I don't want to demystify him," Mr. Pritzker said. "I think it's where it should be."
http://www.nytimes.com/2007/04/22/movies/22ciep.html
The Best and Worst Internet Laws
Eric Goldman
Over the past dozen years, the lure of regulating the Internet has proven irresistible to legislators. For example, in the 109th Congress, almost 1,100 introduced bills referenced the word Internet, and hundreds of Internet laws have been passed by Congress and the states. This legislative activity is now large enough to identify some winners and losers. In the spirit of good fun, Eric Goldman offers an opinionated list of personal votes for the best and worst Internet statutes in the United States.
Over the past dozen years, the lure of regulating the Internet has proven irresistible to legislators. For example, in the 109th Congress, almost 1,100 introduced bills referenced the word "Internet." Although this legislative activity doesn't always come to fruition, hundreds of Internet laws have been passed by Congress and the states. This body of work is now large enough that we can identify some winners and losers. So in the spirit of good fun, I offer an opinionated list of my personal votes for the best and worst Internet statutes in the United States.
Best Internet Laws
With my libertarian leanings, it should not be surprising that my list of good Internet laws is both brief and skewed toward laws that minimize the scope of Internet regulation.
#2: Internet Tax Freedom Act
Many people mistakenly think that this law eliminated sales tax for purchases over the Internet. It didn't (if you don't pay sales tax, you owe use taxes on those purchases). Instead, the law placed a temporary moratorium on states enacting Internet access taxes or e-commerce–specific taxes. By freezing new taxes, the law forestalled a tax frenzy during the dot-com boom. The current moratorium expires in November, but Congress is proposing to extend the law permanently (see the Permanent Internet Tax Freedom Act of 2007: S. 156 & H.R. 743). To which I say amen!
#1: 47 USC 230
This law was enacted in 1996 (as part of the Communications Decency Act, discussed below) during the heyday of the cyberspace exceptionalism movement—about the same time as Barlow's Declaration of Independence and Johnson/Post's Internet self-governance article. Indeed, this law is one of the most conspicuous examples of how a legislative body has set different rules for physical space and cyberspace. In this case, the law provides websites and other intermediaries a near-absolute immunization from liability for their users' content—even if offline publishers would be liable for publishing the exact same user content in dead trees.
It's hard to overstate the importance of this law to the Internet's evolution. Without this law, all Internet content probably would be subject to a notice-and-takedown regime like we have for copyright law (see discussion about the DMCA Online Safe Harbors below). If websites had to remove user content upon notice to avoid liability, they would act conservatively, quickly pulling down complained-about content without much fuss. So, any company unhappy with negative consumer comments could simply contact the web host, claim that the comments were defamatory (making the web host potentially liable for the content), and expect the web host to scramble to take down the user's comment.
But in this takedown melee, only negative remarks would be targeted (there would be no legal grounds—or reason—to target positive comments). Thus, notice-and-takedown rules would result in "lopsided" databases in which only positive opinions/commentary would remain, but many negative comments could be quickly excised. This would ruin the capability of the consumer opinion sites (for example, eBay's feedback forum and Amazon product reviews) to hold people and companies accountable for their choices. Indeed, by undermining the credibility of Internet content generally, a notice-and-takedown scheme could diminish the Internet's vitality as a mainstream information resource.
47 USC 230 eliminates the notice-and-takedown option for people and companies trying to escape accountability. As a result, 47 USC 230 is a big part of the reason why the Internet has been such a massive success.
Effective but Questionable Internet Laws
Two laws are noteworthy for substantially accomplishing their intended goals, even though I can't classify them as "good" because of their deficient policy rationales.
#2: No Electronic Theft Act (NET Act)
In 1997, Congress changed the basic paradigm for criminal copyright infringement. Previously, the law required that defendants had to infringe for the money. The NET Act expanded the scope of criminal law to cover both commercial and non-commercial infringers.
Specifically, the NET Act targeted warez traders, a group of hobbyist infringers who aggregate and disseminate copyrighted works as trophies—by finding and publicly presenting a hard-to-get copyrighted work, the warez trader demonstrates his/her prowess as a trader and earns recognition from the community. Warez traders generally subscribe to the "information wants to be free" philosophy, so they never exchange copyrighted works for the money, but their trading can have adverse consequences for copyright owners.
There are many reasons why the NET Act is lousy policy, most importantly because criminal sanctions do not deter warez traders. Yet, it has given the Department of Justice (DOJ) an effective tool to nail warez traders, and a couple of hundred warez traders have been busted using the law. Removing warez traders from the Net, one by one, is a crude but ultimately effective method for curtailing warez trading.
#1: Anti-Cybersquatting Consumer Protection Act (ACPA)
The 1990s saw a frenzy of domain name registrations, often involving the registration of domain names containing well-known trademarks by someone other than the trademark owner (a process called cybersquatting). Courts struggled to apply trademark law to this behavior, so trademark owners appealed to Congress for help. Congress initially hoped that the Internet Corporation for Assigned Names and Numbers (ICANN) would promulgate its own anti-cybersquatting administrative regulations (which ultimately became the Uniform Domain-Name Dispute-Resolution Policy [UDRP]). But ICANN took too long, and an impatient Congress enacted the ACPA.
The ACPA targeted cybersquatting, and in that respect the law has worked well. The classic 1990s cybersquatting "land-grab" registrations of [trademarkowner].[tld] have effectively dried up, and the few cases in which a true cybersquatter has defended an ACPA claim in court generally have resulted in resounding victories for the trademark owner.
A silver lining of the ACPA: It contains an immunization of domain name registrars and registries that completely eliminated them as the targets of trademark owners. Prior to ACPA, domain name registrars (especially Network Solutions, the monopoly .com registrar for most of that time) had been sued repeatedly. Now, plaintiffs don't even think about it.
However, the ACPA isn't all good news. From a defense perspective, the ACPA has emerged as a tool to attack gripers and other critics. From a trademark owner's perspective, the ACPA hasn't curbed domain name parking, domain tasting and other AdSense-fueled sites using trademarks or typographical versions of them. So no one is really happy with the law. Nevertheless, as a point solution to the cybersquatting problem, I think ACPA is fairly characterized as a solid success.
Worst Internet Laws
I want a little credit for finding four laws that I could say something good about. It wasn't easy. In contrast, the list of bad laws is much longer, so I limited myself to 10.
What makes a law "bad?" Unfortunately, there are many routes to ignominy, and mere legislative cluelessness isn't sufficient. Some common themes: poor/ambiguous drafting, unintended consequences, justification bait-and-switch (publicly declaring that the law was intended to accomplish a goal it was never designed to do), and attempts to legislatively manufacture markets or change consumer behavior.
The dishonor roll:
#10: E-Sign
E-Sign generally says that online contracts are not denied enforcement simply because they are in electronic form rather than on paper. Superficially, this sounds positive because it stops courts from underenforcing electronic contracts or overreacting to new communication technologies. The problem? This law was unnecessary. Although there was a little concern that some states would enact a non-standard version of the law, by the time that Congress passed E-Sign, there was a lot of momentum toward adopting the Uniform Electronic Transactions Act (UETA), and a lot of states had already implemented UETA. Worse, E-Sign has a partial preemption clause that makes it difficult/impossible to figure out which state laws survived it. So E-Sign is a prime example of how Congress cannot resist the lure of Internet regulation—even if it adds no value (or even subtracts value) in the process.
#9: DMCA Online Safe Harbors
Another law that looks good on the surface, this law purports to provide safe harbors to protect online intermediaries from copyright infringement caused by other people. However, this law has at least two major flaws. First, it sets up a notice-and-takedown procedure that has led to significant abuse, such as content owners effectively "spamming" online service providers with poorly researched junk notices that impose significant investigatory costs on the provider-recipients.
Second, and perhaps more importantly, the law governs only late 1990s technologies; it doesn't contemplate P2P file sharing and other decentralized forms of communications. This technological dependency makes the safe harbor increasingly irrelevant as technology evolves. As a stark example, consider that the online safe harbors didn't get mentioned—not once!—in the most important online secondary infringement case to date: the Grokster Supreme Court opinion.
#8: Unlawful Internet Gambling Enforcement Act of 2006 (see the end of this file)
As I have said elsewhere, this law is "a flagship example of how special interest lobbying combined with legislative mumbling can produce an unreadable mess." First, the law is written in unintelligible Congress-ese. Second, the law is pockmarked with special interest exceptions, clearly showing who has the best lobbyists. Third, and most importantly, Congress did not specify (in this law or elsewhere) what constitutes illegal Internet gambling, yet the law requires third-party money sources to block the flow of money to illegal gambling operations. Thus, just like Kafka might write it, Congress deputizes private actors to block illegal activity without deciding for itself what constitutes illegal activity. As a result, banks and other money sources probably will curtail lots of legitimate activity to be on the safe side.
#7: Digital Millennium Copyright Act (DMCA) Anti-Circumvention
There are lots of reasons not to like the DMCA anti-circumvention law. Most obviously, the law targets "bad" technology rather than bad behavior—a regulatory model that usually fails when technological innovation bypasses such restrictions; or worse, the restrictions inhibit the development of socially beneficial technology.
However, the anti-circumvention laws make this list principally because of their unintended consequences. The law was designed to bolster content protection technology: the purported justification was that content owners wouldn't feel comfortable putting content online without content protection measures, and this law restricts the capability to bypass those measures.
As it turns out, the hottest area of anti-circumvention litigation has nothing to do with such content protection schemes, but instead involves companies using the DMCA as an anti-competition law. Two flagship examples—Chamberlain, involving the sale of compatible after-market universal garage door openers (a case the EFF calls "mind-bogglingly absurd") and Lexmark, involving refilled printer cartridges—ultimately reached pro-competitive outcomes, but only after significant litigation and some disconcerting early rulings. Even with these rulings, companies now routinely consider anti-circumvention claims as part of a general anti-competitor campaign (for a very recent example, see here). As a result, the law has increased the cost of doing business and given plaintiffs another tool to try to restrict legitimate competition, while doing almost nothing to advance its principal goal of increasing protection for content owners.
#6: Electronic Communications Privacy Act
This law was written in 1986 (amending earlier versions), back when the Internet was an obscure academic network. Although the law wasn't written with the Internet in mind, it has the heroic responsibility of governing a huge swath of private Internet communications, including email, private chat, VOIP, and others. Even if the law were well-drafted, applying a pre-Internet law to these communications would create plenty of ambiguity and friction. Unfortunately, this is not a well-drafted law; in my opinion, this law is one of the most poorly drafted statutes ever. The result is a tangled convoluted hairball that no one (even privacy experts) can understand or apply.
#5: Utah Digital Signatures Act
In 1995, there was some concern that the lack of Internet authentication would inhibit the development of e-commerce. As a result, VeriSign (and others) advocated that everyone on the Internet—both users and websites—should have digital certificates to validate their identity (the equivalent of an Internet driver's license) so that websites and users each could figure out who they were dealing with. However, VeriSign and others expressed concern that a digital certificate issuer would face significant liability if the authenticated information was wrong. Thus, the argument went, if only digital certificate vendors could get some liability protection, digital certificate vendors would provide the necessary authentication that would allow e-commerce to explode.
In response to these concerns, Utah enacted the Digital Signatures Act to regulate the process of granting accurate certificates and limit the liability of digital certificate vendors. Utah hoped the law would encourage digital certificate vendors to relocate to Utah to take advantage of its friendly legal climate, making Utah a leader in e-commerce.
As it turns out, digital certificates weren't needed to catalyze e-commerce, nor did the market materialize for digital certificates in the form contemplated by the statute (as a PKI-based system). As a result, this law was a complete failure, and no companies ever complied with the statute's formalities. Indeed, the law proved to be so irrelevant that Utah has taken the highly unusual step of repealing the law. At least it owned up to its mistake (this time).
#4: Anti-Kid Spam Laws in Utah and Michigan
Nothing fires up the legislative machine like trying to protect kids from Internet dangers. In this case, Utah and Michigan created "do-not-email" registries, similar to the national Do-Not-Call registries, for the registration of kids' email addresses. Porn spammers are supposed to check these databases and eliminate any registered kids' addresses from their porn spam distributions.
While do-not-contact registries are generally popular, I'm in the minority of people of who think they are suboptimal policy (I explain my thinking, by deconstructing the federal Do-Not-Call registry here). In these cases, the do-not-email registries claim to be protecting kids, but they actually don't try to authenticate registrants' ages—making them a generic do-not-email registry, something even the FTC doesn't favor. Most importantly, assuming that the database actually contains kids' email addresses, it becomes a juicy target for criminal hackers, pedophiles, and other bad actors. Based on this concern, many privacy advocates, including the FTC, have advocated against kid-specific do-not-email registries.
#3: Dot Kids Implementation and Efficiency Act of 2002
As we saw with the Utah Digital Signatures Act, legislators can't stimulate market demand simply by legislating the market into existence. In my opinion, no legislative act better illustrates this principle than the Dot Kids Implementation and Efficiency Act of 2002. In the name of providing a safe online haven for kids, Congress co-opted the .kids.us domain and decreed that only kid-safe content could reside there. In theory, parents would feel safe letting their kids loose there, and content publishers would have a good place to reach kids. Ultimately, Internet filters could simply enable .kids.us websites and shut off the rest of the Internet to kids.
The problem? Not many content publishers saw the value of creating kid-safe websites and housing them under the restrictive rules of the law. As a result, .kids.us is a virtual wasteland, housing fewer than 20 websites—almost all of which have less-than-compelling content. (You mean to tell me you've never been there? Check it out yourself.) Not exactly the most enticing destination for Junior. So .kids.us is a ghost-town-like reminder that legislators should stay out of the business of trying to manufacture markets.
#2: Utah/Alaska Anti-Adware Laws
Have you noticed a trend here? Utah makes my dud-law list three times—a hat trick of legislative incompetence. This is such a remarkable feat that we might consider banning Utah from enacting further Internet regulations until Utah can show that it will use its powers wisely.
This law makes my list because of the deceptive rationales used to justify it. Touted as an "anti-spyware," "consumer-protection" law, it was neither. The law targeted only adware, not spyware, and it gave enforcement rights to trademark owners, not consumers. As a result, the law gave trademark owners the power to take software out of consumers' hands—even if the consumers actually wanted the technology. Further, by allowing trademark owners to attack competitors for engaging in comparative advertising, the law tried to inhibit beneficial competition rather than promoting it. Thus, despite its billing, this law was a profoundly regressive anti-consumer law.
Given its deceptive nature and adverse policy effects (which I explain in lengthy detail here), it should not be surprising that the law was quickly enjoined. (Disclosure note: I worked on an amicus brief challenging the law.) Chastened, the act's sponsor subsequently amended the law to make it effectively irrelevant.
However, before Utah amended its law, Alaska implemented its own bastardization of Utah's initial law. Among the Alaska law's defects, it expects adware vendors to pop up a notice to potential downloaders, asking them for their geography. With this information, in theory, the vendor can avoid downloading the regulated software to Alaska residents. In other words, in an effort to fight unwanted pop-ups, the Alaska law mandates that software vendors deliver lots of unwanted pop-ups to consumers—even when both the vendors and consumers are located outside of Alaska. Classic legislator logic!
NOTE
While this article was in press, Utah revisited this area yet again. This time, Utah enacted a law that controls all keyword-triggered advertising, raising serious questions about its effect on Google and other search engines. As I explain here, regulating the use of keywords to trigger advertising is profoundly anti-consumer and is very bad policy.]
#1: Communications Decency Act (CDA)
Based on the discussion above, clearly there was plenty of competition for the worst Internet law of all time. However, I found picking a "winner" surprisingly easy. In fact, in my book, it isn't particularly close.
The Communications Decency Act, passed in 1996, was Congress' first comprehensive attempt to regulate Internet content. Not surprisingly, Congress made a lot of rookie mistakes. The CDA tried to keep kids away from Internet porn, a reaction to a sensational 1995 article (the "Rimm Report") published in the Georgetown Law Journal that proclaimed that the Internet was awash in porn. But later examinations thoroughly discredited the Rimm Report—meaning that Congress' efforts/overreactions were based on bad social science.
Worse, Congress mistakenly assumed that non-porn content could be easily segregated from porn. In defense of this assumption, the government's expert witness proposed a content-tagging system that would enable browsers to wall off porn. But this exposed a deep flaw in the law: the tagging system didn't exist, browsers weren't written to honor the tag, and it turns out that requiring publisher self-tagging for all Internet content is burdensome and cost-prohibitive.
Because web and email content publishers had no easy way to comply with the law, the law threatened to restrict virtually every Internet speaker. Further, Congress imposed punitive and draconian sanctions (including stiff jail time) for breaking the law. Congress really, really wanted to wipe porn off the Internet, but it chose a particularly mean-spirited way of doing so.
Not surprisingly, the law fared poorly in the courts. Within a week, it was enjoined. The next year, the U.S. Supreme Court unanimously struck down the law (although two judges would have found a way to preserve some of the law). For its lack of policy support, its sloppy blunderbuss approach to regulating speech, and its flat-out meanness, I hereby crown the CDA the worst Internet law (to date...).
http://www.informit.com/articles/art...?p=717374&rl=1
Blu-Ray Burning its High-Def DVD Rival
Thomas K. Arnold
Of the high-definition discs bought by consumers in the first quarter, 70% were in the Blu-ray Disc format and 30% were HD DVD, according to sales figures provided by trade publication Home Media Magazine.
Blu-ray took the lead in February, and its percentage of total sales accelerated to the point where it accounted for nearly three out of every four high-definition discs sold in March.
What's more, when given the choice, consumers are going with Blu-ray. Warner Home Video released "The Departed" the same day, February 13, in both formats. Between then and March 31, consumers bought 53,640 copies of the film on Blu-ray Disc and 31,590 on HD DVD, according to Home Media's market research, based on studio estimates and Nielsen VideoScan point-of-sale data.
Research also shows that eight of the 10 top-selling high-definition titles in the first quarter were on Blu-ray Disc. At the top of the list was "Casino Royale," which sold through to consumers an estimated 59,680 units in the period. The Blu-ray Disc edition of "Departed" finished second, while the HD DVD version of that Oscar-winning film placed third.
From January 1-March 31, consumers bought almost 1.2 million high-definition discs -- 832,530 Blu-ray units and 359,300 HD DVDs -- according to Home Media Magazine. In March, consumers bought 335,980 Blu-ray Discs and 119,570 HD DVDs.
Since the high-def format's inception -- HD DVD launched in April 2006, while Blu-ray got rolling two months later -- more than 2.14 million discs have been purchased by consumers: 1.2 million Blu-ray Discs and about 937,500 HD DVDs.
Observers aren't surprised by the disparity, noting that Blu-ray Disc enjoys the support of five of the six major studios, while HD DVD is supported by three of them. Three studios -- Sony, Disney and Fox -- are exclusively in the Blu-ray camp, as is mini-major Lionsgate. Paramount and Warner support both formats. Universal is the only major studio to release titles only in the HD DVD format, which backers claim is easier and cheaper to produce.
http://www.reuters.com/article/wtMos...20834920070423
Music Licensing Comes Late to the Mash-Up Party
Record Industry Clamps Down on DJs Who Sample Other Artists on Mash-Up Albums
Michael Smith
Rock 'n' roll has always been about rebellion. And rebellion sells.
The music industry is well aware of this and has struggled mightily to co-opt most of the hot, countercultural phenomena that bubble up. Record labels now leak their own singles into file-sharing networks and systematically sign nominally indie bands to lucrative deals.
So how do musicians rebel when rebellion itself is a commodity?
A DJ known as Girl Talk is showing us how. Girl Talk (real name: Greg Gillis) has put together an album of "mash-ups" that has taken the world by storm.
To make a mash-up, a DJ splices together the vocal a cappella track from one song over the instrumental track from another. Girl Talk mixes audio tracks from dozens of songs, using artists from the Beatles to Beyonce, in the course of a single song. He has remixed songs for Beck and is opening for him at various European concert dates.
"Initially there's a lot of novelty appeal," Gillis said, on his way back home from his day job as an engineer. "I'm not a music theorist, but it's amazing how many songs are in the same key. A Kansas song will fit over a Chris Brown beat, and it'll sound perfect."
"It's a very punk style," Gillis said. "All of a sudden you can be manipulating these celebrities doing whatever you want."
Mash-Ups Go Back Decades
Though mash-ups may be the ultimate media age statement, the concept is nothing new. As Gillis pointed out, mash-ups, sampling and rock itself all occupy different points on the spectrum of musical borrowing.
As early as the '70s, hip-hop DJs like Grandmaster Flash mixed together hip-hop and house tracks in clubs. In the '90s, aided by technology and a burgeoning DJ scene, especially in the United Kingdom, DJs like Coldcut and DJ Shadow brought mash-ups into the future with full-length studio albums involving heavily sampling and remixing. These albums put Diddy's chart-topping, sample-based singles to shame in terms of sheer complexity.
The true watershed moment came in 1999, when an Arizona DJ named Z-Trip put out an album called Uneasy Listening. This album stitched together a symphony that included such random variables as Kansas' "Dust in the Wind," Madonna's "Like a Prayer," the Beatles' "Yesterday" and just about everything in between.
With the licensing rights unclear, this album was not exactly easy listening for industry executives who saw the potential for DJs to make big profits. Broadband Internet access made mash-up distribution a force that the industry needed to reckon with.
A Legal Gray Area
In 2004, Dangermouse, who is one-half of pop supergroup Gnarls Barkley, released the infamous "Grey Album," a mash-up of Jay-Z's gruffly plaintive "Black Album" and the Beatles soul-searching "White Album."
"A lot of college kids could relate because everyone knew that Jay-Z album," Gillis said of the "Grey Album's" popularity. "It's a sign of the times, that you're messing with these untouchable figures, the Beatles, and mixing them with the most pop thing out there, hip-hop."
But record labels urged that Dangermouse was also messing with the law. Capitol Records, the Beatles' label, sent a nasty cease-and-desist letter to Dangermouse, blaming him for the mass distribution that had resulted from his initial, allegedly limited press of several thousand copies for his friends and interested parties.
But, as Dangermouse seemed to recognize, the alleged illegality of his music only helped to garner attention. Fan sites even hosted a "Grey Tuesday," during which they put the whole album online for free download. With his talents on full display, Dangermouse went on to greater and more mainstream success, even appearing on the Grammys earlier this year.
Making the Copyright Laws Work
Mash-ups may soon be domesticated as well. The first fully licensed, industry legit mash-up album came out in the United Kingdom last month.
DJs are realizing that the copyright laws may actually help their cause. Sophisticated mash-ups that rise to the level of genuinely new art may actually fall into an exception to the usual licensing rules.
Under the fair use exception to copyright law, artists can use someone else's work for free if they fully transform it into something new. It's a high bar to meet this standard of "transformative," rather than merely "derivative" use, but it looks like DJs may be willing to try.
Additionally, courts dealing with copyright suits look at the economic effects of copying: If the unlicensed use wouldn't possibly hurt the market for the original, it's more likely to be deemed as fair use.
And this brings us back to Gillis and his DJ alter ego, Girl Talk, who has thus far evaded legal worries. Though he could not discuss the legal nature of his music, Gillis said the entire concept of a mash-up, or sampling, created a lot of gray areas in terms of art and originality.
"A lot of people are starting to integrate samples with original instrumentation. If you take a track and rearrange the notes, is that a mash-up or are you sampling?" he asked. "'Sampling' is such a vague term, and mash-up is an almost an unfortunate term because it confuses the issue."
Even if the perception of illegality and sticking it to industry giants (labels and artists) is an important part of the mash-up appeal, it also appears that Girl Talk has some friends in high places -- like Capitol Hill. His rabid success drove Rep. Mike Doyle, D-Pa., to testify that music licensing in an age of mash-ups has to evolve.
As a DJ, I can tell you that audiences are far from tired of mash-ups and a simpler system of permissions would only help the genre. But I wonder whether mash-ups will lose some of their edge once the law -- and the industry -- let them be.
http://abcnews.go.com/Technology/sto...3066842&page=1
Bring it on, iTunes: Amazon Readying DRM-Free Music Service
Jacqui Cheng
Amazon could be the next major name to dive into the world of unprotected music sales. Various rumors have been picking up over the past couple of weeks that the online retailer was readying itself to launch an MP3 download store in May, which some see as one of the only retailers that will be able to truly challenge Apple's ubiquitous iTunes Store.
Apple vs. music labels
According to a report in the UK's Times Online, Amazon has approached "all the music majors in the past fortnight" in order to launch its MP3 store in May but may have some trouble meeting its own deadline. Apple plans to start selling DRM-free music from EMI in May through its own music store, which could be the cause for Amazon's rush. The report speculates that if the Internet giant is successful in launching on time, it may initially launch with unprotected music from EMI as well.
Initial reports about Amazon's MP3 store came from Billboard, saying that that Universal Music Group had partnered with Amazon to sell unprotected music, mostly in the form of classical tracks. Such a move would be crucial to DRM-free music sales, as Universal currently holds the top position among all music labels and would send a strong message to labels who are nervous about following EMI's lead. "If Universal goes [DRM-free], then everyone has to follow," an anonymous music executive told Reuters on Friday. However, today's report in the Times debunks the speculation about Universal as "wide off the mark."
Even if Amazon does manage to launch its unprotected music store with Universal's blessing, it will still have to fight to keep up with Apple. Apple has begun contract renegotiations with various major record labels that will extend into the summer, and industry execs told Reuters that Apple now has the upper hand in pressuring them to go DRM-free due to the company's position in the market. While the labels may keep a strict poker face to the public on the topic of DRM, in private, an industry source hinted that following EMI into DRM-free waters is "only a matter of time."
http://arstechnica.com/news.ars/post...c-service.html
Thompson Calls for FBI Investigation of Kotaku
Apparently we've unhinged Jack.
After Kotaku dissected Jack Thompson's latest appearance on national television trying to connect the tragedy at Virginia Tech with video games, the attorney started emailing us... again.
First Jack tried to tie us to allegations that a 14-year-old made a threat against the University of California Berkley campus by emailing one of the sergeants of the campus police. After speaking with the sergeant actually handling the investigation (not the one Jack emailed) I was told that there was nothing to worry about.
Next Jack asked us to remove our analysis of his misstatements on national television and when we politely declined he faxed the FBI in Colorado:
Dear FBI:

This web site at the below url is targeting me:

http://kotaku.com/gaming/virginia-te...mes-252702.php

I ask that something be done by the FBI to stop this or prosecute it:
Kyle81 says: Actually the VT shootings are now the biggest mass shooting in US history with 31 dead, not just school shooting. Jack should be shot for taking the opportunity to leech off a tragedy to push his own agenda 04/16/07 03:25 PM

Regards, Jack Thompson
I quickly got on the phone with my friends at the agency (they were among the agencies I covered for five years as a police reporter in Denver) and found out that they hadn't yet processed the fax. I was also told that it was unlikely they would handle such an investigation, if one was even needed, but that the local police might look into it.
Finally, I asked about the fed's policy on pursuing charges for filing a false report... but I'll get to that later. Brian Crecente
http://kotaku.com/gaming/original/th...aku-254631.php
How I Went Face-to-Screen with Jack Thompson
I first heard the name Jack Thompson just last June. I was driving from New York to Camp Hill, PA, for a signing of The Plot to Save Socrates at a Barnes and Noble, when my cell phone rang. It was CNBC.
I didn't have Bluetooth then, and my cheap handless gadget wasn't working, so I pulled over to the side of the road to talk.
CNBC: Would you be interested in being on CNBC's Squawkbox the next morning to talk about videogames?
Me: Sure. [I'm always interested in being on television.]
CNBC: And you think there's no connection between violence in videogames and violence in the real world? [I talk about the lack of connection between violence in every medium and violence in the real world in most of my books - such as my 1997 The Soft Edge: A Natural History and Future of the Information Revolution.]
Me: Right. No causal connection at all - studies that say they show that violent videogames cause violence in the real world are confusing correlation and causation [I know, a mouthful from the side of the road in Pennsylvania, but it's gotta be said].
CNBC: Excellent. So we'll have a car for you right outside your door at 5:30am tomorrow. Jack Thompson will also be on the show.
###
At that time, I was far more unhappy about the 5:30am than I was about Jack Thomspon.
But a sleek car's whisking me over the George Washington Bridge to CNBC's studios in New Jersey early the next morning.
I'm kept waiting longer than usual - though, truhtfully, there is no usual for this - and I'm finally ushered into the studio, miked, and smiled at by the host of Squawkbox, Becky Quick.
I won't rehash the actual interview for you - you can see for yourself.
Suffice to say I was repeatedly interrupted by Thompson, whose style is to talk a blue streak, then break in a few seconds after the other guest starts talking, continue to do that, and then complain that you were hogging the conversation when he gets his chance to talk again.
I've run into people like that before. What was in some ways even more irritating was Becky Quick's moderation style - which consisted of letting Thompson talk first, not doing anything to stop Thompson when he was interrupting, and then giving him the last word.
But here's what bothers me most, and what I understand least: why does Thompson with his nonsense keep getting so much air time? True, the American Psychological Association doesn't help, by sometimes speaking loosely of correlation as causation - confusing A (playing violent videogames) happening at the same time as B (violent episodes in real life) with A causing B, when B could have caused A, etc.
And yet, Thompson all too often appears unopposed on television, or in a conversation in which he is given the upper hand by the host.
After Thompson appeared on Chris Matthews' Hardball last week - where Matthews did ask him some tough questions - MSNBC published an editorial that called Thompson out. Joystick is talking about the "Jacklash" - the media finally waking up about Thompson.
But a lot of this could have been avoided, if the media had not been so worried about offending Thompson in the first place. Next time, either don't have him on your air at all, or try the tried-and-true procedure of giving equal time to opposing opinions.
http://www.paullevinson.net/archives...n_with_j.phtml
A Difficult Annual Times Meeting for Sulzbergers
Landon Thomas Jr.
The New York Times Company annual shareholder meeting traditionally has been a tame affair, where the Sulzberger family, which owns a controlling interest in the company, applauds the achievements of its journalists and, in turn, basks in the applause of investors.
But times have changed. With the company's stock performance lagging, along with much of the newspaper industry, the chairman and publisher, Arthur Sulzberger Jr., and his family are bracing for a contentious meeting today.
Last year, dissident investors, led by Hassan Elmasry, a senior portfolio manager at Morgan Stanley Investment Management, withheld 30 percent of their votes for the election of Class A directors, as a sign of their frustration with the company's dual ownership structure and performance.
This year, the company and its critics have both lobbied hard. According to people who have spoken with Mr. Sulzberger, the family and the company are prepared for the possibility that the vote withheld might exceed 50 percent.
The vote is largely symbolic: under the dual ownership structure, the family owns 89 percent of Class B shares and elects 70 percent of the board, or 9 of 13 directors. But such an outcome could put additional pressure on family members and independent directors to take more aggressive steps in addressing the dissidents' concerns.
So far none of the nonfamily directors of the Times Company have stepped down since the battle began and they have told Mr. Sulzberger that they have no plans to resign. Still, the uncomfortable glare of public scrutiny upon them is not expected to diminish soon.
Mr. Sulzberger has said repeatedly that the company would not change the longstanding dual class structure that gives the family control, maintaining that it preserves the independence of the newspaper and protects the company in dire economic times.
In a speech prepared for the annual meeting today, Mr. Sulzberger plans to say, "only the trustees of the Ochs/Sulzberger family have the ability to change that and we are unanimous in our commitment to retain it."
In his first public response to his unhappy investors, Mr. Sulzberger defended the Times Company's recent investments, including the net $500 million it has spent on its new headquarters as well as his holding of chairman and publisher titles.
He is expected to describe the current industry climate as "the most dramatic transformation in our long and distinguished history," and acknowledge that despite strong growth in the company's digital businesses, the print side continues to decline.
He also plans to credit his grandfather, Arthur Hays Sulzberger, for putting a two-class structure in place, "to get us through times like this." But "all of us — my family and you, our shareholders — have felt the pain of this disruption," the prepared text states.
Whatever the outcome of the meeting, it is unlikely to appease the critics, led by Mr. Elmasry, whose portfolio includes a 7 percent stake in The Times.
Both Mr. Sulzberger and Mr. Elmasry declined to comment for this article.
Some other large Class A investors — in particular T. Rowe Price, which owns 15 percent, and Private Capital Management, with 9.3 percent — also withheld their votes last year. They have not made their intentions for this year's meeting clear.
Brian C. Rogers, chairman of T. Rowe Price did not return calls seeking comment. Bruce S. Sherman of Private Capital declined to comment. Howard P. Milstein, the chief executive of Emigrant Bank, bought a 4.3 percent stake in the company; he has told Mr. Sulzberger that he would support him.
Representatives of Mr. Elmasry have said that he would not attend today's meeting.
The campaign has grown heated, with both sides making their cases to two corporate advisory firms. The results have been mixed: Institutional Shareholder Services issued a report advising investors to withhold their vote, while Proxy Governance said that investors should vote for the Times directors. A third advisory service, Glass-Lewis, which does not meet with investors, has recommended that investors withhold their votes.
Yesterday, Mr. Sulzberger received support when Donald E. Graham, the chairman and chief executive of the Washington Post Company, urged investors to support the Times Company. Writing in the opinion pages of The Wall Street Journal, Mr. Graham argued that an elimination of the two-class structure would result "in a line of buyers eager to purchase the company" and said that a new owner might not maintain the same news standards.
At the heart of the dispute over the capital structure is a more fundamental tension between the interests of the Sulzberger family, which sees itself as the guardian of The Times newspaper, and its institutional investors, who argue that the company's dual class structure prevents the company from being fully accountable to all shareholders.
"This is a governance issue," said Charles M. Elson of the University of Delaware. "If you own 100 percent, you do whatever you want. Once you enter the public, your obligations change."
For advice on its governance practices, the Times Company's board has hired Martin Lipton, a lawyer with experience in advising directors. For public relations counsel, the board has hired Paul Verbinnen, president of Sard Verbinnen.
Separately, extended family members themselves had a regularly scheduled meeting on Friday at the Times Company's headquarters, where they met with executives on the news and business sides of The Times. Over the weekend they gathered in a more informal setting at a conference center in Connecticut to discuss family business, where, according to one person present, there was little discussion about the controversy.
"The family's identity is caught up in being a steward of The New York Times," said Alex S. Jones, a co-author of "The Trust," a book on the Ochs-Sulzberger family. "They would not give up that stewardship for any reason that I could imagine."
The vehicle for this stewardship is a 1997 trust, which controls the majority of the non-traded Class B stock and which includes Mr. Sulzberger, five of his cousins, a fifth-generation family member and Mr. Sulzberger's brother in law, Eric M. A. Lax. (Four trustees also serve as directors elected by Class B shareholders.)
It is the trust, not the board, that has the power to declassify the shares, and it would take at least a 6-to-2 vote to do that.
In his meeting with the full board in February, Mr. Elmasry made a broad critique of past investments, including the acquisition of About.com, a Web information service that the Times Company bought in 2005 for $410 million, which he deemed "speculative," and the company's new headquarters.
Mr. Sulzberger, in his speech, is expected to defend About.com's expanding margins, saying they increased to 38 percent in 2006 from 27 percent in 2005, and its contributions to the paper's digital properties.
Mr. Elmasry also asked the board to separate the chairman and publisher titles that Mr. Sulzberger now holds, according to people briefed on the meeting. Mr. Elmasry did not say which job Mr. Sulzberger should give up.
While the board has the power to ask Mr. Sulzberger to step down as chairman, it does not have the authority to appoint the publisher. Throughout the history of The Times, the title of publisher has been held by a family member.
Mr. Sulzberger, according to the prepared text of his speech, is expected to say that his two titles allow him to "balance the financial and journalistic needs of this institution."
Mr. Elmasry's complaint stems from a view that, starting in the late 1990s, attempts by management to diversify into areas like cable television took focus away from the newspaper's core brand.
"The New York Times had some wonderful years financially and also in terms of how the stock market saw the company," said Andy Brown, a predecessor of Mr. Elmasry at Morgan Stanley's fund unit who bought the original stake in the Times Company in 1996 and who now runs his own fund company. "You could argue that this was the result of financial discipline, but you could also argue that management was emboldened by this success to make all these acquisitions."
Other Class A investors have also questioned the board and management. In February, T. Rowe Price had a conference call with all board members, except for Mr. Sulzberger and Janet L. Robinson, the company's chief executive, who did not attend at T. Rowe Price's request. Ms. Robinson also met with Mr. Sherman of Private Capital in March.
Analysts also argue that the transition of advertising to the Internet has hurt all publishing companies.
The Times Company has already reacted to a number of the issues that Mr. Elmasry has raised during his campaign. For example, Mr. Sulzberger and Michael Golden, vice chairman and publisher of The International Herald Tribune, have said they will not accept stock-based compensation for 2006 and 2007.
Additionally, the company has agreed to sell its television stations, raised its dividend and formalized a rotation process ensuring that in the coming years Class A shareholders will be able to vote for directors on the compensation, audit and nominating committees. As part of the plan, the eight independent directors who are not part of the family or management will now be subject to shareholder vote at least once every three years.
http://www.nytimes.com/2007/04/24/bu.../24times.html?
42% Withhold Votes for Times Co. Directors
Landon Thomas Jr.
Shareholders of The New York Times Company withheld 42 percent of their votes for board members at their meeting today in a symbolic gesture of protest against the company's investment strategies and governance practices.
The vote, which was led by the company's largest institutional shareholders, and Morgan Stanley Investment Management in particular, surpassed last year's tally of 30 percent. It did not, however, exceed a worst-case scenario of 50 percent that the founding Ochs-Sulzberger family and management had been expecting.
Still, given that the family owns close to 20 percent of the Class A shares, the 42 percent figure represented a majority of nonfamily shareholders and signaled that a growing component of the company's investors are becoming impatient with its management, financial performance and stagnant stock price.
In a statement, the Times Company said today that its directors would continue to serve, the vote notwithstanding.
"We understand shareholder frustration as reflected in today's vote," Arthur Sulzberger Jr., chairman and publisher of the Times Company, said in the statement. "At the same time, many shareholders have expressed to us that we are pursuing the key actions needed to improve performance and returns to shareholders."
Given the building controversy, the meeting, which was held at the New Amsterdam Theater in Times Square, lacked much in the way of fireworks. While several people expressed dissatisfaction with management, the bulk of commentary centered on unrelated issues, such as lawsuits, environmental policies, The Times's coverage in the Middle East and why there were fewer stock listings in the newspaper's business section.
In attendance were the 13 board members, top management from the company as well as members of the Ochs-Sulzberger family, including Arthur Ochs Sulzberger, the previous chairman and publisher.
Last year, dissident investors, led by Hassan Elmasry, a senior portfolio manager at Morgan Stanley Investment Management, withheld 30 percent of their votes for the election of Class A directors as a sign of their frustration with the company's dual ownership structure and performance. Mr. Elmasry did not attend today's meeting.
This year, the company and its critics had both lobbied hard. The vote was largely symbolic: under the dual ownership structure, the family owns 89 percent of Class B shares and elects 70 percent of the board, or 9 of 13 directors. But it could put additional pressure on family members and independent directors to take more aggressive steps in addressing the dissidents' concerns.
Mr. Sulzberger has said repeatedly that the company would not change the longstanding dual class structure that gives the family control, maintaining that it preserves the independence of the newspaper and protects the company in dire economic times.
In his speech at the annual meeting today, Mr. Sulzberger said, "Only the trustees of the Ochs-Sulzberger family have the ability to change that, and we are unanimous in our commitment to retain it."
In his first public response to his unhappy investors, Mr. Sulzberger defended the Times Company's recent investments, including the net $500 million it has spent on its new headquarters, as well as his holding of chairman and publisher titles.
He described the current industry climate as "the most dramatic transformation in our long and distinguished history," and acknowledged that despite strong growth in the company's digital businesses, the print side continued to decline.
He also credited his grandfather, Arthur Hays Sulzberger, for putting a two-class structure in place, "to get us through times like this." But "all of us — my family and you, our shareholders — have felt the pain of this disruption," he said.
The campaign over the vote was heated, with both sides making their cases to two corporate advisory firms. The results were mixed: Institutional Shareholder Services issued a report advising investors to withhold their vote, while Proxy Governance said that investors should vote for the directors. A third advisory service, Glass, Lewis, which does not meet with investors, recommended that investors withhold their votes.
In a statement, Mr. Elmasry of the Morgan Stanley fund expressed his continuing displeasure with management at the company. "Today's withhold vote by Class A shareholders is a clear mandate for meaningful change at The New York Times Company," he said. Saying he was disappointed that the company had not implemented his recommendations, he said that the higher vote this year is "an emphatic call for accountability." And he pointed out that more than "50 percent of the nonfamily Class A shareholders are calling on the board to take action."
On Monday, Mr. Sulzberger received support when Donald E. Graham, the chairman and chief executive of The Washington Post Company, urged investors to back the Times Company. Writing in the opinion pages of The Wall Street Journal, Mr. Graham argued that an elimination of the two-class structure would result "in a line of buyers eager to purchase the company" and said that a new owner might not maintain the same news standards.
At the heart of the dispute over the capital structure is a more fundamental tension between the interests of the Sulzberger family, which sees itself as the guardian of The Times newspaper, and its institutional investors, who argue that the company's dual class structure prevents the company from being fully accountable to all shareholders.
"This is a governance issue," said Charles M. Elson, the director of the John L. Weinberg Center for Corporate Governance at the University of Delaware. "If you own 100 percent, you do whatever you want. Once you enter the public, your obligations change."
For advice on its governance practices, the Times Company's board has hired Martin Lipton, a lawyer with experience in advising directors. For public relations counsel, the board has hired Paul Verbinnen, president of Sard Verbinnen.
Separately, extended family members themselves had a regularly scheduled meeting on Friday at the Times Company's headquarters, where they met with executives on the news and business sides of The Times. Over the weekend they gathered in a more informal setting at a conference center in Connecticut to discuss family business, where, according to one person present, there was little discussion about the controversy.
"The family's identity is caught up in being a steward of The New York Times," said Alex S. Jones, a co-author of "The Trust," a book on the Ochs-Sulzberger family. "They would not give up that stewardship for any reason that I could imagine."
The vehicle for this stewardship is a 1997 trust, which controls the majority of the nontraded Class B stock and which includes Mr. Sulzberger, five of his cousins, a fifth-generation family member and Mr. Sulzberger's brother-in-law, Eric M. A. Lax. (Four trustees also serve as directors elected by Class B shareholders.)
It is the trust, not the board, that has the power to declassify the shares, and it would take at least a 6-to-2 vote to do that.
In his meeting with the full board in February, Mr. Elmasry made a broad critique of past investments, including the acquisition of About.com, a Web information service that the Times Company bought in 2005 for $410 million, which he deemed "speculative," and the company's new headquarters.
Mr. Sulzberger, in his speech, defended About.com's expanding margins, saying they increased to 38 percent in 2006 from 27 percent in 2005, and its contributions to the paper's digital properties.
Mr. Elmasry also asked the board to separate the chairman and publisher titles that Mr. Sulzberger now holds, according to people briefed on the meeting. Mr. Elmasry did not say which job Mr. Sulzberger should give up.
While the board has the power to ask Mr. Sulzberger to step down as chairman, it does not have the authority to appoint the publisher. Throughout the history of The Times, the title of publisher has been held by a family member.
Mr. Sulzberger said in his speech that his two titles allowed him to "balance the financial and journalistic needs of this institution."
Mr. Elmasry's complaint stems from a view that, starting in the late 1990s, attempts by management to diversify into areas like cable television took focus away from the newspaper's core brand.
"The New York Times had some wonderful years financially and also in terms of how the stock market saw the company," said Andy Brown, a predecessor of Mr. Elmasry at Morgan Stanley's fund unit who bought the original stake in the Times Company in 1996 and who now runs his own fund company. "You could argue that this was the result of financial discipline, but you could also argue that management was emboldened by this success to make all these acquisitions."
Other Class A investors have also questioned the board and management. In February, T. Rowe Price, the largest investor in the Times Company, had a conference call with all board members, except for Mr. Sulzberger and Janet L. Robinson, the company's chief executive, who did not attend at T. Rowe Price's request. Ms. Robinson also met with Bruce S. Sherman of Private Capital Management, another large investor, in March.
Analysts also argue that the transition of advertising to the Internet has hurt all publishing companies.
The Times Company has already reacted to a number of the issues that Mr. Elmasry has raised during his campaign. For example, Mr. Sulzberger and Michael Golden, vice chairman and publisher of The International Herald Tribune, have said they would not accept stock-based compensation for 2006 and 2007.
Additionally, the company has agreed to sell its television stations, raised its dividend and formalized a rotation process ensuring that in the coming years Class A shareholders would be able to vote for directors on the compensation, audit and nominating committees. As part of the plan, the eight independent directors who are not part of the family or management will now be subject to shareholder vote at least once every three years.
http://www.nytimes.com/2007/04/25/bu...es.web.html?hp
Billionaires Start $60 Million Schools Effort
David M. Herszenhorn
Eli Broad and Bill Gates, two of the most important philanthropists in American public education, have pumped more than $2 billion into improving schools. But now, dissatisfied with the pace of change, they are joining forces for a $60 million foray into politics in an effort to vault education high onto the agenda of the 2008 presidential race.
Experts on campaign spending said the project would rank as one of the most expensive single-issue initiatives ever in a presidential race, dwarfing, for example, the $22.4 million that the Swift Vets and P.O.W.s for Truth group spent against Senator John Kerry in 2004, and the $7.8 million spent on advocacy that year by AARP, the lobby for older Americans.
Under the slogan "Ed in '08," the project, called Strong American Schools, will include television and radio advertising in battleground states, an Internet-driven appeal for volunteers and a national network of operatives in both parties.
"I have reached the conclusion as has the Gates foundation, which has done good things also, that all we're doing is incremental," said Mr. Broad, the billionaire who founded SunAmerica Inc. and KB Home and who has long been a prodigious donor to Democrats. "If we really want to get the job done, we have got to wake up the American people that we have got a real problem and we need real reform."
Mr. Gates, the chairman of Microsoft, responding to questions by e-mail, wrote, "The lack of political and public will is a significant barrier to making dramatic improvements in school and student performance."
The project will not endorse candidates — indeed, it is illegal to do so as a charitable group — but will instead focus on three main areas: a call for stronger, more consistent curriculum standards nationwide; lengthening the school day and year; and improving teacher quality through merit pay and other measures.
While the effort is shying away from some of the most polarizing topics in education, like vouchers, charter schools and racial integration, there is still room for it to spark vigorous debate. Advocating merit pay to reward high-quality teaching could force Democratic candidates to take a stand typically opposed by the teachers unions who are their strong supporters.
Pushing for stronger, more uniform standards, on the other hand, could force Republican candidates to discuss the potential merits of a national curriculum, a concept advocates for states' rights deeply oppose and one that President Bush has not embraced.
The initiative will be announced today in South Carolina, a day before the first Democratic debate. Similar publicity is scheduled for the first Republican debate early next month in Simi Valley, Calif.
Mr. Bush made education a major theme in 2000, paving the way for the No Child Left Behind law and its emphasis on testing. In 1992, President Bill Clinton proposed an array of education initiatives. But this year the issue is overshadowed by the war in Iraq, terrorism and health care.
"Right now it's too low on the list of priorities for all the candidates," Mr. Broad said, "and our job is to get it up on the list."
The project's first print advertisement addresses the national focus head on, showing a student misspelling "A histery of Irak" on a blackboard. "Debating Iraq is tough," the advertisement says. "Spelling it shouldn't be. America's schools are falling behind. It's a crisis that takes leadership to solve. So to all presidential candidates we say, 'What's your plan to fix our schools?' "
The effort will be directed by Roy Romer, the former Democratic governor of Colorado and the recent superintendent of schools in Los Angeles, and by Marc Lampkin, a Republican lobbyist and former deputy campaign manager for Mr. Bush. It will be financed by the billionaires' respective foundations, which they established with their wives, Melinda Gates and Edythe L. Broad. The Bill and Melinda Gates Foundation is far larger, having disbursed $1.8 billion in education grants compared with $250 million by the Broad Foundation.
Mr. Broad has long been a major political donor, primarily to Democrats, and has been particularly well known as a friend and supporter of Bill and Hillary Clinton. He has contributed personally to Mrs. Clinton's campaign as well as to other Democratic candidates.
Mr. Gates also gives handsomely, though to campaigns in both parties. The two men emphasized that their education advocacy was nonpartisan.
Supporters of the project also include Bob Kerrey, the former Democratic senator from Nebraska; Ken Mehlman, the former Republican Party chairman; and Louis V. Gerstner, the former chief executive of I.B.M. Several of the presidential candidates yesterday applauded the billionaires' effort, but some bristled at the notion that they were not paying sufficient attention to education.
"I think 70 days into a campaign that has yet to choose any nominees for either party, to make a sweeping kind of analysis that they are not talking about education is probably a little premature," said Kevin Madden, a spokesman for former Gov. Mitt Romney of Massachusetts, a Republican. "If anybody goes onto the campaign trail with Governor Romney, they'll recognize that education is an important issue to him and to voters."
A campaign spokesman for Hillary Clinton said Mrs. Clinton was pleased that the issue would get "much-needed attention."
Senator Christopher J. Dodd, a Democratic presidential candidate who has proposed legislation calling for tougher and more uniform education standards, issued a statement praising the Strong American Schools effort. "I look forward to including elements of the Gates-Broad initiative in the current dialogue on how to improve our nation's schools," Mr. Dodd said.
Bill Hogan, a senior fellow at the Center for Public Integrity and director of the Buying of the President 2008 project, which is scrutinizing the influence of money in the campaign, said the new effort could prove remarkable in its spending level.
"If we are talking about efforts in presidential campaigns to promote discussion or debate of an issue, there has been nothing like this," Mr. Hogan said. "This would be off the charts."
http://www.nytimes.com/2007/04/25/ed...25schools.html
'$100 Laptop' to Cost $175
Brian Bergstein
The founder of the ambitious "$100 laptop" project, which plans to give inexpensive computers to schoolchildren in developing countries, revealed Thursday that the machine for now costs $175, and it will be able to run Windows in addition to its homegrown, open-source interface.
Nicholas Negroponte, the former director of the Massachusetts Institute of Technology Media Lab who now heads the nonprofit One Laptop Per Child project, updated analysts and journalists on where the effort stands, saying "we are perhaps at the most critical stage of OLPC's life."
That's partly because at least seven nations have expressed interest in being in the initial wave to buy the little green-and-white "XO" computers - Uruguay, Argentina, Brazil, Pakistan, Thailand, Nigeria and Libya - but it remains unclear which ones will be first to pony up the cash. The project needs orders for 3 million machines so its manufacturing and distribution effort can get rolling.
The ever-optimistic Negroponte didn't sound worried, however: He expects mass production to begin by October, and he said many other countries, including Peru and Russia, have been inquiring about taking part.
The XO machines will be made by Quanta Computer Inc., the world's leading manufacturer of portable computers. Quanta agreed to take a profit of about $3 per machine, less than what it gets from mainstream PC companies, Negroponte said.
Even so, the machine - which boasts extremely low electricity consumption, a pulley for hand-generated power, built-in wireless networking and a screen with indoor and outdoor reading modes - now costs $175. The One Laptop project takes an additional $1 to fund its distribution efforts.
Negroponte's team has always stressed that $100 was a long-term target for the machines, but recently publicized figures had put it in the $150 range. Negroponte says the cost should drop about 25 percent per year as the project unfolds. He added that Citigroup Inc. (C)'s Citibank division has agreed to facilitate a payment system on a pro bono basis; Citibank will float payments to Quanta and other laptop suppliers, and governments will repay the bank.
Even at $175, the computers upend the standard economics in the PC industry. A huge reason has been XO's use of the free, open-source Linux operating system, tweaked for this project with the help of one of its sponsors, Red Hat Inc. (RHT)
The result is that XO's software is highly original, in hopes of making the computer useful as a collaborative tool and intuitive for children who have never before encountered a computer. There are no windows or folders, but rather an interface heavily reliant on pictographic icons.
However, Negroponte disclosed that XO's developers have been working with Microsoft Corp. (MSFT) so a version of Windows can run on the machines as well. It could be the $3 software package that Microsoft announced last week for governments that subsidize student computers. It includes Windows XP Starter Edition and some of Microsoft's "productivity" software.
Word of Microsoft's involvement was somewhat striking given that the software company and its closest corporate partner, Intel Corp. (INTC), have questioned whether the One Laptop Per Child's computers will do much to stimulate educational gains. Bill Gates once denigrated the machine as not being a "decent computer." And Intel is pushing its own inexpensive computer for developing countries, the $400 Classmate PC.
The ever-optimistic Negroponte turned those criticisms around on Thursday, arguing that Microsoft wouldn't have bothered with its $3 international software package and Intel wouldn't be pushing Classmate unless they had something to fear from One Laptop Per Child's innovations.
Whether the XO machines might someday land in U.S. schools has been an open question. Former Massachusetts Gov. Mitt Romney announced at one point that he wanted to buy the machines for students in his state. Some time later, Negroponte said Thursday, One Laptop Per Child decided not to work with American schools because "we've designed something for a totally different situation" - meaning kids in poor countries.
Now, he added, that might change, since 19 state governors have shown interest. One of them was then-Florida Gov. Jeb Bush. When Bush first e-mailed and casually signed "Jeb," Negroponte needed to ask his brother, former national intelligence director John Negroponte, whether the query was legitimate.
http://www.sun-sentinel.com/business...ness-headlines
Does Moore's Law Help or Hinder the PC Industry?
Bryan Gardiner
Gartner analysts Brian Gammage and Carl Claunch debated Moore's Law on Tuesday, arguing whether the defining rule that governs today's computer industry should be seen as a force for good or evil—or possibly a mixture of both.
Before launching into their talk, the two noted that its original title was "Why Moore's Law is Evil," which while neither admitted as much, would have been an inappropriate appellation seeing as the two analysts really just took turns playing good cop-bad cop for an hour, alternating between the negative and positive implications attributed to the famous law coined by Caltech professor Carver Mead.
One of the things both men did agree on was that Moore's Law is, and has been, an undeniable driving force in the computer industry for close to four decades now. They also agreed that it is plagued by misunderstanding.
"Moore's Law is frequently misquoted, and frequently misrepresented," noted Gammage. While most people believe it means that you double the speed and the power of processors every 18 to 24 months, that notion is in fact wrong, Gammage said. "Moore's Law is all about the density…the density of those transistors, and not what we choose to do with it."
The actual law—which didn't morph into a governing mandate until Mead described it as such—was first summarized by a young Gordon Moore in an issue of Electronics Magazine in 1965, who said:
"The complexity for minimum component costs has increased at a rate of roughly a factor of two per year...Certainly over the short term this rate can be expected to continue, if not to increase. Over the longer term, the rate of increase is a bit more uncertain, although there is no reason to believe it will not remain nearly constant for at least 10 years. That means by 1975, the number of components per integrated circuit for minimum cost will be 65,000. I believe that such a large circuit can be built on a single wafer."
So basically, under Moore's Law the number of transistors in a processor increase geometrically, typically yielding more performance every 18 to 24 months, but not always. Today, there are billions of transistors on a typical chip, and according to Gammage, with this increased density, replacement cycles for computers and servers have also accelerated in step. This also happens to be where many feel that Moore's Law exerts a negative impact on the industry. Continued...
"If you're spending money on those products, you may feel as though you're constrained against your will," Gammage said, "just to keep up, just to make sure that you're capable of supporting the software that's running within your environment."
Indeed, it is this cost burden, this drive to upgrade, that is most often placed on the shoulders of consumers and companies who fall on the receiving end of this perpetual march towards "improvement." As both analysts noted, this results in a tremendous race just to keep up.
"If we don't need extra performance, can we really choose to pay less for less?" Claunch asked rhetorically. Both Gammage and Claunch said that, for computer suppliers, Moore's Law also tends to squeeze prices and margins, forcing them to "sell more just to stand still."
And therein lies the basic conundrum that emerges from Moore's Law, according to Claunch.
"…Every 24 months, you're doubling the number of transistors, doubling the capacity," he said. "But if you think about the process you're going through—they're taking a wafer, they put some devices on it, they cut it up and sell it to you—the cost of doing that is not doubling every 18 to 24 months."
"So, for about the same amount of effort for them, they're getting twice as many components on [the wafer]. Claunch added that: "if we were to make a PC run at the same speed as the original 8086 PCs, they'd probably cost about 10 cents to make. But nobody could afford to be in the business of selling PCs at 10 cents each. So instead, we have to use a different strategy. That different strategy is this: Pump twice as much stuff into the box, and if you do that, you can at least hold your price flat."
The problem is that there are often sustained periods where, despite cramming more transistors onto a chip, no particular incentive—that is no compelling innovation—exists in the industry to prompt people or companies to upgrade their equipment. Such a period took place, according to both analysts, from 2000 to 2004. And yet, the march forward continues with old hardware being quickly phased out in the industry to make ready for the new.
"It's one thing to replace hardware if the new models offer something valuable the old ones do not…otherwise, why not just sweat those assets?" Gammage said.
Aside from its impact on the business of selling PCs, both analysts spoke briefly about some of the arguments for and against the impact of Moore's Law.
On the positive side of things, Gammage noted that Moore's Law can be seen as at least partially responsible for the vast world-wide job creation in the computer industry. He also argued that the law is occasionally responsible for the innovation and agility within that industry, the leaps we've taken with respect to power (i.e., doing the same tasks with less power consumption), and the fact that it tends to level the playing field—in so far as customers all having the same range of choices today.
But with new models emerging every 18 months, Claunch counter argued that Moore's Law could also be seen as responsible for today's sometimes exorbitant premium price tiers, the industry's lack of replacement parts (due to the fact that PCs become obsolete so quickly), e-waste, as well as embedded CO2 from all the computers we throw away.
Operating under the principles of Moore's Law, the industry is also burdened with the perpetual task of driving up demand in order to preserve revenue, or simply break even, Claunch said.
In the end, however, both men concluded that the law just one of the many forces that operate in today's computer market. While both agreed that, to an extent, the industry has found itself stuck in a vicious spiral, that fact cannot and should not be entirely blamed on Moore's Law.
"The PC industry is certainly challenged today," said Gammage. "It's sick; it's experiencing structural torment. Dell of all companies is having to reset expectations, but those problems have to do more with the relative rates of growth, the law of diminishing returns, and a lack of innovation, and much less to do with Moore's Law."
But while the industry as a whole maybe having troubles, manufacturers are still finding new ways to use the increased transistor capacities that come with Moore's Law, both analysts said.
"We have 64-bit, virtualization, better power efficiency, better management, better security, and improved I/O," Gammage said.
Performance per watt is also becoming more important than price performance for many applications, Claunch observed.
In concluding their talk, Gammage and Claunch both outlined some of the pitfalls to avoid when discussing or thinking about Moore's Law.
"Don't think of Moore's Law as simply good or evil," Claunch cautioned the audience, "but rather a mix of both…" He added that to associate the law solely with performance improvements is to not see the whole picture, or even part of it.
"It's about transistor counts," he said, "and it's important to note that those two things aren't always interrelated."
It is also important to recognize that the path from technology innovation to commoditization is very short in today's x86 markets, Gammage said. Both analysts expect Moore's Law to be leveraged for further technology innovation and automation in the coming 10 years. And perhaps more than anything discussed Tuesday morning, both men also made clear there really are two sides, and perhaps even more, to the Moore's Law argument.
http://www.extremetech.com/article2/...2121645,00.asp
Researchers Break Internet Speed Records
Anick Jesdanun
A group of researchers led by the University of Tokyo has broken Internet speed records - twice in two days.
Operators of the high-speed Internet2 network announced Tuesday that the researchers on Dec. 30 sent data at 7.67 gigabits per second, using standard communications protocols. The next day, using modified protocols, the team broke the record again by sending data over the same 20,000-mile path at 9.08 Gbps.
That likely represents the current network's final record because rules require a 10 percent improvement for recognition, a percentage that would bring the next record right at the Internet2's current theoretical limit of 10 Gbps.
However, the Internet2 consortium is planning to build a new network with a capacity of 100 Gbps. With the 10-fold increase, a high-quality version of the movie "The Matrix" could be sent in a few seconds rather than half a minute over the current Internet2 and two days over a typical home broadband line.
Researchers used the newer Internet addressing system, called IPv6, to break the records in December. Data started in Tokyo and went to Chicago, Amsterdam and Seattle before returning to Tokyo. The previous high of 6.96 Gbps was set in November 2005.
Speed records under the older addressing system, IPv4, are in a separate category and stand at 8.8 Gbps, set in February 2006.
The Internet2 is run by a consortium of more than 200 U.S. university. It is currently working to merge with another ultrahigh-speed, next-generation network, National LambdaRail.
The announcement of the new record was made at the Internet2 consortium's spring meeting, which ends Wednesday in Arlington, Va.
http://apnews.myway.com//article/200...D8ON57EG0.html
Free Broadband Soon
Joji Thomas Philip
The government proposes to offer all citizens of India free, high-speed broadband connectivity by 2009, through the state-owned telecom service providers BSNL and MTNL. While consumers would cheer, the move holds the potential to kill the telecom business as we know it.
You have heard of free municipal broadband — many cities in the US have drenched themselves in wireless broadband connectivity which is freely accessible to residents. The idea is to boost economic activity in general. The government of India plans to achieve free broadband connectivity at a speed of 2 MB per second across the country, with a similar goal. Senior government officials expect to be able to achieve this goal spending only a portion of the corpus of the Universal Service Obligation Fund (USOF).
All telecom operators contribute 5% of their revenues every year to USOF. It is estimated that the unutilised sum from the USOF has touched Rs 9,194.12 crore by March, 2007-end.
The current technological trend is for voice calls also to shift to the internet, using voice over internet protocol (VOIP). The quality of VOIP calls, patchy to start off with, has been improving steadily over the years and by 2009, is likely to be as good as current analogue calls that establish a circuit between the calling and called parties. When that happens, revenue streams from calls would dry up and telecom companies would need to develop value-added applications to make money from the connectivity they provide for free or virtually free.
The department of telecom (DoT) will be taking a series of steps to make its plans for free broadband a reality. These include, using the USOF to set an extensive optic cable network across the country, opening up the long-distance sectors to further competition, allowing free and fair access to cable landing stations, permitting the resale of bandwidth, setting up web hosting facilities within the country and asking all internet service providers to connect to the National Internet Exchange of India (NIXI).
With international bandwidth rates in India being between two-to-five times higher than the global standards, the DoT will also go all out to break the monopoly of existing national and international distance players in a bid to induce cut throat competition in this sector. "India has only a handful of NLD/ILD operators while small countries such as Singapore and Taiwan have over 30 and 60 long distance operators respectively.
With limited players, they control the bandwidth gateways and form a cartel and this ensures that tariffs remain high. The entry of new players such as AT&T, British Telecom amongst others has started creating an impact," the government source added.
Importantly, the ground work for this project is already being laid. This comes as telecom regulator Trai had recently proposed that access to submarine cables be made cost-based and independent companies be given free and fair access to cable landing stations. (Cable landing stations connect submarine telecom cables with data and voice networks in the country.) Additionally, Trai had also recommended that bandwidth resale be permitted in India. Industry analysts estimate that these two steps by Trai alone will lead to a 30% reduction in bandwidth costs, when implemented.
In a related move, the DoT will also issue norms which mandate Indian companies, including state-owned BSNL and MTNL to begin large scale web hosting services. "This is because, most of the internet traffic generated in India is currently routed out of the country and re-routed back, resulting in the increased use of international bandwidth," the government source said.
Additionally, the plan also includes asking all internet service providers to connect their networks to NIXI. This will also ensure that internet traffic, originating and destined for India, is routed within India resulting in optimum domestic bandwidth utilisation. Currently, the very purpose of establishment of NIXI has not been served as only 27 ISPs out of 135 operational ISPs have joined it, the source explained.
http://economictimes.indiatimes.com/...ow/1955351.cms
Answers Sought for U.S. Broadband Decline
Chloe Albanesius
A U.S. innovation brain drain, coupled with sloppy government handling of subsidy programs and data collection, have contributed to a decline in the country's broadband standing, technology experts told the Senate Commerce Committee on Tuesday.
The committee convened the hearing for a discussion on how the U.S. measures up against other countries in broadband competitiveness.
The hearing was held a day after the Organization for Economic Cooperation and Development (OECD) issued new global broadband per-capita penetration data that saw the U.S. fall from 12th to 15th place out of 30 countries. Some viewed the results as a sign that the U.S. is falling behind its global counterparts, while others said it was unfair to compare the U.S. against the smaller and more densely populated countries that beat the U.S. in the OECD rankings.
The questions that panelists tangled with mainly dealt with issues of geography. In Europe, where per-capita broadband penetration is growing, world powers like the United Kingdom are smaller geographically than California. The person-to-person proximity also allows infrastructure buildouts to serve more people. While this isn't a problem in major cities, serving rural customers with broadband access is still a thorny issue.
One of the issues left undefined was the definition of "broadband". Add to that the lack of reliable government data, and the problem becomes even more complicated, witnesses said.
Sen. Daniel Inouye, D-Hawaii, who chairs the Commerce Committee, said that he would soon introduce a bill to promote innovation and improve the federal commitment to basic research on communications. He is also penning broadband data development legislation that would call for the collection of broadband data collection at the federal and state levels, a complaint that was voiced by several speakers.
The numbers problem
"We need better data" from the Federal Communications Commission (FCC), said Ben Scott, policy director of Free Press, an organization dedicated to media reform. The FCC currently collects data based on ZIP codes, which could be misleading, Scott said. "We need information on a block-by-block basis."
Jeffrey Eisenach, chairman of Criterion Economics, a Washington-based consulting firm, agreed. "Current FCC data is not useful. It doesn't tell us how many households or businesses in that ZIP code have broadband availability. Nor does it tell us anything about quality."
Meanwhile, the last time the national census gathered broadband data was 2003, Eisenach said. "It might as well have been collected in 1903," he said.
Throwing government funds at an issue, however, does not always solve the problem. Sen. Claire McCaskill, D-Mo., questioned why millions that were allocated by the Rural Utilities Service for rural areas were actually being used in urban areas like Houston and Los Angeles. Panelists also tangled over the benefits of the Universal Service Fund (USF), money intended to provide telecommunications service to all Americans.
Brian Mefford, whose public-private ConnectKentucky partnership initiative managed to increase the state's broadband availability by 32 percent in three years, did not rely on USF monies for the project. "It needs some retooling," he says of the fund.
One retooling suggestion is to require broadband ISPs to contribute to the USF. Currently, only interstate telecom providers like phone, long distance and cell phone providers have to put money into the fund. Continued...
"The insertion of broadband into universal service is essential," said Scott. "Bringing broadband to rural areas will require the same kind of progressive idea that [brought] the telephone to rural areas."
Sen. Ted Stevens of Alaska, ranking Republican on the committee, has introduced legislation to insert broadband into the USF. "The problem is basically we can't use the legacy system of cable and wire" for broadband and have to build out across rural areas, Stevens said. "Wireless technology has brought new communication, but it is slower and not adaptable."
DSL, meanwhile, "only works within about 18,000 feet of a central office," said Eisenach. "The copper line lengths in the U.S. are longer than those in Europe. We have much higher cost of copper than in the EU."
The National Cable & Telecommunications Association on Monday penned a letter to Senate and House Commerce leaders that said the OECD's results could be misleading. "Compared to most of the nations that rank 'ahead' of the U.S. in broadband penetration, the U.S. is geographically vast and significantly less dense," NCTA President Kyle McSlarrow wrote. "It is clear that factors like geography, distance, and population concentration and urbanization are critical to the pace ad success or investment in any network, not just broadband."
Technology is the answer – but what?
Even if the problem is as great as the OECD maintains, however, basic research into technologies to solve the national broadband problem is being ignored, Inouye said. "Today we see less of the visionary, long-term research that took place at Bell Labs and resulted in breakthrough technologies that made [the U.S.] the envy of the world," he said.
Bell Labs was driven by telecommunications research, a driver that forced researchers to "think along a certain path," said Adam Drobat of the Telecommunications Industry Association (TIA). It also received ample funding for long-term projects.
Today, the two fields that are fundamental to telecom – electrical engineering and computer science – are seeing fewer and fewer American doctoral graduates, Drobat said. "There have to be some economic incentives – money for education, money for research – that drive people to these disciplines and that funds them well in the future," he said.
"TIA believes that public policies should foster a climate conducive to innovation and investment, avoiding overly prescriptive regulatory regimes," Drobat added.
"The only research that's being done in telecom now outside of universities has a very, very short time frame for work research and it's being done mainly by equipment managers," said Jack Wolf, vice president of technology for Qualcomm.
Universities that do receive federal research funds for telecom get perhaps 10 percent of funds allocated to the National Science Foundation and the Defense Advanced Research Projects Agency (DARPA), Wolf said.
Wolf called for a new research program that would stimulate interest in telecom research across academia and government and recognize the challenges the industry faces in coming up with new research funds.
http://www.pcmag.com/article2/0,1895,2121582,00.asp
Wi-Fi? Why Worry?
Scare stories about the dangers of wireless networks lack credibility, argues Bill Thompson
Students at Canada's Lakehead University have to be careful how they connect to the internet because wi-fi is banned on large parts of the campus.
University president Fred Gilbert, whose academic interests include wildlife management, environmental studies and natural resources science, is worried about the health impact of the 2.4Ghz radio waves used by wireless networks
Last year he decided to adopt the precautionary principle and refused to allow wi-fi in those areas that have what he calls "hard wire connectivity" until it is proved to be safe.
Mr Gilbert believes that "microwave radiation in the frequency range of wi-fi has been shown to increase permeability of the blood-brain barrier, cause behavioural changes, alter cognitive functions, activate a stress response, interfere with brain waves, cell growth, cell communication, calcium ion balance, etc., and cause single and double strand DNA breaks".
Unfortunately the science says he is wrong, and his students are suffering as a result.
Smog talk
While the heating effects of high exposures to electromagnetic radiation can be damaging, the power levels of wireless connections are much lower than the microwave ovens and mobile phones which share the frequency range, and treating them in the same way is the worst sort of scaremongering.
Yet Mr Gilbert is not alone.
In 2003 parents sued a primary school in Chicago because it had dared to provide children with easy access to computing resources over a wireless network.
And there are a number of pressure groups, campaigning organisations and ill-informed individuals who believe that wireless networks pose a threat to health and want to see them closed down.
Now it seems they have been joined by the editor of the UK newspaper the Independent on Sunday, which this weekend filled its front page with a call for research into the "electronic smog" that is permeating the nation's schools and damaging growing children's' brains.
An accompanying editorial with the even-handed headline "high-tech horrors" called for an official inquiry, while the article outlining the perceived dangers asked "Is the wi-fi revolution a health time bomb?"
The answer, of course, is "no".
That will not stop the newspaper stoking up a wave of opposition to one of the most liberating technologies to have come out of the hi-tech revolution, limiting children's access to networked computers at schools and even blocking plans to develop municipal wireless networks in our towns and cities.
If the journalists were really concerned about the dangers of radio frequency electromagnetic radiation on the sensitive brains of the young, they should be calling for the closure of TV and radio transmission towers rather than asking us to turn off our wi-fi laptops.
The modulated frequencies that carry Radio 4 and ITV into our homes are just as powerful as the wireless networks, and a lot more pervasive.
And my wireless network is only carrying data when I'm online, while Radio 3 burbles all day long, possibly exciting electrons in my brain and causing headaches.
Then there is the danger from photons of visible light streaming down onto us as we work, since these carry more energy than microwaves and could surely do more damage.
Perhaps we should demand that our children work in the dark.
Test programme
The fuss over wi-fi is the latest manifestation of a general worry about electromagnetic radiation, one whose concerns have ranged over the years from the fields around power transmission lines to the radiation emitted by computer monitors to the microwaves put out by mobile phones.
Campaigners are often supported by those who claim to be so sensitive to electromagnetic radiation that they cannot bear to have a radio turned on in the same room because the fields affect their brains, or those who claim that using a mobile phone gives them headaches.
Unfortunately studies like that of James Rubin from the Institute of Psychiatry indicate that such people are just as likely to get a headache when they believe there is a phone signal present even if it is in fact absent, and other research into electromagnetic sensitivity is equally negative.
There is no evidence that electromagnetic radiation at radio frequencies, where the energy levels are too low to dislodge electrons and affect molecular bonding, can cause health effects except by heating tissues.
While those who want to limit the use of wi-fi argue that they need evidence that is it safe, the problem with trying to prove that something is safe is that you can't.
Karl Popper, the great philosopher of science, helped us to understand that science is about falsification, about setting up hypotheses and theories and proving them wrong, because you can never prove them right.
Any theory can be overturned by new evidence, and any claim that wireless networks are completely safe could be thrown out tomorrow if we find good evidence that it isn't.
We may come up with a hitherto unsuspected mechanism that explains a previously disregarded effect, or the evidence may be statistical and require detailed investigation.
Were that to happen we should take it seriously, but it has not happened and there is no reason to believe it will.
The precautionary principle, of avoiding exposure to unnecessary risk, does not apply here because there is no known mechanism by which wireless networks could cause damage.
We have a sound model of the interaction between electromagnetic radiation and organic matter that gives us little reason to believe that there will be any dangers.
For William Stewart, chairman of the Health Protection Agency and a former chief scientific adviser to the Government, to argue for an investigation on the basis of no real evidence that there is an effect, and in the absence of any plausible physical mechanism, is indefensible.
Cellphones heat the brain and could cause problems. Wi-fi doesn't, and it is safe. My daughter is sitting here as I write, her new wireless laptop beside her, and I'm a lot more worried about the damage she would do if she dropped it on her foot than I am about the impact of the low power radio waves it emits.
Bill Thompson is an independent journalist and regular commentator on the BBC World Service programme Digital Planet.
http://news.bbc.co.uk/go/pr/fr/-/2/h...gy/6583815.stm
Wireless: Case of the Disappearing Bees Creates a Buzz About Cellphones
Eric Sylvers
The headlines were catchy, the subject compelling and, in some cases, the newspapers well respected.
"Cellphones linked to honeybee deaths." "To bee or not to be near mobile phones." "German study links cellphones to drop in honey bee population; Radiation said to interfere with homing ability." "Are mobile phones wiping out our bees? Scientists claim radiation from handsets are to blame for mysterious 'colony collapse' of bees."
All rather dire if you try to imagine a world without honey and especially if you happen to have read a quote that has been attributed to Albert Einstein saying that if bees were to disappear, the human race would follow suit four years later because of the important role bees play in pollinating plants.
The bee story had an extra appeal for those people who use their cellphones rather tentatively because they think the privilege to speak on the move may be frying their brain cells one by one. So now, if the headlines are to be believed, we learn that our cellphone and those long calls from mom where she refuses every attempt to cut short the conversation not only are going to lead to our demise, they are killing millions of bees.
Good story for sure, except that the study in question had nothing to do with mobile phones and was actually investigating the influence of electromagnetic fields, especially those used by cordless phones that work on fixed-line networks, on the learning ability of bees. The small study, according to the researchers who carried it out too small for the results to be considered significant, found that the electromagnetic fields similar to those used by cordless phones may interrupt the innate ability of bees to find the way back to their hive.
Those searching for answers for the recent disappearance of millions of bees in the United States - what researchers are calling colony collapse disorder - jumped on the possible explanation though there was one particular, cellphones and cordless phones emit different types of radiation and what you learn studying one type is not necessarily significant to the other, according to the researchers.
"We cannot explain the CCD-phenomenon itself and want to keep from speculation in this case," Jochen Kuhn, a professor in the physics department at the University of Koblenz-Landau in Germany who co-authored the bee study, wrote in an e-mail message. "Our studies cannot indicate that electromagnetic radiation is a cause of CCD."
While beekeepers consider it normal to lose about 20 percent of their bees in the off-season while the bees are hibernating, it has been reported that recent U.S. losses have ranged from 30 to 60 percent on the West Coast to as much as 70 percent in parts of the East Coast and Texas. The bees simply disappear from their hives, apparently having gone one last time in search of pollen and nectar, only never to return.
"If the Americans are looking for an explanation for colony collapse disorder, perhaps they should look at herbicides, pesticides and they should especially think about genetically modified drops," said Stefan Kimmel, a graduate student who co-authored the study last year with Kuhn and other professors.
The speculation about the bees and cellphones heightened when reports that colony collapse disorder had reached Britain and several other European countries. The British Department for Environment, Food and Rural Affairs squashed speculation regarding Britain. The mortality rate among bees has been 22 percent so far this year in Britain, compared with 15 percent last year, though the results are not yet significant because only 2,000 colonies have been inspected out of about 25,000, said Abbie Sampson, a senior press officer with the DEFRA.
"It's not my fault if people misinterpret our data," said Kimmel. "Ever since The Independent wrote their article, for which they never called or wrote to us, none of us have been able to do any of our work because all our time has been spent in phone calls and e-mails trying to set things straight. This is a horror story for every researcher to have your study reduced to this. Now we are trying to force things back to normal."
http://www.iht.com/articles/2007/04/...wireless23.php