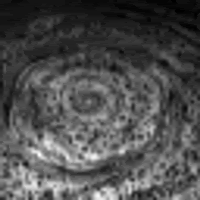 Saturn's South Pole.
NASA imagery
Potentially "catastrophic" says space agency
Jackson Pratts, AFDNews
According to sources deep within NASA, there is a massive bolt running straight through the middle of the planet Saturn – and it's unscrewing. The nut at the bottom holding Saturn's two huge halves together is about 25,000 kilometers wide and began turning after undergoing multiple freeze-thaw cycles over several millennia. If it does work free it will spell doom for the gassy orb, which was quickly pulled together billions of years ago during a timesaving maneuver at the dawn of the Universe.
Experts say the preferable way to build planets like Saturn is by the slow agglomeration of tiny bits of frozen gas over eons, since this is the most stable method, but the mysterious Master's Guild and their shadowy Genesis Group, whom some surmise are responsible for the Universe's physical design, have upon occasion skipped this important step. "If they're doing a quick build-out they'll use these colossal magnetic containers to get a solar system up fast, but it's a gamble," says Doctor Erich von Däniken, Jr., a Fellow at the Dutch Institute of Interplanetary Machinations (DIIM). The controversial researcher says it's a timesaver albeit one that can lead to continuing maintenance issues. "Sure it's fast but sometimes the planets can loosen and they have to go back and tighten them up," observed the DIIM professor, adding somewhat ominously that "It's such a pain they've been known to skip it."
Long Month
The problem now is the so-called "Summer Constant." It's basically mid-August in this part of the galaxy's spiral arm, and local Guild Members are on vacation.
Physicists privately acknowledge long galactic months mean August vacations can last fifteen million Earth years or more, and with no indication Group workers are planning to come back early to avert a potential crisis the situation is becoming dire, and not just for Saturn. If the planet does unscrew it would probably mean disaster for its neighbors as well, including perhaps the Earth itself.
"Almost nobody wants to see a big gassy chunk of Saturn take out Belgium obviously so we're looking at some proposals," said the official. Since no one knows exactly when this endless-summer break ends, asking the Guild for help would be an obvious next move, but that is apparently out of the question. "These are very large, very powerful entities and you have no idea how intensely they party. They can get really pissy if their vacation is interrupted," admitted the source after insisting on anonymity. "Believe me nobody wants that."
Others are not so sure. "Trust me," said von Däniken, Jr., "They're pulling out the stops to find these guys. In a sense the entire American space program has been a bid for their attention."
The NASA official did confirm that the space agency is pondering a fix of it's own but conceded there were no easy answers. "Maybe a few billion gallons of loktite or something until the Guild comes back, who knows? We're open to suggestions. We just don't have a torque wrench big enough for this job."
As to why they skimped on construction in the first place, most experts say it's now become clear the Guild spares no expense for important planetary projects at the "good end" of a rotating spiral arm and just throws up some junk at the other end for balance.
"I guess you could say we're the galaxy's ballast," sighed the official.