Since 2002
Volume VIII, Issue Number I
"My decision to stop iPhone development has had everything to do with Apple's policies. I respect their right to manage their platform however they want, however I am philosophically opposed to the existence of their review process. I am very concerned that they are setting a horrible precedent for other software platforms, and soon gatekeepers will start infesting the lives of every software developer."
– Joe Hewitt
"This is as bad as I've ever seen, folks. It's a declaration of war by the entertainment industry and their captured regulators against the principles of free speech, privacy, freedom of assembly, the presumption of innocence, and competition."
– Cory Doctorow
Cache and Carry
I was listening to a CBS
Flash Internet station
in September. Something I'd been doing with my Opera browser since the summer. Just for kicks I opened the cache (C:\Documents and Settings\SprattsJ\Local Settings\Application Data\Opera\Opera\cache) and moved some files to another player. Not that I was expecting much.
Until last year Opera's cache included file endings (which looked something like opr088LY.
xyz
), making it simple to pull up pictures, mp3s, video files and games, but no more. By version 8 or 9 they had joined other browser makers and eliminated the endings, and what had been another in a long line of good reasons for using Opera as well. Now they're just indeterminate files like opr088LY.
So when I dumped these mysterious little units into Winamp I didn't think they'd play. But they did. Of the thousand files loaded into Winamp, seven hundred worked. When I put them into Media Player Classic, they
all
worked. Bit rates varied but they all sounded consistent and punchy, due probably to the Orban processing the station uses.
About 15 new files came in each hour I streamed the station. So I did, running it every day from 8 am till midnight, until the empty space on my drive filled with 6500 tracks. After analyzing them with a free duplicate-file eliminator this week I wound up with 2700 unique songs. Then I made a playlist and randomized it for variety. Verdict? Sounds just like the station. Identical actually, without the breaks or announcements.
Next I gave GrooveShark a spin. I saw a poll on the most beautiful songs at a bulletin board. A reader
streamed
a few dozen submissions. I played it yesterday. When it ended I looked in the Opera cache and there they were, all thirty-nine of them. I moved them to a new folder called Most Beautiful and this is what I got:
opr016P5
opr016QY
opr016T8
opr016TC
opr016TI
opr016TN
opr016TS
opr016TV
opr016TZ
opr016U3
opr016UP
opr016V1
opr016V4
opr016V8
opr016VG
opr016VM
opr016VP
opr016VS
opr016VW
opr016VZ
opr016W4
opr016W9
opr016WB
opr016WG
opr016WK
opr016WP
opr016WT
opr016WX
opr016X0
opr016X2
opr016X6
opr016X8
opr016XD
opr016XH
opr016XK
opr016XP
opr016XS
opr016XW
opr016XZ
Pretty perplexing, right? But wait. I dragged them into my player, removed a few files I didn't want, added a couple I did.
This is how Winamp then showed the very same file group:
1. Aphex Twin - Flim (2:53)
2. Beethoven - Moonlight Sonata (6:50)
3. Eva Cassidy - Over the Rainbow (4:59)
4. Jeff Buckley - Hallelujah (Grace) (6:55)
5. Pink Floyd - Wish You Were Here (5:34)
6. Sigur Rós - Starálfur (6:46)
7. Radiohead - Exit Music (For a Film) (4:24)
8. Beatles - In My Life (2:27)
9. Imogen Heap - Hide And Seek (4:28)
10. Debussy - Clair de lune (4:53)
11. New York Philharmonic;Leonard Bernstein - Adagio for Strings from the String Quartet, Op. 11 (Instrumental) (9:58)
12. The Smiths - There Is a Light That Never Goes Out (4:02)
13. Sufjan Stevens - John Wayne Gacy, Jr. (3:19)
14. Iron And Wine - Naked As We Came (2:32)
15. Moby - Porcelain (4:01)
16. Neutral Milk Hotel - In the Aeroplane Over the Sea (3:22)
17. Massive Attack - Teardrop (5:30)
18. Beethoven - 9Th Symphony (11:20)
19. Pink Floyd - The Great Gig in the Sky (4:44)
20. Flaming Lips - Do You Realize?? (3:32)
21. Neutral Milk Hotel - Oh Comely (8:18)
22. Sufjan Stevens - Casimir Pulaski Day (5:54)
23. Wilhelm Kempff - Piano Sonata #17 in D minor "The Tempest", Op. 31 No. 2: 3. Allegretto (7:17)
24. Elliott Smith - Waltz #2 (XO) (4:40)
25. Okkervil River - Black (4:39)
26. Fleetwood Mac - Landslide (3:18)
27. Eva Cassidy - Fields of Gold (4:42)
28. The Beach Boys – Caroline, No (2:17)
29. Radiohead - Everything in Its Right Place (4:11)
30. Erik Satie - Gnossienne no. 1 (3:49)
31. Fleet Foxes - Drops In The River (4:13)
32. Ludovico Einaudi - nuvole bianche (5:57)
33. Original Soundtrack - Halcyon and On and On (9:24)
34. Bjork - Unison (6:47)
35. Deutsche Opera Berlin - The Marriage Of Figaro: 'duettino - Sull 'aria' (3:33)
36. Led Zeppelin - Stairway to Heaven (8:03)
37. Jonathan Edwards - Sometimes (2:47)
38. Delibes - Lakme (Flower Duet) (6:14)
Presto
.
As you can see the ID3 tags survived the process and Winamp displayed them properly. Apparently as long as the stream had them it will.
I created a playlist and dropped it into MPC, merged it with the original 2700 song file and randomized it again. Simple.
Finally I put the whole thing on a thumb drive and stuck it in a small laptop I carry around. Outside, in the car etc. It turned out to be a very easy way to clone my favorite station and free it from the net.
Enjoy,
Jack
November 21st, 2009
Pirate Bay Retires World's Largest BitTorrent Tracker
David Kravets
Operators of The Pirate Bay shuttered the site's BitTorrent tracker on Tuesday, six years after it was founded.
Trackers — the servers that bootstrap each BitTorrent download — are no longer necessary with enhancements like DHT and PEX that allow peers to locate one another without accessing a central server, site operators wrote in the Bay's blog.
"Now that the decentralized system for finding peers is so well developed, TPB has decided that there is no need to run a tracker anymore, so it will remain down!" reads the announcement. "It's the end of an era."
"This is what we consider to be the future," the Bay wrote. "Faster and more stability for the users because there is no central point to rely upon."
The changeover, first reported by TorrentFreak, does not decommission Sweden's The Pirate Bay, whose four co-founders face a year in prison for facilitating copyright infringement. The site continues to host and index torrent files in a more streamlined fashion. But with its tracker gone, The Pirate Bay is no longer computationally involved in each downloader's transaction.
Speculation in the Swedish press suggests that the change might be related to an October decision by a court in that country requiring the site to either shut down, or remove all unauthorized copyrighted works. The Stockholm district court said two of the site's four co-founders, Gottfrid Svartholm Warg and Fredrik Neij would be fined up to $73,000 if the Bay failed to comply.
On appeal, Svartholm Warg recently argued that the proposed $73,000 fine should be nullified if the tracker is shut down, according to Swedish media.
Another co-founder, Peter Sunde, said in a Twitter post that proposed fines had nothing to do with the move. "#tpb closed the tracker because new technology has evolved to not need it. Less problems!"
The October ruling came months after the four co-founders were found guilty in Stockholm of facilitating copyright infringement, were fined millions and ordered jailed for a year — all of which is pending appeal. Tuesday's tracker action does not affect those convictions.
Monique Wadsted, a Motion Picture Association attorney who helped prosecute the four co-defendants in a joint civil-criminal trial, said removing a tracker does not absolve The Pirate Bay.
"The prohibition relates to various different things and it's not enough to just remove one of them," she told Swedish media.
http://www.wired.com/threatlevel/200...tters-tracker/
Scrapping Tracker May Negate Pirate Bay Fines
The Pirate Bay file sharing site has decided to shut down the tracker that allows users to share digital files with one another in a move that could negate the court ordered fines facing two of the men behind the site.
According to The Pirate Bay's blog, the technological development of de-centralized peer to peer networks has rendered the site's tracker unnecessary, as file sharers can now come in contact with one another without the BitTorrent technology featured on The Pirate Bay.
"Now that the decentralized system for finding peers is so well developed, TPB has decided that there is no need to run a tracker anymore," reads the Pirate Bay's blog.
"It's the end of an era."
The decision to shut down the trackers may have an impact on the ruling by a Stockholm court against two of the men behind the Pirate Bay.
Gottfrid Svartholm Warg and Fredrik Neij are at risk of being fined 500,000 kronor ($73,400) each for their role in the operation of The Pirate Bay, according to a ruling issued by the Stockholm District Court in late October.
One of the prohibited functions cited in the ruling is the site's tracker. From a legal perspective, the Pirate Bay's decision to shut down the tracker means Svartholm Warg and Neij have abided by the court's ruling.
But according to former Pirate Bay spokesperson Peter Sunde, the decision to shut down the tracker wasn't made with the court's ruling in mind.
"Not at all, this is for the good of the entire network. It's to transition to a decentralized method. The tracker isn't needed to use a torrent any longer and this is less vulnerable," Sunde the TT news agency.
"But at the same time it's significant that there isn't anyone who is legally responsible anymore, besides those who actually file share. The scapegoat has been removed."
Svartholm Warg also claims in his appeal of the ruling that the fines are redundant if the tracker is shut down.
Kristoffer Schollin, a lecturer in intellectual property law at the University of Gothenburg, reckons there may be some merit to Svartholm Warg's arguments.
"If you interpret the district court's ruling to mean that there are several components to the fines, all of which are necessary, then this will affect the order to pay the fines," Schollin told TT.
But this view is not shared by Monique Wadsted, a lawyer representing the interests of major US film companies such as Disney and Sony Pictures.
"The prohibition relates to various different things and it's not enough to just remove one of them. They have to stop all those things if they are to be in compliance with the district court's prohibition ruling," she told TT.
http://www.thelocal.se/23310/2009111...tm_content=123
Studios Sue Swedish ISP, Demand Closure of OpenBitTorrent
Mark Hefflinger
Several Hollywood movie studios have filed suit against a Swedish ISP that is hosting OpenBitTorrent, an independent BitTorrent file-sharing tracker site that was launched in the wake of the The Pirate Bay's announced sale to Global Gaming Factory, TorrentFreak reported. The studios sued hosting provider Portlane, demanding that it shutter the OpenBitTorrent website.
"OpenBitTorrent is used for file sharing, and we suspect that it is the Pirate Bay tracker with a new name. It is added by default on all of the torrent tracker files on Pirate Bay," Hollywood lawyer Monique Wadsted told TorrentFreak.
The company has previously fought similar demands to shutter BitTorrent sites brought by record label trade group IFPI.
"OpenBitTorrent is not linked to a torrent site where users can download or search for torrents," TorrentFreak noted.
"The tracker is merely assisting in connecting peers with each other based on a hash value, without having any control over, or knowledge of what is being tracked."
http://www.dmwmedia.com/news/2009/11...openbittorrent
Spain Codifies 'The Right to Broadband'
Spanish citizens will have a legal right from 2011 to be able to buy broadband internet of at least one megabyte per second at a regulated price wherever they live, the country's industry minister said on Tuesday.
The telecoms operator holding the so-called "universal service" contract would have to guarantee it could offer "reasonably" priced broadband throughout Spain, said Miguel Sebastian in a statement sent to media.
Former state monopoly Telefonica has always held the universal contract aimed at protecting consumers in poorly populated areas from being cut off in cases where operators would otherwise consider providing the service unprofitable.
The service also subsidises telecoms to disabled users.
Until now, the "universal service" has only guaranteed internet via telephone line, fixed telephone, directory service and telephone booths.
Earlier this month, Spain's telecoms regulator, the CMT, proposed that Telefonica, Vodafone and Orange foot the cost of providing the universal service for 2006, which it judged had cost 75.34 million euros, with Telefonica paying 71 percent of the costs.
Adding internet to the universal service would increase the future cost of the universal service.
The yearly calculations of the cost of the service take about two years to complete.
Consumer group FACUA said it welcomed that broadband internet would finally be a right but said the speed was insufficient and the measure should be introduced before 2011.
"FACUA calls on the minister to speed up the measure, increase the speed and to set a reasonable price," the organisation said in a statement.
(Reporting by Sarah Morris)
http://www.pcmag.com/article2/0,2817,2356014,00.asp
Leaked UK Government Plan to Create "Pirate Finder General" with Power to Appoint Militias, Create Laws
Cory Doctorow
A source close to the British Labour Government has just given me reliable information about the most radical copyright proposal I've ever seen.
Secretary of State Peter Mandelson is planning to introduce changes to the Digital Economy Bill now under debate in Parliament. These changes will give the Secretary of State (Mandelson -- or his successor in the next government) the power to make "secondary legislation" (legislation that is passed without debate) to amend the provisions of Copyright, Designs and Patents Act (1988).
What that means is that an unelected official would have the power to do anything without Parliamentary oversight or debate, provided it was done in the name of protecting copyright. Mandelson elaborates on this, giving three reasons for his proposal:
1. The Secretary of State would get the power to create new remedies for online infringements (for example, he could create jail terms for file-sharing, or create a "three-strikes" plan that costs entire families their internet access if any member stands accused of infringement)
2. The Secretary of State would get the power to create procedures to "confer rights" for the purposes of protecting rightsholders from online infringement. (for example, record labels and movie studios can be given investigative and enforcement powers that allow them to compel ISPs, libraries, companies and schools to turn over personal information about Internet users, and to order those companies to disconnect users, remove websites, block URLs, etc)
3. The Secretary of State would get the power to "impose such duties, powers or functions on any person as may be specified in connection with facilitating online infringement" (for example, ISPs could be forced to spy on their users, or to have copyright lawyers examine every piece of user-generated content before it goes live; also, copyright "militias" can be formed with the power to police copyright on the web)
Mandelson is also gunning for sites like YouSendIt and other services that allow you to easily transfer large files back and forth privately (I use YouSendIt to send podcasts back and forth to my sound-editor during production). Like Viacom, he's hoping to force them to turn off any feature that allows users to keep their uploads private, since privacy flags can be used to keep infringing files out of sight of copyright enforcers.
This is as bad as I've ever seen, folks. It's a declaration of war by the entertainment industry and their captured regulators against the principles of free speech, privacy, freedom of assembly, the presumption of innocence, and competition.
This proposal creates the office of Pirate-Finder General, with unlimited power to appoint militias who are above the law, who can pry into every corner of your life, who can disconnect you from your family, job, education and government, who can fine you or put you in jail.
More to follow, I'm sure, once Open Rights Group and other activist organizations get working on this. In the meantime, tell every Briton you know. If we can't stop this, it's beginning of the end for the net in Britain.
http://www.boingboing.net/2009/11/19...aked-uk-g.html
Britain's New Internet Law -- as Bad as Everyone's Been Saying, and Worse. Much, Much Worse.
Cory Doctorow
The British government has brought down its long-awaited Digital Economy Bill, and it's perfectly useless and terrible. It consists almost entirely of penalties for people who do things that upset the entertainment industry (including the "three-strikes" rule that allows your entire family to be cut off from the net if anyone who lives in your house is accused of copyright infringement, without proof or evidence or trial), as well as a plan to beat the hell out of the video-game industry with a new, even dumber rating system (why is it acceptable for the government to declare that some forms of artwork have to be mandatorily labelled as to their suitability for kids? And why is it only some media? Why not paintings? Why not novels? Why not modern dance or ballet or opera?).
So it's bad. £50,000 fines if someone in your house is accused of filesharing. A duty on ISPs to spy on all their customers in case they find something that would help the record or film industry sue them (ISPs who refuse to cooperate can be fined £250,000).
But that's just for starters. The real meat is in the story we broke yesterday: Peter Mandelson, the unelected Business Secretary, would have to power to make up as many new penalties and enforcement systems as he likes. And he says he's planning to appoint private militias financed by rightsholder groups who will have the power to kick you off the internet, spy on your use of the network, demand the removal of files or the blocking of websites, and Mandelson will have the power to invent any penalty, including jail time, for any transgression he deems you are guilty of. And of course, Mandelson's successor in the next government would also have this power.
What isn't in there? Anything about stimulating the actual digital economy. Nothing about ensuring that broadband is cheap, fast and neutral. Nothing about getting Britain's poorest connected to the net. Nothing about ensuring that copyright rules get out of the way of entrepreneurship and the freedom to create new things. Nothing to ensure that schoolkids get the best tools in the world to create with, and can freely use the publicly funded media -- BBC, Channel 4, BFI, Arts Council grantees -- to make new media and so grow up to turn Britain into a powerhouse of tech-savvy creators.
Lobby organisation The Open Rights Group is urging people to contact their MP to oppose the plans.
"This plan won't stop copyright infringement and with a simple accusation could see you and your family disconnected from the internet - unable to engage in everyday activities like shopping and socialising," it said.
The government will also introduce age ratings on all boxed video games aimed at children aged 12 or over.
There is, however, little detail in the bill on how the government will stimulate broadband infrastructure.
http://www.boingboing.net/2009/11/20...w-interne.html
U.K. Government Lays Out Digital Plans
BBC
The government has laid out its plans to deal with illegal file-sharers as part of its Digital Economy Bill, outlined in the Queen's Speech.
It includes the power to disconnect persistent pirates.
But its controversial broadband tax is not mentioned and will be launched as part of the Finance Bill, due next year.
Other elements of the bill include a shake-up of the radio spectrum and a classification system for video games.
The bill will, according to the government, "ensure communications infrastructure that is fit for the digital age, supports future economic growth, delivers competitive communications and enhances public service broadcasting".
Digital Economy Bill
# Legal framework for tackling copyright infringement via education and technical measure
# Oftcom given powers to appoint and fund independently funded news consortia
# New duties for Ofcom to assess the UK's communications infrastructure every two years
# Modernising spectrum to increase investment in mobile broadband
# Framework for the move to digital radio switchover by 2015
# Updating Channel 4 functions to encompass public service content, on TV and online
# Age ratings compulsory for all boxed video games for those over 12 years
The plans for tackling illegal file-sharing, detailed earlier this year, will be a two-stage process. Initially the government will aim to educate consumers and, those identified as downloading illegal content, will be sent letters.
If this proves insufficient, technical measures which will include the powers to disconnect persistent pirates, will be introduced in the spring of 2011.
Chief executive of music industry body the BPI, Geoff Taylor, welcomed the bill.
"It is good news for fans of British music that government is now introducing legislation to tackle illegal downloading. The creative sector in the UK needs new measures implemented urgently that address this problem for now and the future if the UK is to lead Europe in giving consumers innovative and high quality digital entertainment," he said.
But not everyone believes the plans are a good idea.
Lobby organisation The Open Rights Group is urging people to contact their MP to oppose the plans.
Age ratings
"This plan won't stop copyright infringement and with a simple accusation could see you and your family disconnected from the internet - unable to engage in everyday activities like shopping and socialising," it said.
The government will also introduce age ratings on all boxed video games aimed at children aged 12 or over.
There is, however, little detail in the bill on how the government will stimulate broadband infrastructure.
The Digital Economy Bill represents the culmination of the work done by Lord Carter over the summer to set out a strategy for how the UK can compete in the digital age.
Its plans to cut off file-sharers have been hugely controversial and some believe the government could find itself at odds with European legislation which aims to protect net users from disconnection.
Considering the bill is about stimulating the digital economy there is little detail about broadband infrastructure in the bill.
Given that the UK has languished mid-table at best when it comes to its global broadband performance, this might surprise some commentators it does not form a more key part of a Digital Economy Bill.
The controversial broadband tax will have to wait until the Budget to get its chance to become law.
It is likely to have a tough time as the Tories have already opposed it.
According to the Department for Business, Innovation and Skills, there will be more details on the future of broadband networks when the bill is published on Friday.
The plan to introduce universal broadband of at least 2 megabits per second is not included.
"It does not need legislation," a spokeswoman for the Department for Business, Innovation and Skills said.
Some £170m has been set aside from the digital switch-over budget to help fund the so-called universal service commitment for broadband.
The most controversial part of the Digital Britain report was a broadband tax to fund next-generation networks. This will form part of the Finance Bill, due after the 2010 budget.
The tax will see the government collect an extra 50p per month for all households with a land-line telephone in order to create a next-generation broadband fund for areas of the country deemed uneconomic for other firms to connect.
At a speech at the NextGen broadband conference in Leeds yesterday, Digital Britain minister Stephen Timms reiterated his commitment for next-generation broadband to reach 90% of the population by 2017.
"The UK is on track to seeing half of households having a choice of next-generation service providers within the next three years. The challenge today is to reach more than two-thirds of the population," he said.
http://news.bbc.co.uk/go/pr/fr/-/2/h...gy/8366255.stm
New Digital Bill Unlikely to Become Law Before Election, Warn Tories
Patrick Foster
Sweeping reforms to combat internet piracy, secure the future of public service broadcasting and extend digital radio are unlikely to pass into law, the Conservatives have warned.
Jeremy Hunt, the Shadow Culture Secretary, said that the Government would be "cutting it very fine" by trying to get the Digital Economy Bill through Parliament before an election. He did not think that the legislation would pass, even with Tory support.
The Conservatives back most of the proposals, which include disconnecting persistent internet pirates and facilitating the launch of services such as Google Books. But Mr Hunt said the party still had strong opposition to sections of the Bill that proposed using public money to fund regional news on commercial broadcasters.
Ministers announced this week that they had postponed until 2012 a decision about whether to use a £130 million portion of the television licence fee to pay for regional news on ITV, which has suffered a big downturn in advertising.
Although this would allow a future Tory government to scotch the plans, the Bill will still grant Ofcom, the communications regulator, the power to use the licence fee or other public funds to pay for bulletins if directed by a government in future.
Mr Hunt told The Times: "The Government is cutting it very fine if it is going to get this Bill through before an election. If it was really serious about sorting out issues like piracy we would have seen some action much sooner.
"We support much of what the Bill proposes but I'm not sure even our help will get the Bill passed. It would have a much better chance if proposals to use public cash to fund regional news were dropped."
Stephen Timms, Minister for Digital Britain, will publish the slimmed-down Bill, which runs to 49 clauses, this morning. It will include a sliding scale of punishments for persistent internet pirates that could mean offenders temporarily being cut off.
The plans will also revise copyright law to make it possible for companies such as Google to exploit books and songs when the copyright holder cannot be traced. These so-called orphan works will be covered by new "extended collective licences", where royalties will be held in escrow until their authors are found.
Google plans to launch its book service in the US, where it is facing legal opposition, partly because of the difficulty in tracing authors of orphan works. But the Digital Economy Bill would remove that hurdle in the UK.
A Google spokesman said: "We hope that this orphan works legislation will open up these works for new generations, as well as creating a new means for copyright holders to make money from the dissemination of their works."
Other sections of the legislation will see Channel 4's remit widened to give it an obligation to develop digital revenue streams, as well as modifying licences held by local radio stations to allow them to form new services.
The Bill will also formally adopt the Pan-European Game Information (PEGI) age rating system for computer games, and will make it a legal requirement for games that are not suitable for under-12s to carry a rating. There are also plans to create reserve powers to regulate domain registries that oversee the .uk internet addresses, if self-regulation fails.
Ofcom, the media watchdog, will also be given new responsibilities to encourage investment in the digital economy, to further the interests of consumers, as well as reporting to the Government every two years on the state of the digital infrastructure and warning of any imminent threats.
The Bill will also contain a controversial last-minute amendment that will give ministers the ability to change copyright law to combat file sharing. The clause will grant ministers the right to update the Copyright, Designs and Patents Act of 1988 in response to new technlogies as they appear, which has led to accusations from online campaigners that it would give future governments too much ammunition against pirates.
http://www.timesonline.co.uk/tol/new...cle6924246.ece
House Lawmakers Push Ban on Peer-to-Peer Software
Richard Lardner
Stung by an embarrassing electronic leak last month revealing ethics investigations into dozens of lawmakers, Congress moved Tuesday to prohibit federal employees from using the same type of Internet file-sharing software blamed for the disclosure.
The Secure Federal File Sharing Act, introduced in the House, would bar government employees and contractors from downloading, installing or using so-called peer-to-peer file sharing software such as Limewire without official approval. The bill also would require the White House to develop rules for employees and contractors working on home or personal computers.
The software is popular among computer users trading music, movies and other files over the Internet, often in violation of copyright owners. The underpinning technology also makes other information on a person's computer vulnerable to being downloaded, especially if the software isn't configured properly.
A House ethics committee report outlining inquiries involving dozens of members of Congress leaked onto the Internet after a junior committee staff member saved it on the hard drive of a home computer. The staff member, who had peer-to-peer software, didn't realize the file was unprotected but was subsequently fired anyway.
The secret report detailed investigations that included financial dealings, travel and campaign donations.
The White House Office of Management and Budget advised federal agencies in 2004 not to use peer-to-peer software. Rep. Edolphus Towns, D-N.Y., the new bill's sponsor, said putting the prohibition in federal law gives it much greater weight.
"We can no longer ignore the threat to sensitive government information that insecure peer-to-peer networks pose," said Towns, chairman of the House Oversight and Government Reform Committee. "Voluntary self-regulations have failed so now is the time for Congress to act."
Critics of the software, including the entertainment industry, have complained that personal data, including Social Security numbers, medical records and tax returns, are being unwittingly shared because users are unaware of how the programs work. But national security information, such as details about the electronics in the president's Marine One helicopter, has also been breached.
The entertainment industry long has sought controls on peer-to-peer programs to block the improper or illegal exchange of music. In October, the Recording Industry Association of America predicted the leak of the ethics panel report would be "a powerful catalyst to enact real reforms to protect consumers."
http://www.washingtonpost.com/wp-dyn...111703300.html
Leaked Documents Reveal Anti-Piracy Cash Operation
enigmax
A source inside lawyers Davenport Lyons and their partner DigiProtect has leaked sensitive documents detailing how the companies generated profit from porn. They show how the pair extracted money from alleged file-sharers, how the revenue was split and how individuals were ranked to decide who to chase and who to leave alone.
In 2007, UK lawyers Davenport Lyons (DL) got into the lucrative business of threatening to sue file-sharers. Their clients used anti-piracy tracking companies to harvest the IP addresses of many thousands of users allegedly sharing video games. This information was used to get court orders which forced ISPs to hand over their details.
DL then wrote to the individuals demanding several hundred pounds to make the threat of a lawsuit disappear. Some paid up, but many did not, and the only cases DL took to court were against those who didn't defend themselves.
Generating revenue from porn proves controversial
Then the law firm overplayed its hand and got into bed with DigiProtect, the German piracy exploitation outfit with a catalog of hardcore porn titles to its name. The rights were signed over to the company by the copyright holders so that DigiProtect could use them to generate revenue – lots and lots of revenue.
After mountains of bad publicity, DL withdrew from this business model. In May this year, the exact same scheme reappeared with UK lawyers ACS:Law. TorrentFreak asked company owner Andrew Crossley about the connections between ACS and DL – his reply: "NONE". However, it was crystal clear that there were many links, not least that staff from DL were now working at ACS:Law directly on these cases – known cyber-squatter Terence Tsang as one example.
We've known all along that if those threatened put up a spirited defense and refused to be cowed they were never taken to court, but we had no proof as to the mechanism employed. Then, out of nowhere, months ago someone from inside either Davenport Lyons or DigiProtect leaked lots of sensitive documents to German news outlet Gulli.
Having remained secret until now, the documents made very interesting reading and along with a helping hand from TorrentFreak and armed with the leaked personal details and email addresses of some of the letter recipients, Firebird77 at Gulli was able to confirm the authenticity of the documents.
Document 1 – Ranking alleged infringers in order to decide who to pursue
The first document reveals how the targets are ranked based on an estimation of how likely it is that they will pay up. Each alleged infringer has their details filled in on a form (download
here
from WikiLeaks). The document shows that despite the claims that an IP address alone is irrefutable evidence of an infringement and will lead to being taken to court, the reality is rather different.
Letter recipients are given a ranking based on many parameters. Does the law firm want to continue to pursue the person? What are the chances of success? A zero would mean "no action" up to ten which would mean the respondent is ripe for maximum pressure. One letter recipient hired Michael Coyle at Lawdit Solicitors to defend him and this earned him a "three".
One part of the form is entitled "Circumstances" and this is a very surprising section indeed. Despite the "fact" that the law firms supposedly already have solid evidence of infringement that they say will lead to court action if recipients don't comply, the section seems to show that they make their decisions on who to pursue based on the recipients' personal circumstances.
One circumstance is labeled "impecuniosity", i.e the letter recipient is flat broke. Another is whether the recipient is on state benefits – this is expected to be proven by way of copies of benefit books and/or letters. TorrentFreak has evidence that one gentleman was asked to prove that he was indeed disabled in order to make the claims go away. Other circumstances include whether the recipient is a pensioner, a student or a child.
One other circumstance is an eyebrow-raising "out of jurisdiction" (no rightful claim could be made the against the recipient) along with whether or not the individual was aware of that fact.
The form also lists possible defenses that recipients rely on, including the breach of their wireless router, a virus infected PC, not being at home when the infringement occurred, no knowledge of infringement or the possibility that someone else in the location carried out the infringement.
Document 2 – Letter from lawyer Dr Kornmeier from Kornmeier & Partner to Brian Miller at Davenport Lyons
The 14 page document (
download
from WikiLeaks) details the agreement DigiProtect enters into with rights holders in order to exploit their copyrights for profit.
Included is a section which confirms that the original rights holders sign over the rights to DigiProtect so that they are legally allowed to make the works (hardcore porn movies) publicly available on P2P networks such as BitTorrent. Dr Kornmeier asks: "Does this constitute any problem under UK law?"
According to page 2 of the letter, when the recipient of these letters pay up, the spoils are divided up as follows – 51% to DigiProtect, 37.5% to Davenport Lyons and 11% to DigiRights Solutions. The remaining pages detail the exact business arrangement along with a list of the hundreds of porn movies covered by the agreement.
TorrentFreak discussed the documents with staff at the excellent BeingThreatened.com, a site set up to support and inform those targeted by Davenport Lyons and ACS:Law in the UK.
"These documents confirm what we have long suspected," they told us. "This scheme is not about getting justice for the rightsholders at all; it is there to fill the pockets of companies like DigiProtect by exploiting many innocent people. Everyone with an IP address has reason to be worried about becoming a victim of these exploitative practices, whether they use P2P networks or not."
Indeed, John Stagliano, boss of porn company Evil Angel which also worked with DigiProtect, admitted to earning less than £50 from each infringement and told the BBC the scheme "…was completely misrepresented" to him.
Uk consumer magazine Which? earlier reported Davenport Lyons to the Solicitors Regulatory Authority for alleged "bullying". It will be interesting to see how these documents develop that case.
Thus far just two documents have been made public. Stay tuned for further updates.
http://torrentfreak.com/leaked-docum...ration-091115/
Copyright Battle Comes Home
Eriq Gardner
Over the past six years, the record industry has successfully sued thousands of people in the United States for illegally downloading copyrighted songs. Just this summer, the only two file-sharing cases to go to trial ended in big wins for the industry.
Soon, though, the major labels are going to have a different copyright battle on their hands -- one that will pit them not against those who want to listen to recordings, but those who created them in the first place. Call it the fight over "Funkytown."
The looming problem is the so-called termination rights Congress gave to creators of copyrighted material when it amended the U.S. copyright law in 1976. The rights -- which allow a copyright grant to be terminated after 35 years -- have bedeviled the film and publishing industries lately in cases involving the Superman franchise, John Steinbeck novels and Captain America comic books. Legal observers say those conflicts will pale next to the ones facing the music industry come 2013. That's the first year holders of sound-recording copyrights can take advantage of this provision, which, in turn, makes recordings from 1978 potentially the first to be up for grabs.
"We're going to see huge fights over this issue," says Moses & Singer partner Ross Charap, who represents songwriters, record labels and the licensing arm of the National Music Publishers Association. "Litigation is going to get bloody, and record labels are legitimately very nervous over copyright termination."
One man who may make them nervous is Lee Phillips, a Manatt, Phelps & Phillips name partner whose clients include The Eagles, Journey and Barbra Streisand. Phillips says he and his firm colleagues have begun gathering information about old record contracts and copyright registrations. By the end of the year, he vows, "we'll be sending out termination notices."
That venerable acts like those in Phillips's stable could cause such a headache for the record industry may seem surprising, but it's actually quite logical. After all, album sales are reeling. Market research company NPD Group reports that close to half of all U.S. teens did not buy a single CD last year, while consumers ages 36-50 drove what sales there were. Since the latter group tends to prefer time-tested artists, the major labels have shied away from signing and promoting new acts in favor of relying on already established performers. The prospect that these artists would, as a group, launch a wave of terminations -- and regain control over their lucrative catalogs -- is viewed by many within the industry as a legal "third rail."
No one affiliated with any of the four major record labels -- EMI Group Limited, Sony Music Entertainment, Universal Music Group and Warner Music Group -- would agree to be interviewed on the topic, but numerous sources say they are prepared to take the issue to court. One potential strategy being considered: to claim that sound recordings aren't subject to termination because they were created as "works for hire," making the record companies the legal authors.
Phillips and other lawyers concede that standard recording contracts often classify what's created by an artist for a label as a "work for hire." But, these lawyers say, the same copyright act that created termination rights explicitly defines what qualifies, for copyright purposes, as a work for hire. And sound recordings, these lawyers say, aren't mentioned.
Ten years ago, the Recording Industry Association of America moved to fix that, lobbying for a last-minute provision to the Satellite Home Viewer Improvement Act that amended the work-for-hire rule. After President Bill Clinton signed the law, artists such as Sheryl Crow and Eagles frontman Don Henley reacted angrily. The provision was later repealed, leaving the door open to more squabbling over whether sound recordings are works for hire.
Mitch Glazer, the RIAA's chief lobbyist, says they are, because they are "compilations" as defined by the Copyright Act. Asked whether the RIAA's lobbying for an amended work-for-hire definition in 1999 suggests a concern that this argument won't fly in court, Glazer says, "My guess is that lawyers at record companies were looking to the future and didn't want to argue on 'compilation.' They wanted to be as explicit as possible so even if there's a sense they are covered, why leave argument for otherwise?" Beyond that, Glazer says he expects notices to begin arriving, and for litigation to follow: "My guess is that some sort of negotiation will open up. I don't think it serves anyone's interest to lose in court."
Because copyright law requires those seeking to terminate to notify grantees no more than ten years but at least two years in advance, the clock is ticking. As of now, songwriters and performers -- as well as producers, engineers and anyone else who helped create a song -- can send a notice for songs created between 1978 and 1984. That's where "Funkytown" comes in. Steve Greenberg, who wrote, performed and produced the 1980 disco hit under the name Lipps, Inc., recently sent a termination notice to Universal Music Group, the parent company of Greenberg's original label.
Greenberg's move is likely to be just the first volley in this music war. "This will heat up quickly," says Lee Phillips. And which of his clients will join the fray? "Maybe Barbra Streisand," he says. "We'll be looking into it. Or The Eagles. They are litigious and could be into this sort of thing."
http://www.law.com/jsp/cc/PubArticle...=1202434372952
CISAC Backs Action Against YouTube
Andre Paine
The International Council of Creators of Music (CIAM), part of the global authors' rights body CISAC, has backed legal moves against YouTube/Google in Germany.
Legal proceedings are due to take place at the district court of civil law in Hamburg, following a complaint of violations of copyright and master rights in relation to user-generated content on YouTube. German composer Frank Peterson filed the lawsuit in April 2009, claiming that his music videos and other audiovisual repertoire were used illegally on the site.
In addition to this claim under German civil law, various authors, artists and independent publishers and labels have brought a charge before the public prosecutor's office in Hamburg against the directors of Google, accusing them of continuing commercial infringements of authors' rights, copyright, moral rights and performance and master rights.
In a statement, CIAM said that it "welcomes and wholeheartedly supports these actions by authors in Germany, in order to clarify to what extent in particular the moral rights of music authors have been permanently damaged by the defendants and furthermore whether the responsible directors of Google can be personally called to account for illegal distribution of music on an unprecedented scale."
Those filing the complaints include U.K. soprano Sarah Brightman and Frank Peterson, and German producers Jon Caffery (Die Toten Hosen) and Toni Cottura (Backstreet Boys, Twenty Four Seven, Scatman). A Hamburg-based Google spokesman previously said the claims were "unfounded."
http://www.billboard.biz/bbbiz/conte...84169caf3af94d
YouTube Launches Channel for Citizen Journalists
Paul Bond
Celebrities beware: YouTube is making it even easier for anyone with a camera phone to turn your behavior -- be it mundane or sensational -- into news.
The world's top purveyor of Internet video has launched YouTube Direct, whereby TV and online news editors can obtain video from so-called "citizen journalists" -- and even request such video be shot by amateurs seeking attention.
It's not entirely about celebrities, of course. Many news outlets will be seeking disaster footage, for example, or rowdy behavior at political town hall meetings.
News outlets seeking footage can announce it in a variety of ways, including via call-out videos posted at YouTube. When a YouTube user has video they think will interest the mainstream media, it can make it easy for editors, producers and journalists to contact them.
"News organizations always want to verify the content they use," said Steve Grove, head of news and politics at YouTube.
YouTube Direct isn't a revenue play -- either for YouTube or its users, Grove said. "It's an incentive to upload great video, because of the recognition you'll get from legitimate news organizations," he said.
Testing the service now are Huffington Post, NPR, Politico, the San Francisco Chronicle and a couple of Boston TV stations.
In a blog posting, Grove links to examples of such newsworthy user-generated video: presidential candidate George Allen's "Macaca" reference, video of a 7.8 magnitude earthquake in China and a teacher screaming at and slapping an autistic student.
Separately on Monday, Univision said it would supply Spanish-language TV shows to YouTube from its three networks: Univision, TeleFuture and Galavision.
http://www.reuters.com/article/enter...5AF4QT20091117
Google Makes Concessions on Digital Book Deal
Michael Liedtke
Google will loosen its control over millions of copyright-protected books that will be added to its digital library if a federal judge approves a revised legal settlement addressing the earlier objections of antitrust regulators.
The concessions, filed late Friday in New York federal court, come two months after the U.S. Justice Department balked at Google's original agreement with authors and publishers, warning the arrangement could do more harm than good in the emerging market for electronic books.
Google, the Internet's search leader, is hoping to keep the deal alive with a series of new provisions. Among other things, the modified agreement provides more flexibility to offer discounts on electronics books and promises to make it easier for others to resell access to a digital index of books covered in the settlement.
Copyright holders also would have to give more explicit permission to sell digital book copies if another version is being sold anywhere else in the world.
The changes are just the latest twist in a class-action lawsuit filed against Google four years ago by groups representing the interests of U.S. authors and publishers. The suit alleged that Google's ambition to make digital copies of all the books in the world trampled over their intellectual rights.
Google negotiated a $125 million truce nearly 13 months ago only to have it fall apart as a chorus of critics protested to U.S. District Judge Denny Chin, who must approve the agreement before it takes effect.
Among other complaints, the opposition said the plan would put Google in charge of a literary cartel that could illegally rig the prices of electronic books — a format that is expected to become increasingly popular.
In echoing some of those concerns, the Justice Department advised Chin that the original settlement probably would violate laws set up to preserve competition and protect copyright holders, even if they can't be located.
French and German officials also protested the settlement, arguing that it's so broad that it could infringe on copyrights in their countries.
The revised settlement would apply only to books registered with the U.S. copyright office or published in Canada, the United Kingdom or Australia.
Much of the concern about the settlement has focused on whether it would give Google a monopoly on so-called "orphan works" — out-of-print books that are still protected by copyright but whose writers' whereabouts are unknown.
If the writers or their heirs don't stake a claim to their works, the original settlement called for any money made from the sales of their books to go into a pool that eventually would be shared among the authors and publishers who had stepped forward to work with Google.
The revised settlement will designate an independent party to oversee the financial interests of the orphan books' copyright owners. Proceeds from the sales to orphan books also would be held for 10 years, up from five years in the original agreement.
http://www.siliconvalley.com/news/ci_13786372
Translation Glasses
NEC of Japan has unveiled a pair of hi-tech spectacles that allow wearers to see past language barriers, literally.
The company says it hopes to develop the technology to a point where nothing is ever lost in translation again.
http://www.reuters.com/news/video?vi...6&refresh=true
Library in a Pocket
Motoko Rich and Brad Stone
With Amazon's Kindle, readers can squeeze hundreds of books into a device that is smaller than most hardcovers. For some, that's not small enough.
Many people who want to read electronic books are discovering that they can do so on the smartphones that are already in their pockets — bringing a whole new meaning to "phone book." And they like that they can save the $250 to $350 that they would otherwise spend on yet another gadget.
"These e-readers that cost a lot of money only do one thing," said Keishon Tutt, a 37-year-old pharmacist in Texas who buys 10 to 12 books a month to read on her iPhone, from Apple. "I like to have a multifunctional device. I watch movies and listen to my songs."
Over the last eight months, Amazon, Barnes & Noble and a range of smaller companies have released book-reading software for the iPhone and other mobile devices. One out of every five new applications introduced for the iPhone last month was a book, according to Flurry, a research firm that studies mobile trends.
All of that activity raises a question: Does the future of book reading lie in dedicated devices like the Kindle, or in more versatile gadgets like mobile phones? So far, e-book software for phones does not appear to have cut into demand for single-function e-readers. According to the Codex Group, a consultant to the publishing industry, about 1.7 million people now own one, and that number could rise to four million by the end of the holiday season.
But there are already 84 million smartphones that can run applications in the United States alone, according to IDC, a research firm. Apple has sold more than 50 million iPhones and iPod Touches, which both run e-book software.
Apple itself doesn't see the iPhone as the ultimate reading device. Next year, it is likely to further stir up the e-book market if, as expected, it introduces a tablet computer — a device bigger than a phone that will most likely run e-reader software along with other programs intended for the iPhone.
People once scoffed at the idea of reading a book on a 3.5-inch mobile screen. For many readers, though, sheer convenience trumps everything else.
"The iPod Touch is always at hand," Shannon Stacey, who has written several romance e-novels, said. "It's my calendar, it's my everything, so my books are always with me." Ms. Stacey, who also owns an early Sony Reader model, said she had now bought twice as many e-books for her iPod Touch as for her Sony.
While the Kindle, the Reader and the Nook, the Barnes & Noble device that will reach the market later this month, feature screens that use very little power and are close to the size of a page in a trade paperback, they have comparatively limited features, like gray-and-white reading displays and either partial Internet access or none at all.
Ian Freed, vice president for the Kindle division at Amazon, said customers still bought more books to read on the Kindle than they did for its iPhone application, though he declined to disclose figures. Amazon is working on e-reading software for the BlackBerry and for Macintosh computers; it introduced software for Windows PCs last week.
"It's a surprisingly pleasant experience to read on a small screen," said Josh Koppel, a founder of ScrollMotion, a New York company that has made some 25,000 e-books available through Apple's App Store and has sold more than 200,000 copies.
Companies like ScrollMotion and BeamItDown sell books in the form of individual applications, so novels like "Twilight" by Stephenie Meyer show up right in the App Store. Amazon and Barnes & Noble give away e-reading software instead; users buy the actual books through the browser on a phone or PC.
Publishers are now rushing to develop new forms of books to cater to readers who will see them on smartphones — books that will not work on today's stand-alone e-readers. When Nick Cave, the rock musician, wrote his second novel, "The Death of Bunny Munro," he and his British publisher, Canongate, worked with a multimedia company to develop an app for the iPhone that incorporated not just the text but also videos, music composed by Mr. Cave and audio of the author reading the book.
"What you can do with graphics and moving images creates a lot of possibilities for a publisher that have never existed before," said Jamie Byng, Canongate's publisher.
Of course, e-readers like the Kindle and the Nook will evolve as well, most likely adding color to their reading screens.
But in the meantime, Amazon executives say that the limitations of the Kindle actually make it more attractive for reading.
"The Kindle is for people who love to read," Mr. Freed of Amazon said. "People use phones for lots of things. Most often they use them to make phone calls. Second most often, they use them to send text messages or e-mail. Way down on the list, there's reading."
Indeed, Sarah Wendell, an administrative assistant in Manhattan who blogs about romance novels, said that although she used the iPhone to read while on a coffee or lunch break, she still used her Kindle during her one-hour commute from New Jersey.
For long reading sessions, she said, the iPhone is "a small screen, and my eyes would start to hurt, even though I crank the text up to grandma or great-grandma size."
Travis Bryant, director of digital products for Keen Communications, a small publisher in Birmingham, Ala., said he had gotten a surprising amount of reading done while waiting in lines. Mr. Bryant said he had recently read "The Shack," the best-selling Christian allegorical novel, as well as "The Templar Legacy," a historical thriller by Steve Berry, on his iPhone.
But Mr. Bryant acknowledged that the iPhone, while convenient, did not serve every reading purpose. "I've got a 3-year-old at home, and he really digs books," Mr. Bryant said. "I remembering pilfering my parents' shelves, and if everything is on the iPhone, he's just not going to have that visual temptation. So we keep the shelves loaded."
http://www.nytimes.com/2009/11/18/te.../18reader.html
Barnes & Noble's Nook Sold Out for the Holidays
Brad Stone
It's shaping up to a be very merry holiday season for Amazon.com's Kindle e-reader.
Earlier this week, we reported that Sony could not guarantee that its new Daily Edition Reader would reach online buyers in time for Christmas.
Now Barnes & Noble says that preorders of its stylish new Nook e-reader have exceeded expectations, and that the company has sold out of its initial supply of devices.
Amazon had these same problems last year but now appears to have gotten its manufacturing and supply chain in order. That leaves the Kindle as the most prominent wireless e-reader available for the holidays, although Sony is still selling two non-wireless Readers, The Pocket and the Touch, which must be plugged into PCs to download books.
Barnes & Noble says customers ordering a Nook will receive their devices the week of Jan. 4. So that stockings are not left completely empty, the bookseller will furnish buyers with a special holiday certificate — presumably with real ink on actual paper.
Update: In an e-mail message, Sarah Rotman Epps, an analyst at Forrester Research, illuminated the causes of some of the supply problems. She said Sony and Barnes & Noble rushed their product announcements, and neither was truly ready to begin selling their devices this year.
"Even without specific problems in the supply chain, the manufacturing process takes time for new products — it could be 3 months from the time they place the orders with their factories until they actually ship," she wrote.
"Sony and B&N wanted to show the market they could compete with Amazon for the holiday season. Consumers responded enthusiastically, but unfortunately, these companies are struggling to deliver on their promise. Now they have to face disappointed consumers with empty packages under the tree."
Update 2: An Amazon spokesman, Drew Herdener, e-mailed this comment in a response to a question about Kindle availability. Referring to the Nook, he wrote, "Kindle is 40 percent thinner, 10 percent lighter, with 2 times the battery life. It's the best-selling, the most wished-for, and the most gifted product on Amazon across all product categories — not just electronics. Kindle manufacturing is humming, and the latest generation Kindle — just released in October — is in stock and available for immediate shipment today."
http://bits.blogs.nytimes.com/2009/1...-holidays/?hpw
Apple Wouldn't Risk Its Cool Over a Gimmick, Would It?
Randall Stross
But the love that consumers send Apple's way could flag if the company puts into place new advertising technology it has developed. In an application filed last year and made public last month by the United States Patent and Trademark Office, Apple is seeking a patent for technology that displays advertising on almost anything that has a screen of some kind: computers, phones, televisions, media players, game devices and other consumer electronics.
Filing a patent application, of course, doesn't necessarily mean that the company plans to use the technology. But the application shows, at the least, that Apple has invested in research to develop what it calls an "enforcement routine" that makes people watch ads they may not want to watch.
Its distinctive feature is a design that doesn't simply invite a user to pay attention to an ad — it also compels attention. The technology can freeze the device until the user clicks a button or answers a test question to demonstrate that he or she has dutifully noticed the commercial message. Because this technology would be embedded in the innermost core of the device, the ads could appear on the screen at any time, no matter what one is doing.
The system also has a version for music players, inserting commercials that come with an audible prompt to press a particular button to verify the listener's attentiveness.
The inventors say the advertising would enable computers and other consumer electronics products to be offered to customers free or at a reduced price. In exchange, recipients would agree to view the ads. If, down the road, users found the advertisements and the attentiveness tests unendurable, they could pay to make the device "ad free" on a temporary or permanent basis.
Would anyone have guessed that Apple, so widely revered, would seek patent protection of a gimmick not unlike one used to sell vacation timeshares? (Agree to attend the sales seminar and get a free weekend getaway!) Or could anyone have predicted that the Apple of 2009, a company with premium products, would file a patent application that could make it a latter-day descendant of Free PC and ZapMe, companies that in 1999 gave away PCs engineered to always display on-screen ads?
What the application calls the "enforcement routine" entails administering periodic tests, like displaying on top of an ad a pop-up box with a response button that must be pressed within five seconds before disappearing to confirm that the user is paying attention.
These tests "can be made progressively more aggressive if the user has failed a previous test," the application says. One option makes the response box smaller and smaller, requiring more concentration to find and banish. Or the system can require that the user press varying keyboard combinations, the current date, or the name of the advertiser upon command, again demonstrating "the presence of an attentive user."
Everything about this technology seems so antithetical to the guiding principles of Apple that one would naturally wonder whether Steven P. Jobs even knows whether his company filed a patent application for such a thing. Apple has 34,300 employees, and Mr. Jobs, though named by Fortune magazine this month as "C.E.O. of the decade," can't be expected to keep track of everything that every Apple employee does.
Yet Mr. Jobs is directly connected to this particular patent application: his name is the first listed of the five inventors. This is a rarity, occurring only four times among the 30 applications on which he is co-inventor that have been published by the patent office since March 2008.
How Mr. Jobs reconciles this advertising technology with Apple's culture is not known. An Apple spokeswoman declined to answer questions about the patent application.
Microsoft is also working on placing advertisements where they have not been before.
In its case, the plans are definite: next year, Microsoft will offer Office Starter 2010, a free version of Office pre-installed on some PCs. It will include a small Microsoft display ad in the lower-right corner of the screen, and offer only barebones versions of Word and Excel, with fewer functions than the regular paid ones.
It will not be the first time that Microsoft has experimented with ads on the software that runs on PCs — it began quietly in June 2007 with a version of Microsoft Works.
IN Office Starter 2010, Microsoft is not seeking revenue from advertising and is going to use the ads only to promote the full-featured, commercial versions of Office. The company plans to take customers "along a journey to educate them about the product," said Bryson Gordon, a director on Microsoft's Office team.
By allowing customers to ignore the ads that will sit passively in the corner of the screen, Microsoft will use a gentle approach to the up-sell.
The approach presented in Apple's patent application is not gentle at all. Beyond that, it's myopic. Were it to use the new technology, it's hard to imagine how free, ad-supported versions of its products wouldn't have a negative impact on the company's brand.
The technology may be clever and original enough to earn Apple a patent. But the resulting products are likely to be more irritating than beloved.
http://www.nytimes.com/2009/11/15/business/15digi.html
Smoking Near Apple Computers Creates Biohazard, Voids Warranty
Laura Northrup
Unless you've just arrived in 2009 on a time machine, you know that smoking isn't good for you. Did you know, that smoking isn't good for your computer, either? It's true, at least according to Apple. Two readers in different parts of the country claim that their Applecare warranties were voided due to secondhand smoke. Both readers appealed their cases up to the office of God Steve Jobs himself. Both lost.
Back in April, Derek copied us on his e-mail to Jobs:
I took my mid 2007 apple macbook (black) into the Jordan Creek Apple Store in West Des Moines, Iowa, on Saturday, April 25th, because I had been experiencing some issues with it overheating, and figured the fan was bad. After some initial testing, they took the computer in for work under my Applecare plan, which has over a year remaining on it.
Today, April, 28, 2008, the Apple store called and informed me that due to the computer having been used in a house where there was smoking, that has voided the warranty and they refuse to work on the machine, due to "health risks of second hand smoke".
Not only is this faulty science, attributing non smoking residue to second hand smoke, on Chad's part, no where in your applecare terms of service can I find anything mentioning being used in a smoking environment as voiding the warranty.
Jobs' office did not help Derek, but he resolved some of the problems himself by disassembling his Macbook and cleaning it out with a can of compressed air.
A few months later, reader Ruth wrote to us with an identical complaint after trying to have her son's iMac repaired at a local authorized repair center
I bought an iMac for my son (for school) along with the extended Applecare warranty. A month ago, it quit working. My son took it to the authorized Mac service center. The "tech" informed him it would be ready in 48-72 hours. Five days go by and he's heard nothing, so I called. They informed me that his computer can't be worked on because it's contaminated.
When I asked for an explanation, she said he's a smoker and it's contaminated with cigarette smoke which they consider a bio-hazard! I checked my Applecare warranty and it says nothing about not honoring warranties if the owner is a smoker. The Applecare representative said they defer to the technician and my son's computer cannot be fixed at any Apple Service Center due to being listed a bio-hazard.
This computer cost approx. $3,000, with the extended warranty. I'm all for destroying cigarettes and putting big tobacco out of business (yes, I'm a reformed smoker), but to label a computer a biohazard because one is a smoker is going a bit too far in regulating who can have the warranty they purchased honored. Shouldn't there be some disclaimer stating that they won't honor warranties from smokers?
Ruth appealed her case to Steve Jobs's office, which also declined to repair the iMac. In another letter, she wrote:
Dena [from Jobs' office] did advise me that nicotine is on OSHA's list of hazardous substances and Apple would not require an employee to repair anything deemed hazardous to their health. However, OSHA also lists calcium carbonate (found in calcium tablets), isopropyl alcohol (used to clean wounds), chlorine (used in swimming pools), hydrogen peroxide (also used to clean wounds), sucrose (a sugar), talc (as in powder), etc... as hazardous substances.
...
Dena set up an appointment at the same Apple store. They told me that they would take pictures of the computer - both inside and out before determining whether to proceed and that if the only problem was the optical drive, they'd probably just replace it. Dena called me earlier this week to deliver the "bad news." She said that the computer is beyond economical repair due to tar from cigarette smoke! She said the hard drive is about to fail, the optical drive has failed and it isn't feasible to repair the computer under the warranty. This computer is less than 2 years old! Only one person in my household smokes - one 21 year old college student. She said that I can get it repaired elsewhere at my expense. I asked why my warranty didn't cover the repair and was told it's an OSHA violation.
Consumerist has tried repeatedly to obtain some kind of answer about these two cases from Apple's media relations department, and we have received nothing on the record after months of waiting. Mostly, we're curious what the threshold is for smoke damage to a computer, and why this is not mentioned in the Applecare contract.
http://consumerist.com/5408885/smoki...voids-warranty
Newsweek, Fighting for Survival, Drifts Toward Irrelevancy
Jeff Bercovici
About a year ago, media critic Michael Wolff predicted that Newsweek would go out of business "sometime around the fourth quarter of next year" -- i.e., right around now. That doesn't look like it's going to come true. But nor does it look as far off the mark as Newsweek's parent, the Washington Post Co. (WPO), might hope.
Last week, the magazine laid off a dozen employees in its third round of staff downsizing in less than two years. But Newsweek is shrinking in other ways as well: Ad pages are down 29% year-over-year, while the circulation guarantee is slated to be reduced to 1.5 million in January, down more than 50% from its pre-2008 level.
The New York Times (NYT) sees "glimmers of progress" in all this, noting that the Washington Post Co.'s magazine division -- meaning Newsweek, more or less -- has managed to substantially slow the rate at which it's bleeding (although that's a far cry from becoming "slightly more profitable," as the Times's media blog erroneously puts it).
But those glimmers are faint enough. Newsweek's current strategy is to court a smaller, demographically more elite audience by offering them a product less like the newsweekly of yore and more like The Economist: heavy on opinion and analysis, light on reporting. It's also to harness the power of the blogosphere and the 24-hour cable news cycle by stirring the pot with attention-grabbing stunts, like an issue guest-edited by Stephen Colbert, and this week's cover, which features Sarah Palin in a pair of thigh-revealing running shorts.
It's far from clear, however, what Newsweek gains by trading journalistic heft for something as ephemeral as buzz. That Colbert issue didn't sell especially well on the newsstand. And while the phrase "Newsweek Sarah Palin" made an appearance in Google Trends Monday morning, the attribution of that cover photo -- originally taken for Runner's World -- only serves to underscore the magazine's lack of pull. Palin herself panned the cover, and Newsweek, in a Facebook message, calling it "sexist" and "out of context."
Time magazine's Person of the Year issue may be something of a joke, but at least it's a signature joke. (Like DailyFinance, Time is -- for now -- part of Time Warner Inc. (TWX).) Newsweek could use a similar franchise to distinguish itself. Otherwise, it risks becoming just one more voice in the media cacophony, with ever less to say, and saying it ever louder.
http://www.dailyfinance.com/2009/11/...s-irrelevancy/
Manchester JI Sues Courant; Alleges Plagiarism
The Journal Inquirer of Manchester has served The Hartford Courant with a lawsuit alleging plagiarism and seeking damages under copyright laws and the Connecticut Unfair Trade Practices Act.
The civil complaint cites 11 local news stories produced by the JI that it says The Courant misappropriated and published as its own work between early August and early September, according to a copy of the suit provided by the JI's lawyer, Richard P. Weinstein of West Hartford.
The JI's complaint says The Courant was "unjustly enriched by virtue of its misconduct" while the smaller paper suffered "ascertainable losses." The complaint also notes that The Courant has publicly acknowledged and apologized for acts of plagiarism. The Courant disciplined several staff members who were involved.
http://www.courant.com/business/hc-j...,6967600.story
Selling Lessons Online Raises Cash and Questions
Winnie Hu
Between Craigslist and eBay, the Internet is well established as a marketplace where one person's trash is transformed into another's treasure. Now, thousands of teachers are cashing in on a commodity they used to give away, selling lesson plans online for exercises as simple as M&M sorting and as sophisticated as Shakespeare.
While some of this extra money is going to buy books and classroom supplies in a time of tight budgets, the new teacher-entrepreneurs are also spending it on dinners out, mortgage payments, credit card bills, vacation travel and even home renovation, leading some school officials to raise questions over who owns material developed for public school classrooms.
"To the extent that school district resources are used, then I think it's fair to ask whether the district should share in the proceeds," said Robert N. Lowry, deputy director of the New York State Council of School Superintendents.
The marketplace for educational tips and tricks is too new to have generated policies or guidelines in most places. In Fairfax County, Va., officials had been studying the issue when they discovered this fall that a former football coach was selling his playbook and instructional DVDs online for $197; they investigated but let him keep selling.
A high school English teacher in upstate New York said her bosses barred her from selling plans used in her classroom; she spoke on the condition that she not be named.
Beyond the unresolved legal questions, there are philosophical ones. Joseph McDonald, a professor at the Steinhardt School of Culture, Education and Human Development at New York University, said the online selling cheapens what teachers do and undermines efforts to build sites where educators freely exchange ideas and lesson plans.
"Teachers swapping ideas with one another, that's a great thing," he said. "But somebody asking 75 cents for a word puzzle reduces the power of the learning community and is ultimately destructive to the profession."
Teachers like Erica Bohrer, though, see the new demand for lessons as long-awaited recognition of their worth.
"Teaching can be a thankless job," said Ms. Bohrer, 30, who has used the $650 she earned in the past year to add books to a reading nook in her first-grade classroom at Daniel Street Elementary School on Long Island and to help with mortgage payments. "I put my hard-earned time and effort into creating these things, and I just would like credit."
The humble lesson plan has gained value as focus on testing and individualized instruction has increased. At the same time, the Internet has diminished the isolation of classroom teachers. Just about every imaginable lesson for preschool through college is now up for sale — on individual teachers' blogs as well as commercial sites where buyers can review and grade the material.
Teachers Pay Teachers, one of the largest such sites, with more than 200,000 registered users, has recorded $600,000 in sales since it was started in 2006 — $450,000 of that in the past year, said its founder, Paul Edelman, a former New York City teacher. The top seller, a high school English teacher in California, has made $36,000 in sales.
Another site, We Are Teachers, went online last year with a "knowledge marketplace" that includes lesson plans and online tutoring.
Kelly Gionti, a teacher at the High School for Law, Advocacy and Community Justice in Manhattan, has sold $2,544 worth of unit plans for "The Catcher in the Rye" and "The Great Gatsby," among others, helping finance trips to Rome and Ireland, as well as class supplies.
Margaret Whisnant, a retired teacher in North Carolina, earns an average of $750 a month from lessons based on her three decades of teaching middle school classics like "The Outsiders," enough to pay for new kitchen counters and appliances.
"I have wanted to redo my kitchen for 20 years, and I just could not get the funds together," she said. "Well, now I'm going to have to learn to cook."
Lisa Michalek, 40, who taught for six years in Rochester and now works for Aventa Learning, a for-profit online education company, said she spent about five hours a week tweaking old lesson plans and creating new ones, like an earth science curriculum that sells for $59.95.
"I knew I had good lessons, so I thought, 'Why not see what other people think of it?' " Ms. Michalek said.
After $31,000 in sales, she has her answer. Alice Coburn, 56, a vocational education teacher in Goshen, N.Y., said she saved two to three hours each time she downloaded Ms. Michalek's PowerPoint presentations instead of starting from scratch. "I hate reinventing the wheel," Ms. Coburn said.
Others find comfort in having a class-tested lesson by a more experienced teacher. Lauren Perreca, 24, used a $10 lesson on the Vietnam War novel "Fallen Angels" as a reference last year while creating her own lesson for her classes at Weston High School in Connecticut. She also revised her reading questions about "Lord of the Flies" after comparing them with two other lesson plans.
"At first I was self-conscious I had bought something, because what did that say about me?" she said. "But I realized I wasn't just taking it and using it, I was adapting it to fill in the gaps of my knowledge."
Now Ms. Perreca has started selling her own lesson plans, like a 54-page "Macbeth" unit with quizzes and homework assignments ($10) that she wrote in graduate school. She said she spent $140 of her $523 in earnings on cookies and books for her students, and used the rest to splurge on dinners out that she could not otherwise afford.
Her students are incredulous. "They're like, 'Who would want to buy those? They're so boring,' " Ms. Perreca said. "I'm like, 'Hey, I'm making money.' "
In Ms. Bohrer's class the other day in Lindenhurst, N.Y., five children were counting M&Ms while she made sure they digested the lesson before the candy. The exercise, which comes with directions, sorting mats and work sheets, has sold 31 times for $3 a pop. A variation with Lucky Charms is popular around St. Patrick's Day, she said.
"M&M sorting is not a new concept," said Ms. Bohrer, who has been teaching since 2001. "I made it easier for teachers to do. They just have to click and print."
Daniel Street's principal, Frank Picozzi, said he supported Ms. Bohrer's online business because his students reaped the benefits of her initiative and creativity.
Ms. Bohrer recalled that when she used to share her lesson plans at no charge, a poster of her reading strategies was passed around so many times that it ended up with a teacher in another school who had no idea where it came from.
"I'll share with friends," Ms. Bohrer said, "and if anyone else likes it, I'll tell them where to buy it."
http://www.nytimes.com/2009/11/15/ed...n/15plans.html
Google Says PC Will Start in Seven Seconds or Less
Alexei Oreskovic
New Google Inc software will start up a computer as fast as a television can be turned on, the search company said on Thursday as it showed off its Chrome operating system designed for PCs that do their work on the Web.
Google gave the first public look at its Chrome OS four months after declaring its intention of developing the PC's main software, a move that pits it directly against Microsoft Corp and Apple Inc.
True to Google's Internet-pedigree, the Chrome OS resembles a Web browser more than it does a traditional computer operating system like Microsoft Windows, matching Google's ambition to drive people to the Web -- where they can see Google ads.
Google said the software will initially be available by the holiday season of 2010 on low-cost netbooks that meet Google's hardware specifications, such as using only memory chips to store data instead of slower hard drives, the current standard.
Netbooks running Chrome OS will only be able to run Web applications and the user's data will automatically be stored on the Web in the so-called cloud of Internet servers, Google executives said at an event at the company's Mountain View, California headquarters on Thursday.
"It's basically a Web browsing machine," said Altimeter Group analyst Charlene Li, referring to the netbooks powered by Chrome OS.
Such a machine is made for a world of near-constant, extremely fast Web connection, without the type of software that made Microsoft famous, since most of the work would be done by big machines on the Web which take directions and send information to relatively uncomplicated devices like a Chrome PC.
Sundar Pichai, vice-president of product management for Google's Chrome OS, said that computers running Chrome OS will be able to start in less than seven seconds.
"From the time you press boot you want it to be like a TV: You turn it on and you should be on the Web using your applications," Pichai said.
More Web Use Drives More Google Ads
Google said it is giving away the software for free, similar to its Android smartphone software, with the idea that improving the Web experience will ultimately benefit its Internet search advertising business, which generated roughly $22 billion in revenue in 2008.
"They're doing it to get further and further entrenched in whatever people are doing to go online, whether that's a browser, an operating system or in applications," said Todd Greenwald, an analyst with Signal Hill Group.
"If Chrome is the OS then the attach (access) rate on Google searches will be a lot higher," he said.
But analysts noted that the differences between conventional PCs and Chrome OS netbooks might give some consumers pause.
"If they view it from the conventional perspective, then it falls short," Gartner analyst Ray Valdes said of Chrome OS, citing its lack of compatibility with traditional software and its limited offline capabilities.
Google officials said Chrome OS netbooks will be able to provide some functions when offline, but that the product was primarily designed to be connected to the Internet.
But Valdes said if Google can deliver on the products' promises, such as fast performance, then consumers may view Chrome OS netbooks as distinct class of products with attractive benefits.
"I think that it's initially going to appeal to small subset of the general consumer population," said Valdes. "The question is can they build on that and expand that over time."
Google made the computer code for the Chrome OS available to outside developers on Thursday, allowing developers to tinker with the software and potentially design new applications to run alongside it.
With Chrome, Google is seeking to challenge the dominance of Microsoft Corp's Windows, which runs on nine out of 10 personal computers.
The Chrome OS also challenges makers of traditional, desktop software, including Microsoft and its lucrative Office suite of productivity software, since Chrome OS only runs Web applications.
Google's Pichai, noted during a demonstration on Thursday, that Chrome OS-based PCs would be interoperable with Web-based versions of software, such as Microsoft's online version of its Excel spreadsheet.
Google said all data in Chrome will automatically be housed in the so-called cloud, or on external servers, but also cached on the computer's internal hardware to boost performance.
If a person loses their netbook, Google Engineering Director Matt Papakipos explained, they can buy a new one, log in and within seconds have a machine with access to all the same data as their previous device.
"What really makes this a cloud device is that all the user data is synced back to the cloud in real time," said Papakipos.
Shares of Mountain View, California-based Google fell $3.66 to $572.99 in afternoon trading on the Nasdaq.
(Additional reporting by Ian Sherr)
(Reporting by Alexei Oreskovic, writing by Gabriel Madway; Editing by Bernard Orr and Carol Bishopric)
http://www.reuters.com/article/techn...5AI4UQ20091120
Microsoft Denies it Built 'Backdoor' in Windows 7
Don't worry, company tells users; NSA involved only in security compliance standards
Gregg Keizer
Microsoft today denied that it has built a backdoor into Windows 7, a concern that surfaced yesterday after a senior National Security Agency (NSA) official testified before Congress that the agency had worked on the operating system.
"Microsoft has not and will not put 'backdoors' into Windows," a company spokeswoman said, reacting to a Computerworld story Wednesday.
On Monday, Richard Schaeffer, the NSA's information assurance director, told the Senate's Subcommittee on Terrorism and Homeland Security that the agency had partnered with the developer during the creation of Windows 7 "to enhance Microsoft's operating system security guide."
Echoing earlier concerns, Marc Rotenberg, the executive director of the Electronics Privacy Information Center (EPIC), questioned the wisdom of letting the NSA participate in OS development. "The key problem is that NSA has a dual mission, COMPUSEC, computer security, now called cyber security, and SIGINT, signals intelligence, in other words surveillance," Rotenberg said in an e-mail.
Yesterday, he raised the issue, which isn't new, of whether the NSA pressures companies like Microsoft to craft so-called "backdoors" into their code that would let the agency track users and intercept users' communications. Rotenberg called it an "obvious concern," and added that it might be difficult for major software makers to turn down NSA "suggestions" because the U.S. federal government is an important customer.
Today's categorical denial by Microsoft was accompanied by further explanation of exactly how the NSA participated in the making of Windows 7. "The work being discussed here is purely in conjunction with our Security Compliance Management Toolkit," said the spokeswoman.
The company rolled out the Windows 7 version of the toolkit late last month, shortly after it officially launched the operating system.
The compliance management toolkit provides a set of security configurations that address additional levels of risks beyond those addressed out of the box, as well as tools to deploy these configurations and monitor what Microsoft calls "configuration drift." The toolkit is aimed at enterprises, government agencies and other large-scale organizations.
Microsoft's rejection of the idea that it's hidden a backdoor in Windows came as no surprise to security researchers, who yesterday expressed doubt that the company would put its reputation at such risk. "I can't imagine NSA and Microsoft would do anything deliberate, because the repercussions would be enormous if they got caught," Roger Thompson, the chief research officer of antivirus vendor AVG Technologies, said yesterday.
John Pescatore, an analyst with Gartner Research, agreed. "[The concerns] are way overstated," he said today in an e-mail. "NSA worked with Microsoft and others, like Cisco, on security configuration standards for [their] products."
Cisco, in fact, has built "lawful intercept" capabilities into its products, including its Internetworking Operating System (ISO) and its VoIP (Voice over Internet Protocol) lines. The term describes the process by which law enforcement agencies conduct electronic surveillance of circuit and packet-mode communications under authorization, such as electronic wiretap orders.
Rotenberg still questioned NSA involvement. "The key point is that the NSA is not the right agency to promote computer security in the private sector," he argued. "The risks to end users are real -- the original NSA key escrow proposal, 'Clipper,' was a terrible idea -- and there is too little transparency about these arrangements."
The Clipper chip Rotenberg referred to was a project first proposed in 1993 that would offer ultra-strong encryption, but would allow access to encrypted data by law enforcement. The NSA proposal, however, raised a firestorm of protest and the idea was ultimately dropped.
http://www.computerworld.com/s/artic...r_in_Windows_7
Boycott Microsoft Bing
Nicholas Kristof
Critics have accused President Obama of kowtowing to Chinese leaders, by failing to meet dissidents, toning down his criticisms and delaying a meeting with the Dalai Lama. On balance, I think that criticism is premature: Confrontation doesn't help with China and can hurt, and so engagement becomes a fine line to navigate. The Obama visit wasn't a ringing success, but neither was it a craven embarrassment.
For the latest craven kowtowing, we can look somewhere else: Microsoft and its new search engine, Bing.
Western corporations have often behaved embarrassingly in China, sacrificing any principles to ingratiate themselves with the Communist Party authorities. Yahoo was the worst, handing over information about several email account holders so that they could be arrested – and then dissembling and defending its monstrous conduct. Now Microsoft is sacrificing the integrity of Bing searches so as to cozy up to State Security in Beijing. In effect, it has chosen become part of the Communist Party's propaganda apparatus.
If you search a term on Bing that is politically sensitive in China, in English the results are legitimate. Search "Tiananmen" and you'll find out about the army firing on pro-democracy protesters in 1989. Search Dalai Lama, Falun Gong and you also get credible results. Conduct the search in complex Chinese characters (the kind used in Taiwan and Hong Kong) and on the whole you still get authentic results.
But conduct the search with the simplified characters used in mainland China, then you get sanitized pro-Communist results. This is especially true of image searches. Magic! No Tiananmen Square massacre. The Dalai Lama becomes an oppressor. Falun Gong believers are villains, not victims.
What's most offensive is that this is true wherever in the world the search is conducted – including in my office in New York. If Microsoft felt it had to bow to Chinese censorship within China's borders, based on the IP address, that might be defensible. But when Microsoft skews its worldwide searches to make Hu Jintao feel better, that's a disgrace. It becomes simply a unit of the Central Committee Propaganda Department.
(This is an issue with Google as well, but to a much lesser extent. Google censors results on its search engine used within China, google.cn, but offers mostly uncensored results using simplified Chinese characters on its worldwide browser, google.com. However, some searches on google.com, such as images for Falun Gong, are also censored.)
When I originally wrote about this issue back in June, Microsoft protested. "From what you described, that's not the way Bing is supposed to work," wrote Kevin Kutz, a company spokesman. He said that Chinese speakers at Microsoft could not replicate my results and did not detect this kind of skewed result. I sent screen shots, and then Microsoft acknowledged the issue but said that it was simply a temporary mistake. "It's a bug," Kutz told me. Later, he added: "What's important is it's getting fixed." Soon, he said, Bing searches would be the same for Tiananmen and other sensitive subjects, whatever the language.
Six months later, the censorship continues. And now all of a sudden, it's company policy.
Microsoft's current position, which insults my intelligence and yours, is that there was indeed a bug of some kind and that that is fixed – but that searches in simplified characters continue to produce pro-Communist results because of the algorithms used. Mr. Kutz now asserts that a search in any given language emphasizes results from within the country that uses that language. Thus if you search in the simplified characters used within China, then you get disproportionately Chinese propaganda. Thus, he says, the explanation lies in the search algorithms, rather than in Microsoft policy.
Huh? How come that wasn't the explanation in June? And if that's the case, then why is there a marked difference between text and image searches? And in any case, why should Bing use an algorithm that results in propaganda and skews results far more than Google? Why isn't Wikipedia higher on the results with simplified characters?
Of course, it's possible that Microsoft executives in Redmond, since they can't read Chinese, are being misled by those executives focused on the China business. Yet my hunch is that Microsoft simply has decided at a top level that it will compromise what principles it must to ingratiate itself with China. This presumably isn't at China's specific request: it's unlikely that Chinese authorities would be so detailed in their demands, and it doesn't negotiate over minor points like this. But China has made it clear that it dislikes search engines that lead to results it considers seditious, and it can block them.
Microsoft apparently doesn't want to pursue the Google solution of having separate sites – one that produces generally legitimate results (google.com) and another within China that blatantly censors (google.cn). Instead, Bing figured it would have one site and just censor all the results in simplified Chinese characters. It then compounded the problem by dissembling and disguising its policy. That's craven and embarrassing, it betrays the integrity of Microsoft searches, and for me it's a reason to boycott Bing.
UPDATE: Microsoft has posted a measured response:
http://bit.ly/6CD49e
. It notes that some Bing searches are not skewed even in simplified characters but acknowledges that image searches in particular are sanitized. It says that this is a bug that was identified today and that it will soon be fixed. That's basically what I was told last June, and I'm very skeptical.
http://kristof.blogs.nytimes.com/200...icrosoft-bing/
Windows 7 Hacked (Again) for Keyless Activation
Chris Jacob
Lo! Yet another Windows 7 activation hack appears. This one's a little more creative in that it doesn't require an OEM key at all, and instead bypasses the verification DLL completely.
The new hack nullifies sppcompai.dll, and even deactivates all the reminder popups that would otherwise ask you to activate indefinitely. But don't expect the party to last long. This crack closely mirrors an old Vista key workaround, and if Microsoft patched it easily then, they'll patch it easily now.
There's one point to this story I find particularly annoying. According to My Digital Life,
The crack is possible probably due to leniency allowed on the part of Microsoft on [the] activation mechanism to avoid getting too many false-positive or complaint on activation error [sic].
It just sucks that this game will continue. Microsoft obviously wants to make activation as painless as possible, but will probably beef up the security next time to fix these sort of exploits. Like most of you, I'm sick of DRM causing headaches for the ones who legally purchased the software, and developments like this certainly won't help.
And please, let me say this: I love you guys, and I really do love getting emails from readers. But I don't know how to do this hack. I have no idea how the hack specifically works. I don't even have a copy of Windows 7. So please, send me emails about anything else, but not about how to unlock your new copy of Windows 7. Gracias. [My Digital Life via The Register via Ubergizmo]
http://gizmodo.com/5404781/windows-7...ess-activation
Firefox 3.6 Locks Out Rogue Add-Ons
New feature bars add-ons from dropping code into Firefox's own directory
Gregg Keizer
Mozilla will add a new lockdown feature to Firefox 3.6 that will prevent developers from sneaking add-ons into the program, the company said.
The new feature, which Mozilla dubbed "component directory lockdown," will bar access to Firefox's "components" directory, where most of the browser's own code is stored. The company has billed the move as a way to boost the stability of its browser.
"We're doing this for stability and user control [reasons]," said Johnathan Nightingale, manager of the Firefox front-end development team, in an e-mail today. "Dropping raw components in this way was never an officially supported way of doing things, which means it lacks things like a way to specify compatibility. When a new version of Firefox comes out that these components aren't compatible with, the result can be a real pain for our shared users.
"Now that those components will be packaged like regular add-ons, they will specify the versions they are compatible with, and Firefox can disable any that it knows are likely to cause problems," Nightingale added.
His mention of "regular add-ons" referred to the new policy that will be enforced by Firefox 3.6, a minor upgrade to last summer's 3.5 that is to ship before the end of the year. Because third-party developers will no longer be able to drop their code into the components directory, they must instead recreate their add-ons as XPI-based files, the standard Firefox extension format. Mozilla has posted information on its developer site to aid programmers who need to migrate add-ons to the XPI format.
Most, but not all, Firefox add-ons are available through Mozilla's Add-On site, which boasts that more than 1.6 billion add-ons have been downloaded by users.
Nightingale said that rogue add-ons created performance and stability problems for Firefox users. "[They] can lead to all kinds of unfortunate behavior: lost functionality, performance woes and outright crashing, often immediately on startup," he wrote in a post to the Mozilla developer's blog Monday.
Crashes are caused in large part because of developer lethargy, added Mozilla developer Vladimir Vukicevic, who headed up the work on the new lockdown feature. "Many of these components were written for Firefox 3.0, and have not been updated for Firefox 3.5," Vukicevic said in a blog post of his own. "Because a number of internal interfaces changed between the two versions, this leads to crashes or other problems when these components are used."
Nightingale wouldn't link Firefox's new feature to any one unauthorized add-on, but the lockdown follows a security brouhaha last month over an add-on and plug-in that Microsoft sneaked into Firefox earlier this year.
Last February, and again in May, Firefox users complained when they found that Microsoft had pushed the .Net Framework Assistant add-on and the Windows Presentation Foundation (WPF) plug-in to their browsers as part of the .NET Framework 3.5 Service Pack 1 (SP1) update, which was delivered via Windows Update. Users were furious that the software was installed without their approval, and even angrier that the components were impossible to uninstall without editing the Windows registry.
In October, after Microsoft admitted that those components left Firefox open to attack, Mozilla disabled Microsoft's software.
In actuality, Microsoft did not drop its code into Firefox's components directory, Nightingale confirmed. "The .Net Framework and WPF use our existing extension/plug-in mechanisms, that's why we were able to disable them when they were found to be vulnerable," he said in a follow-up e-mail. "They aren't impacted by this change." Other add-ons aren't as lucky. Google's desktop search add-on, for example, must be revamped to work with Firefox 3.6. Nightingale said Mozilla is looking into that potential incompatibility.
"We'll be working with third-party developers over the next while to help them make the transition to a supported extension mechanism," he said. "The main result for users will be less breakage, not more. But one reason we announce this and get it out in betas is to make sure we know what all the major impacts will be before we release it to a couple hundred million users."
Firefox 3.6 Beta 3, slated for release later today, will include the component directory lockdown feature. When it launches, Firefox 3.6 Beta 3 will be available from Mozilla's site. Current beta users will be updated automatically.
http://www.computerworld.com/s/artic..._rogue_add_ons
UK Police Make 2 Trojan Computer Virus Arrests
Raphael G. Satter
A couple suspected of helping spread some of the Internet's most aggressive computer viruses has been arrested in the English city of Manchester, police said Wednesday.
Scotland Yard's electronic crimes unit said a man and a woman, both 20, were arrested Nov. 3 on suspicion of helping spread malicious Trojan computer programs sometimes known as "Zbot" or "ZeuS."
Police said the viruses are thought to have infected tens of thousands of computers worldwide, and one technology consultant described them as the "most notorious pieces of malware of recent times."
"This is one of the most frequent families of worms that we encounter," said Graham Cluley, a technology consultant with the U.K. security firm Sophos PLC. "The ferocity with which it's been spammed out on occasions has really hit our radar."
Cluley said the Zbot family of viruses first came to his attention in 2007. Since then it has periodically swept across the Internet, stealing personal information from computers across the world and feeding it back to cyber-criminals. The viruses are commonly known as Trojans because they sneak onto computers and attack it from the inside, harvesting millions of lines of data - including banking information, credit card numbers and social networking passwords.
The viruses spread by sending e-mails or other messages from infected computers, impersonating banks, tax officials, credit card companies or even friends and enticing potential victims to click on a link.
Police said given the amount of information stolen "the potential financial gains to the culprits and losses to individuals and institutions are very substantial."
Cluley said it was impossible to know just how much money had been lost to the viruses, adding that attacks were ongoing - including two in the past week alone.
It is not clear exactly what role the Manchester pair are suspected of playing in the viruses' spread. Scotland Yard says the two have since been released on bail and declined to elaborate on their investigation.
Suspects in Britain are rarely identified unless they've been charged.
http://www.washingtonpost.com/wp-dyn...111801935.html
NJ Man Sentenced in Scientology Cyber Attack
AP
A New Jersey man will serve a 366-day federal prison term for conducting a cyber attack on Church of Scientology Web sites in January 2008.
At a hearing Wednesday in Newark 19-year-old Dmitriy Guzner (duh-MEET'-tree GOOZ'-nuhr) of Verona also was sentenced to two years' probation after his release from prison.
Guzner pleaded guilty in May to computer hacking charges.
Prosecutors say Guzner attacked Scientology Web sites as part of Anonymous, an underground group that protests the Church of Scientology, accusing it of Internet censorship. Guzner has denied being a group member.
Prosecutors say hackers conducted a denial of service attack in which computers flood a target Web site with malicious Internet traffic, making it unavailable to legitimate users.
http://www.washingtonpost.com/wp-dyn...111802637.html
Chinese Cyber-Spying Seen Growing Against U.S.
Jim Wolf
China's government appears increasingly to be piercing U.S. government and defense industry computer networks to gather useful data for its military, a congressional advisory panel said on Thursday.
"A large body of both circumstantial and forensic evidence strongly indicates Chinese state involvement in such activities," the U.S.-China Economic and Security Review Commission said in its 2009 report to Congress.
The 12-member, bipartisan commission was set up in 2000 to analyze the implications of growing trade with China.
Beijing has begun to broaden its national security concerns beyond a potential clash across the Taiwan Strait and issues around its periphery, the 367-page report said.
China is the most aggressive country conducting espionage against the United States, focused on obtaining data and know-how to help military modernization and economic development, it added.
The amount of "malicious" computer activities against the United States increased in 2008 and is rising sharply this year, it said, adding, "Much of this activity appears to originate in China."
The Chinese Embassy did not immediately respond to requests for comment.
The commission said the Chinese government had placed many of its capabilities for computer network operations within elements of the People's Liberation Army.
"China's peacetime computer exploitation efforts are primarily focused on intelligence collection against U.S. targets and Chinese dissident groups abroad," it said.
The report cited conclusions of Northrop Grumman Corp, one of the Pentagon's top contractors, that implicated the Chinese government in extensive cyber activities against the United States.
Omitted was any thorough description of the techniques used for forensic analysis of such suspected cyber espionage.
A Northrop Grumman study was prepared for the commission and released in October. It said Beijing appeared to be conducting "a long-term, sophisticated, computer network exploitation campaign" against the government and U.S. defense industries.
(Reporting by Jim Wolf; Editing by Peter Cooney)
http://www.reuters.com/article/techn...5AI5UZ20091120
Online Harassment: New Texas Internet Law Goes Into Effect
Mike Young
Don't mess with anyone in Texas online. Effective September 1, 2009, a new Texas law makes it a crime to engage in various activities on commercial social networking sites or by e-mail, instant messaging etc. You can read the actual text of the bill below. Although self-explanatory (to lawyers at least), it seems pretty clear that Texas lawmakers don't want people impersonating others on the Internet in order to harm, threaten, intimidate, or defraud anyone. The law also covers text messaging. Note that depending on the activities involved, the crime can be either a Class A Misdemeanor or a 3rd degree felony.
Expect there to be legal challenges to the constitutionality of this law. That being said, you don't want to be the person arrested under it who has to pay the legal bills for that challenge.
H.B. No. 2003
AN ACT
relating to the creation of the offense of online harassment.
BE IT ENACTED BY THE LEGISLATURE OF THE STATE OF TEXAS:
SECTION 1. Chapter 33, Penal Code, is amended by adding
Section 33.07 to read as follows:
Sec. 33.07. ONLINE HARASSMENT. (a) A person commits an
offense if the person uses the name or persona of another person to
create a web page on or to post one or more messages on a commercial
social networking site :
(1) without obtaining the other person's consent; and
(2) with the intent to harm, defraud, intimidate, or
threaten any person.
(b) A person commits an offense if the person sends an
electronic mail, instant message, text message, or similar
communication that references a name, domain address, phone number,
or other item of identifying information belonging to any person:
(1) without obtaining the other person's consent;
(2) with the intent to cause a recipient of the
communication to reasonably believe that the other person
authorized or transmitted the communication; and
(3) with the intent to harm or defraud any person.
(c) An offense under Subsection (a) is a felony of the third
degree. An offense under Subsection (b) is a Class A misdemeanor,
except that the offense is a felony of the third degree if the actor
commits the offense with the intent to solicit a response by
emergency personnel.
(d) If conduct that constitutes an offense under this
section also constitutes an offense under any other law, the actor
may be prosecuted under this section, the other law, or both.
(e) It is a defense to prosecution under this section that
the actor is any of the following entities or that the actor's
conduct consisted solely of action taken as an employee of any of
the following entities:
(1) a commercial social networking site ;
(2) an Internet service provider;
(3) an interactive computer service, as defined by 47
U.S.C. Section 230;
(4) a telecommunications provider, as defined by
Section 51.002, Utilities Code; or
(5) a video service provider or cable service
provider, as defined by Section 66.002, Utilities Code.
(f) In this section:
(1) " Commercial social networking site " means any
business, organization, or other similar entity operating a website
that permits persons to become registered users for the purpose of
establishing personal relationships with other users through
direct or real-time communication with other users or the creation
of web pages or profiles available to the public or to other users.
The term does not include an electronic mail program or a message
board program.
(2) "Identifying information" has the meaning
assigned by Section 32.51.
SECTION 2. This Act takes effect September 1, 2009.
http://mikeyounglaw.com/wp/2009/09/0...-internet-law/
Interop: New York Tests Xbox-Based Alert System
State officials eye video game networks as a means to send emergency warnings to younger residents.
Paul McDougall
Gamers are used to confronting invading terrorists, nuclear attacks, and natural calamities—in virtual form. But those living in New York State could soon receive warnings about real emergencies through their favorite video console.
State authorities are testing a plan that would see the Emergency Management Office issue alerts over online gaming networks in addition to regular channels.
American business leaders warn of dire consequences owing to a lack of native science, technology, engineering, and math (STEM) skills. They call for deeper investments in STEM education and more open labor laws.
The goal, said New York State Deputy CIO Rico Singleton, is to reach younger residents who spend more time on the Xbox, PlayStation, or Wii than with television or radio.
Singleton, speaking Thursday at the Interop technology conference in New York City, said the plan makes sense, "considering the amount of time our youth spend on video games."
Microsoft (NSDQ: MSFT), Sony (NYSE: SNE), and Nintendo operate online networks that allow players to compete against each other over the Internet. Under the state's plan, authorities would tap those networks to broadcast warnings about natural or man-made disasters.
Singleton had few details, but confirmed that the plan is in the testing phase.
It's one of many technology initiatives New York State has launched under a program called Empire 2.0. The goal is to make the state's government more "transparent, participatory, and collaborative," said Singleton.
Under Empire 2.0, the Department of Mental Health is monitoring some Facebook posts in an effort to spot suicidal behavior, the Office of Homeland Security is using Second Life to train 700,000 first responders, and senior members of the state CIO's office are using Twitter to disseminate information about technology initiatives to the public.
Additionally, 15,000 of New York State's 190,000 employees have joined Linked In to improve intra-agency communication, while the Senate is publishing bills on a wiki-style blog so that members of the public can mark up proposed legislation. Empire 2.0 also includes many other collaborative projects.
Web 2.0 "is the world we're beginning to live in," said Singleton. "We should be part of the movement," he said.
http://www.informationweek.com/news/...leID=221900336
"Call of Duty" Game Sells $550 Million in Five Days
Activision Blizzard Inc said its video game "Call of Duty: Modern Warfare 2" scored record sales of $550 million in its first five days, but the company is still concerned about weak consumer spending.
The game, a "first-person-shooter" that lets gamers portray elite soldiers hunting down targets in locations ranging from South America to Afghanistan, beat last year's blockbuster "Grand Theft Auto IV" from Take-Two Interactive Software Inc which sold more than $500 million in its first week.
Activision did not say how many units were sold in the period. Last week it said it sold 4.7 million copies for sales of $310 million on its first day in the U.S. and United Kingdom alone.
Analysts' sales estimates for the $60 game range from 11 million to 13 million units by the end of 2009. There is plenty at stake for Activision since "Call of Duty" is likely to account for a sizable chunk of the company's profits in the fourth quarter, analysts say.
Shares of the company, which have risen around 35 percent and outperformed chief rival Electronic Arts Inc's 11 percent gain, rose 5 cents in early trade on Wednesday to $11.74.
Still, chief executive Bobby Kotick was mindful of the weak economy, which has stung the video game industry this year as consumers think twice about buying game machines and software.
"Despite the success of 'Call of Duty: Modern Warfare 2', Activision Blizzard remains cautious about the U.S. and global economy as well as other variables that can affect industry fundamentals and our own performance, including consumer spending which remains a significant concern," he said in a statement.
Price cuts from home console makers Nintendo Co, Microsoft Corp and Sony Corp had been expected to help boost software sales since September, but have so far proven to have little affect on game sales.
Sales of video game equipment and software in the United States tumbled 19 percent in October to $1.07 billion, according to research group NPD.
(Reporting by Franklin Paul; Editing by Derek Caney)
http://www.reuters.com/article/techn...5AH3HJ20091118
'2012' Opening Earns $65 Million
Brooks Barnes
After a quiet stretch at the North American box office, Hollywood discovered once again that audiences want to see the world and a cast of B-list actors ripped into pieces in a blitz of computer-generated effects.
"2012," Roland Emmerich's thriller about a global cataclysm, opened at No. 1 with a higher-than-expected $65 million in ticket sales in the United States and Canada, according to the tracking service Hollywood.com. Sony, which released the movie, estimated that it raked in an additional $160 million overseas, making the first weekend for "2012" one of the biggest of the year.
It is rare for a movie not based on a pre-existing brand, franchise or hit novel to deliver such robust results. Sony said "2012," with a budget of $200 million, had the highest worldwide opening ever for an original movie.
Sony, which has now opened eight movies in a row in first place, pushed the picture with a marketing campaign that highlighted its summeresque qualities: big, nonthinking, rip-'em-up popcorn fare. (Most reviews have been negative.) In the latest example of the studio's forward-thinking promotional campaigns, the first wave of billboards simply read, "Search: 2012." Sony knew that a raft of links about the doomsday date often attributed to the Maya would pop up in Google.
At the other end of the spectrum the tiny independent film "Precious: Based on the Novel 'Push' by Sapphire," the story of a Harlem girl who is brutally abused by her parents, played to sold-out theaters in limited release, selling about $6.1 million for a new total of $8.9 million.
If that strong pace keeps up when this Lionsgate film opens nationwide on Friday, it could blossom into a substantial hit, an enormous feat given the subject matter. Lee Daniels directed the film, with Oprah Winfrey and Tyler Perry lending promotional backing.
"Disney's A Christmas Carol" benefited from moviegoers who seemed more in a holiday spirit than when the movie opened to disappointing results last weekend. The movie, directed by Robert Zemeckis, was second, selling a solid $22.3 million for a new total of $63.3 million.
"The Men Who Stare at Goats," a comedy from Overture Films starring George Clooney, was third with an estimated $6.2 million ($23.4 million total). "Precious" was fourth. Fifth place went to the Michael Jackson concert documentary "This Is It" (Sony) with about $5.1 million ($67.2 million total).
http://www.nytimes.com/2009/11/16/movies/16box.html
Boxee Set-Top Box Is On The Way: Watch Out, Cable Companies
Shawn Oliver
Boxee has been on a wild, wild ride since debuting to the world last year, and for those looking for new ways to catch more content online, it has become the go-too application. And while it has certainly taken off, there's still lots of room to grow. One of the main reasons that it has yet to become a household name outside of the tech community is the need to have a full fledged PC to run it. And unless you're looking to hook up a media PC/HTPC in your den, you're probably not going to see Boxee in your living room.
At least, that was the case up until this week. Out of nowhere, Boxee announced that it has located its first-ever hardware partner, which basically means that some sort of Boxee set-top box is on the way. Boxee has informed us that more details will be provided on December 7th when it reveals its first Beta software. Unfortunately, that means that little is known about the box right now. We're guessing that it'll be something like the Roku box or the Apple TV, but only time will tell what the actual design is like. However, obviously there are any number of small form-factor platforms available on the market today to get this done for the folks at Boxee - perhaps an NVIDIA Ion-based system might do the trick? In fact, the mock below looks a lot like an Acer Aspire Revo or maybe it's based on something a bit more powerful?
What could be possibly more important for Boxee is another small (but big) announcement. We're told that the Boxee software could eventually be embedded onto other devices. That means that your DVD player, DVR or even Blu-ray player could one day have access to Boxee, similar to how some devices already have access to Vudu and Netflix right now. Cable companies best watch out--things are about to get really, really interesting.
http://hothardware.com/News/Boxee-Se...ble-Companies/
TV Set-Top Will Put Internet on the Box
Lara Sinclair
THE internet is about to become the de facto fourth commercial television network after Telstra confirmed it would launch a digital set-top box to make it easier to watch internet video on your TV.
Yesterday the telco confirmed its plans, first reported in The Australian a year ago, to launch a set-top box and digital video recorder that would allow people to record TV shows and download Telstra's online sports content and movies to view on the TV instead of the computer.
The plan, which begins with a limited trial of the new Tbox in Melbourne next month, takes Telstra a step closer to competing with broadcasters and its own 50 per cent-owned pay-TV venture Foxtel for TV viewers. AFL and rugby league and other sports that already appear on Telstra's BigPond website will have their own channels on the service and will appear on the Tbox's program guide but full-length matches will be shown 12 hours after the live event, to comply with Telstra's internet rights.
Product management chief Holly Kramer would not reveal pricing for the Tbox, which will be available to Telstra's 2.3 million broadband customers next year, but said it would be bundled together with the company's broadband internet services.
Telstra Media boss Justin Milne said the Tbox would offer more movies and TV shows on demand than other players, which included Foxtel's on-demand box office service and TiVo's Blockbuster movie download service, during the trial.
"We will have more than 1000 movies available for download at any one time," Mr Milne said. He denied the box would allow people to skip over ads but said people would be able to fast-forward through shows at 600 times the normal speed -- 20 times faster than Foxtel's iQ box. The move would enable Telstra to sell content even if it were forced by the government to sell its half-share of Foxtel. But Mr Milne said the Tbox would not compete with Foxtel or free-to-air broadcasters.
Communications analyst Paul Budde said the Tbox was unlikely to be a game-changer. "We haven't seen anywhere around the world a massive uptake of these sorts of devices," he said.
http://www.theaustralian.com.au/news...-1225799941851
On The Wires
So I just ran the sound for a 20th Century Fox Corporate meeting. They were discussing what it would take to buy a senator to make netflix and movie streaming illegal. WTF. Comments?
WGA East Backs Net Neutrality
Supports New York City Council resolution
Dave McNary
The Writers Guild of America East has backed a New York City Council resolution urging the Federal Communications Commission to adopt Net neutrality standards for Internet service providers.
"We believe people would benefit from an Internet that offers a greater variety of options than what is currently available on television, radio and the movie theater," said WGA East exec director Lowell Peterson in testimony unveiled Thursday. "Digital technology presents an enormous range of possibilities to content creators and consumers alike, and it would be a tragedy to squeeze all of that into a narrow commercial band."
The FCC began last month the formal process of establishing a set of "rules for the road" for Internet service providers. Studios and networks have voiced concerns that increased piracy may result if the open access push succeeds.
Peterson noted that writers and other creators without the financial backing of major corporate enterprises will lose their access to audiences if Net distribution is skewed in favor of large-scale commercial interests.
"It is far from clear what position and status writers will have in the digital world, but we must recognize that this will be not determined by abstract outside forces," he added. "We at the WGAE believe that the people who craft the stories people love, who make the pain and joy of human experience come alive, who dig beneath the surface to find and express the truth, should have a direct and meaningful role as decisions are made about the digital future. If their access to the audience, to the public, is controlled by powerful corporate entities, their creative voices will be lost. We do not believe that would be in the public interest."
Peterson said the WGA East — which reps about 4,000 members — recognizes that digital technology makes piracy easier, and piracy takes money out of members' pockets.
"However, we do not believe that the way to fight piracy is to give large corporate entities control over the flow of Internet data. We do not fight car theft by limiting the number of car dealerships," he concluded. "There is nothing inconsistent about supporting Net neutrality and opposing theft of digital content.
The WGA West has been on record for over a year as favoring Net neutrality. In April 2008 testimony before the Senate Commerce Committee, Patric Verrone (who was WGA West president at that point) and thesp Justine Bateman described the Internet as the only remaining open market for truly independent creators and emphasized the need for Net neutrality.
http://www.variety.com/article/VR111...ryid=1009&cs=1
Glyde Aims to Simplify Online Sales of Used Media
Brad Stone
People whose old books, CDs, DVDs and video games are collecting dust on their shelves will soon have another way to resell them on the Web.
On Monday, Glyde, a start-up based in Palo Alto, Calif., plans to introduce a Web site intended to make it simple for people to buy and sell used media products.
The company, which will be challenging formidable giants like eBay and Amazon.com, is the brainchild of Simon Rothman, who worked at eBay from 1999 to 2005 and was the primary creator and executive in charge of its automotive site, eBay Motors.
Mr. Rothman says that other e-commerce companies have made it too time-consuming and complex for sellers to list items and for shoppers to find what they want. To smooth such transactions, Glyde will, among other things, supply sellers with a stamped, pre-addressed envelope once their item has been bought.
Glyde is backed by $6 million from investors including Charles River Ventures, a venture capital firm based in Boston.
The company's approach faces inherent challenges. The market is dominated by eBay and its somewhat forgotten media-focused site, Half.com. Then there is Amazon.com, which this year began allowing people to trade in used video games and DVDs for store credit.
To ensure a broad selection of items on the site, Glyde will have to attract a critical of mass of sellers who, at least at first, would have a better chance of success on established sites. Then it must lure buyers who are more familiar with the competition.
Mr. Rothman said his target market was people who had never sold items on the Internet because it was too difficult. "We want the middle-aged Midwestern soccer mom to easily be able to buy and sell her stuff," he said. "It's a pretty straightforward ambition."
Glyde's approach is to attract people using a slick, uncluttered Web site that cuts many steps out of the e-commerce process.
Using the site's catalog of products, sellers indicate the item they want to offer and specify its condition. They do not have to upload a photo or type in a product description. The site suggests the market value; if the seller adjusts the price, they are told how many cheaper items are ahead of theirs in the queue.
Buyers, on the other hand, see only one listing for each product and never learn the identity of the seller. Unlike on eBay, there are no feedback scores, a measure of a seller's reliability that many online shoppers have become accustomed to consulting.
Behind the scenes, Glyde determines which seller will fulfill a purchase by calculating the best price and the fastest delivery time, and by assessing the quality of each seller, including how responsive they have been in past transactions.
Glyde takes a 10 percent fee on each completed purchase, and charges $1.25 to the seller for the envelope.
Buyers pay by credit card, and Glyde keeps the money until the buyer receives the item and indicates satisfaction with it. "If a buyer's money is not in the seller's hands until the buyer is happy," Mr. Rothman said, "it's much harder to game the system."
Mr. Rothman conceded that people could list stolen or bootlegged items. And buyers could conceivably get a CD, copy it and then indicate they were unhappy with the transaction to avoid paying. He said Glyde would monitor people's behavior for unusual patterns.
Van L. Baker, a vice president at the research firm Gartner who was briefed on the company, said: "A lot of thought went into this site. The challenge for them is going to be getting a big enough marketplace of products to put in front of people."
http://www.nytimes.com/2009/11/16/te...t/16glyde.html
Will Ferrell is Hollywood's Most Overpaid Star: Forbes
Funnyman Will Ferrell and British actor Ewan McGregor on Wednesday headed a Forbes.com list of Hollywood's most overpaid stars when looking at the financial returns of their movies.
Billy Bob Thornton, Tom Cruise and Jim Carrey also made the top 10 tally of actors who cost more to hire than they appear to be worth at box offices.
Ferrell took first place largely due to the flop of his summer 2009 movie "Land of the Lost", which Forbes said cost an estimated $100 million to make but earned just $65 million at box offices worldwide for movie studio Universal Pictures.
The movie followed a disappointing $43 million box office for Ferrell's 2008 outing "Semi-Pro", and $128 million for "Step Brothers".
Using a formula that calculated the actor's estimated salary on each film, including DVD and TV sales, compared to the film's revenues from theater box offices and elsewhere, Forbes.com said that for every dollar Ferrell was paid, his films earned an average $3.29.
To create the list, the financial news website looked at Hollywood's 100 biggest stars who had lead performances in at least three widely distributed movies in the last five years.
McGregor, best known for "Trainspotting" and his work in the "Star Wars" franchise, is not among Hollywood's highest paid actors but has recently proved a poor investment, averaging a return of $3.75.
Cruise, considered one of the biggest players in Hollywood, came sixth on the list with a return on investment of $7.18. Forbes said he had benefited from deals where he took nothing up front in return for a portion of the box-office gross. The deal resulted in Cruise getting paid for films like "Lions for Lambs" even if the studio did not recoup its money.
Eddie Murphy commanded a high salary after the success of family comedies like "The Nutty Professor". But his most recent films "Meet Dave" and "Imagine That" were box office duds, taking Murphy to fourth place for earning an average $4.43 for each dollar he was paid, Forbes.com said.
Forbes 10 Most Overpaid Stars were;
1. Will Ferrell ($3.29)
2. Ewan McGregor ($3.75)
3. Billy Bob Thornton ($4)
4. Eddie Murphy ($4.43)
5. Ice Cube ($4.77)
6. Tom Cruise ($7.18)
7. Drew Barrymore ($7.43)
8. Leonardo DiCaprio ($7.52)
9. Samuel Jackson ($8.59)
10. Jim Carrey ($8.62)
(Reporting by Jill Serjeant; Editing by Bob Tourtellotte)
http://www.reuters.com/article/enter...dChannel=11617
Verizon Sending Antipiracy Notices for Hollywood, Too
Greg Sandoval
Verizon Communications has agreed to forward copyright violation notices on behalf of Hollywood studios, including NBC Universal, multiple sources tell CNET.
The news comes after Verizon began issuing the same type of copyright letters on Thursday--as part of a test--on behalf of the music industry.
In addition to its deals with the Recording Industry Association of America and NBC Universal, Verizon has similar partnerships with an undisclosed number of other film studios and copyright owners, according to sources with knowledge of the negotiations. It is unclear when Verizon began issuing the letters for NBC Universal.
A Verizon spokesman declined to comment. In response to questions about the deal, NBC Universal issued a statement:
"We are happy to be working with the ISP community to raise awareness about inappropriate online activity," the company said. "The notice from NBCU that accompanies the ISP's letter includes a link through which consumers can learn about legitimate content online, and provides a number to call if consumers feel they have been contacted in error. We note, however, that virtually no users have contested the accuracy of the notices."
While Verizon has agreed to do little more than forward letters to customers accused of copyright violations, the partnerships signal a shift in the second largest phone company's approach to the copyright wars.
With the exception of a similar agreement struck with Disney in 2005, Verizon has declined to help with antipiracy efforts. In comparison, many of Verizon's competitors have issued the same kind of letters for a long time. Others, including Cox Communications, take much stronger measures in dealing with suspected file sharers, going as far as terminating service of chronic violators.
Still, Verizon's shift is significant because it's more evidence that the big ISPs are now jumping into the piracy fray on the side of big entertainment companies.
The big question is: why now?
At this point there's only speculation but broadband companies have indicated they want greater access to premium TV shows and feature films.
Comcast's attempt to acquire NBC Universal may be one sign that this is occurring. Another is the growing willingness of some major TV networks and film studios to distribute content online. NBC Universal, in partnership with News Corp., created Hulu, the popular Web video service that offers top-rated TV shows and a few feature films. Another example is Sony Pictures' Crackle.com, which offers the largest menu of full-length feature films legally available on the Web.
A greater number of consumers are migrating to the Web for entertainment, and networks and studios know they must be where their audience is. That means TV and film companies are under pressure to turn the Internet into a viable distribution platform.
The draw for consumers is that Hulu and Crackle generate revenue by selling advertisements and offer the shows and films free of charge. In this soft economy, the Web is providing some cable customers an alternative to their cable subscriptions.
If broadband providers strengthen their ties to Hollywood, they might be able to thwart the Internet threat. Here's another reason that broadband providers might want to help end piracy: it's allegedly clogging their pipes.
Whatever the truth is, U.S. file sharers shouldn't fret quite yet. The antipiracy efforts of the entertainment industries appear to be a long way from creating the kind of digital roadblocks that have recently been established overseas.
In France, the government recently passed a law that would require ISPs to cut off Internet access to a repeat offenders. Similar laws have been passed in Taiwan and South Korea.
http://news.cnet.com/8301-31001_3-10397708-261.html
An Unsteady Future for Broadcast
Tim Arango and Bill Carter
Oprah Winfrey is fleeing broadcast television for cable. NBC, once arguably the biggest cultural tastemaker in the United States, is being shopped to Comcast, the country's largest cable company.
Have we finally reached a tipping point that suggests a remarkable decline in the fortunes of broadcast television in America?
In the NBC Universal deal, in which General Electric is negotiating to sell a majority stake of its media business to Comcast, it is the cable channels — USA, Bravo, SyFy, MSNBC and CNBC — that are seen as the most valuable, not the NBC broadcast network, which is mired in fourth place in the ratings among the four major networks.
Most analysts and many executives agree that the economic model of broadcast television — which relies much more heavily on advertising than cable — is severely fractured. What they are wondering now is if it is irreparably broken.
"It's in a period of huge transformation," said Horace Newcomb, a professor of telecommunications at the University of Georgia and the director of the Peabody Awards, which are awarded annually for excellence in radio and television broadcasting. "It's in a state of confusion."
The business model of the big three networks — which became four when Fox began prime-time programming in 1987 — has for decades relied on a simple formula: spend millions on original programming that will attract advertiser dollars and later live on as lucrative reruns in syndication.
But ratings are going down. In the 1952-53 television season, more than 30 percent of American households that owned televisions tuned in to NBC during prime time, according to Nielsen. In the 2007-8 season, that figure was just 5.2 percent.
The mass audience — the bread and butter of broadcast networks — has splintered into niches as viewers flock to alternative entertainment choices on the Internet, to video games and to cable channels dedicated to individual tastes, like Ms. Winfrey's forthcoming OWN, the Oprah Winfrey Network.
And yet, programming remains expensive — a network drama costs about $3 million for one hour — and advertisers are becoming reluctant to pay ever-rising premiums for prime-time shows. All the networks have tried to adjust, putting on more reality programming, for example, that is cheaper to produce.
NBC made perhaps the biggest bet of all — moving Jay Leno to prime time each night at 10, saving the millions it would have cost to develop a scripted show in that time spot. The Leno move has been the subject of intense scrutiny by the media, because Mr. Leno's ratings have lately fallen on several nights well below even the modest guarantees NBC made to advertisers.
Nicholas P. Heymann, an analyst at Sterne, Agee & Leach who follows G.E., said that the consistently ineffective efforts to rebuild the prime-time portion of the NBC network might have led G.E. to begin thinking it was time to exit the entertainment business. And this one particular decision may have pushed G.E. over the edge, he said.
"I think the Leno move was the last straw," Mr. Heymann said, "the last roll of the dice for G.E."
Mr. Heymann acknowledged that it seemed unlikely on its face that such a huge deal could hinge on one decision in one slice of an enormous company. But he said, "It's the domino effect of the move, on the shows in front of 'Leno' and the late-night shows after it. I think G.E. decided, 'We can't go on doing this.' "
While networks have found it difficult to charge ever-higher advertising rates in the face of declining ratings, big cable channels — like USA, TNT and TBS — have flourished with the millions of dollars in subscription fees from cable operators that they receive, on top of advertising.
"The cable players have a robust affiliate fee stream that allows them to better finance original programming," said Anthony DiClemente, a media analyst at Barclays Capital. "The main structural issue right now with broadcast is that the vast majority of revenues are from advertising."
Profit margins for cable networks are also much better than broadcast networks'. Derek Baine, a senior analyst at SNL Kagan, said big cable networks earned profit margins of 40 to 60 percent, while a good year for a broadcast network is a 10 percent profit margin.
Illustrative of this is a comparison of NBC to ESPN, one of the most popular cable channels. Last year, revenue for the two networks was roughly equal. NBC, according to SNL Kagan, generated about $5.6 billion in advertising dollars; ESPN generated a total of about $6 billion in revenue — $1.6 billion from advertising and $4.4 billion in subscriber fees. But ESPN was vastly more profitable. Its cash flow was about $1.4 billion, while NBC's was $304 million.
"The viewership continues to migrate from broadcast to cable," Mr. Baine said. "Over time, advertisers have continued to pay premium prices for prime time, but over time the audiences continue to go down. Eventually you are going to hit an inflection point."
Perhaps the most steadfast defender of the broadcast model is Leslie Moonves, the chief executive of CBS. He says he believes broadcasters can survive without the additional subscription fee revenue that goes to cable networks. He frequently points to the power of broadcasters both to reach mass audiences and to create assets unmatched by anything on the cable side of the business.
Though he declined to comment for this article, Mr. Moonves, in an appearance at the Paley Center for Media in Manhattan earlier this week, said he had recently closed a deal for a new CBS drama, "NCIS: Los Angeles," to sell its repeats for the impressive price of $2.35 million an episode. The buyer? USA network, which happens to be owned by NBC.
The original "NCIS" is the most successful program on USA — in repeat episodes.
Mr. Moonves noted that the two NCIS editions taken together "are a billion-dollar property." No show created on any cable network has been able to approach that level of revenue. "My model isn't broken," he said.
CBS executives have pointed out recently that the advertising market has started to show signs of revival. The so-called scatter market, where advertisers buy time on an individual commercial basis, is up about 25 percent, the CBS executives said.
But the cultural implications of the decline of broadcast television may be as profound as the business forces at play. Gone are the days when the nation gathered around television sets in the evening to watch, say "The Cosby Show" or "All in the Family" and then chat about it the next day at work.
Broadcast television was "a place, an arena, where ideas were presented in a fashion in which people could become attached to or explore," said Mr. Newcomb, the professor.
"Issues with civil rights and the women's movement were embedded into entertainment programs and people would see them and either accept it or reject it," he said. "Today, you can watch TV and not have to be challenged."
http://www.nytimes.com/2009/11/21/bu...21network.html
UN Slated for Stifling Net Debate
Jonathan Fildes
The UN has been criticised for stifling debate about net censorship after it disrupted a meeting of free-speech advocates in Egypt.
UN security demanded the removal of a poster promoting a book by the OpenNet Initiative (ONI) during a session at the Internet Governance Forum in Egypt.
The poster mentioned internet censorship and China's Great Firewall.
The UN has said that it had received complaints about the poster and that it had not been "pre-approved".
"If we are not allowed to discuss topics such as internet censorship, surveillance and privacy at a forum on internet governance, then what is the point of the IGF?" Ron Deibert, co-founder of the OpenNet Initiative told BBC News.
'Objections'
Professor Deibert said that he had been asked by the UN special rapporteur For Human Rights, who witnessed the removal, to send a formal letter of complaint.
Video of the event, posted to YouTube, show a UN security guard gathering up the poster from the floor and taking it away.
"No UN official was involved in throwing the poster on the floor," a UN spokesperson said.
"Following repeated requests from the IGF Secretariat to remove the poster from the floor, a UN Security [guard] removed it from the floor and folded it undamaged. The organisers were told that they could pick it up anytime later that evening."
The UN said they had received complaints about the poster from "delegates" and that it had not been "pre-approved for posting outside the allocated room".
Part of the banner read: "internet censorship and surveillance are increasing in democratic countries as well as authoritarian states.
"The first generation of controls, typified by China's 'Great Firewall', are being replaced by more sophisticated techniques that go beyond mere denial of information."
Mr Deibert said that he asked "repeatedly" to see "rules or regulations governing this act".
"They did not give us any, only referring to the 'objections of a member state'," he told BBC News.
'Surprising decision'
It followed an earlier incident when UN officials asked the ONI to stop distributing an invitation which "mentioned Tibet", according to Mr Deibert.
The UN said the invitation was advertising "a film on 'free Tibet', which was not mentioned in the original request for the room".
"The IGF Secretariat approved the request by the OpenNet Initiative (ONI) for a room on the first day of the Forum to promote the book Access Controlled and a room was allocated for that purpose," it said in a statement.
"Officials from the Forum's Secretariat requested the organisers not to distribute the flyer or show the film as this is not what the room was requested for and second, these were concerned with a political issue not related to the Internet Governance Forum."
The ONI agreed to stop handing out the flyers, according to Mr Deibert.
Human rights activists have criticised the UN-sponsored Internet Governance Forum for holding the meeting in Egypt. Reporters Without Borders said it was "surprised" by the decision and questioned the country's approach to free speech online.
The Internet Governance Forum (IGF) brings together government officials, businesses and net luminaries.
Web creator Sir Tim Berners-Lee used a keynote speech at the event to launch the World Wide Web Foundation, a group set up to use the web to drive social and economic change, largely in the developing world.
The IGF grew out of a previous meeting called World Summit on the Information Society that was held in Tunisia in 2005.
It has more than 1,400 participants and runs from 15 to 18 November.
http://news.bbc.co.uk/go/pr/fr/-/2/h...gy/8361849.stm
Chinese Censors Block Obama's Call to Free the Web
Alexa Olesen
President Barack Obama prodded China about Internet censorship and free speech, but the message was not widely heard in China where his words were blocked online and shown on only one regional television channel.
China has more than 250 million Internet users and employs some of the world's tightest controls over what they see. The country is often criticized for its so-called "Great Firewall of China" — technology designed to prevent unwanted traffic from entering or leaving a network.
During his town hall meeting in Shanghai on Monday, Obama responded at length to a question about the firewall — remarks that were later played down in the Chinese media and scrubbed from some Chinese Web sites.
"I'm a big supporter of non-censorship," Obama said. "I recognize that different countries have different traditions. I can tell you that in the United States, the fact that we have free Internet — or unrestricted Internet access — is a source of strength, and I think should be encouraged."
Obama may have been hoping to set a personal example for China's leaders when he said he believes that free discussion, including criticism that may be annoying to him, makes him "a better leader because it forces me to hear opinions that I don't want to hear."
One prolific blogger who goes by the name of Hecaitou said that a transcript of the exchange posted on the portal Netease was taken down by censors after just 27 minutes. A full Chinese-language transcript of the event was later posted on the official Xinhua News Agency Web site but required four clicks to locate the relevant section.
Only local Shanghai TV carried the event live. It was streamed on two popular Internet portals and on the White House's Web site, which is not censored, though both the video and audio feeds were choppy and delayed inside China.
The People's Daily online briefly summarized Obama as telling the crowd that the Internet has "enormous power in assisting information dissemination," but made no mention of his comments on censorship.
China has the world's most extensive system of Web monitoring and censorship and has issued numerous regulations in response to the rise of blogging and other trends. But the Web remains far more open than the country's tightly controlled print and television media, which is the only source of news for the vast majority of Chinese.
Yang Hengjun, 45, a blogger and novelist based in the southern city of Guangzhou, said he was impressed by Obama's frank admission that some free speech irks him, and by U.S. laws that are intended to keep the government from censoring criticism.
"You see, freedom of speech in America is not given to the people by the president but is something that the people use to supervise their government and president, to protect themselves," Yang wrote in an essay titled "Why do I Blog? Obama has answered that question." Posted online late Monday, links to the essay were spread via Twitter.
Because Twitter is blocked in China, Yang and others use proxy servers to get around the controls.
http://www.newstimes.com/news/articl...Web-254068.php
Experts: Smart Grid Poses Privacy Risks
Brian Krebs
Technologists already are worried about the security implications of linking nearly all elements of the U.S. power grid to the public Internet. Now, privacy experts are warning that the so-called "smart grid" efforts could usher in a new class of concerns, as utilities begin collecting more granular data about consumers' daily power consumption.
"The modernization of the grid will increase the level of personal information detail available as well as the instances of collection, use and disclosure of personal information," warns a report jointly released Tuesday by the Ontario Information and Privacy Commissioner and the Future of Privacy Forum (FPF), a think tank made up of chief privacy officers, advocates and academics.
Smart grid technology -- including new "smart meters" being attached to businesses and homes -- is designed in part to provide consumers with real-time feedback on power consumption patterns and levels. But as these systems begin to come online, it remains unclear how utilities and partner companies will mine, share and use that new wealth of information, experts warn.
"Instead of measuring energy use at the end of each billing period, smart meters will provide this information at much shorter intervals," the report notes. "Even if electricity use is not recorded minute by minute, or at the appliance level, information may be gleaned from ongoing monitoring of electricity consumption such as the approximate number of occupants, when they are present, as well as when they are awake or asleep. For many, this will resonate as a 'sanctity of the home' issue, where such intimate details of daily life should not be accessible."
According to the study, examples of information that utilities and partner companies might be able to glean from more granular power consumption data include whether and how often exercise equipment is used; whether a house has an alarm system and how often it is activated; when occupants usually shower, and how often they wash their clothes.
Other privacy risks could result from the combination of information from two separate users of the smart grid: For example, roaming smart grid devices, such as electric vehicles recharging at a friend's or acquaintance's house, could create or reveal additional personal information.
At a recent smart grid conference in Madrid, FPF co-chair Jules Polonetsky showed how researchers have already mapped unique load patterns of different equipment, showing that for instance washing machines pull power in different ways than other devices (graphic below courtesy FPF).
In an interview with Security Fix, Polonestsky said some utilities have adopted the stance that existing regulations already prevent them from sharing customer data without prior authorization. But he noted that as power companies transition to the smart grid, those utilities are going to be collecting -- and potentially retaining -- orders of magnitude more data on their customers than ever before.
"Relatively speaking, [utilities] aren't big marketing companies with big back end databases ready to handle the tidal wave of data that's coming," he said. "But we're a little worried that without some serious planning now, there's going to be quite a challenge in a couple of years when people start realizing that maybe should think about developing some solid data retention policies that address what's going to be done with all of this data."
Indeed, the report found that "comprehensive and consistent definitions of personally identifiable information do not generally exist in the utility industry. Privacy concerns arise when there is a possibility of discovering personal information, such as the personal habits, behaviors and lifestyles of individuals inside dwellings, and to use this information for secondary purposes, other than for the provision of electricity."
Ontario is on track to have a smart meter installed at every home and business by the end of 2010. More than 8 million smart meters are used in the United States today, and more than 50 million more could be installed in at least two dozen states over the next five years, according to the Edison Foundation's Institute for Electric Efficiency.
The report echoes some of the same concerns raised in a recent report drafted by the National Institute of Standards and Technology, which warned that "distributed energy resources and smart meters will reveal information about residential consumers and activities within the house," A NIST panel tasked with examining the cyber security aspects of the smart grid found "a lack of formal privacy policies, standards or procedures about information gathered and collected by entities involved in the smart grid," and that comprehensive and consistent definitions of personally identifiable information do not generally exist in the utility industry.
http://voices.washingtonpost.com/sec...ses_priva.html
Chicago's Camera Network Is Everywhere
Extensive surveillance system integrates nonpolice video, raises concerns about possible privacy abuses
William M. Bulkeley
A giant web of video-surveillance cameras has spread across Chicago, aiding police in the pursuit of criminals but raising fears that the City of Big Shoulders is becoming the City of Big Brother.
While many police forces are boosting video monitoring, video-surveillance experts believe Chicago has gone further than any other U.S. city in merging computer and video technology to police the streets. The networked system is also unusual because of its scope and the integration of nonpolice cameras.
The city links the 1,500 cameras that police have placed in trouble spots with thousands more—police won't say how many—that have been installed by other government agencies and the private sector in city buses, businesses, public schools, subway stations, housing projects and elsewhere. Even home owners can contribute camera feeds.
Rajiv Shah, an adjunct professor at the University of Illinois at Chicago who has studied the issue, estimates that 15,000 cameras have been connected in what the city calls Operation Virtual Shield, its fiber-optic video-network loop.
The system is too vast for real-time monitoring by police staffers. But each time a citizen makes an emergency call, which happens about 15,000 times a day, the system identifies the caller's location and instantly puts a video feed from the nearest camera up on a screen to the left of the emergency operator's main terminal. The feeds, including ones that weren't viewed in real time, can be accessed for possible evidence in criminal cases.
A police spokesman said the system has "aided in thousands of arrests." Video cameras caught 16-year-old Michael Pace, an alleged Chicago gang member, opening fire with a 40-caliber handgun on a city bus in a 2007 incident that claimed the life of 16-year-old honor student Blair Holt and wounded four others. In July, Mr. Pace pleaded guilty to murder on the eve of his trial, and the video was released during a hearing where a judge sentenced him to 100 years in jail.
The city is "allowing first responders access to real-time visual data," said Ray Orozco, executive director of the city department responsible for the system. "Chicago understands the importance of networking instead of just hanging cameras," said Roger Rehayem of International Business Machines Corp., which designed the system. Former U.S. Homeland Security chief Michael Chertoff has called Chicago's use of cameras "a model for the country."
That worries some Chicagoans. Charles Yohnka, director of communications and public policy for the American Civil Liberties Union of Illinois, said, "With the unbelievably rapid expansion of these systems, we'd like to know when enough is enough."
The ACLU has been calling, so far without success, for the city to disclose how many cameras are in the system and what the capabilities of the system are, as well as who is allowed to look at the video feeds and under what circumstances.
Mr. Yohnka said that he isn't aware of any abuses in the use of the video but that "political surveillance" of opponents could be tempting for office holders. In other cities there have been reports of male police staffers ogling and tracking women for extensive periods though they aren't doing anything suspicious.
Mr. Orozco dismisses worries about privacy abuse. The department logs in all users and can monitor what they are doing, he said, assuring accountability. He also said access to the command center is tightly controlled. He declined to discuss specifics of who is allowed inside the center.
Chicago said that it only networks video cameras in public areas where people have an expectation they may be seen. None of the cameras record speech, because that would violate wire-tapping laws, although some can detect the sound of gunfire and breaking glass.
"People want these cameras in their neighborhoods," said Mayor Richard Daley in a prepared statement. "We can't afford to have a police officer on every corner, but cameras are the next best thing."
While video-surveillance cameras are ubiquitous in most of the developed world, they're primarily used to collect evidence that can be examined after a crime has been committed.
The Chicago system is also designed to deal with emergencies as they happen. Besides turning on when people call 911, some are set to sound alerts at command centers if people enter closed areas after hours, and some also issue spoken warnings at the site.
At the Navy Pier amusement area, cameras monitor an inlet that only official boats are allowed to enter. When the system detects recreational boats in the area, a warning to move away is issued over a loudspeaker.
It's difficult to tell how much Chicago's system cuts crime. The city's crime rates have declined steadily over the last 10 years, like those in many other cities.
Chicago police started installing highly visible cameras topped by flashing blue lights back in 2003. Many were placed at locations where residents had complained about drug-dealing, and the city later said that crime decreased up to 30% in areas with cameras. But some critics complained that the cameras just pushed drug dealers to nearby street corners.
Even if cameras don't prevent crimes, "prosecution is much quicker," said Fredrik Nilsson, general manager of Axis North America, a unit of a Swedish company that makes the digital cameras used in Chicago. "When people face recorded videos, they don't go through court trials."
http://online.wsj.com/article/SB1000...12824756.html#
PS3s Used to Capture Child Pornographers
US' Cyber Crimes Center begins using console's processing power to crack passwords on suspected sexual predators' protected files.
Tom Magrino
The PlayStation 3 has been used for a variety of altruistic tasks following its launch in 2006. Perhaps the most high-profile of these ventures is the Folding@home project, which uses spare processing power from idling, networked PS3s to undertake the arduous task of simulating protein folding in order to study the causes of various diseases.
The latest effort to harness the PS3's processing power for good comes from the US Immigration and Customs Enforcement Cyber Crimes Center. As reported by Axcess News, the Cyber Crimes Center (C3) is using networked PS3s to capture sexual predators by cracking passwords on computers suspected of containing child pornography.
The report notes that while law enforcement agents can execute a warrant to secure the physical computers, the Fourth Amendment protects suspected predators from surrendering passwords and other encryption material. As such, the agency attempts to crack the passwords by using a program that tries all possible key combinations. The report notes that a six-digit password has nearly 282 trillion possible permutations, and the networked PS3 can attempt 4 million guesses per second.
The fight against kiddie porn has a new ally.
"Bad guys are encrypting their stuff now, so we need a methodology of hacking on that to try to break passwords," said C3 senior special agent Claude E. Davenport. "The PlayStation 3--its processing component--is perfect for large-scale library attacks."
Davenport went on to note that while other gaming consoles could technically also accomplish the task, the agency also needs to install software using the open-source operating system Linux. However, C3 must use pre-PS3 Slim units, as new restrictions introduced with the latest iteration of the console prevent the agency from installing the open-source operating system.
http://www.gamespot.com/news/6240562.html
Respected Developers Begin Fleeing from App Store Platform
Continued issues with the App Store approval process are prompting developers to shun the platform entirely. Though there are tens of thousands of other developers pumping out over 100,000 iPhone apps, will continued migration away from iPhone development result in less quality software for the platform? Worse yet, will users even care?
Chris Foresman
Apple's control over the App Store—which seems arbitrary at times—still frustrates developers. That much isn't a surprise, but some developers have become frustrated to the point that they have decided to simply halt iPhone development altogether. Facebook's Joe Hewitt, Second Gear's Justin Williams, and long-time Mac software developer Rogue Amoeba have all recently decided that enough is enough, and the loss of these developers and others could spell a troubling future for the App Store. True, it has over 100,000 applications, but how many of them are created with the kind of care and passion we take for granted in the Mac software world?
Hewitt, a respected Web developer who previously worked on Firefox and its highly regarded developer plug-in Firebug, recently handed off responsibility for Facebook's successful iPhone app to another engineer at the company. Hewitt cited his frustration with Apple's approval process for the move:
Quote:
My decision to stop iPhone development has had everything to do with Apple's policies. I respect their right to manage their platform however they want, however I am philosophically opposed to the existence of their review process. I am very concerned that they are setting a horrible precedent for other software platforms, and soon gatekeepers will start infesting the lives of every software developer.
Hewitt wasn't able to discuss specifics with us, but several sources contacted Ars and told us that his decision may have ultimately been prompted by an issue with Hewitt's Three20 framework instead of problems with the Facebook application itself.
Hewitt originally released Three20—a framework derived from the work he did to create the Facebook app (and named for the iPhone's 320-pixel-wide screen)—as open source in March of this year. Numerous iPhone developers use the framework, which gives developers drop-in support for several user interface enhancements in their own iPhone apps. However, Apple recently identified use of a private API call in apps that rely on the Three20 framework, and starting rejecting these applications.
Private API calls are a definite no-no according to the iPhone Developer Agreement, but since the app review process is so opaque, it took some time before it was determined that the problem was related to the Three20 framework itself. The consensus is that these rejections were likely what finally pushed Hewitt to take a break from iPhone development. Since Apple's policy on use of private APIs is clear, it may seem that Hewitt's complaints are without merit. Unfortunately, Hewitt isn't alone in jumping ship.
Earlier this year, developer Justin Williams wrote a screed noting his objections to the way the App Store is being managed, and the significant risks it entails for most developers. It was prompted by the rejection (or extended evaluation, if we are to believe Apple's statement on the matter) of Google Voice for iPhone.
"With the latest app rejection being Google Voice, I am one step closer to selling off my iPhone products and focusing entirely on the Mac once more," Williams wrote. "I can't help but feel that I've wasted the past 9 months of my life building on a platform that is so hostile and anti-developer. I no longer enjoy building software for the iPhone because of the bureaucracy and infrastructure that surrounds it."
After expressing his displeasure, Williams was approached by another developer offering to buy his applications. This began a two-month-long process of transferring the applications to Patrick Burleson of BitBQ. Both Williams and Burleson worked with the Apple Developer Connection to have these applications transferred to Burleson's iTunes Connect account, to no avail. Ultimately, Williams had to delete his versions from the store, and Burleson had to upload his versions for review.
Both applications—FitnessTrack and Emergency Information—are stuck in Apple's review queue, meaning they aren't currently available. Meanwhile, customers that originally bought the applications from Williams will have to buy it again from Burleson if they want future updates. "It sucks because I feel bad for existing customers, but it just wasn't feasible to keep them under my name, bank accounts, and ADC account when I don't own or maintain the applications anymore," Williams told Ars. "We did everything we could, but once again Apple holds all the cards and left us in purgatory."
However, Williams is glad to be back focusing on just the Mac platform with his company Second Gear. "I made the decision that I'm not getting back on the App Store until Apple fixes its flaws," Williams explained. "Making 25 times more [money] on my Mac apps certainly made it easier, but the reason I got out was for the most part political, and part of me wanting to make a statement. I'm going to bitch about the store, Apple's faults, and all that until they do make it right. It's the only way to spread awareness and hopefully get stuff fixed."
"It's been almost two years and we developers have no better relationship with Apple than we did when this whole thing was announced," Williams told Ars. "That's unfortunate."
Late last week, yet another respected developer threw in the towel after having issues with Apple's iPhone app review team. Rogue Amoeba, most well known for its Mac applications for working with audio, ran into an App Store approval nightmare with a minor bug fix to its Airfoil Speakers Touch app. The app connects to Macs running Rogue Amoeba's Airfoil software—used to send audio from any application to an Airport Express—and stream the audio to an iPhone or iPod touch.
The update merely improved the way audio was received, and in no way changed any functionality. Despite this, Apple roundly rejected it several times. It turns out that what was keeping the app from being approved was that it uses an image of the Mac that it's connected to, as well as an icon for the application that is sending audio, to display the current audio source to the user. Rogue Amoeba's Paul Kafasis pointed out that the original application, already approved and in the App Store, used this same mechanism, and that Apple provides developers a public API for accessing these images. However, Apple ultimately rejected the use, claiming it was an inappropriate use of "Apple-owned Graphic Symbols."
It could be argued that Rogue Amoeba should have seen this coming, or at least changed its app after the first rejection to comply with Apple's guidelines. However, it's not so cut-and-dried that the use actually violated any laws or rules, and the previous precedent that the app had been approved before with this functionality suggested otherwise. Further, removing the icons would actually affect the ease of use in a negative way. Rogue Amoeba made several attempts to persuade Apple that the use was legitimate and provided a better user experience, but it was finally forced to change the icons before Apple would approve the update.
The whole four-month ordeal left a sour taste in the company's collective mouth, and Rogue Amoeba is no longer pursuing any further iPhone development. "The way the App Store is set up, it's very difficult to invest the time to develop a deep application," Kafasis told Ars. "So, developers don't put any depth into their products; you get one-offs, a single feature essentially."
Like Second Gear, the company is once again focused on the Mac platform, where it's possible to build a sustainable business model. "On the Mac, you can build a software company; on the iPhone, you can win the lottery," Kafasis explained. "A few people do [win], and sell hundreds of thousands of dollars worth of software in a very short period. The top-selling and top-grossing apps are likely making more than most any Mac software.
"But as far as the long-term goes, where is it?" Kafasis said. "You don't know your customers—Apple doesn't tell you who they are—so how do you tell them about your second product? If you do tell them—with an annoying in-app ad, for instance—how do you give them a discount? You can't."
A handful of developers responsible for a handful of applications leaving the platform might not matter much in the long term. "For every dev that leaves iPhone in frustration, 1,000 new ones join up." Hewitt tweeted in frustration last week.
"To [Apple], it's a tempest in a teapot," Kafasis told Ars. "If they see it at all, they can look to the 25,000 other developers and say, 'Well they're happy.' This isn't affecting their bottom line in an obvious way. 'Sure, you're making $50 million in app sales, but you could be making $55 million, if you let developers ship what they wanted!'" he explained.
The problem might better be explained via an analogy posited by Instapaper developer (and creator of Tumblr) Marco Arment. Though Apple prides itself on providing customers a single, straightforward outlet for iPhone apps, there are functionally two App Stores: one for folks who will install any app for 99¢ and try it at least once, and one for folks who want great software and don't mind paying for it. Targeting the first app store is a lottery, as Kafasis described it. Targeting the second one is more like the model used by most Mac developers—build well-designed software, build relationships with your users, and slowly build success over time. However, the way the App Store is run by Apple, it's incredibly difficult for developers to thrive on these types of apps alone—especially when there is potentially 25 times more income on the Mac side.
Those 1,000 developers hoping to fill Hewitt's shoes will tend to be new developers attracted by stories of a developer striking it rich on the App Store—a story Apple is only too happy to promote—and tend to be inexperienced at creating useful interfaces and cohesive design. And, as we have come to learn, plenty of those 100,000 available from the App Store lack fit and finish. Clearly there are developers that aren't happy about this situation, but do we as customers want that to be the standard? So far, it seems that this is so.
Ultimately, it seems there are two basic routes Apple could take. Apple could merely check apps for technical errors and malware, and otherwise approve everything. Alternately, Apple could allow users to install iPhone apps from whomever they choose, and make the App Store a sort of collection of premium, vetted applications. "[Apple is] currently occupying this untenable middle ground, and it's benefiting no one," Kafasis told Ars.
While developers will continue to point out the problems, and App Store rejections will get some press, it doesn't seem like Apple is particularly motivated to change the status quo. iPhones are selling well—where the real money is for Apple—and the company is poised to be the number two smartphone vendor if current sales trends continue. It will be up to us—the iPhone users buying apps—to encourage Apple to change.
http://arstechnica.com/apple/news/20...e-platform.ars
iTunes & Napster Blasted By Music Download Watchdogs
Press release
iTunes.com has been repeatedly criticised for raising the prices of music downloads during a time when online music sales are on the rise. Single track downloads recently rose from 99c to $1.29 on iTunes which prompted competing music sites Amazon, Napster, & CDUniverse to also raise prices. Critics of the price rise hope this opens the door for newer sites to take precedent by lowering prices.
TunesPro.com, a relatively new mp3 download site, has overwhelmed sales expectations by taking a huge chunk of the market share simply by offering all individual songs for as little as 19c, with additional 10% discounts given to consumers who purchase full albums.
"It simply doesn't make sense to buy music for $1.29 per song at iTunes.com when TunesPro is offering the same exact music for a fraction of the cost," says Jesse Kuzecki, a dance choreographer who often purchases music online via TunesPro.
According to Slyck.com, a popular newgroup offering music news and reviews, "It's no secret by now that buying a CD single is soooo 2001. In an era where you can stuff 10,000 songs in a device the size of a paperclip it's hardly a revelation that CD single sales have tanked, while 2009 was a record year for digital single sales in the UK. And the BPI has the stats to back it up." claims Thomas Mennecke, chief editor of Slyck.com while explaining "The latest digital music sales in the UK paint the situation perfectly. In 2002, there were almost 144 million CD single sales with only about 44 million digital download sales.
Those numbers have totally flipped in 2009 - there were only 1.9 million CD single sales, with an impressive 117.6 million digital download sales"
Mike Chancy of Mp3.com forums reiterated his colleagues disapproval of the high costs by stating, "Consumers shouldn't have to win the lottery in effort to finance the high music costs". According to Chancy, if sites similar to TunesPro gain popularity, iTunes and Napster will be forced to either lower prices or face losing their respective market share.
http://finance.yahoo.com/news/iTunes...83954.html?x=0
Foobar2000 v1.0 Beta -- Holy Crap, it's Finally Here!
Sebastian Anthony
Believe it or not, almost 7 years after its initial release, the Foobar2000 v1.0 Beta is finally out, and with it comes a large list of changes. Most of them are much-needed interface fixes, but there is the welcome addition of built-in support for the streaming of Windows Media formats (ASX/MMS/RTSP). Other than that, it's much of the same.
Foobar2000, if you were wondering, is a very light-weight music player. It's incredibly flexible thanks to its modular design and fully-featured developer kit. There are mods and plug-ins for Foobar that make it one of the most useful music players: if you're the kind of music buff that likes downloading 'quadrophonic gold remastered' albums in AC3 format from Torrent sites, then Foobar is the music player for you. If you have a large MP3 (or FLAC, AAC, MP4...) music collection and simply want to listen to it, Foobar is also the one for you.
There's all the usual functionality there too, like ripping CDs or fixing ID3 tags. My personal favourite is the keyboard shortcuts that you can set to work globally -- so even if you're playing a game like World of Warcraft, you can skip and pause your music using a finger-breaking keyboard shortcut. Handy. There's also a neat Windows 7 shell integration plugin, if you're fortunate enough to be using Foobar2000 AND Windows 7!
If you're one of those old boring types that's still using the antiquated WinAmp, or you're using the slow-and-disgustingly-bloated iTunes, give Foobar2000 a go -- you'll be surprised at just how good it is.
http://www.downloadsquad.com/2009/11...-finally-here/
Sounds Good To Me
Stuart Andrews
OK. What debate? For the vast majority of people, there's nothing contentious about the subject of digital audio file formats. On the one hand, we have MP3; popularly enshrined as the standard digital audio file format to the extent that it's become practically synonymous with downloaded music. Look at any mention of an iPod or Walkman in the mainstream media, and they'll still describe it as an MP3 Player, whether or not it's actually used to play MP3s. With DRM-Free MP3 the format of choice for download services from Amazon, Play and 7digital, it's a format on the rise, not on the wane. On the other hand, we have AAC. Whether you love Apple or hate Apple, AAC remains the default choice - and sometimes the only choice - for the millions who buy into the company's iPod line, its iTunes media player or its iTunes Online store.
If you take music and sound quality seriously, however, then audio formats and compression rates are things that probably matter to you. At TrustedReviews we regularly criticise DAPs and PMPs for their failure to support lossless formats like FLAC or WMA Lossless. We have readers who comment after a review that they wouldn't buy a specific player for exactly the same reason, or because it doesn't have the raw capacity to handle their library of FLAC or Apple Lossless tracks. There are still people who eschew digital downloads, buying albums on CD so that they can rip them themselves and ensure optimal quality (that would be me - ed). While I personally don't go that far, I can state that I've avoided buying tracks from certain online stores for the specific reason that the MP3 format tracks they sold were encoded at 256kbps and not 320kbps. To my mind, the extra quality was even worth paying a little extra cash for.
Recently, however, a few things have left us wondering whether we've been placing too much emphasis on the importance of lossless compression and specific file formats, particularly when it comes to purchasing music or listening to it on portable devices. First, like most people we've spent a lot of time using streaming services like Napster and Spotify. The former uses 256kbps MP3 files for download tracks and 128kbps MP3 files for streamed tracks, while the latter uses 160kbps OGG Vorbis (though premium users can upgrade to 320kbps). While high-end headphones or speakers can show up some deficiencies of the low bit-rate formats, we couldn't describe the sound coming out as appalling. In fact, it's usually 'good enough.' Secondly, a few people in the last six months or so - people who take their audio gear seriously and have spent thousands of pounds on Hi-Fi equipment - have admitted privately to us that 256kbps MP3 is easily good enough for serious listening, and that they struggle to hear much difference over 192kbps MP3 in many situations. This got us thinking: when we claim that we can tell the difference between a 320kbps MP3 and a FLAC encode, are we really hearing some substantial difference, or are we merely telling ourselves that one is better than another?
We decided it was time to find out...
Before we get into our deeply dodgy, pseudo-scientific investigation, let's establish exactly what we're talking about. MP3, AAC and the other main audio codecs were designed to reduce the amount of data required for a digital audio file to provide an accurate representation of an original recording, enabling these files to be sent over the low-bandwidth 1990s Internet or packed en-masse onto the earliest, low-capacity MP3 players. All use some form of lossy compression through perceptual coding - essentially, analysing the music streaming from CD and using a psycho-acoustic model to work out which bits will be marginal to or beyond the aural capabilities of most human ears. This information can then be reduced or even discarded, resulting in a smaller file.
Up to a point, it's a good approach, but it has limitations. First, much depends on the encoder being smart enough to work out which parts of the audio stream are crucial and which parts aren't, which is why you might hear a surprising difference in audio quality between MP3 tracks encoded at the same bit rate but using different encoders.
Secondly, there's a reasonable variation in the sensitivity of human ears. Those people who have naturally sensitive ears and/or who have trained their brains to recognise slight differences in audio quality (e.g. audio technicians, classical musicians) may spot flaws in MP3 tracks that most people wouldn't notice in a million years. Audiophiles take these things seriously, and when you've spent hundreds or thousands of pounds on Hi-Fi equipment, you aren't keen to make any compromises on their source material.
Finally, lossy encoding methods inevitably create certain audio artefacts. Instruments or sounds that have a short, fierce initial attack, like percussion, can be smeared or affected by 'pre-echo' (where the actual sound is preceded by its echo, with any recorded echo diminished). Some audiophiles claim that the simple fact that if any data is discarded, the result will always be a lower quality listening experience, particularly when high-end equipment is used.
This is where lossless formats come in. Lossless formats, such as Monkey's Audio, FLAC, Apple Lossless and WMA Lossless, are far less efficient when it comes to squeezing lots of audio data into a smaller package, but by retaining all the information they ensure that the compressed version is the equal of the original. Now, this needs to be kept in perspective. To hear some people talk about FLAC or Apple Lossless, you might think that we're talking about the ultimate in audio quality. However, for obvious reasons, a FLAC encode ripped from CD can only ever offer the same quality as the 44.1kHz, 16-bit Linear PCM original. While it's possible to purchase tracks in a 96kHz, 24-bit FLAC format from specialist stores, most FLAC files you'll produce or come across won't match, say, Super Audio CD (2822.4kHz, 1-bit DSD) or DVD Audio (48kHz, 24-bit) material for quality. Given that these failed physical formats were designed to overcome the perceived limitations of CD, it's worth giving this some thought.
Still, stuff the science. We wanted to see whether the choice of lossless or lossy audio format made a difference when tracks were listened to by reasonably ordinary subjects, including members of the TR team. We won't pretend that we took the most scientifically rigorous approach or brought out an armoury of test equipment to check and compare waveforms. Instead, we ripped four tracks from CD to FLAC using DBPowerAmp CD Ripper, then used the freeware WavePad editor to create thirty-second excerpts from those files for testing purposes. We then used DBPowerAmp converter to make two MP3 encodes of those tracks, one at a constant bit rate (CBR) of 192kbps, and one at 320kbps. The LAME encoder, widely considered the best for high-bit rate MP3, was selected for encoding duties. 192kbps is widely considered the minimum bit rate for decent quality MP3 audio. 320kbps is the top-end standard for most MP3 players, and the one adopted by online music stores such as 7 Digital or Play.com. We wanted to see whether our guinea pigs could spot the difference between these files and the original FLACs.
Our test tracks went onto an Asus notebook. The kind chaps at hifi headphones had provided us with an iBasso D3 Python USB DAC and headphone amplifier - similar to the iBasso D2 we reviewed earlier in the year, but with enhanced sound quality and a little more oomph in the output stages. We used this to provide the audio output. Into the D3 we plugged a pair of BeyerDynamic DT770 Pro headphones, ensuring that our test subjects would get excellent (though not ridiculously high-end) audio without being bothered by any background noise (though there wasn't much inside the TR office used for testing).
Each test subject heard each track in two versions. Massive Attack's Small Time, Shot Away and Radiohead's There There were heard in both 192kbps MP3 and FLAC formats, while Maxwell's Ascension and Yumeji's Theme from the In the Mood for Love soundtrack were heard in 320kbps and FLAC. In each case, the subject simply had to say which version sounded best. We gave them two listens to each version, and the option to listen again if they wanted. We then jotted down their findings, plus any comments they had as to why they had made a particular judgement.
No test subject could see the screen during testing, so all tests were conducted blind. We took every step possible to ensure that the subjects did not know which version of a track they were listening to at any time.
Oh dear. We won't name names, but of the seven people tested, including five members of the TrustedReviews team, only one person could accurately pinpoint which tracks were MP3 and which tracks were FLACs in every case. Of the rest, three of our subjects managed to pick the lossless track on two occasions, while the other three only managed a single correct choice.
Interestingly, the results didn't come out as we anticipated. We knew that discerning 320kbps MP3 files from lossless FLAC files was going to be hard, but we expected that, with decent listening equipment and a couple of hearings, most of the test subjects would be able to tell a 192kbps MP3 from the FLAC original. Shockingly, this wasn't so. In the tests where we played 320kbps files against FLACs the number of people who chose correctly and incorrectly were equal. In the tests where we played 192kbps files against FLACs, more of our subjects actually went for the lower-quality file.
Does the style of music make any difference? Certainly Massive Attack's dark, heavily layered sound seemed to wrong foot our panel more than the R&B, rock and classical tracks used. One subject even noted that the 192kbps version sounded clearer, but also flatter, as if the sacrifice of some background tone made what remained seem that little bit more defined. With certain styles, it's also easier to hear certain cues that tell you that the file has been compressed. With Radiohead, for example, those who got it right noted that the percussion – specifically – the cymbals, sounded smeared and less well defined in the 192kbps track as opposed to the FLAC version. This difference isn't so pronounced when you go up to 320Kbps.
320kbps MP3 is enough:
For most listening purposes, with most equipment and most ears, 320kbps MP3 is perfectly good enough. Sure, use FLAC for archiving purposes - it makes sense to have a lossless master of your CD on a server, NAS or PC in the house - but if you're clogging up a portable player with FLACs or Apple Lossless files, then either a) you have superior ears, a headphone amplifier and seriously high-end headphones or b) you're lacking in common sense.
192kbps might be enough:
Many of us simply couldn't tell the difference between 192kbps and FLAC. There are caveats. A wider selection of music might have thrown up more differences, and some ears and some headphones might reveal more obvious distinctions. That said, there's no reason why you should turn your nose up at 192kbps or 256kbps files if you're just looking for something to listen to in the car or on the daily commute. You'll get more tracks on your player, and the sound quality will probably be good enough.
Audiophiles might not be able to spot the difference, but they can come up with a more convincing rationale:
There was no convincing evidence that those subjects who consider themselves audiophiles and have invested more in high-quality MP3 players or headphones could discern lossy from lossless audio files better than anyone else. What they could do, however, was give you more convincing arguments as to why one version sounded better than the other. In effect, they had better tools with which to convince themselves that their subjective impressions were correct, even when those impressions were entirely misleading. Don't forget this when you make your own, non-blind comparisons. Maybe that FLAC file really does sound better than the 192kbps MP3, but are you quite sure that you're not just listening for factors to convince yourself it does?
Look after your hearing:
The only person to get all four tracks right is someone who listens to their headphones at pitifully low volumes and hasn't attended any rock concerts. We can think of two explanations. One, the subject has particularly sensitive ears, so doesn't need to turn the volume up high. Two, the subject hasn't wrecked their hearing through years of listening to a walkman/MP3 player at high volumes and/or seeing Motorhead at the Hammersmith Odeon. Arguably, both apply.
http://www.trustedreviews.com/mp3/re...-Good-To-Me/p1
CBS Corp. Restructures, Dan Mason Signs Contract Extension
FMQB
CBS Corporation has announced a strategic restructuring of its local broadcasting operations, putting in place a new management team to guide the new local broadcasting segment of the company. As part of the new structure, Anton Guitano, who has served as CFO and Senior EVP of Operations for CBS Radio, will become COO of CBS Local Media for the company's new local broadcasting business segment. Guitano will report to Leslie Moonves, President/CEO of CBS Corporation, CBS Radio President/CEO Dan Mason and Peter Dunn, the new President of CBS Television Stations.
"Anton is an executive with unique experience and understanding of both television and radio," said Moonves. "He has been highly effective in his prior role at our radio group, working closely with Dan Mason, and before that was equally effective at the CBS Television Stations. We look forward to the contribution he will make in our new, coordinated local operation."
CBS also announced that Dan Mason, who has headed CBS Radio since 2007, has signed a contract extension to remain as head of the division.
"Dan is, quite simply, the best executive in the radio business," said Moonves. "He has unparalleled gifts as a programmer, and knows how to turn that grasp of our on-air product into improved ratings and financial performance. We couldn't be more pleased that Dan will continue to provide his leadership skills for years to come, joining with Anton and Peter to help make this new local media group a growth engine for CBS."
Commenting on CBS' new Local strategy, Moonves said, "This is a good time for this move. Our TV and radio stations are gaining momentum week by week and are operating from a position of strength. I look forward to working with this creative and seasoned team of managers as we capitalize on the developing recovery and build a new paradigm for the future growth of our local businesses."
http://www.fmqb.com/article.asp?id=1582659
Winfrey Bets on Her Future With Cable
Brian Stelter and Bill Carter
Oprah Winfrey is giving network television one of her trademark aha moments.
Ms. Winfrey, the billionaire queen of daytime television, is planning to announce on Friday that she will step down from her daily pulpit, "The Oprah Winfrey Show," in two years in order to concentrate on the forthcoming cable channel that will bear her name.
"The sun will set on the Oprah show as its 25th season draws to a close on Sept. 9, 2011," Tim Bennett, the president of Ms. Winfrey's production company, Harpo, said in a letter to her 214 local TV stations on Thursday evening. She will appear on her cable channel, called OWN: the Oprah Winfrey Network, in some form. But "The Oprah Winfrey Show" will no longer be.
The list of repercussions of her decision is long. For CBS, the owner of syndication rights to her show, it means the loss of its signature program and millions of dollars every year in revenue.
For ABC stations, where her show was largely seen, it means the loss of daytime's most popular program, a generator of giant audiences leading into evening news programs.
Larry Gerbrandt, an analyst for the firm Media Valuation Partners, said "any show that ABC comes up with to replace her will not draw anything near the ratings guarantee they could count on with Oprah. At least for the first year, ABC is going to take a serious hit."
More widely, her departure will surely be interpreted as an endorsement of the cable TV business, and a blow to the fortunes of broadcast television. Discovery Communications, which will co-own the new channel, announced the creation of OWN 20 months ago. Now Discovery will parlay Ms. Winfrey's anticipated exit from broadcast into higher per-subscriber fees and will also seek more lucrative commitments from advertisers.
For Ms. Winfrey herself, the move represents an enormous bet — that her popularity and golden touch with programming can sustain an entire cable channel and that she'll remain a central cultural figure even without the mass exposure of broadcast television every day.
Far and away the most popular daytime talk show host, Ms. Winfrey has spent two decades spinning her TV fame into a vast media empire, including her own show, a popular magazine, a book club and several movies. She is also one of the most successful daytime producers in television, with longtime talk shows like "Dr. Phil," "Rachael Ray" and "The Dr. Oz Show," this season's syndicated success story.
Her talk show regularly draws seven million viewers, nearly twice as many as the next biggest talk show, "Dr. Phil." Her endorsement of Barack Obama is widely credited with helping elect him president in 2008. She even claims to own the trademark on the phrase "Aha moment."
Ms. Winfrey, 55, told the staff of her Chicago-based show about her decision late on Thursday afternoon, according to people who were told but who insisted on anonymity because they agreed to wait until Ms. Winfrey makes the official announcement. Then she informed her business partners at the networks and instructed Harpo employees to start calling her affiliate stations. The stations were told they could report her decision on local newscasts, apparently to increase audiences for her formal announcement on Friday.
It remains unclear what on-camera role Ms. Winfrey will have at OWN, which is a 50-50 joint venture with Discovery. The management team at OWN has been busy creating a programming plan but has remained mostly silent about the lineup in deference to Ms. Winfrey and her decision-making process. Discovery executives declined to comment on Thursday evening. The OWN channel will have its premiere in January 2011, according to a person with knowledge of Ms. Winfrey's decision who insisted on anonymity.
Ms. Winfrey made clear to her staff members that she will not transfer the show to cable. She is expected to produce new programs for OWN, and will appear occasionally on some of them.
Ms. Winfrey was believed to be in renewal talks this fall with CBS Television Distribution and another syndicator, Sony, which distributes her most recent spinoff, "Dr. Oz." At the same time, she considered ending her talk show altogether. In recent days television executives said they sensed that Ms. Winfrey was leaning toward an exit.
CBS seemed eager to keep its door propped open for Ms. Winfrey, saying in a statement that, "We look forward to working with her for the next several years, and hopefully afterwards as well." Acknowledging OWN, they added, "We know that anything she turns her hand to will be a great success."
OWN is expected to replace the Discovery Health Channel, which is currently available in more than 70 million homes. Her cable plans, however, have been fraught with delays. OWN was announced in January 2008 and was originally expected to make its debut this winter, but those plans were scuttled because of management turnover and a turbulent advertising climate.
Still, Discovery's chief executive, David Zaslav, predicted this day might come, saying a year ago, "Her show will go off of ABC in syndication and she will come to OWN."
"This is her chapter two," Mr. Zaslav said then.
During her decades of daytime TV, she had a number of highlights, including a show in 1988 when she appeared after losing 67 pounds, a show in 2005 when the actor Tom Cruise declared his love for the actress Katie Holmes by leaping all over Ms. Winfrey's couch, and another show that year when she sent her audience members into a screaming frenzy by giving them all free cars.
Ms. Winfrey's show was at the height of its popularity when she conducted what was at the time called the most-watched interview of all time with the singer Michael Jackson. That prime-time special in 1993 was seen by 62 million people in the United States and almost 100 million people worldwide.
Robert Thompson, a professor of television at Syracuse, said Ms. Winfrey's impact on the medium and the culture has "always been characterized by hyperbole: the biggest this, the most-viewed that."
He added, "We have come to use the term 'Oprahfication' in almost same way we use a term like the 'Hellenization.' And it's not completely inappropriate. She was able to colonize cultural territory the way Alexander was able to colonize physical territory."
As recently as Monday, Ms. Winfrey showed that she can command the country's attention. Having scored the first TV interview in months with the former Alaska governor Sarah Palin, Ms. Winfrey asked her guest if she should be worried about competition, "because I heard you're going to get your own talk show."
Ms. Palin smiled and answered: "Oprah, you're the queen of talk shows."
http://www.nytimes.com/2009/11/20/bu...a/20oprah.html
Online Maps: Everyman Offers New Directions
Miguel Helft
They don't know it, but people who use Google's online maps may be getting directions from Richard Hintz.
Mr. Hintz, a 62-year-old engineer who lives in Berkeley, Calif., has tweaked the locations of more than 200 business listings and points of interest in cities across the state, sliding an on-screen place marker down the block here, moving another one across the street there. Farther afield, he has mapped parts of Cambodia and Laos, where he likes to go on motorcycle trips.
Mr. Hintz said these acts of geo-volunteerism were motivated in part by self-interest: he wants to know where he's going. But "it has this added attraction that it helps others," he said.
Mr. Hintz is a foot soldier in an army of volunteer cartographers who are logging every detail of neighborhoods near and far into online atlases. From Petaluma to Peshawar, these amateurs are arming themselves with GPS devices and easy-to-use software to create digital maps where none were available before, or fixing mistakes and adding information to existing ones.
Like contributors to Wikipedia before them, they are democratizing a field that used to be the exclusive domain of professionals and specialists. And the information they gather is becoming increasingly valuable commercially.
Google, for example, sees maps playing a growing strategic role in its business, especially as people use cellphones to find places to visit, shop and eat. It needs reliable data about the locations of businesses and other destinations.
"The way you get that data is having users precisely locate things," said John Hanke, a vice president of product management who oversees Google's mapping efforts.
People have been contributing information to digital maps for some time, building displays of crime statistics or apartment rentals. Now they are creating and editing the underlying maps of streets, highways, rivers and coastlines.
"It is a huge shift," said Michael F. Goodchild, a professor of geography at the University of California, Santa Barbara. "This is putting mapping where it should be, which is the hands of local people who know an area well."
That is changing the dynamics of an industry that has been dominated by a handful of digital mapping companies like Tele Atlas and Navteq.
Google is increasingly bypassing those traditional map providers. It has relied on volunteers to create digital maps of 140 countries, including India, Pakistan and the Philippines, that are more complete than many maps created professionally.
Last month Google dropped Tele Atlas data from its United States maps, choosing to rely instead on government data and other sources, including updates from users.
"They have coverage in areas that the big mapping guys don't have," said Mike Dobson, a mapping industry consultant who once worked at Rand McNally. "It has the opportunity to cause a lot of disruption in these industries."
Some people think map data is so valuable that it should be free. OpenStreetMap, a nonprofit group whose mission is to make free maps that can be reused by anyone, has some 180,000 contributors who have mapped many countries in varying levels of detail. The maps are used on a White House Web site that tracks community service opportunities and in many iPhone applications, among other places.
Another collaborative project called WikiMapia is creating its own annotated maps, layered on top of Google's.
Traditional mapmakers are seeking to adapt by tapping their own citizen cartographers. Tele Atlas, which TomTom bought last year for $4.3 billion, now uses feedback from users of TomTom's navigation devices to update its maps.
But Tele Atlas says its customers, who might be in delivery trucks or emergency vehicles, can't rely fully on community-created maps, any more than historians can rely on Wikipedia.
"Most of our customers expect a level of due diligence and quality that is way more than what a community is going to put together," said Patrick McDevitt, vice president of global engineering at Tele Atlas.
Defenders of the amateur approach point out that professionally created maps often have errors and can be slow to add road closures and other updates. Google has moderators who try to verify the accuracy of users' changes, unless they are very minor, while OpenStreetMap relies on its members to police changes.
"As far as we can tell so far, these new sources are as accurate as the traditional ones," Professor Goodchild said.
Contributors to OpenStreetMap have turned mapmaking into a social activity. Last month, a group of some 200 volunteers in Atlanta braved the wind and drizzle to collect map data across the city. Armed with GPS devices, cameras and paper maps of neighborhoods, they added missing alleys, public art, restaurants and hotels.
John L. Kittle Jr., a 55-year-old engineer, was one participant. In the past, Mr. Kittle has corrected street names in Atlanta and improved the map for his home town of Decatur, Ga. Recently an acquaintance mentioned that she lived in a new condo development, and Mr. Kittle added it to the map.
"Seeing an error on a map is the kind of thing that gnaws at me," he said. "By being able to fix it, I feel like the world is a better place in a very small but measurable way."
Mr. Kittle said contributing to a project where anyone can freely use the mapping data was important to him. Others, like Mr. Hintz, said they could make a greater contribution through Google, whose maps are widely used.
Some of the most remarkable efforts of amateur map makers are in countries where few, if any, digital maps existed. Google first tested a tool called Map Maker in India, where people immediately began tracing and labeling roads and buildings on top of satellite images provided by Google.
When Google released the tool more broadly last year, Faraz Ahmad, a 26-year-old programmer from Pakistan who lives in Glasgow, took one look at the map of India and decided he did not want to see his homeland out-mapped by its traditional rival. So he began mapping Pakistan in his free time, using information from friends, family and existing maps. Mr. Ahmad is now the top contributor to Map Maker, logging more than 41,000 changes.
Maps are political, of course, and community-edited maps can set off conflicts. When Mr. Ahmad tried to work on the part of Kashmir that is administered by Pakistan, he found that Map Maker wouldn't allow it. He said his contributions were finally accepted by the Map Maker team, which is led by engineers based in India, but only after a long e-mail exchange.
At his request, Google is now preventing further changes to the region, after people in India tried to make it part of their country, Mr. Ahmad said. "Whenever you have a Pakistani and an Indian doing something together, there is a political discussion or dispute."
A Google spokeswoman, Elaine Filadelfo, said Google sometimes blocked changes to contentious areas "with an eye to avoiding back-and-forth editing."
http://www.nytimes.com/2009/11/17/te...et/17maps.html
Wikipedia, iPhone Among Decade's Top 10 Internet Moments
The launch of Wikipedia, emergence of the iPhone and the election of U.S. President Barack Obama were among the 10 most influential moments on the Internet in the past decade, according to the annual Webby awards.
Other events singled out by the New York-based International Academy of Digital Arts and Sciences, which has presented the annual Webby awards since 1996, were the Iranian election in 2009 when protests demonstrated the power of Twitter and other social network in reshaping democracy.
"The Internet is the story of the decade because it was the catalyst for change in not just every aspect of our everyday lives, but in everything from commerce and communication to politics and pop culture," said David-Michel Davies, the executive director of The Webby Awards, in a statement.
"The recurring theme among all of the milestones on our list is the Internet's capacity to circumvent old systems and put more power into the hands of ordinary people."
Here is the Webby's list of the 10 most influential Internet moments of the decade:
- Craigslist, the free classifieds site, expands outside San Francisco in 2000, impacting newspaper publishers everywhere
- Google AdWords launched in 2000 allowing advertisers to target their customers with laser-sharp precision
- Wikipedia, the free open-source encyclopedia, launches in 2001 and today boasts more than 14 million articles in 271 different languages and bringing strangers together on projects
- Napster shutdown in 2001, opening the file-sharing floodgates
- Google's IPO in 2004 put the search engine on the path to powering countless aspects of our everyday lives
- Online video revolution in 2006 that led to a boom in homemade and professional content on the Internet and helped reshape everything from pop culture to politics
- Facebook opens to non-college students and Twitter takes off in 2006
- The iPhone debuts in 2007 and smartphones go from a luxury item to a necessity with an app for just about every aspect of modern life
- U.S. presidential campaign in 2008 in which the Internet changed every facet of the way campaigns are run
- Iranian election protests in 2009 when Twitter proved vital in organizing demonstrations and as a protest too
(Writing by Belinda Goldsmith, Editing by Sugita Katyal)
http://www.reuters.com/article/techn...5AI3O720091119
China Orders Microsoft to Halt Some Windows Sales
Melanie Lee
Microsoft Corp has been ordered by a Chinese court to stop selling versions of its Windows operating systems that include fonts designed by a local company, citing a violation of licensing agreements.
The ruling, issued by Beijing's No. 1 Intermediate People's Court on Monday, may signal a new challenge for international and domestic software makers struggling with piracy in China -- newly assertive local firms ready to take their own IP claims to court.
"(Chinese firms) are going to think of China as a place to have their own litigation strategy, I think that's a trend that's coming," said Michael Vella, head of China litigation and intellectual property rights at Morrison & Foerster LLP, who predicts more lawsuits by local companies.
"We saw it in Taiwan. At first, Taiwanese companies were always on the defensive, and in recent years we have seen them initiating litigation."
In its ruling, the court said Microsoft violated the scope of licensing agreements between it and a Chinese technology company, Zhongyi Electronic, which designs Chinese character fonts.
Microsoft will have to stop selling the Chinese versions of its Windows 98, 2000, 2003 and Windows XP, according to the court. It is unclear when the ruling will take effect or how many copies are affected.
Microsoft said it will appeal the ruling.
"Microsoft respects intellectual property rights. We use third party IPs only when we have a legitimate right to do so," the firm said in a statement.
Analysts said the ruling is unlikely to affect Microsoft's long-term business outlook as only a small percentage of its total revenue comes from business in China.
"The majority of operating systems in the market today are illegal copies, and the ones that are Zhongyi-related have an even smaller share of the market," said Edward Yu, chief executive of a China-focused technology research firm Analysys International. "So I don't think it will have much impact on Microsoft's business."
Changing Roles
China has long been the target for foreign firms seeking to protect their intellectual property. And China, under pressure from the U.S. government and the European Union, has increased enforcement of intellectual property laws.
Microsoft has faced its own issues at the hands of Chinese software pirates.
In August, a Chinese court jailed four people for spreading their bootleg "Tomato Garden" version of Microsoft's Windows XP program, in what the Xinhua news agency called the nation's biggest software piracy case.
And even before the highly anticipated launch of the software maker's Windows 7 operating system last month, Chinese bootleggers were already selling copies.
But roles are fast reversing as Chinese firms mature and become more aggressive in protecting their own designs from foreign firms.
"By winning this case against an internationally well-known company like Microsoft, it shows that China, although still a developing country, is taking positive steps to protect intellectual property rights," said Ling Xin Yu, the lawyer for Zhongyi, told Reuters.
Zhongyi Electronic said in a statement on its website that the agreements signed with Microsoft only permitted the company to use Zhongyi's intellectual property in Windows 95, but that the U.S. tech giant used it in subsequent versions of its Chinese Windows operating systems.
Research firm IDC estimates about 80 percent of software sold in China was pirated last year.
(Editing by Don Durfee and Ian Geoghegan)
http://www.reuters.com/article/techn...5AH0M020091118
MPAA Says Copyright-Treaty Critics Hate Hollywood
David Kravets
If you don't back a copyright treaty being negotiated in secret, you must want to destroy Hollywood, its blockbuster movies and all the jobs they create.
At least that's the message from the Motion Picture Association of America.
It's spelled out in a Thursday memo to the Senate Judiciary Committee, urging lawmakers to support the Obama administration's efforts toward negotiating an intellectual property agreement with more than a dozen countries.
Dan Glickman, the MPAA's chairman, informs lawmakers that millions of film-related jobs are in peril because of internet piracy. Simply put, those who don't back the proposed Anti-Counterfeiting and Trade Agreement don't support intellectual property rights, he wrote.
"Opponents of ACTA are either indifferent to this situation, or actively hostile toward efforts to improve copyright enforcement worldwide," Glickman wrote.
That's an insultingly black-and-white viewpoint. It's also not an accurate description of the treaty's critics.
The reason many groups distrust the accord is simple: It's being negotiated in secret, the Obama administration has declared it a "national security" issue and the chief executive has filled his administration with at least five former intellectual property attorneys from the Recording Industry Association of America.
What's more, all that we know about the proposal has been generated by leaks. Here is what the most recent leak of two week's ago suggests:
A European Commission memo written by an unnamed EU official shows the United States might want ISPs around the world to punish suspected, repeat downloaders with a system of "graduated response" — code for a three-strikes policy that results in the customer eventually being disconnected from the internet with the ISP alone deciding what constitutes infringement and fair use.
Since there's no such policy in the United States now, the demands could end up being foisted on all Americans through a decidedly undemocratic process. We described that as policy laundering at its finest.
Public Knowledge, a "copyleft" lobbying group who has seen the unfinished treaty's text, blasted Glickman's comment, which comes weeks after the MPAA urged the Federal Communications Commission to support internet filtering of unauthorized copyrighted material.
"We do want to make certain that the rights of internet users are not trampled by overwhelming government power asserted at the behest of a single special interest," Gigi Sohn, Public Knowledge's president, said in a statement. She added that it is "inappropriate to ask ISPs and application designers to do what the studios themselves have found impossible to do: manage security to prevent all illegal copying."
Along with Public Knowledge, the movie studios, internet providers, electronics companies and lawyers for the recording industry have been given access to the text of the treaty that has not finalized. We've asked many of them to provide details, but confidentiality agreements with the Obama administration forbid that.
While Glickman would do well by apologizing for his George W. Bush-style "With us or against us" smearing of his debate opponents, we applaud his call to unwind the secrecy surrounding the accord.
We appreciate the U.S. government's efforts thus far to broaden its consultative process on the ACTA. Despite these exceptional efforts, the protests persist, fostering apprehension over the agreement's substance. We understand that the ACTA parties agree on the desirability to provide meaningful opportunities for the public to provide input. We support this objective and encourage the U.S. government to direct that process so that we can engage in a meaningful dialogue on substance rather than procedural matters.
Glickman's trying to say that secrecy breeds paranoia — and often rightly so. We're glad to see the MPAA embrace the idea of government sunshine.
Negotiating nations concluded a sixth-round of top-secret negotiations two weeks ago. The countries include Australia, Canada, European Union states, Japan, Korea, Mexico, Morocco, New Zealand, Singapore, Switzerland and the United States.
The countries are to meet again in January.
http://www.wired.com/threatlevel/200...a-acta-letter/
Do Music Artists Fare Better in a World with Illegal File-Sharing?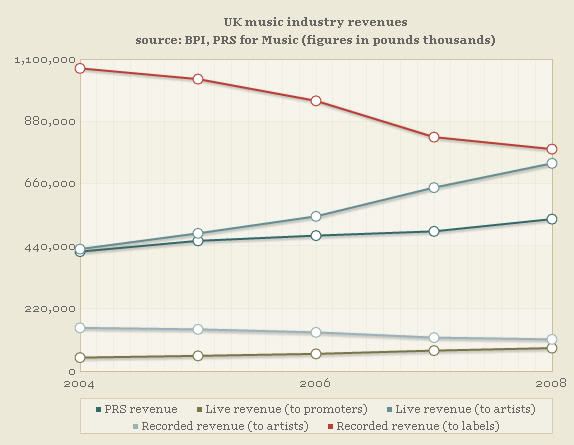 This is the graph the record industry doesn't want you to see.
It shows the fate of the three main pillars of music industry revenue - recorded music, live music, and PRS revenues (royalties collected on behalf of artists when their music is played in public) over the last 5 years.
We've broken each category into two sub-categories so that, for any chunk of revenue - recorded music sales, for instance - you can see the percentage that goes to the artist, and the percentage that goes elsewhere. (In the case of recorded music, the lion's share of revenue goes to the record label; in the case of live, the promoter takes a cut etc.)
Hopefully, this analysis - and there's more on the nuts and bolts of our method below - sheds some factual light on the claims and counter-claims that are paranoically sweeping across the music industry establishment, not least that put forward by the singer Lily Allen in this paper recently - and the BPI - that artists are losing out as a result of the fall in sales of recorded of music.
The most immediate revelation, of course, is that at some point next year revenues from gigs payable to artists will for the first time overtake revenues accrued by labels from sales of recorded music.
Why live revenues have grown so stridently is beyond the scope of this article, but our data - compiled from a PRS for Music report and the BPI - make two things clear: one, that the growth in live revenue shows no signs of slowing and two, that live is by far and away the most lucrative section of industry revenue for artists themselves, because they retain such a big percentage of the money from ticket sales.
(It's often claimed that live revenues are only/mostly benefitting so-called 'heritage acts'. Unfortunately, the data doesn't shed any light on this because live revenues are not broken down by type of act, gig size or ticket price.)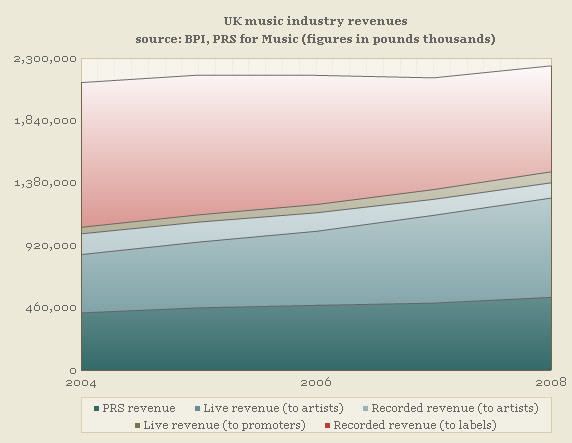 An even more striking thing, perhaps, emerges in this second graph, namely that revenues accrued by artists themselves have in fact risen over the past 5 years, despite the fall in record sales. (All the blue bars in the chart above represent revenues that go directly to artists. As you can see, the 'blue total' has risen noticeably.) This is mostly because of live revenues, but also because of the growing amount collected by the PRS on behalf of artists, which accounts for a much bigger chunk of industry revenues than most people realise.
(PRS revenues in fact break down into 4 categories - Broadcast and Online, Public Performance, Mechanical, International. You can explore this in more detail in this spreadsheet, which contains all our data.)
It's interesting too that, overall, industry revenues have grown in the period - though admittedly not by much - which arguably adds strength to the notion that, when the BPI releases its annual report claiming how much 'the music industry' has suffered from the growth in illegal file-sharing, what it perhaps should be saying is how much the record labels have suffered.
For other people in the industry, not least artists, the future arguably holds more promise.
A couple of notes about our methods: the data, as pointed out, comes from the PRS and the BPI. We are grateful to the PRS in particular for helping us with a model to work out what percentage of a particular chunk of industry revenue was likely to be returned to artists. In the case of recorded music, we used an average 90/10 per cent split between labels/artists. In the case of live we used a 90/10 split between artists/promoters.
We hit one major snag. The PRS report gives a figure for annual live music revenues but it does not indicate what percentage of that goes to venues. (Before doing the split for live music revenues between artist and promoter, you first need to take out the percentage that goes to the venue.) We asked several big concert promoters and venue managers - AEG Europe, Carling Academy, and the PRS itself - what percentage of gig revenue one could reasonably assume, on average, went to the venue, and none would make an estimate. The closest we came to an answer was a remark from a senior industry source said 'only a small percentage of live goes to venues'. That's the best we had to work with.
We've therefore done the above calculations on the assumption that 10 per cent of live revenues go to the venue, but in
these two graphs
, we show how the situation would change if that figure rose to 20 per cent.
http://labs.timesonline.co.uk/blog/2...-file-sharing/
Until next week,
-
js
.
Current Week In Review

Recent WiRs
-
November 14th
,
November 7th
,
October 31st
,
October 24th
Jack Spratts'
Week In Review
is published every Friday. Submit letters, articles, press releases, comments, questions etc. in plain text English to jackspratts (at) lycos (dot) com. Submission deadlines are Thursdays @ 1400 UTC. Please include contact info. The right to publish all remarks is reserved.


"The First Amendment rests on the assumption that the widest possible dissemination of information from diverse and antagonistic sources is essential to the welfare of the public."
- Hugo Black